There is no doubt about it. Since last spring the popularity of bicycling has skyrocketed. Folks who hadn't ridden a bike since middle school found themselves back in the saddle, getting reacquainted with their gears and ability to balance. Full disclosure – this was me. I was one of the many who dusted off an old bike in search of things to see and do. It wasn't pretty early on and my daughter laughed at me more than I'd care to admit.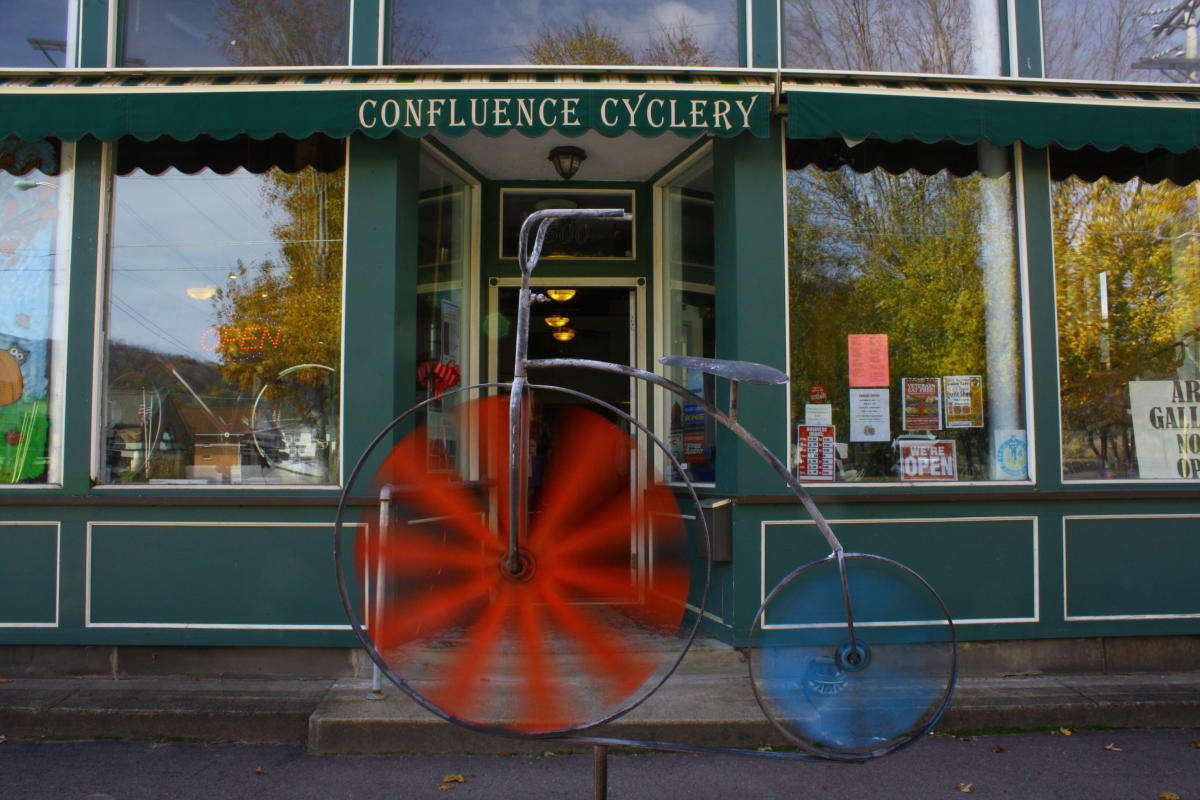 This humbling experience got me thinking… I'm not the only one who needed a pointer or two, so I sought out one of our Laurel Highlands resident experts. Please allow me to introduce Brad Smith, who owns the Confluence Cyclery with his wife Maureen. Brad knows all the ins and outs of bikes and he agreed to share his advice and opinions with us. If you find yourself in need of a bike or peddling around Confluence on the Great Allegheny Passage, be sure to stop by and say hello.
How do I determine what size bike is best for me?
The true key to getting the correct size bike is asking if it is comfortable.  There are a number of methods to determining the correct size. 
Mountain and hybrid bikes are measured in inches. Road bikes are measured in centimeters. The most accurate method is to place a book between your legs and raise it to fit snugly in your crotch while barefooted. Measure the distance from the top of the book to the floor. That is your inseam length in inches.
To find the size: multiply your inseam by the following factors:  
Hybrid Bike: 0.685
Mountain Bike: 0.685
This will give you the size in inches.
For road bikes, take the inseam measurement in centimeters or use the measurement in inches and multiply by 2.54 for your inseam in centimeters.
Multiply this measurement by the following factor:
This will give you the size in centimeters.
Having done that, the next important thing to check is the stand-over height.  Straddle the bicycle. For road bikes, you should have between one and two inches of clearance. For hybrid bikes, you will want one to three inches of clearance and for mountain bikes, you will want two to four inches of clearance.
This will get you in the ballpark.  The seat should be raised so that there is just a slight bend in the leg at the bottom of the pedal stroke. This will normally be high enough that you will not be able to put your feet flat on the ground.
In addition, not all people are built the same. Women tend to have longer legs and shorter torsos than men. So, after getting the frame size and seat height right, you need to ride the bike to ensure that you are comfortable. For example, a woman who has very long legs and a shorter torso may feel that she has to reach too far forward to grip the handlebar.  Some of this can be adjusted by moving the saddle forward. She may want to look at a bike with a different geometry or a smaller frame.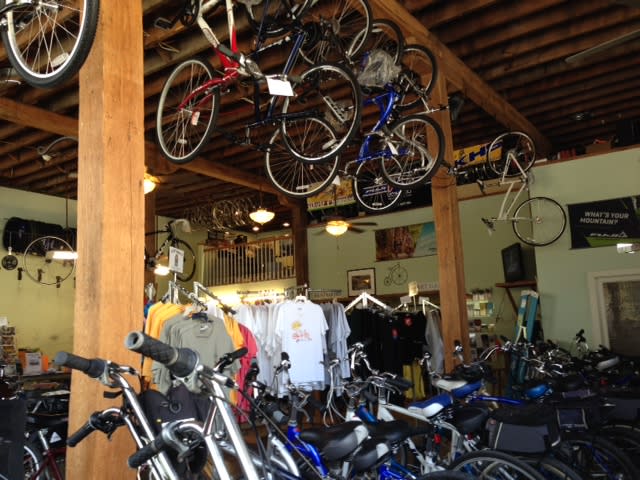 What type of bike is best for beginners who want to ride the GAP or a similar type of trail?
We usually recommend a hybrid bike for most beginners who are riding rail trails.  However, most bikes other than road bikes will work very well on the Great Allegheny Passage (GAP) and similar rail trails. You do not need a mountain bike to ride these trails. Hybrid bikes tend to have a more relaxed geometry, which permits a more upright riding position. In addition, there are a variety of geometries available in hybrid bikes. Again, I would recommend seeking one that is most comfortable.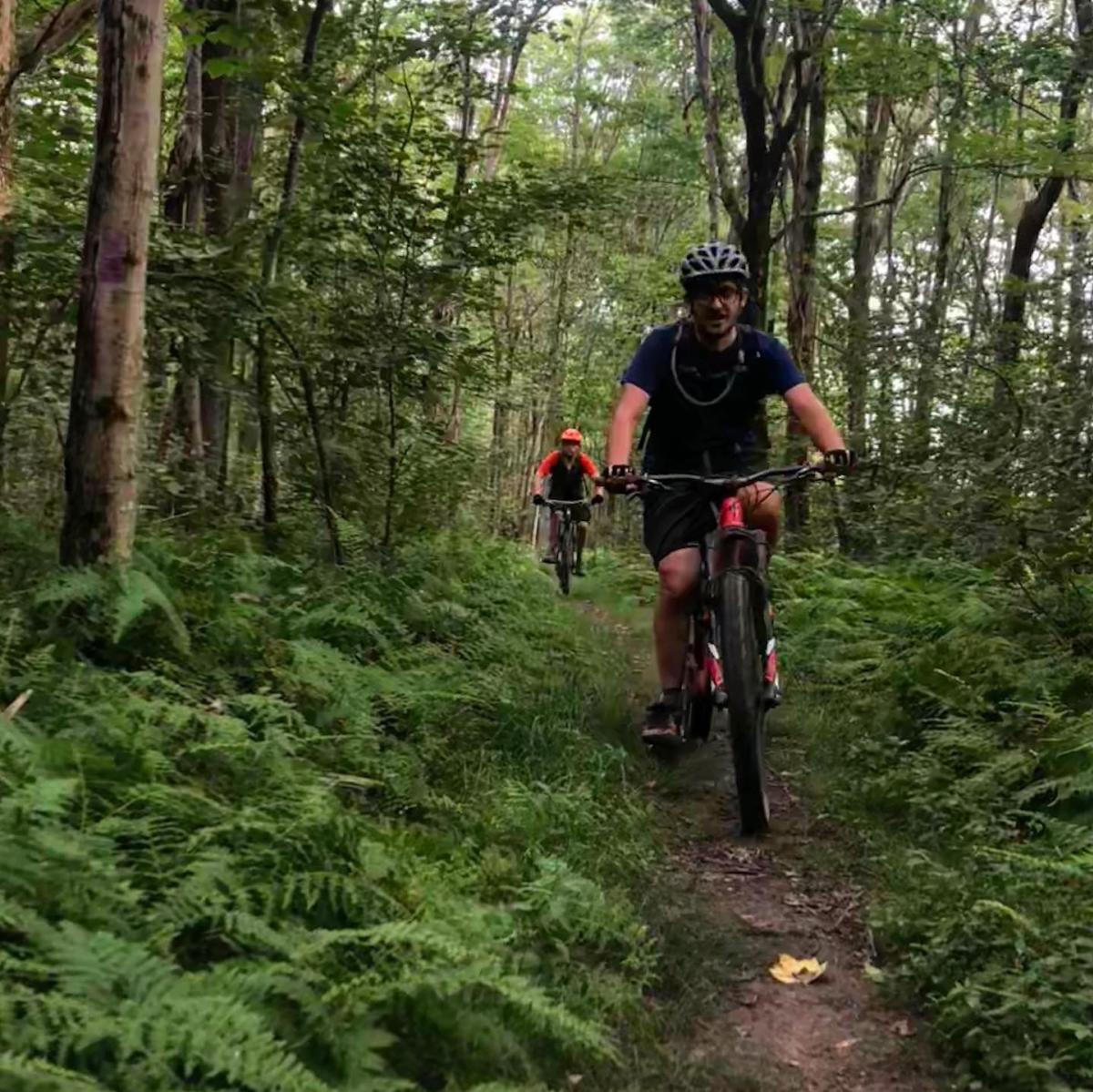 What type of bike is best for beginner mountain bikers?
For a beginning mountain biker, I would suggest a bike that has a front shock absorber. Fully-suspended bikes (shocks front and rear) are heavier and more geared to aggressive riding and downhill racing.
What is a fat tire bike and where should I ride that type of bike?
Fat bikes are bikes with tire widths of about four inches. They are ideal for riding on sand, snow, and other soft surfaces. They can be ridden almost anywhere. One of the downsides of fat bikes is that the tubes, tires, and wheels are significantly more expensive than normal bike sizes.
Can you suggest some tips to help keep my bicycle running well?
The real key to keeping your bike running well is cleanliness and lubrication. This is particularly important for your chain.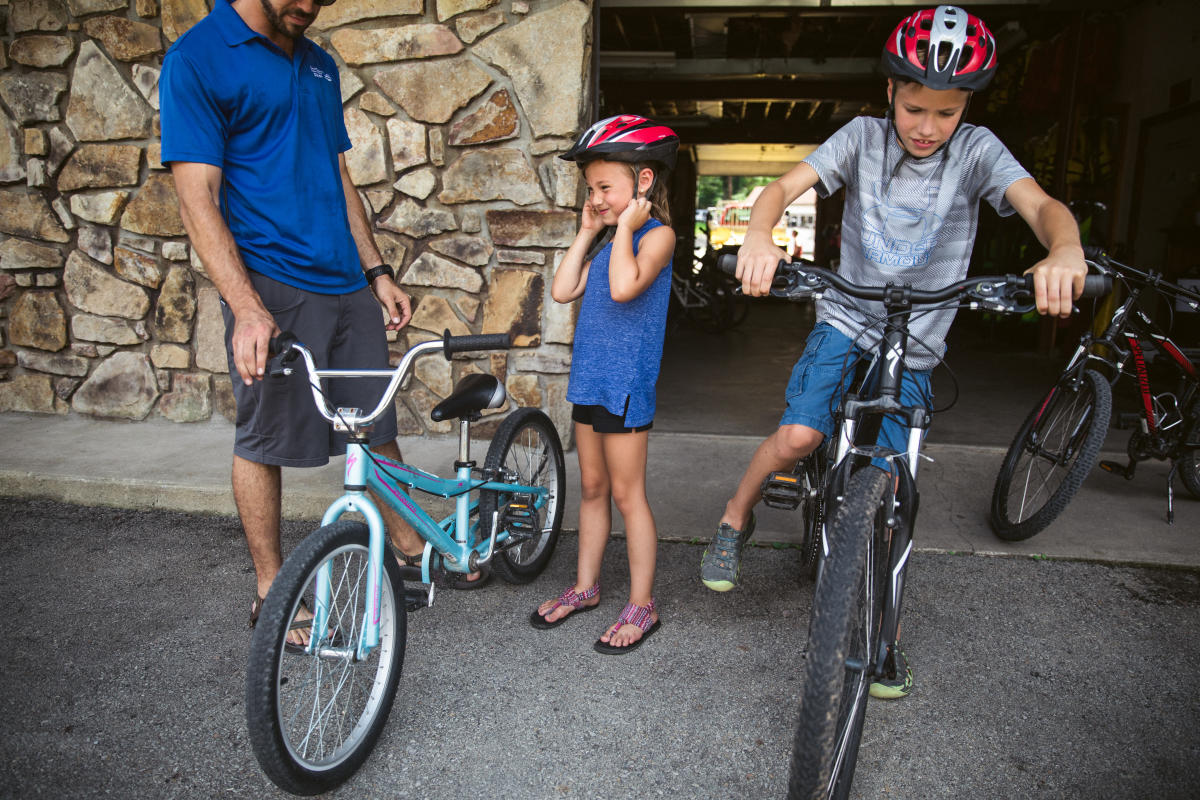 Any tips for parents looking to purchase a bike for their children so they can ride trails together?
Sizing is always the most important. Children's bikes are sized by wheel size – normally in two-inch intervals (12, 14, 16, 18, 20, 22, 24) whereas adult bikes are sized by frame size. For instance, there are 17-inch frames for bikes with 26-inch wheels, 29-inch wheels, and 700C wheels.
Stand over height is very important. A child may be able to reach the pedals on a bike, but when straddling the bike the top tube is in solid contact with the child's body. This could lead to injury if dismounting quickly or an accident.
Children's bikes come equipped with coaster (pedal) brakes, hand brakes, or both.  All of these are fine. Just ensure that a child who is transitioning from a coaster brake bike to a hand brake bike is thoroughly familiar with the brakes and has the hand strength to operate them.
Any tips for parents who want to attach a little trailer to pull their little ones?
I would suggest selecting a trailer with an aluminum frame to save on weight.  Most trailers attach to the rear axle. Be sure to tighten the axle bolts or quick release sufficiently or the trailer may pull the axle from the bike frame.  Another acceptable attachment point is one that attaches to the seat post.  I do not recommend attachments that clamp to the bike frame.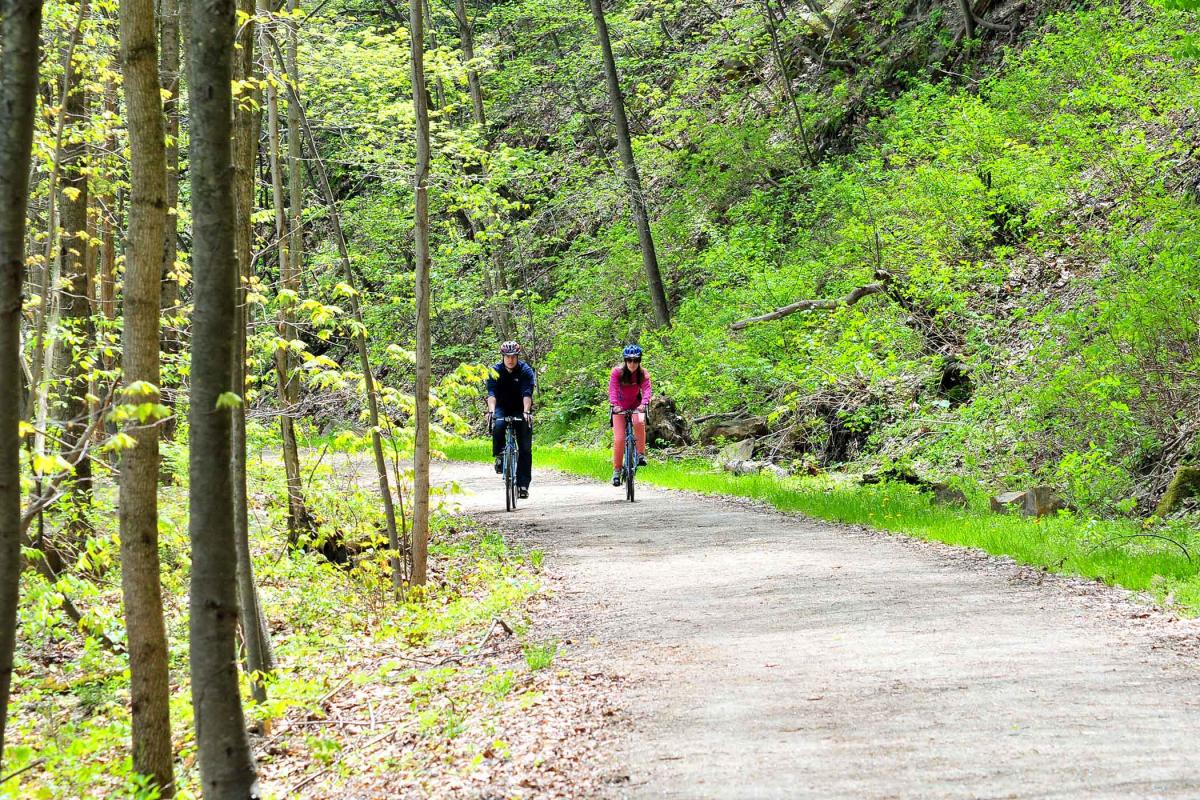 What do you love most about running the Confluence Cyclery?
We really love meeting people from all over the USA and the world who come to ride the GAP. We also really enjoy getting people on the right bike so they can experience the joy of riding.
Is there anything else you think a beginner cyclist should know?
Take it easy. Like any physical activity, you need to work up to it. We frequently see novice cyclists who start the trip planning on riding 60 or more miles a day, without any workups. For some, this creates a very unpleasant experience and sours them on the cycling. Cycling is a sport that you can do all your life. It comes in many forms from competitive racing to handcycles. We have customers who are disabled in some form but can still bike.