Following in the true Bachelor tradition of catfights, steamy scenes, and high drama, this week's episode did not disappoint. Dramatic vistas, dramatic colors in the foliage, dramatic footage of a 2,000-acre luxury resort nestled in the mountains looking like paradise…It does make it a little hard to focus on the show when all anyone thinks about is the beauty of the resort!  Of course, we'll get back to the real drama but let's round up some of the episode's highlights.
Falling Rock
In case you haven't already researched everything about Nemacolin since last week, you should know that the property consists of multiple lodging properties, each with a different flare. This week's episode put Nemacolin's Falling Rock Hotel on full display. Influenced by renowned architect Frank Lloyd Wright (whose masterpiece, Fallingwater, happens to be located within miles of Nemacolin, FYI), Falling Rock is the resort's luxurious boutique getaway spot complete with personal butler service for guests. And when I say butler service, I mean a full pillow menu to choose from, unpacking and packing of your luggage, and milk and cookies turndown service – count me in!
Situated next to Nemacolin's two Pete Dye-designed golf courses, Falling Rock offers guests expansive views of the gorgeous property, access to its Forbes Four-Star and AAA Four-Diamond restaurant on-site, Aqueous, and plenty of space to soak up the sun next to the gigantic infinity pool. If you don't get chosen for the group or individual date, maybe hanging at the resort isn't so bad!

"A Beautiful Place to Fall in Love."
Professed one of the Bachelor contestants in the opening scene, and yep, we couldn't agree more. Apparently, Matt thinks so too, as he teased the first date options experienced on last night's episode. And while I don't know if you'll find that outdoor hot tub located in the wilderness available for your stay, there's no shortage of places to escape to for your own steamy couples experience like the uber-luxurious Woodlands Spa.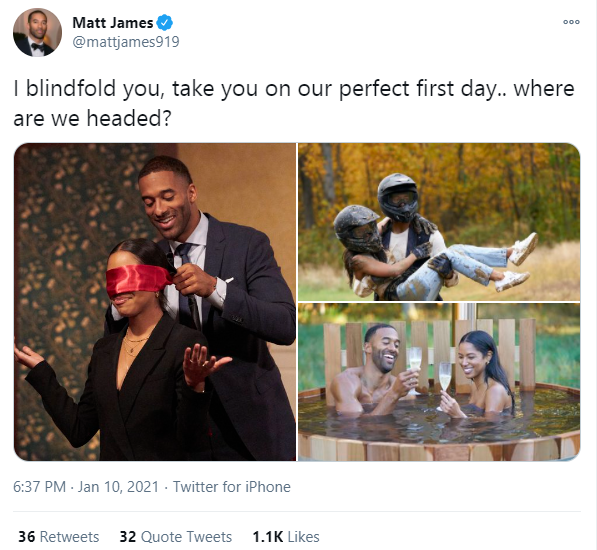 For a more PG-rated version of date night activities, here are a few onsite offerings that could make for some really cool couples experiences.
Zip Lining – race one another as you soar above the slopes of Mystic Mountain at rates of 60mph!
Jeep Off-Roading – similar to Matt's first date this week but with the safety of a Jeep, take the wheel and get dirty on this thrilling adventure.
Ice Skating – who doesn't love the idea of the skating rink, hand-holding, hot cocoa, wintery bliss?
Dog Sledding – and we're not in Alaska. Need I say more?!
I-DO!
After all of those lovely ladies decked out in designer wedding gowns, I'm really excited to see how this season of falling in love unfolds at Nemacolin. Maybe an actual Nemacolin wedding? And hey, if you've got upcoming nuptials planned, Nemacolin might be the perfect spot to relive this season of "The Bachelor" in person with your own I-DOs. Let's keep the paint, cake, and scissors away from the dresses though this time!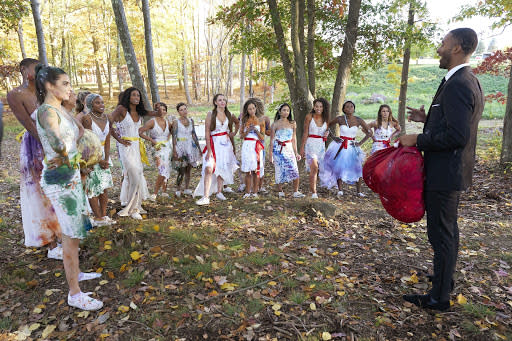 To Be Continued...
Matt definitely has his hands full early on this season already with too many beautiful ladies to choose from, drama from a high queen, and an unexpected and unfortunate medical event at this week's rose ceremony. As we await next week's "To be continued..." pick up of the rose ceremony and unfolding chaos, I'll be eager to spy which parts of the resort will be showcased next week while also wishing for the healthy recovery of contestant, Sarah Trott. One thing is for certain – Matt and his contestants are having a world-class stay at Nemacolin and Bachelor Nation is taking notice.

And that's the idea, Caroline! Explore all that Nemacolin has to offer and start planning your romantic getaway today.