ABC's "The Bachelor" raised the bar in week four, welcoming five new lovely contestants to the pool of possible leading ladies for Bachelor Matt James. Naturally, this plot twist sent the self-proclaimed OG (Original Group) Ladies into a tailspin, prompting tears, trickery, and all of the theatrics necessary for a seductive season. All that aside, these ladies do find themselves spending lots of time together, forging friendships, and occasionally exploring and enjoying the resort amenities while on a group date. In honor of our favorite contestants, here's a round-up of awesome onsite activities for the perfect girls' getaway.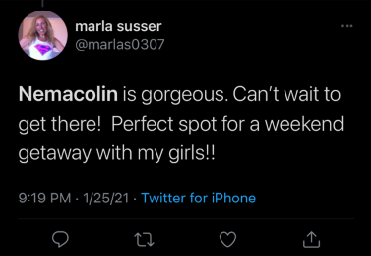 We hear ya, Marla! Weekend, weekday, week…whatever floats your boat. In exploring their website a bit more, I found experiences that I didn't even realize were available, many of which you won't find anywhere else. Spas, food, drinks and hot cocoa, art classes, an ice cream parlor, shopping - even a posh watch party every Monday night while "The Bachelor" airs this season!
Relax
Woodlands Spa and Salon - If you're looking for pampering, look no further. Not only is Woodlands Spa and Salon ultra-luxurious and tranquil, but offers diverse menus of services for any interest complete with complimentary drinks and lite bites. The Spa features therapies, facials, massages, and body treatments galore not to mention the sauna, whirlpool, lap pool, and steam room for relaxing. You find nail treatments, scalp treatments, and everything from a cut and color to full make-up at the salon to complete your beauty regimen. There's even a full menu of food and beverages available during your spa day. This overview only scratches the surface, so do yourself a favor and check out their complete menu of services online.
Art Lovers – Nemacolin houses an extensive collection of fine art and sculpture both indoors and outdoors. Explore the grounds or browse the gallery on your own, or sign up for a curated tour of the Hardy Family Art Collection. If you're feeling super creative, bring your friends and sign up for one of the resort's art classes ranging from embroidery to Painting with Pinot.

Indulge
Culinary - This one is open for interpretation but let's look at some pretty enticing options. I'll start with my favorite – the food! Guests at Nemacolin have no shortage of culinary experiences to choose from when selecting from the resort's four onsite restaurants, each with its own flare and cuisine. I'm dreaming of the Red Wine-Braised Short Rib offered at Rockwell's with the Smoked Wild Mushroom Pierogis in at a close second. If you've never heard of or tried a pierogi, this Polish staple is a must-try for anyone making a trip to southwestern PA where we LOVE our pierogis.
The Tavern restaurant offers a more casual, American-fare option and The Pantry offers gourmet goodies to-go. Finish off the day with a trip to PJ's Ice Cream Parlour to satisfy that sweet tooth. And if you're looking for a good spot for a nightcap, Nemacolin is peppered with cocktail bars and even a cigar bar. Check out the Fire and Ice Lounge for a truly unique experience with up to six of your besties, where reservations come equipped with a private outdoor fire table, hot cocoa, and both a sweet and savory snack for each guest.
Shopping – You won't want to miss your chance to browse Nemacolin's impressive shopping offering featuring luxury women's and men's sportswear and upscale fashion apparel and accessories for all. Treat yourself to something special at Hardy and Hayes Jewelry, find swimwear and skincare products at the Spa Boutique, and up your game at the Field Club Pro Shop. Shopping spree, anyone?
Adventure
Episode four featured a lot of great outdoor activities including a relay-scavenger-hunt of sorts that involved adult squirrel costumes. While I don't think that's part of a typical adventure offering at Nemacolin, the zip line race experienced on Matt's private date with Michelle certainly is. You might have caught sight of the ski lift chair in doubling as the zip line launch platform too, which yes, means Nemacolin offers its very own ski slopes complete with lodge and lounge. Try off-roading in Jeeps or dare the paintball course. Test your skills at the sporting clays range or saddle up for a horseback ride through the stunning landscape.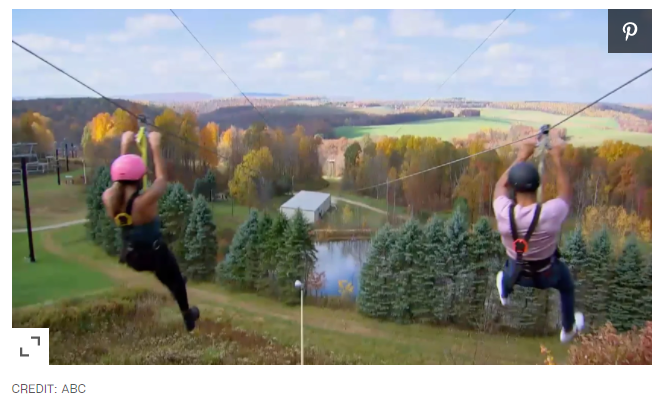 --------------------------
With so much to do at Nemacolin, you'll need to plan a couples getaway after your girlfriends getaway.  And with sought after sites such as Frank Lloyd Wright's Fallingwater and Ohiopyle State Park located just nearby, you'll want to be sure to check out the region during your stay in Pennsylvania's Laurel Highlands.