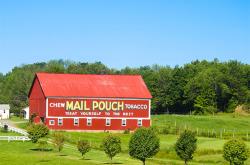 If you've ever driven through Pennsylvania, you've no doubt noticed the Keystone State is home to a plethora of barns. Some are red, some are white. Some are simple, one-level buildings while others are multi-storied structures. I've even seen purple barns and round barns in my travels.
To the untrained eye, one barn may seem like any other, but that's not always the case, especially in Somerset County where these common, everyday structures often showcase the region's agricultural heritage. An estimated 2,000 barns in America's County® today are Pennsylvania barns, an architecturally distinct type of barn that originated in Pennsylvania in the mid-1700s and became Somerset County's most preferred barn construction design in the late 19th century.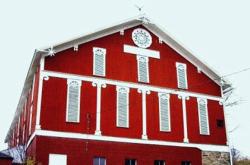 A Pennsylvania barn consists of two levels – an upper level and a lower level – to allow space for animals, hay and farming equipment. Pennsylvania barns also feature two distinct characteristics. The first is an unsupported forebay – a cantilevered overhang – that extends over the lower level of the barn. The second feature is an embankment leading to the barn's upper level, permitting easy access to that second story.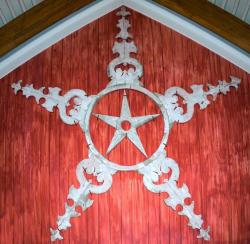 Pennsylvania barns aren't the only unique agricultural architecture found in Somerset County. A number of structures feature elaborate, handcrafted barn decorations – including barn stars, shutterwork, brackets, columns and cupolas – that are exclusive to Somerset, Bedford and Washington counties in southwestern Pennsylvania with the largest number appearing in Somerset County. These decorations have links to the Pennsylvania Dutch, who brought a deep love of the land and barn building with them to the New World, and provide insight into the lives of early Somerset County farmers and the deep pride and passion they felt for their work.
Barn stars began appearing on Somerset County structures during the late 1800s with the last known star appearing in 1917. Not to be confused with painted Pennsylvania Dutch hex signs commonly seen in eastern Pennsylvania, barn stars were hand crafted from wood and applied directly to a barn's siding. Some stars served a dual purpose as ventilators for the structure. An estimated 75-100 barn stars still remain on Somerset County barns today.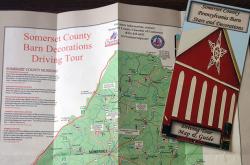 You, too, can explore Somerset County's rich agricultural heritage through the self-guided "Somerset County Pennsylvania Barn Stars and Decorations Driving Tour Map & Guide," available from the Somerset County Chamber of Commerce. The brochure highlights 19 of these numerous historic barns and barn decorations spread across Somerset County and includes details on their intricate, unique features and handcrafted decorations. All of the barns included on the brochure are also Pennsylvania barns.
The next time you find yourself in the countryside or on a back road near a farm, keep an eye out for these architecturally unique structures and works of art. You might just see more than a common, everyday barn.