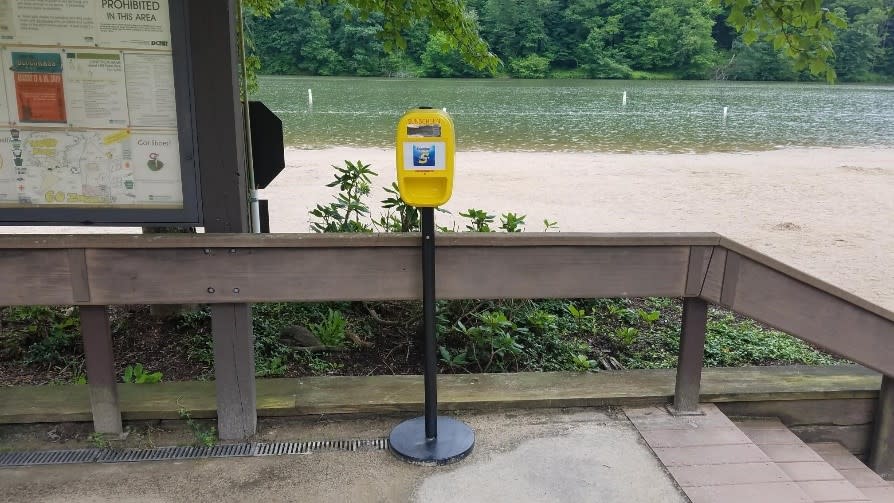 Three state parks in the Laurel Highlands will offer visitors free sunscreen.
"As the weather warms, it is critical people take the necessary steps to protect themselves from potentially harmful ultraviolet rays when spending extended time outdoors," said Cindy Adams Dunn, Department of Conservation and Natural Resources (DCNR) secretary. "We are again extremely grateful that the state Department of Health and Impact Melanoma continue to support and help expand this important program at our state parks. I encourage all Pennsylvanians to make sunscreen a part of their outdoors routine to ensure a fun and safe summer."
Experts say daily application of sunscreen with a Sun Protection Factor (SPF) of 30 or higher can aid in the prevention of skin cancer. Health officials report one in 40 Pennsylvanians will be diagnosed with melanoma in their lifetime.
More than 8,500 Americans are diagnosed with skin cancer each day.
Pole-mounted, battery-operated dispensers, supplying 30+ SPF BrightGuard sunscreen applications, will be positioned at 46 state parks including:
Keystone – At beach
Laurel Hill – At beach
Ohiopyle – At launch area on the Lower Yough and the train station along the Great Allegheny Passage.
A cancer prevention fund from the Department of Health (DOH) covers the costs of the sunscreen. DCNR continues to pursue opportunities to partner with local health organizations and healthcare system providers to cover future costs and to further expand the program.
"This sunscreen program has been invaluable in helping park visitors prevent harmful exposure to the sun each year," state parks director John Hallas said. "We expect to see millions of visitors this summer season and encourage everyone to take advantage of the free sunscreen while enjoying our beautiful state parks."
State parks are great summer destinations for swimming, boating, camping, and other outdoor recreation opportunities. Pets are welcome at state parks in designated areas, including:
Day-use areas
Designated sites in campgrounds
Designated cabins, camping cottages, and yurts
All areas not otherwise closed to pets