Vickie and Mike Baker have owned Maple Bottom Farm in Dawson for 5 years, raising chickens, milking cows and processing cheese. The couple shares a passion to educate others on agriculture and dairy, so they do just that by providing farm tours to visitors. They also have a beautiful farmhouse bed and breakfast onsite, offering a serene place for visitors to rest and wake up to the sounds of the roosters, alerting them to start their day exploring the Laurel Highlands. The property proves to be a must-visit destination in the Laurel Highlands, but the farm's sunflower maze is the crown jewel of the farm.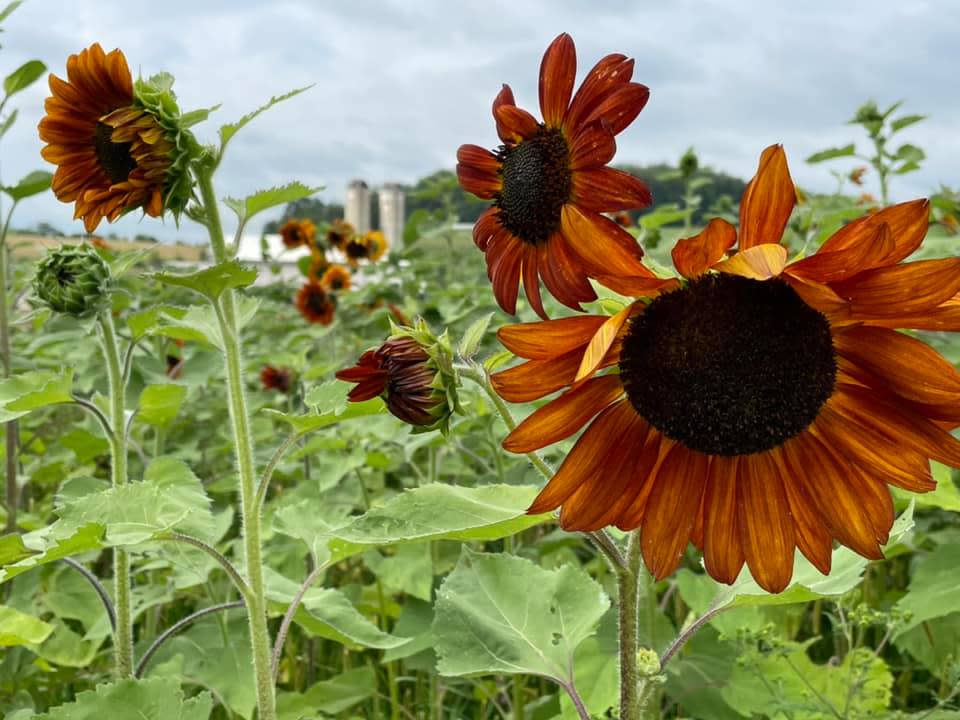 Spanning across 10 acres on Maple Bottom Farm, the sunflower maze is open every day besides Mondays until Labor Day. Their hours are 11 a.m. to 8 p.m. Tuesday through Friday and 10 a.m. to 8 p.m. Saturday and Sunday. This year, the farm planted more than 300,000 sunflower seeds across the 10 acres, including 2 acres of orange (autumn beauty) sunflowers that grow multiple blooms per stem. Throughout the maze, you will find multiple props like a 1950s gliders bench, hay bales topped with saddles and vintage photo frames, making plenty of photo opportunities with a beautiful backdrop.
After a walk through the maze, you'll probably work up an appetite. During the week, Maple Bottom Farm sells cheese curds, ice cream and milkshakes made from their own dairy products, and on weekends, you can find a food truck parked on property. If you prefer to pack a lunch, you can catch some shade under the pavilion and enjoy the views while eating your meal.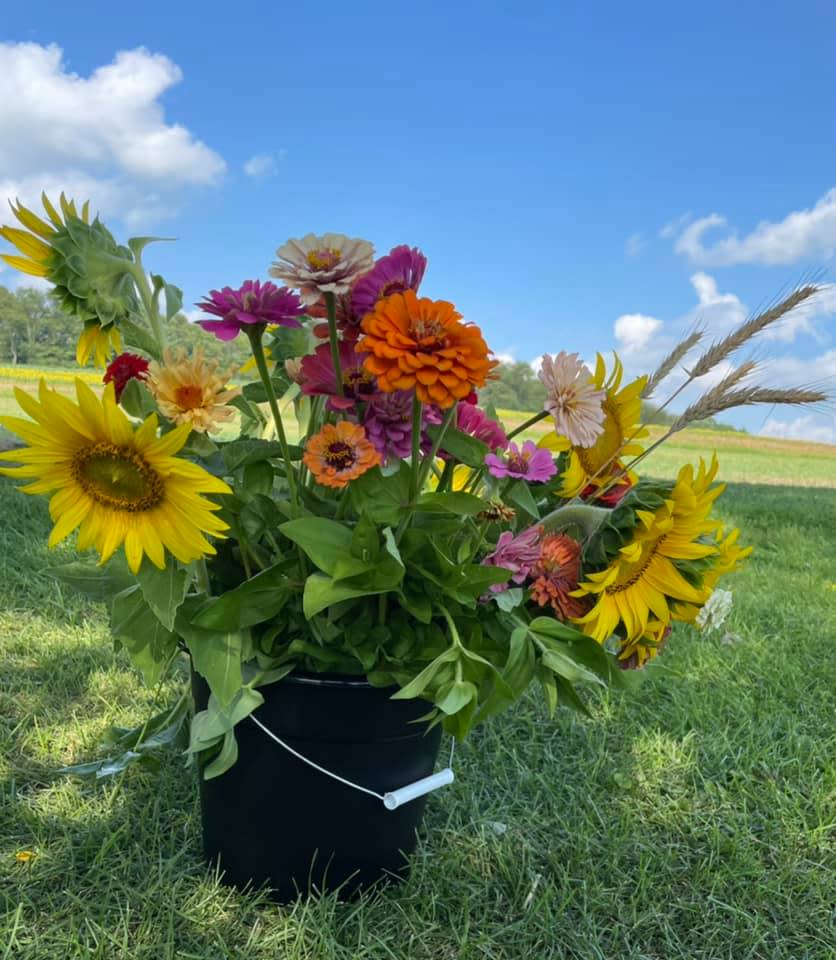 Sunflowers aren't the only flowers blanketing the farmland. This year, Maple Bottom Farm planted 26 pounds of zinnia seeds, resulting in millions of zinnias blooming across two-and-a-half acres. The colorful zinnias stand at 2- to 3-feet tall and attract swarms of beautiful butterflies. On Wednesday mornings, those who pre-register can pick up a 9-quart bucket of sunflowers, zinnias, or a combination of both!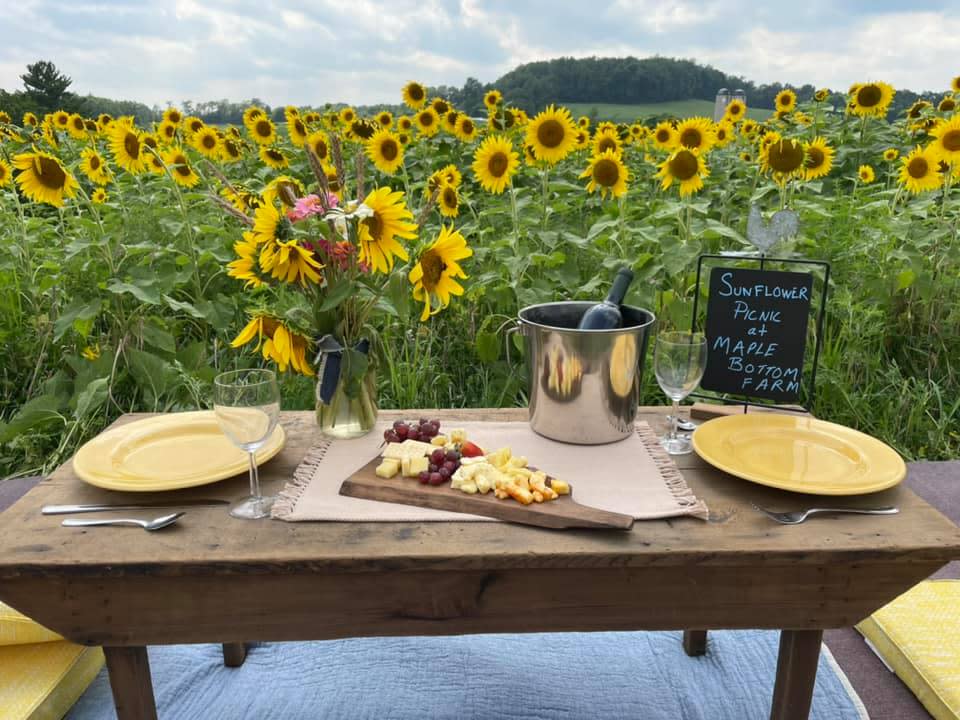 There's something romantic about a field of sunflowers, right? Plan your next date night at Maple Bottom Farm with an intimate picnic in the sunflowers, which includes admission to the sunflower field, seating, silverware, stemware, blankets, pillows, a cheese board and a mason jar filled with fresh flowers that is yours to take home. Feel free to bring your own food and beverages to enjoy during your date night, they'll have a bucket of ice waiting for you!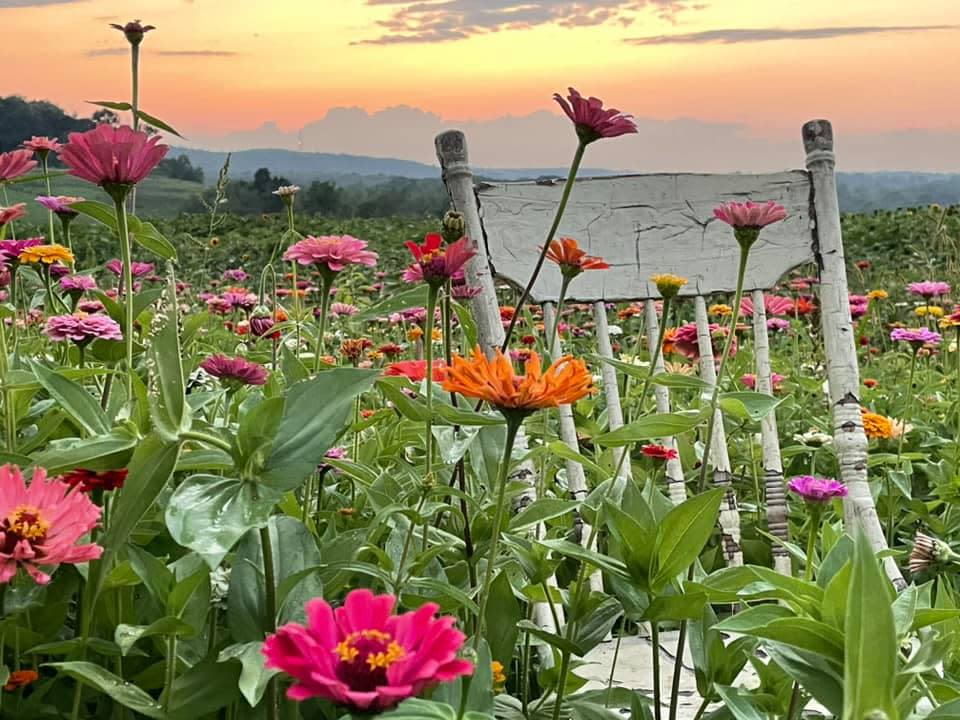 There will be no shortage of photo opportunities during your visit at Maple Bottom Farm, so they're challenging you to a photo contest! Catch a butterfly in the zinnias or a gold finch in the sunflowers, snap a pic and submit your photos to Maple Bottom Farm via Facebook Messenger! The deadline to enter is September 10, and the top photos in each category will be posted on Facebook for everybody to vote for their favorite! Each winner will receive a $100 gift certificate to the Farmhouse Bed and Breakfast.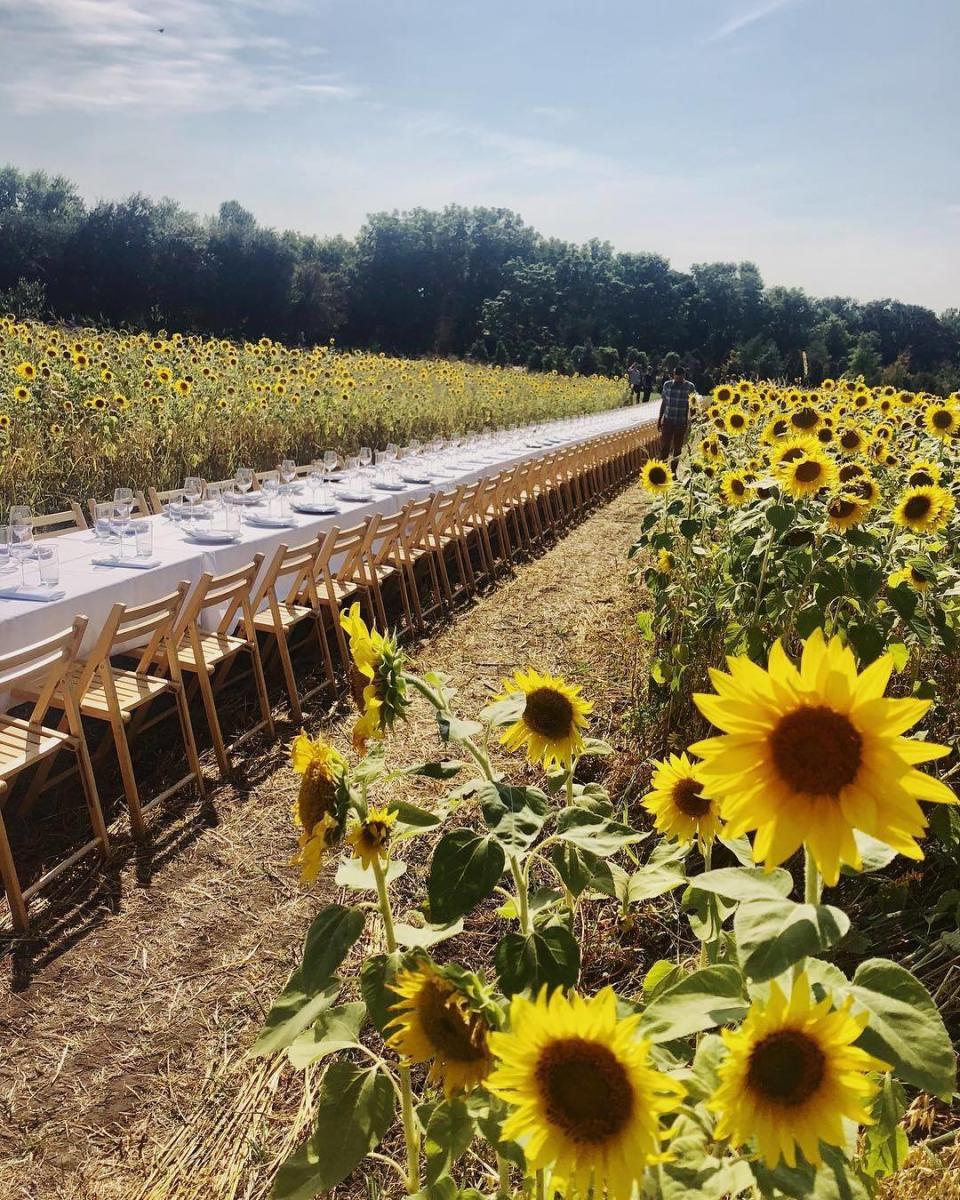 Although the sunflower maze will only be open until Labor Day, Maple Bottom Farm has big plans for this fall! Keep an eye on their website and Facebook to catch dates for farm-to-table dinners, trunk or treat, movie on the barn nights and a fall festival complete with pumpkin picking and wagon rides.
With new blooms popping up every two weeks and props rotating in and out of the maze, no two visits to Maple Bottom Farm are the same! Regardless of when you visit, the immense beauty of the vast farmland is something you won't soon forget.
"Sometimes we take the beauty that surrounds us for granted, and we are grateful that we can share it with other people." - Vickie Baker
All photos were provided by Maple Bottom Farm.