WHAT YOU PROBABLY ALREADY KNOW
We know, Fred Rogers is our native son, and our love for him knows no bounds. But if you have spent any time looking into Latrobe, Pennsylvania (or is it Luh-trobe?), you'll quickly discover there's more to be found than only America's friendliest neighbor.
Of course, Fred Rogers, born March 20, 1928, is arguably Latrobe's most famous resident of all time (Arnold Palmer fans, don't worry, we're getting to him next!). Fred's decades of dedication to children through heartfelt interpersonal interaction, media production, and authentic love have seared him into the hearts of Americans everywhere. With the release of both the documentary on his life in 2018, Won't You Be My Neighbor?, and the biopic starring Tom Hanks in 2019, A Beautiful Day in the Neighborhood, Fred's legacy is now permanently accessible to anyone who wants to learn more about his remarkable life.
Arnold Palmer, born a little over a year after Fred Rogers on September 10, 1929, brought sports fame to Latrobe, especially after his first Masters Tournament win in 1958 (although his professional wins extend back to 1955, and his amateur wins even further, to the WPIAL and PIAA Championships of 1946). Palmer would go on to net three further Masters wins, and his PGA standing to this day puts him the 5th winningest golfer of all time in their events (62 wins over 19 active years).
Want to feel like a true Latrobean? Go for a half-and-half the next time you order a drink at a restaurant, but order it as the "Arnold Palmer." Half iced tea, half lemonade, ALL refreshing, and reportedly one of Palmer's favorite drink orders after an invigorating round.
Alright, that's the famous folks, and we have two more claims to fame to cover before diving into some of the more hidden delights to discover around town.
The first is the rather delicious notion that Latrobe is home to the creation of the Banana Split. Reportedly first served at the local Tassell Pharmacy by David Strickler in 1904, the Banana Split is a creamy, delicious ice cream treat served over a split-banana and topped with sauces, cherries, and whipped cream. You can get your Banana Split fill at Latrobe's Annual Banana Split Celebration, covered later in this article.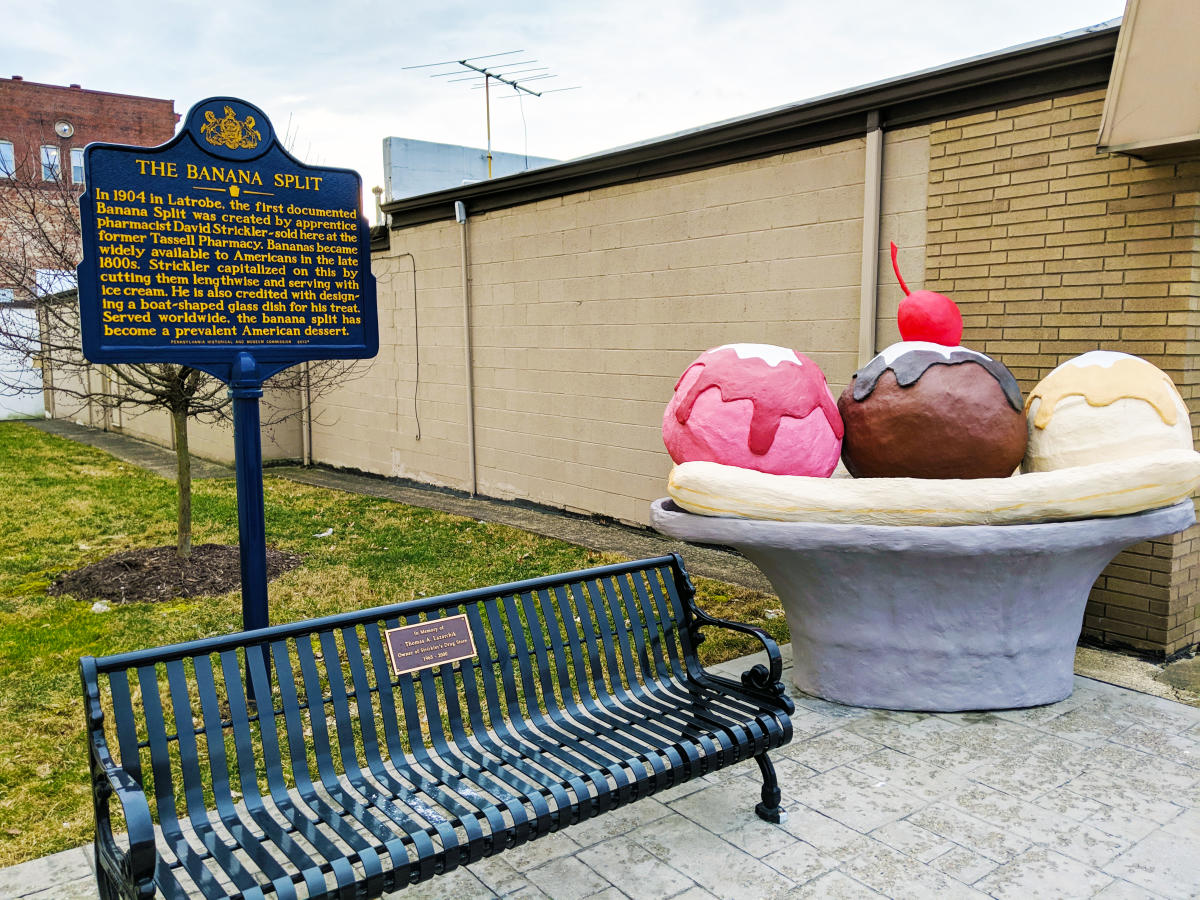 And finally, we come to Saint Vincent Archabbey and College. From Jim Berger, Director for Marketing, Communications, and Public Relations at Saint Vincent College:
"Saint Vincent Archabbey and College were founded in 1846 by Boniface Wimmer, a monk from the Benedictine Abbey of Metten in Bavaria. Wimmer came to America with the intention of educating the sons of German immigrants and training a native clergy for the German-speaking peoples of the United States. He settled on the site of a parish established in 1789 for English and Irish Catholics and very quickly learned that his monks would not be able to limit their attention to Germans alone. With the aid of several American bishops, friends, and benefactors in Europe, and a strong community of Benedictine monks at the monastery of Saint Vincent, he established the first Benedictine college in the United States."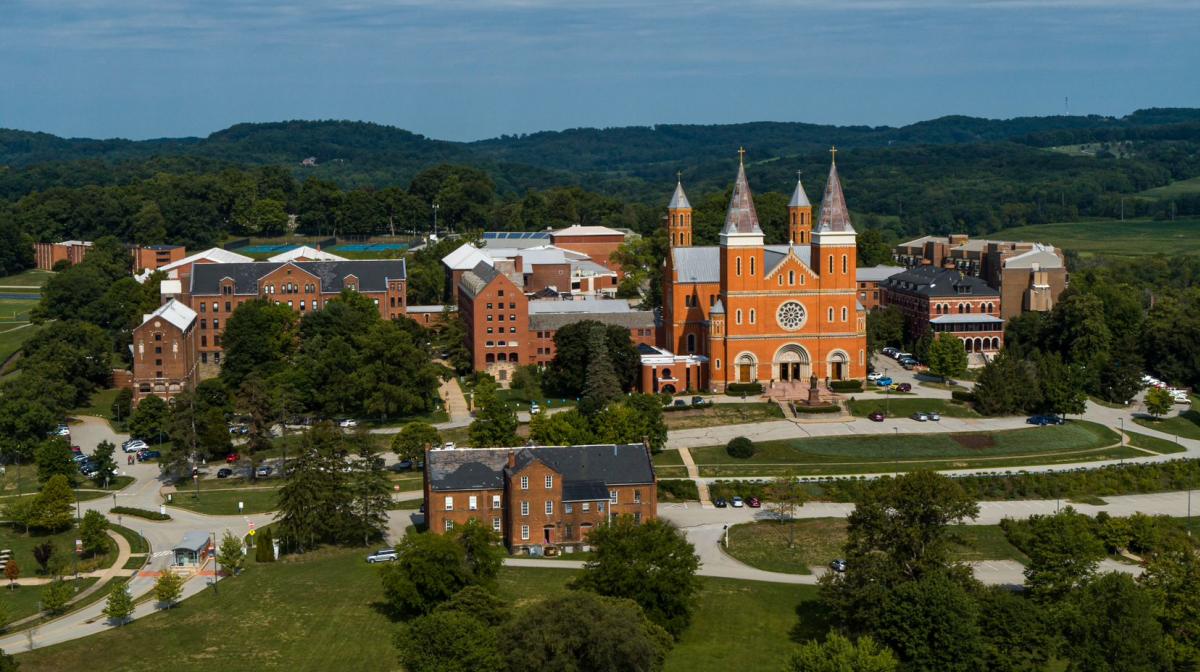 "From modest beginnings, the college grew rapidly, and on April 18, 1870, the State Legislature of Pennsylvania incorporated the school, empowering it "to grant and confer degrees in the arts and sciences as are granted in other colleges and universities in the United States, and to grant to graduates, or persons on whom such degrees may be conferred, diplomas or certificates as is usual in colleges and universities.''
HIDDEN GEMS
And now, for the treasure hunting.
While you're debating whose wings are better (Sharky's or Dino's?), you definitely want to check out Four Seasons Brewing Company. Constructed in an unassuming building off of Route 981, doors opened to this local watering hole in November of 2013, and business has been booming ever since. Featuring home brews, food trucks, and live entertainment, Four Seasons is a must-stop. And no, they don't just serve beer if that's not your style!
"The Winnie Palmer Nature Reserve at Saint Vincent College is a 50-acre natural reserve located on campus that includes native landscapes, trails, meadows, gardens, ponds, wetlands, and Environmental Learning Barn, Nature Explore Certified playspaces, and more. Open to the public, the Winnie Palmer Nature Reserve offers educational programming throughout the year all ages, and regularly hosts field trips, summer camps, birthday parties and a bevy of community events."
"Located in the Fred Rogers Center, visitors can find the Foster and Muriel McCarl Coverlet Gallery, a space featuring more than 700 'figured and fancy' jacquard woven bead weavings. Most of the coverlets in the McCarl collection originated in Pennsylvania, New Jersey, New York, Ohio, and Maryland, while it also includes pieces from Kentucky, Indiana, Michigan, Iowa, and Tennessee. The bulk of the coverlet collection dates from 1820-60. Additionally, the McCarl Gallery houses a collection of more than 100 pieces of textile and weaving equipment including looms, spinning wheels, a jacquard attachment, and more."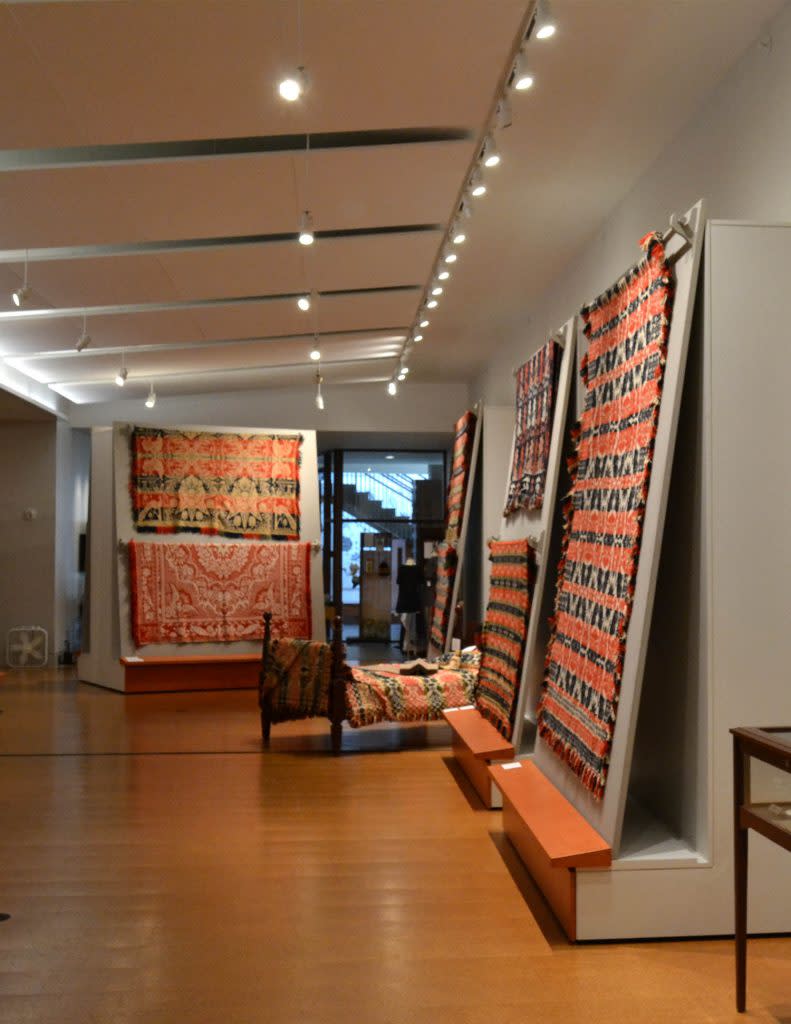 Moving off the Saint Vincent College Campus and into downtown Latrobe, there are three locations you don't want to miss on your mission to fully discover what the town has to offer. Our first stop is at 819 Ligonier Street, home to the Latrobe Art Center and Ricolita's Café. Founded in 2002 by Mrs. Nancy Rogers Crozier (sister of Fred Rogers) and Mrs. Elizabeth Hazlett, Latrobe Art Center provides a welcoming atmosphere for adults and children of all skill levels to grow their artistic talents and interests. I adore Latrobe Art Center. The displayed art is always impeccably chosen, and you'd be hard-pressed to find a better sandwich for lunch than what you can pick up at Ricolita's.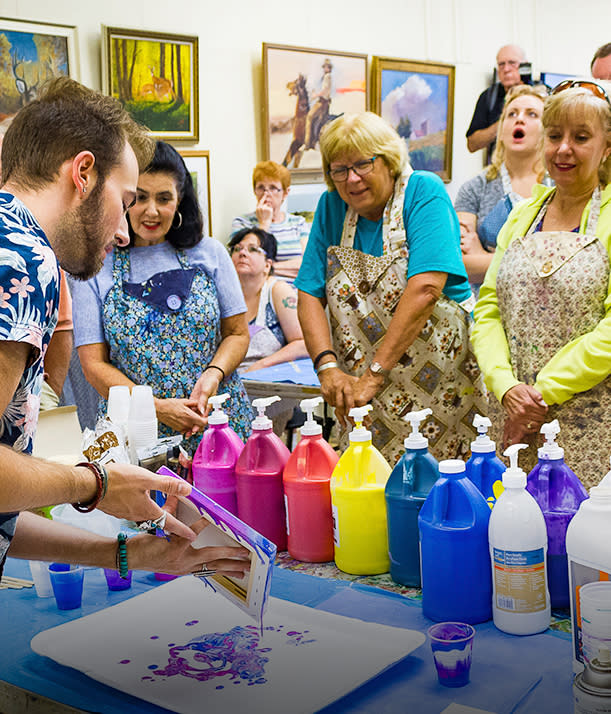 You're also likely to find Latrobe memorabilia that you would not find elsewhere in town, so if you want to commemorate your explorations with a souvenir, the Art Center may be just the place for you. Moving next door, you'll find the Greater Latrobe Laurel Valley Regional Chamber of Commerce Neighborhood Welcome Center (say that five times fast!). This community organization serves the local business scene, but their physical location is what I'm interested in sharing today.
This collection of Rolling Rock Memorabilia, owned by Latrobe local James Mickinak, is on display in the Chamber offices for any member of the public to enjoy. Rolling Rock Beer, once the beverage that ran through the blood streams of adult Latrobeans, now no longer calls Latrobe home.
After a buy-out from Anheuser-Busch in 2006, Rolling Rock moved distribution out of state, and the brew stored in those iconic green bottles was no more a local treasure. But collections lovingly accrued like this one courtesy of Mr. Mickinak (and those pictures are a mere fraction of what he owns) allow the Rolling Rock spirit to live on, and proud displays like this one at the Greater Latrobe Chamber make for a delightful trip down memory lane.
Drinks not included.
Finally, this hidden gem doesn't even require a trip away from your computer or phone. Scrolling through the incredible history shared by the Latrobe Historical Society on Facebook will leave you longing for the bustling downtown of the 1950s. Local revitalization efforts have gone a long way to bringing Latrobe back to its glory days, but there's something about the black and white photographs of shops long gone that just makes you want to stroll down Main Street on a Saturday night… watching the classic cars go by, and maybe even a catching a movie at one of the many theatres downtown Latrobe once boasted. We can't live in the past, but we can certainly take inspiration from memories like the ones shared by the Latrobe Historical Society to guide our hopes and dreams moving forward in re-emerging small towns just like Latrobe.
NOTABLE PEOPLE
It's not ALL about Fred and Arnie. We'd like to thank Dennis Charlesworth, Latrobe knowledge guru, for bringing these three of these four fascinating folks to our attention (and many more we couldn't fit in this post!):
Dennis Ferry
If you're a music fan, you'll love learning about Dennis Ferry. After obtaining his BFA from Carnegie Mellon and a Masters in Music from Catholic University, he became the Principal Trumpet player for the Orchestre de la Suisse Romande in Geneva, Switzerland. Ferry held this position for almost 32 years. In the below video, Ferry performs Taps, a tune he played many times as a former US Air Force Band member:
Dr. Gregory S. Forbes
Dr. Forbes is The Weather Channel's longstanding severe weather expert, and he's from little ol' Latrobe! Forbes earned his Bachelors in Meteorology from Penn State University, and then went on to get his Masters and Ph.D. from the University of Chicago. He has been the resident expert for TWC since 1999 and also spent much of his career as a researcher and professor at Penn State. Catch Dr. Forbes on this 2011 episode of Storm Riders:
Hanna Green
Hanna is a 2013 graduate of Greater Latrobe Senior High School, and from the very beginning of her running career has been a powerhouse athlete. Hanna continued her running success at Virginia Tech, where she continued to dominate middle-distance races, primarily the 800-meter race. Hanna is a professional American Athlete, and she is currently ranked 8th in the world for her 800-meter score. See one of Hanna's most recent, incredible first-place finishes:
George Allen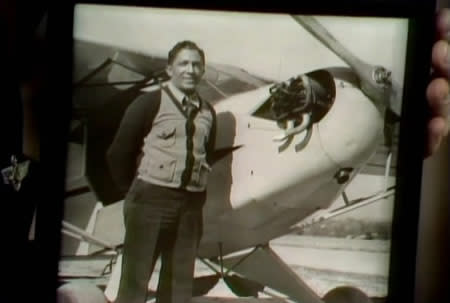 While he wasn't born and raised in Latrobe, George Allen did call the town "home" and has a really awesome back story. Born in 1910, was inspired by pilots like Charles Lindbergh. Allen moved to Latrobe and took flight lessons at Latrobe Airport (now known as Arnold Palmer Regional Airport.) He purchased his own plane and taught private lessons. During World War II, Allen became chief instructor at the Tuskegee Army Air Fields, where he taught the mostly Black fighter pilots known as the Tuskegee Airmen. After the war, he returned to Latrobe and gave flying lessons to Fred Rogers. In 1993, Fred appeared on "The Arsenio Hall" show and talked about his special friendship with George.
NATIONAL REGISTER OF HISTORIC PLACES
Latrobe is home to three (formerly four, but the Latrobe Armory was torn down) sites on the national register of Historic Places, two easily accessible for downtown exploring, and one located near Saint Vincent College: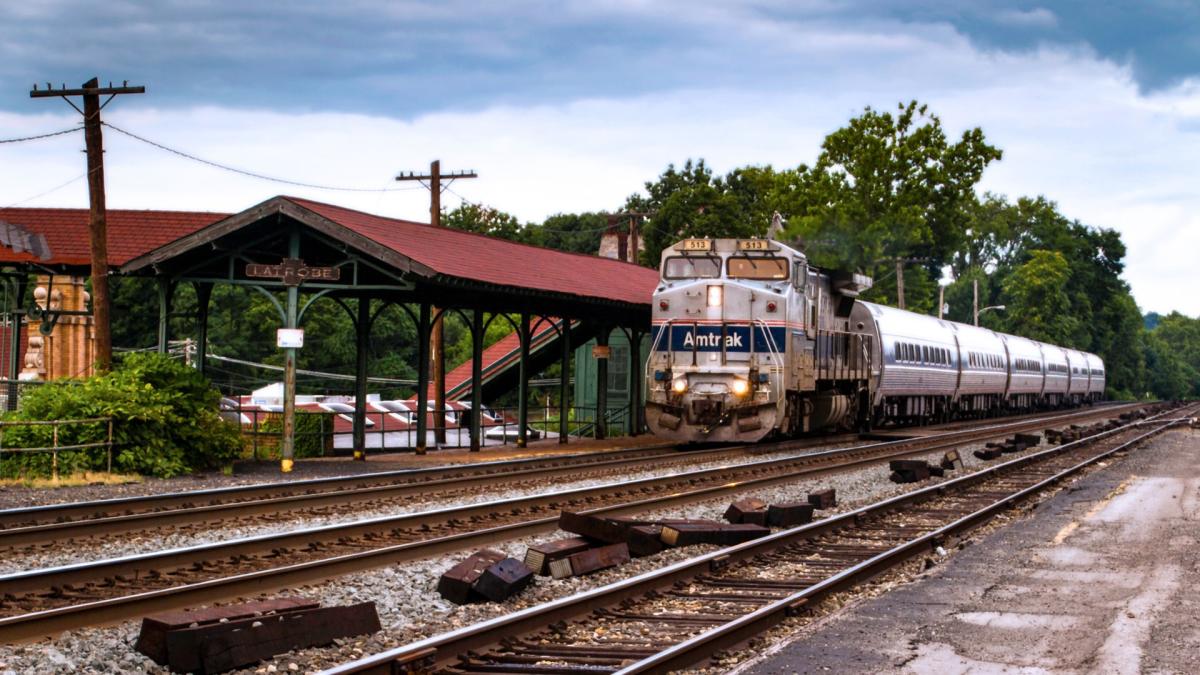 Pennsylvania Railroad Station at Latrobe (325 McKinley Avenue): This station was built by the Pennsylvania Railroad in 1903.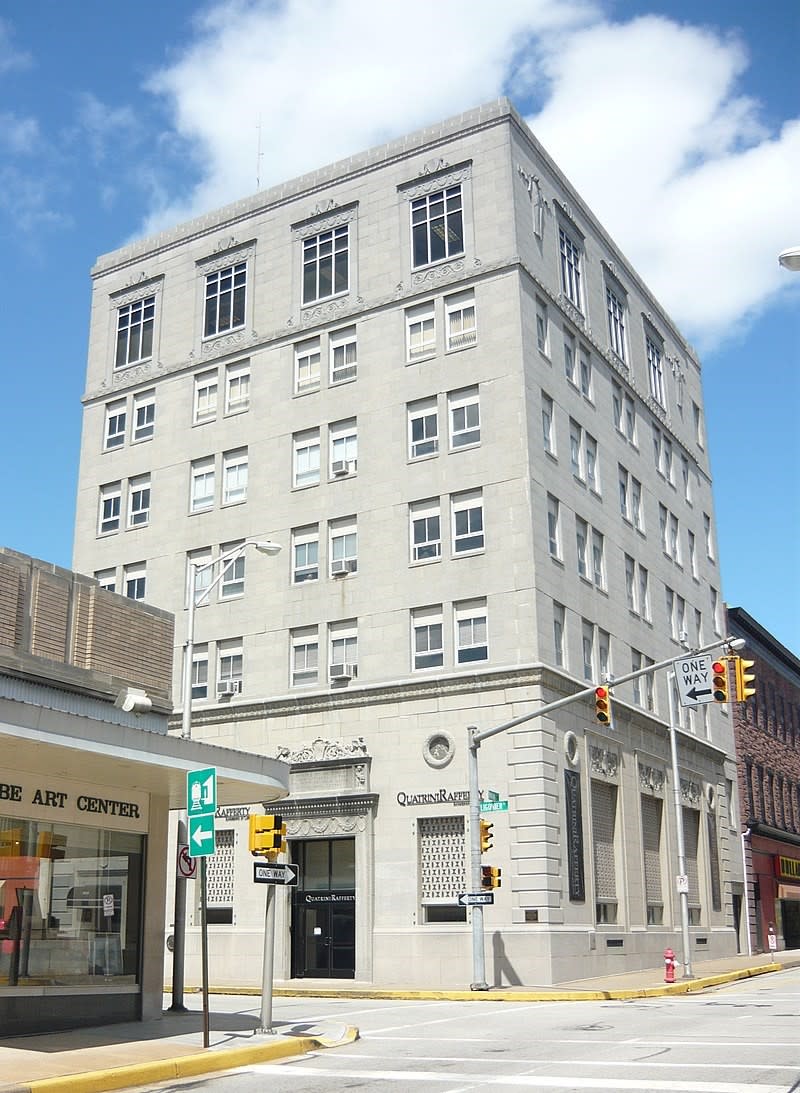 Citizens National Bank of Latrobe (816 Ligonier Street, at Main Street): This was previously known as the Mellon Bank Building. This six-story, 1926 structure was designed by the Greensburg firm of Bartholomew and Smith.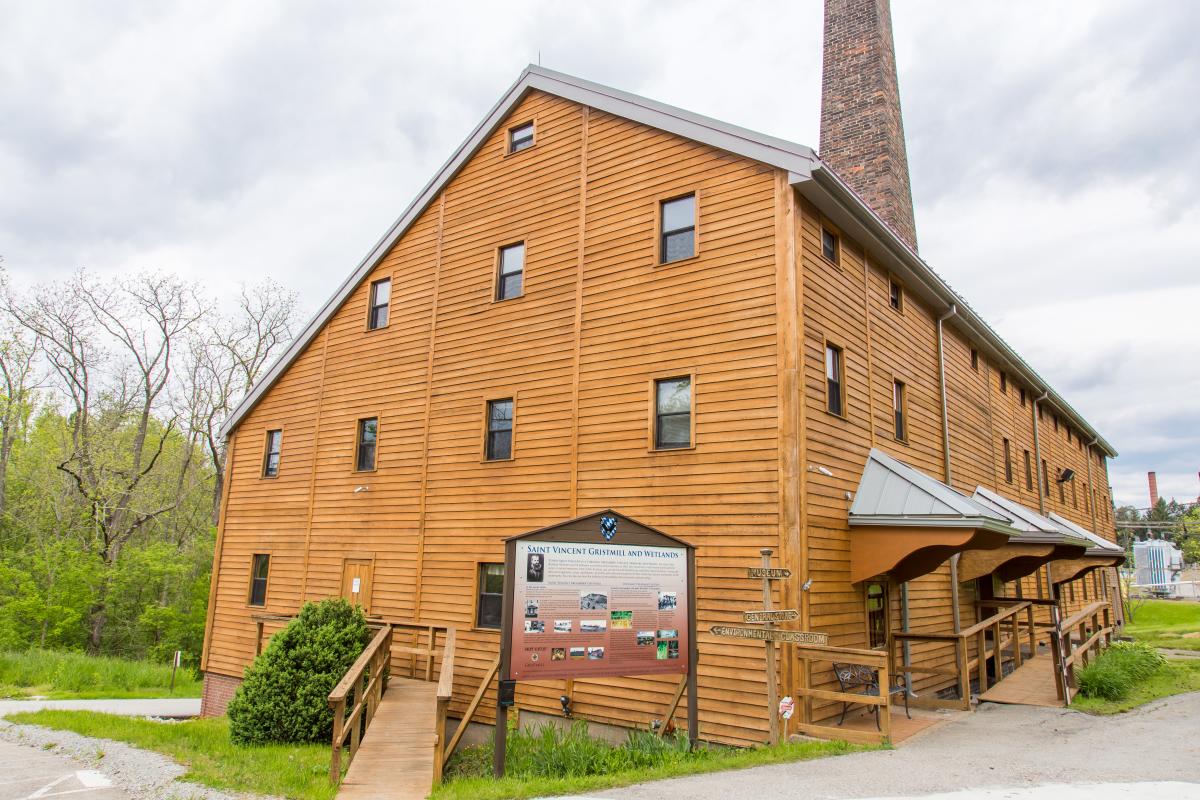 Saint Vincent's Jim Berger, again, with the hidden history:
"The Saint Vincent Gristmill, built by the Benedictine monks has been in continuous operation since 1854, and fresh flour continues to be ground weekly by the monks of Saint Vincent Archabbey from wheat harvested from Saint Vincent grounds by local farmers.
The Gristmill also has a museum, gallery, and general store, which offers goods produced on-site including whole wheat flour, unbleached white flour, bran, cornmeal, wheat berries, buckwheat, and rye. The general store also sells a wide range of bread and Trappist jams, along with a number of other products and souvenirs. It is open to the public Monday through Saturday, 11 a.m. to 3 p.m."
ANNUAL SPECIAL EVENTS
We are at the end of our deep dive into all the nooks and crannies of Latrobe's places and people. All that remains is the special events and things to do around town. We've got five great events for the whole family to enjoy.
Mister Rogers Family Day
This annual event commemorates Fred Roger's life and legacy through a fun day of family-friendly activities.
Latrobe Farmers' Market
Every summer, you'll find local goods and fresh food at the Latrobe Farmers' Market, traditionally held Tuesday afternoons.
Westmoreland County Air Show
The Westmoreland County Airshow, held annually at Latrobe's Arnold Palmer Regional Airport, draws crowds from all over the country. In the past few years of this event, the incredible flight demonstrations have featured specialized aircraft and the talents of the U.S. Navy Blue Angels. Trust us, there is nothing comparable to the rattle in your bones as a fighter jet screams past, seemingly mere inches above your head! You'll want to talk to a local about the best spots around town to watch the planes, although nothing compares to the experience of standing on the tarmac and getting the closest view physically possible.
The Great American Banana Split Celebration
You won't find a sweeter party anywhere else in Latrobe! This weekend-long celebration in honor of the Banana Split is guaranteed to bring a smile to your face and more bananas than you could eat in a lifetime!
Pittsburgh Steelers Training Camp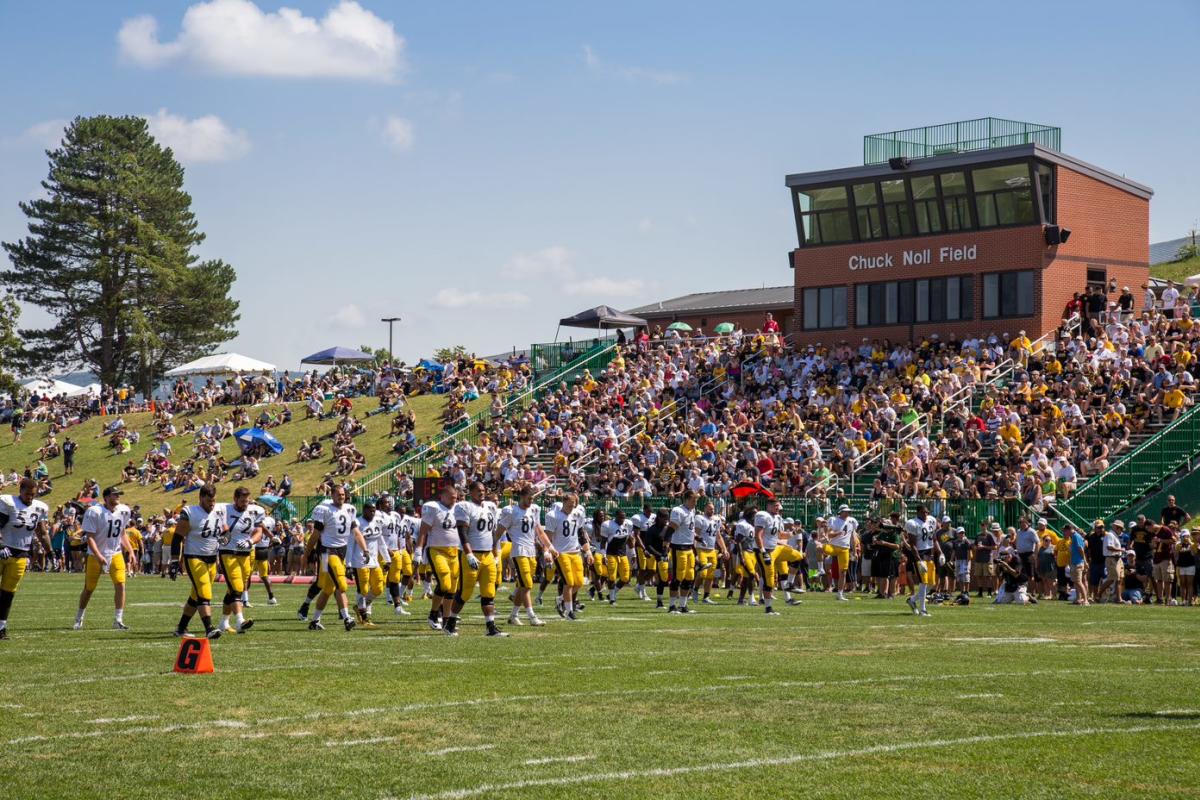 From Jim Berger at Saint Vincent:
"Since 1966, Saint Vincent College has served as the summer training camp home of the Pittsburgh Steelers. The 54-year association is the second-longest among National Football League teams, behind only the Green Bay Packers annual camp at Saint Norbert College."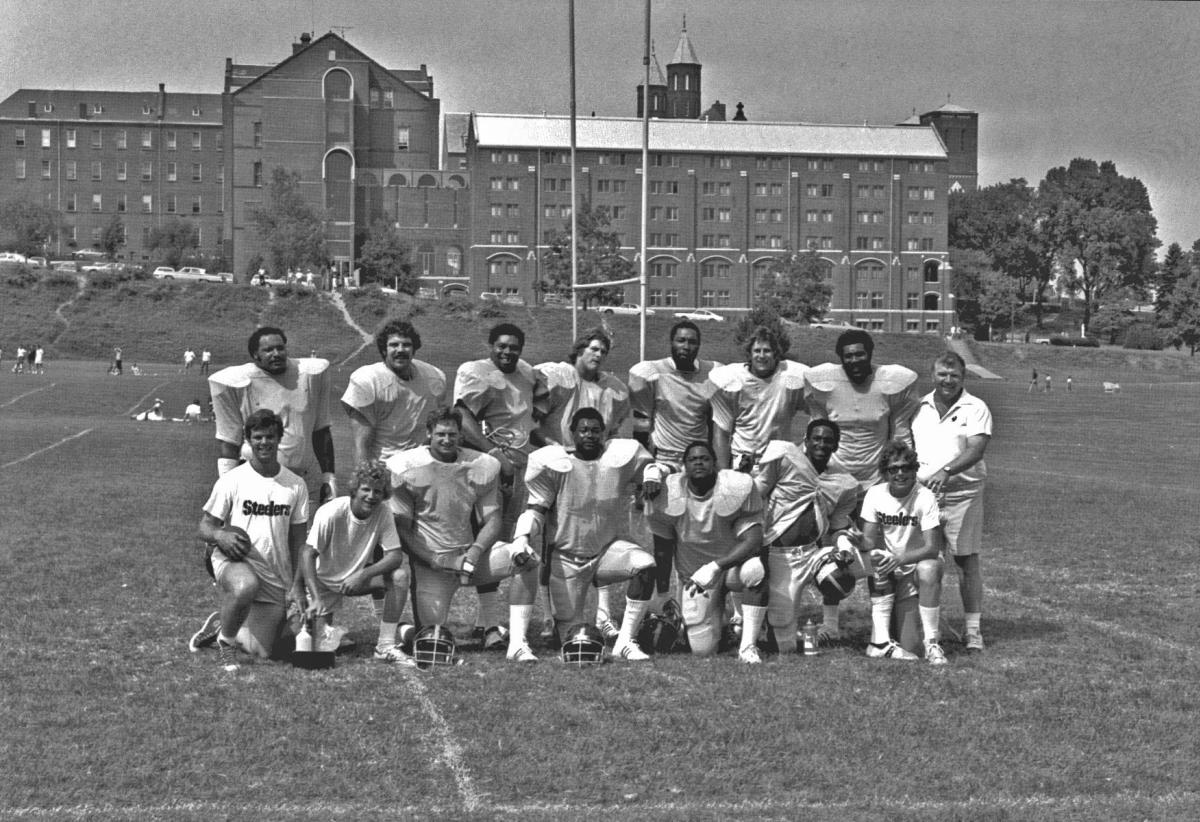 "Though the Steelers struggled on the field throughout the late 1960s, camp at Saint Vincent soon proved to be a hit, and as the team's record improved so did the interest in the Steelers when they arrived on campus. After the Steelers' first playoff appearance in 1972 – a season punctuated by Franco Harris's legendary "Immaculate Reception" – the nice crowds that attended camp sessions turned into huge throngs that clogged Route 30 in both directions. Crowds of 15,000 or more routinely packed the hillsides surrounding the practice fields throughout the team's dynastic 1970s.
"Regardless of the team's record, training camp has continued to be a hit at Saint Vincent year-in and year-out. Each August, fans from across the world make the pilgrimage to Latrobe to get an up-close glimpse of their beloved boys in black and gold."
WRAPPING UP
There is so much to love about Latrobe, Pennsylvania. Latrobe is one of the many incredible small towns throughout Pennsylvania's Laurel Highlands, and hopefully, a place that has nestled into a special home in your heart. We hope you've enjoyed this edition of "Getting to Know."
We'd like to thank Angela Belli, Director of the Winnie Palmer Nature Reserve, Jim Berger, Associate Director for Marketing, Communications, and Public Relations at Saint Vincent College, and Dennis Charlesworth, knowledge guru and self-appointed Ambassador for Latrobe, for supplying much of the information and images in this post.