When you think of ski patrol, most people picture ski patrollers on the steep sweeping slopes of the local ski resorts, where most ski patrollers are located. There is another segment of ski patrol that patrols the remote, quiet, and gentler slopes and trails in the Laurel Highlands. This is the land of cross-country skiers where peace and solitude are the norm.  This is where you will find the "Nordic" (i.e. cross-country) ski patrollers.
The Laurel Highlands is fortunate to have two teams of Nordic Ski Patrollers: Laurel Summit Nordic and Laurel Highlands Nordic. The role and duties of both patrols are the same. The only difference is where each patrol is stationed. 
Laurel Summit Nordic, pictured above, is stationed at the warming hut on Laurel Summit Road near the Laurel Mountain Ski Resort. Laurel Highlands Nordic is stationed at Kooser State Park.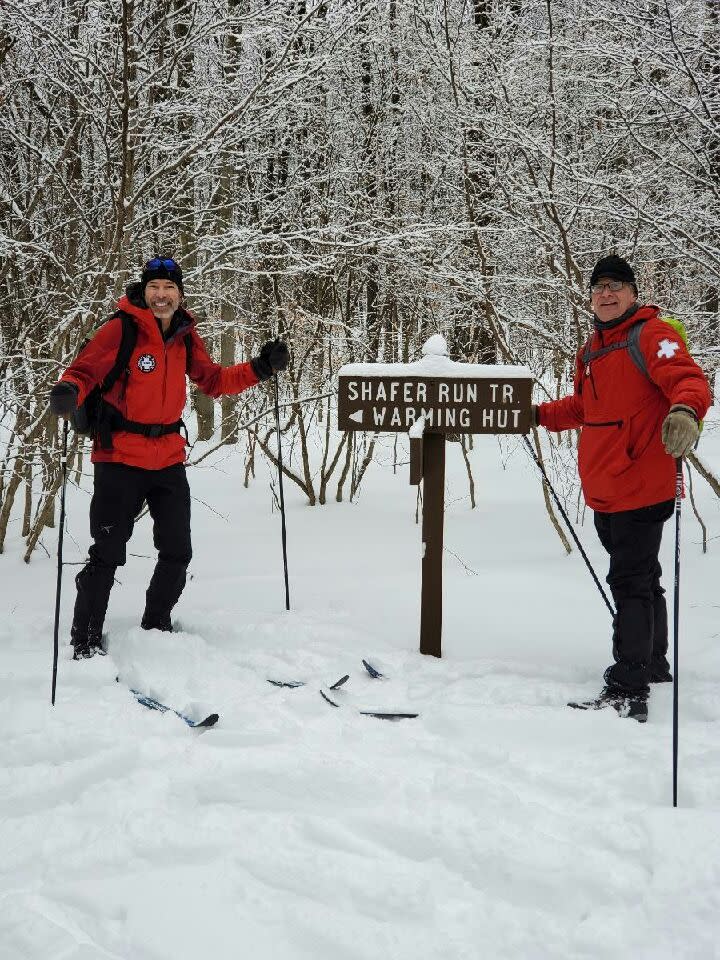 What it takes to become a Nordic Ski Patroller:
Enjoyment in being outdoors and cross-country skiing.  You don't have to be an expert skier.  Ski skills are quickly mastered with training and practice.  
A desire to learn first aid and wilderness rescue skills.  We provide the National Ski Patrol (NSP) Outdoor Emergency Care (OEC) Course which consists of self-paced, on-line work and "hands-on" training over 8-12 weeks.  You will then spend your first winter season as a "Candidate" practicing first aid skills and learning wilderness rescue and survival skills like building a rescue sled using skis, doing Search and Rescue, building emergency shelters, navigating with map, compass, and GPS, and practicing rope rescue skills.
Willingness to patrol our cross-country ski areas on weekends during the winter season.
Willingness to volunteer your time and expertise in carrying out the duties and in maintaining and upgrading your first aid and outdoor skills.
Anyone from age 15 up is eligible.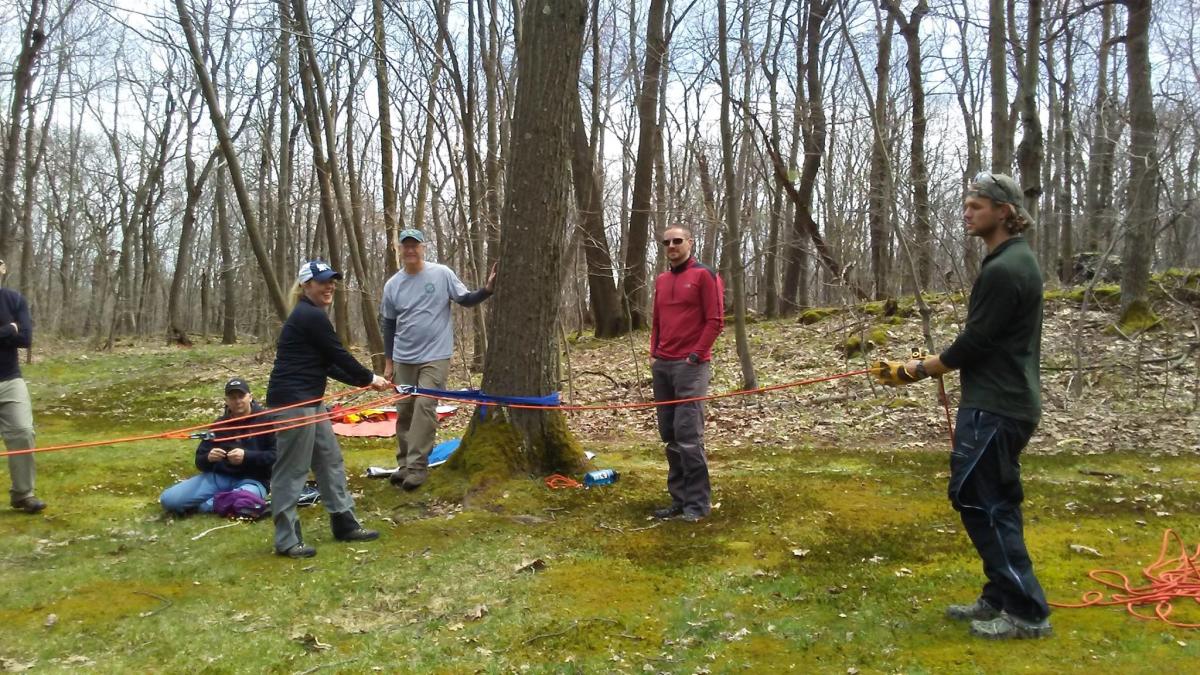 Benefits of being a Nordic Ski Patroller
The satisfaction of volunteering to help people and to maintain the forest and trails.
Comradery with other outdoor enthusiasts and with organizations who maintain our trails and support our work – Department of Conservation and Natural Resources (DCNR) and Pennsylvania Cross Country Ski Association (PACCSA). 
Opportunity to use your ski patrol skills year-round in outdoor events like marathons, adventure races, etc.
Membership in National Ski Patrol provides free to low-cost, top-notch training, and many other benefits.
Learn outdoor skills that are useful beyond ski season which help you transition to other activities like hiking, backpacking, biking, kayaking, etc.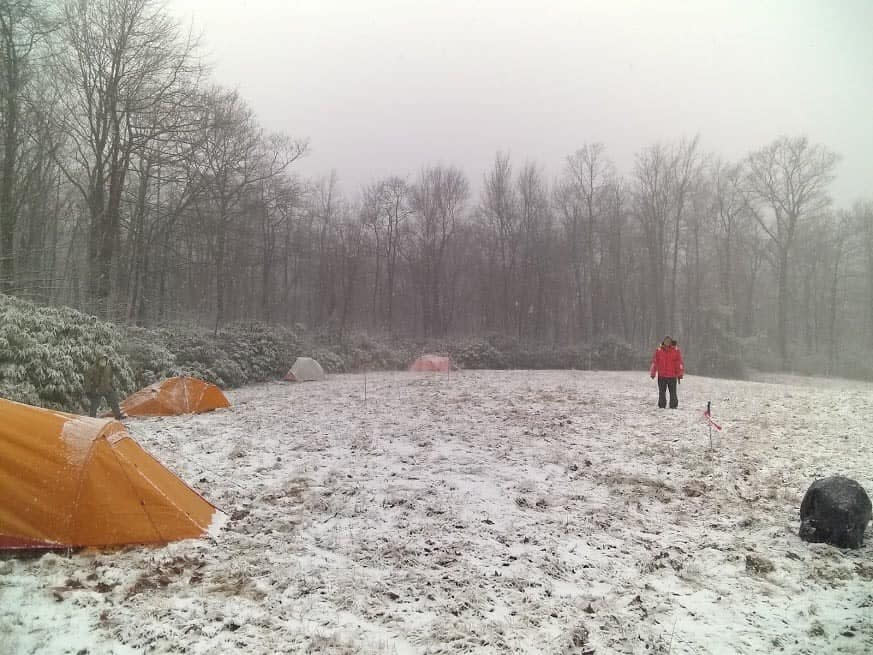 Duties of Nordic Ski Patrollers:   
Nordic Ski Patrollers are volunteers and are self-funded.  We rely on donations to maintain equipment and supplies.
In winter, we patrol on weekends at our locations.  
We're on the trails ensuring visitors are safe, and we treat any injuries or illnesses that may occur. 
We also help visitors with finding their way on our trails and forests and suggesting trails to ski, snowshoe, hike, or bike.  We are happy to give helpful tips on cross-country skiing, snowshoeing, and hiking.
We assist with Search and Rescue (SAR) operations putting our navigation and wilderness skills to good use.
In other seasons, we provide first aid for marathons and adventure races.
We partner with the Pennsylvania Department of Conservation and Natural Resources (DCNR) as we share resources and participate in trail maintenance.
We partner with the PennsylvaniaCross-Country Skiers Association (PACCSA) who voluntarily groom our trails, maintain a web camera, and provide cross-country ski lessons.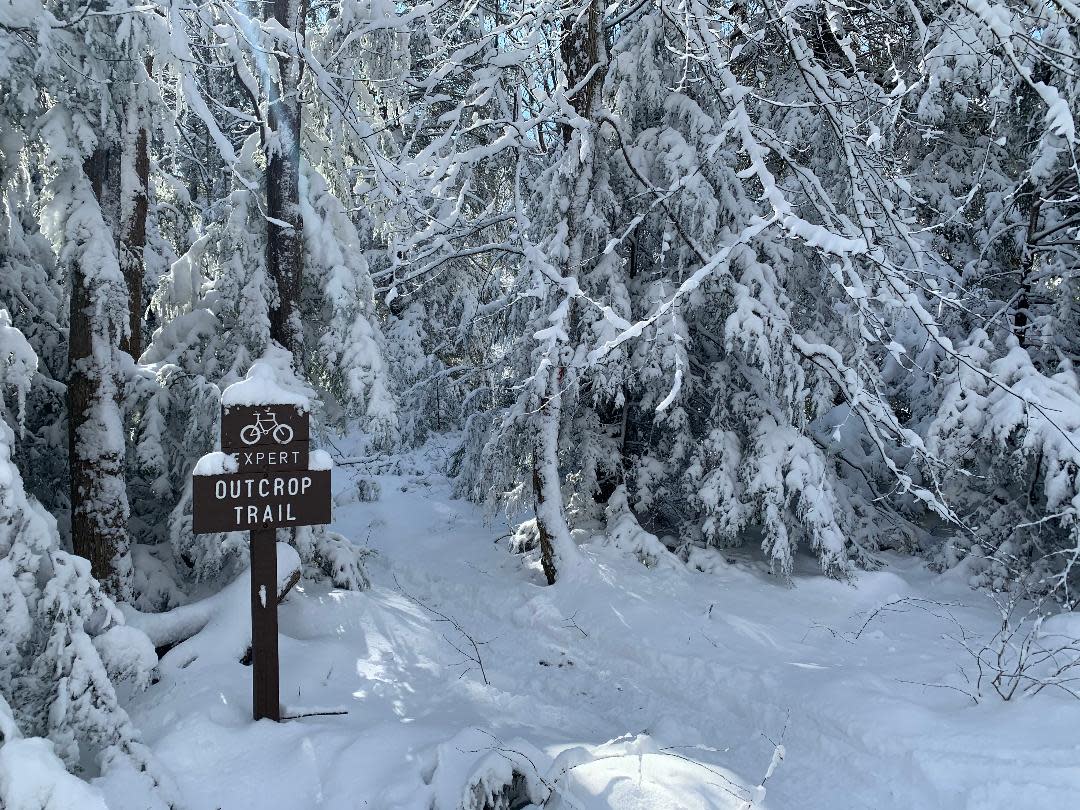 About Each Park:
Both areas have an excellent network of ski trails. Trails are used by skiers, snowshoers, snowmobilers, hikers, and bikers –year-round.  Maps are available at each location.
Laurel Summit Patrol covers approximately 50 km of trails in Forbes State Forest along Laurel Summit Road. The trails are suitable for beginner and intermediate skiers. Some trails are groomed. Sections of Laurel Summit Road are suitable for skate skiers.  Snowmobile trails also cross through this area. There is a spacious warming hut with a wood burner providing a warm rest spot. Our warming hut location is 1120 Laurel Summit Road.
Laurel Highlands Patrol covers Kooser State Park, North Woods, Jones Mill, and Roaring Run in Forbes State Forest. Kooser State Park has easy trails suitable for beginners. The other state forest areas have more remote trails suitable for intermediate to expert. It too has a warming hut at the North Woods location.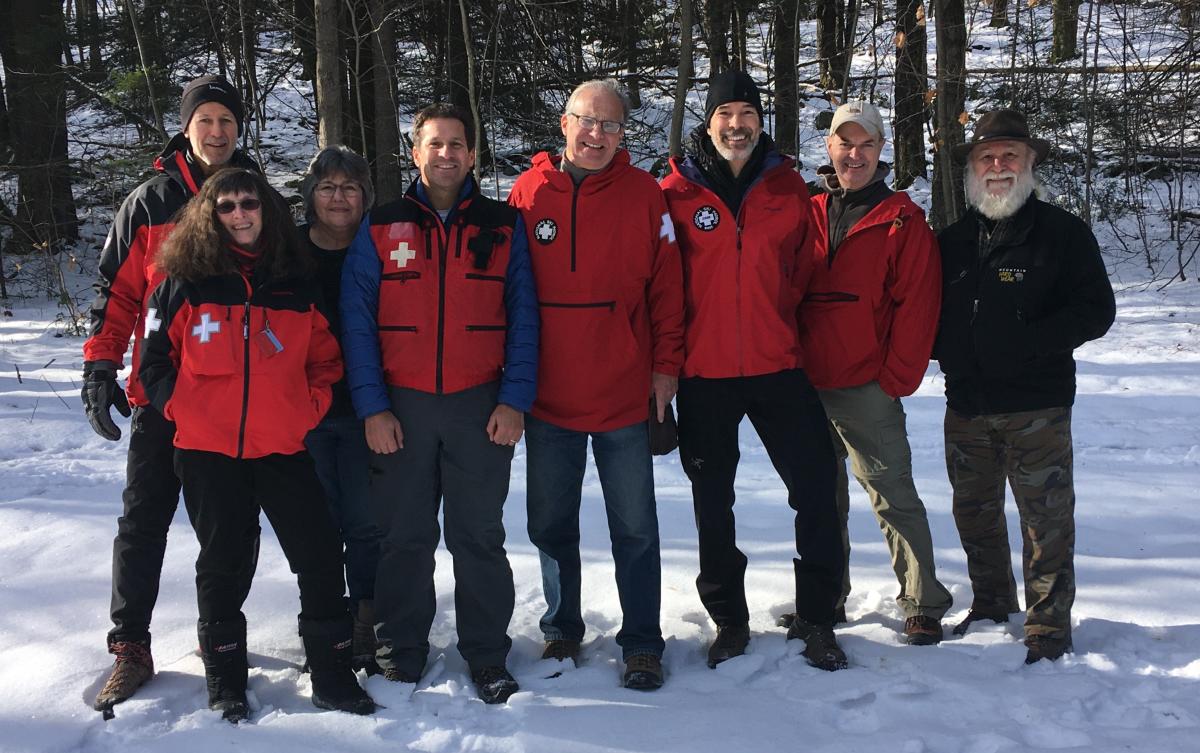 Laurel Highlands Nordic Ski Patrol pictured here.
How to Get Involved:
We encourage you to stop by our areas on winter weekends and talk to patrollers about becoming a ski patroller and about other volunteer opportunities available.
You can contact our patrols for more information via our Facebook pages noted below.