Get ready for a historic – or is that prehistoric? – good time with Somerset's Fire & Ice festival and Ligonier's IceFest.
Jan. 13-15, 2023, Somerset
The 28th annual event will have a new look that is very old – about 200 million years old – as Uptown turns into "Jurassic Somerset." More than 50 prehistoric-themed ice sculptures will fill the streets, from ankylosaurus to T-Rex to the Flintstones. The Carnegie Museum of Natural History Mini Dino Museum will be popping up on Saturday and Sunday, and there will be food and frosty fun all weekend.
"Honestly, this has been so much fun for our whole committee to organize," said Regina Coughenour, executive director of Somerset Inc. "It's such a fun theme. Our committee has had a blast weaving the theme through the weekend. It happened so naturally."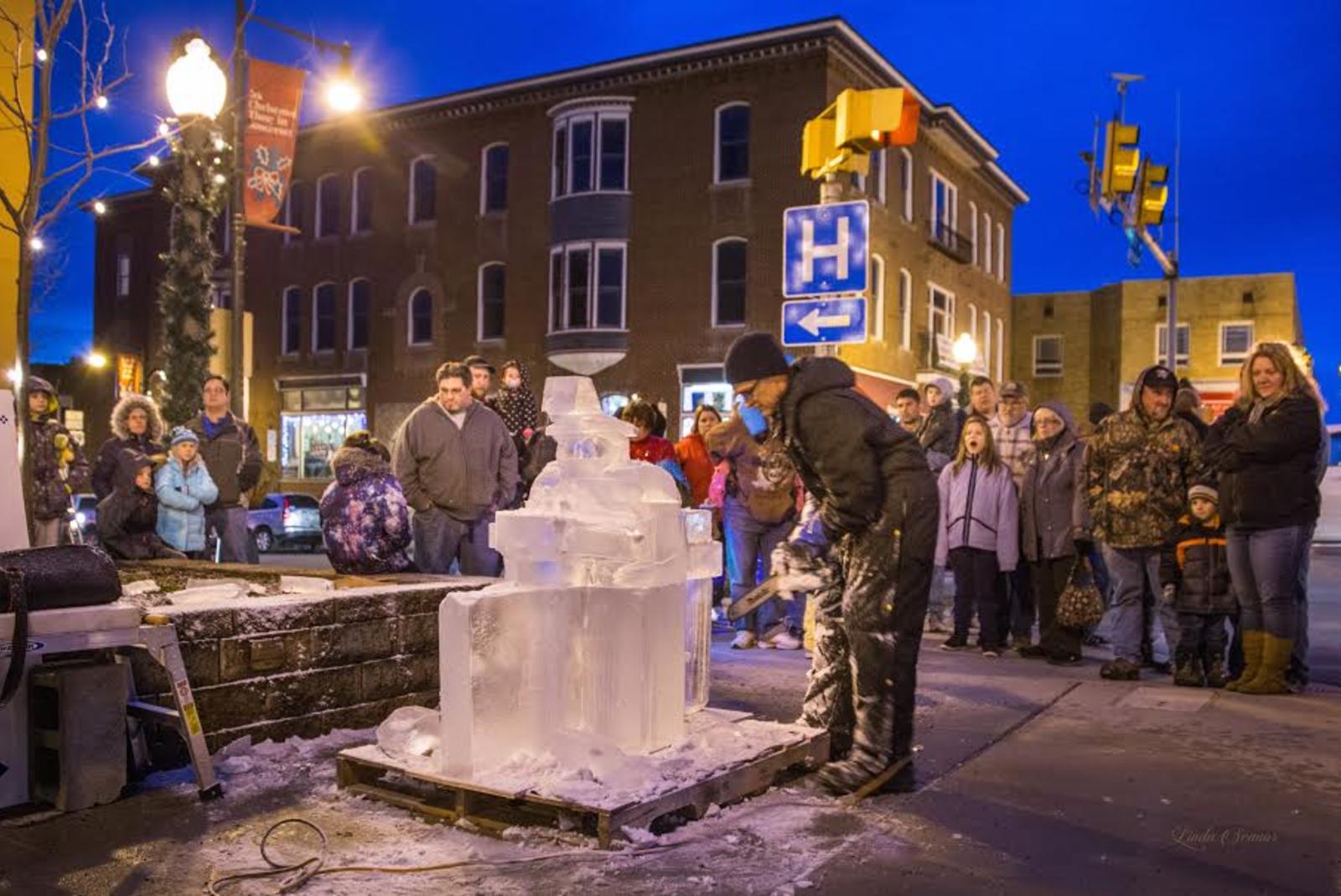 Fireworks, Food, and Fun
The best place to kick off your visit to Uptown Somerset is at the Fire & Ice Headquarters, located at 109 E. Main St., where you can find pins and souvenirs as well as festival info and how to vote in the window- and interior-decorating contest.
A fireworks display by Little Big Shots will light up the sky at 6:30 p.m. Friday on the Diamond, and the Somerset Kiwanis Club's All-You-Can-Eat Pancake Breakfast runs from 7 a.m.-noon Saturday. Speaking of running, you can burn off the calories from those delicious pancakes by participating in the 25th annual Fire & Ice 5K Walk/Run at 10 a.m. Afterward, relax and enjoy live music at venues around town. When your appetite returns, check out the Hot Stuff Chili and Sensational Soup Cook-Off from 3-5 p.m. at the Somerset American Legion.
Sunday's schedule is highlighted by a roast beef or ham dinner courtesy of the Somerset Vol. Fire Dept.'s Ladies Auxiliary from 11 a.m-2 p.m. at 340 W. Union St.
Dining options abound at Fire & Ice, with food trucks from Pappy D's, Stairs In Town, Mountain Kettle Korn, Twisted Potato, Rollie Pollie Egg Roll, Forlini's Kitchen, and Rosalinda's Express serving up tasty treats on North Center Avenue and Main Street from 3-7 p.m. Friday, 10 a.m.-7 p.m. Saturday and 10 a.m.-5 p.m. Saturday.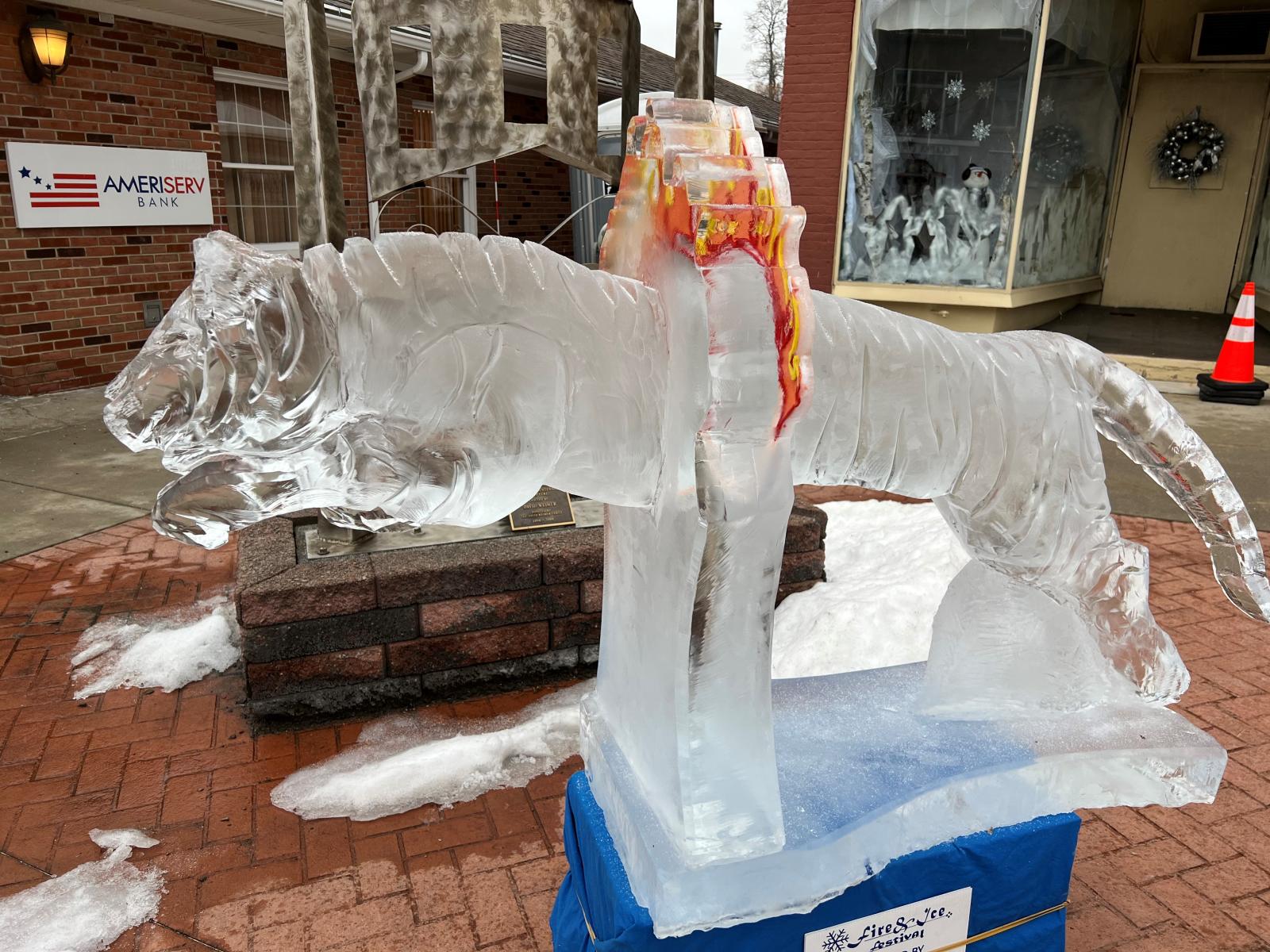 Dino-mite Options
The Jurassic ice sculptures, which are crafted by Mastro Ice Company, will line the streets all weekend – and possibly much longer if Mother Nature cooperates. That means dozens of Instagram-worthy opportunities throughout Uptown. While you're at it, take part in the Fire & Ice Photo Scavenger Hunt, which runs all weekend, with a list available at Essentials for Health, 109 W Main St. Find all the pictures for a chance to win an Uptown Businesses Gift Basket.
"Everybody got on board and have been so inspired by the theme," Coughenour said, noting that the ice slide in Trinity Park, which is open from dusk to dark all weekend, has Jurassic-themed figures carved into it. "I think this theme brought out the kindred spirit in all of us."
The Fireside Lounge, which features bottles and cocktail sales from Tall Pines Distillery, Whitehorse Brewery, Glades Pike Winery, Rusty Musket Distilling Co., and Trailhead Brewing, will be open at 127 W. Main St. from 4-8 p.m. Friday, 11 a.m.-7 p.m. Saturday and 11 a.m.-3 p.m. Sunday.
Marie Exotics Reptile Rescue will provide a reptile encounter from 10 a.m.-4 p.m. Saturday and 11 a.m.-1 p.m. Sunday at 113 Rosina Ave.  
Little ones will love the Story Stroll, which starts at Mary S. Biesecker Library and allows families to read "Dinosaurs in Winter" as they travel around town reading shop windows.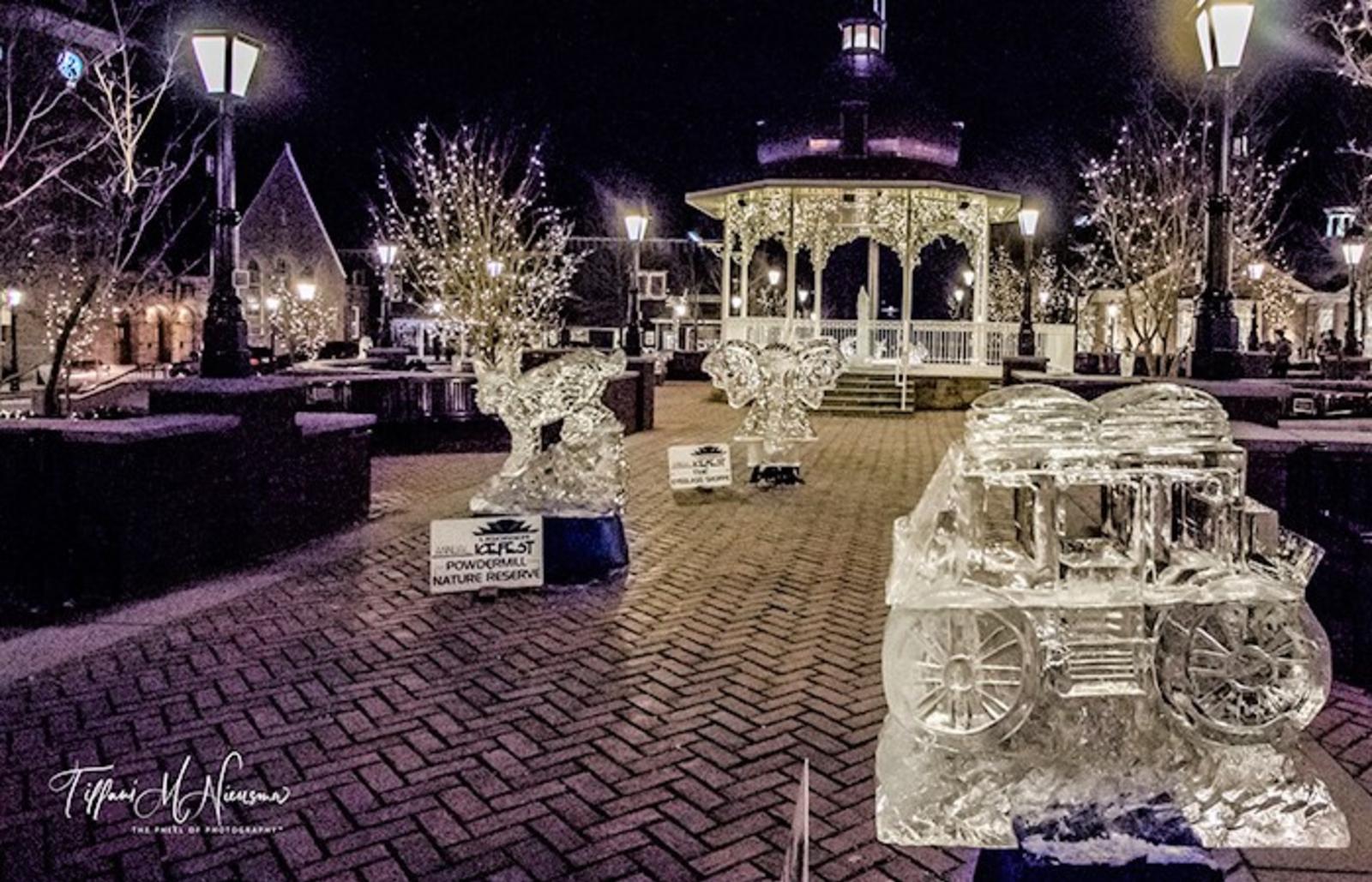 Ligonier Ice Fest
Jan. 21-22, Ligonier
Ligonier is renowned for its charming, small-town feel, and the annual Ice Fest encourages guests to take a leisurely stroll while checking out more than 40 ice sculptures from DiMartino Ice. It's also a great time to visit the dozens of boutique shops located around town.
Amy Beitel, executive director of the Ligonier Chamber of Commerce, said the event is popular with local merchants as well as attendees.
"It's often a slow time for businesses and restaurants. It does put a nice surge back into our Ligonier economy," she said. "They've lost that Christmas surge. And, in the middle of January, people are looking for a reason to get out of the house. If they get cold, they can pop in and out of our shops. A lot of our merchants say they have customers come in during the summer and say 'We were here during Ice Fest and were all bundled up. It's a great place, and we wanted to come back and see it in the summer.' It carries over throughout the year."
Attendees can also head to Town Hall, where a pair of free concerts are scheduled. Big Fat Jazz, which plays contemporary jazz will begin at 2 p.m. Saturday. Candle In the Wind, which performs a mix of top-40 and oldies music, will take the stage at 12:30 p.m. Sunday.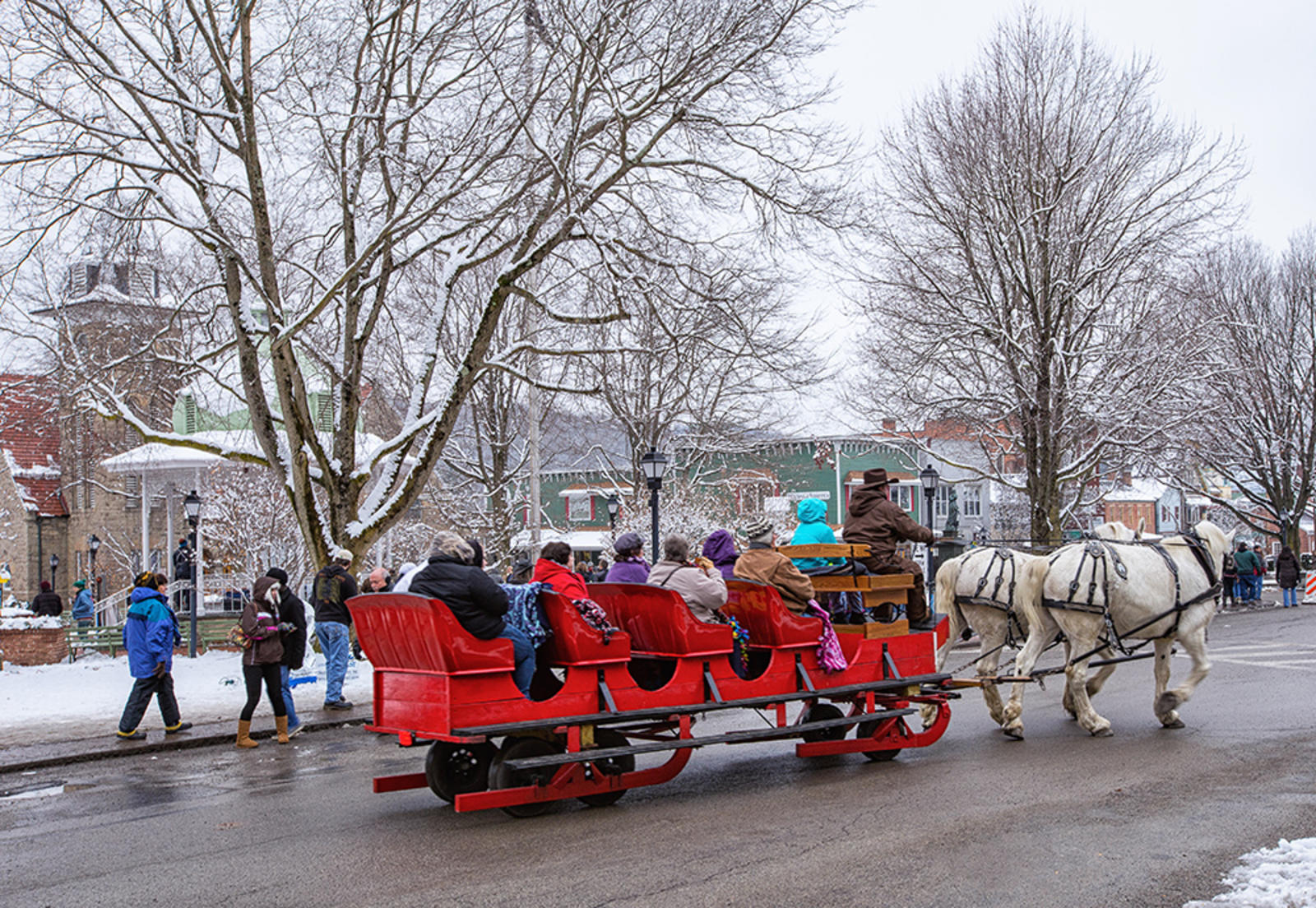 Fun on Ice
Beitel said that Cindy Purnell, who chairs the event, has lined up an exciting array of ice sculptures, which outnumber the amount at the 2022 event.
"The majority are around the Diamond," Beitel said. "We have several along the east side of Town Hall. We put some in front of businesses. We like to keep them somewhat close so that people can even drive by and see them."
Walking is still the most popular way to check out the sculptures, and is sure to build up an appetite. You can satisfy it at the Firemen's Spaghetti Dinner, beginning at 11 a.m. Saturday in the Town Hall Community Room.
Hanson's Kettle Korn will be available throughout the festival in front of the Ligonier Library.
Horse-drawn carriage rides by Misty Haven – which are available for $5 per person in front of Town Hall, weather permitting – add to the ambiance.
There's no official "start time" for Ice Fest. The sculptures will be on display beginning Friday night while carriage rides and popcorn sales will begin around noon.
"It starts whenever you want to get here," Beitel said.