The Laurel Highlands is one of only a few regions in the United States that celebrates the Catholic Lenten tradition of fish fries. Each Friday during Lent our church basements, restaurants and fire halls start dropping baskets into hot oil for a community celebration of deep-fried goodness.
Whether you're a fish fry aficionado or are new to the tradition, we invite you to try a Laurel Highlands fish fry by using this guide to locations, dishes and gatherings near you. We think you'll agree that this tradition is quite the catch.
FAQs about Fish Fries
How do I order? Since fish fries have changed since the pandemic, we encourage you to call in advance and see if you can place your to-go order to help things run as smoothly as possible.
Do I have to belong to a church to attend? You don't have to be Catholic or from the community to participate in an amazing Laurel Highlands fish fry. All are welcome to attend.
What's on the menu? In southwestern Pennsylvania, the main dish of a fish fry is usually a battered, deep-fried cod or haddock served on a bun or roll. Baked fish, shrimp and crabcakes are also popular main courses, but call in advance to see what's on the menu. Side dishes include Polish-American favorites like haluski and pierogis and more standard fare like coleslaw, fries and hush puppies.
When does this happen? Typically, fish fries are held every Friday during Lent, and the dates vary slightly each year. For 2023, most Laurel Highlands fish fries will kick off the week of Ash Wednesday (February 23), then continue each Friday through April 7.
How do I pay? While many places accept cards, it's still a good idea to bring cash. There often are cash-only activities to participate in while you're there such as raffles, dessert tables and more.
Where else can I celebrate? Outside of churches and community centers, many Laurel Highlands restaurants, wineries and breweries add Lenten specials to their menus. From giant fish sandwiches to five-star, farm-to-table fillets, the Laurel Highlands has something for every appetite and budget.
Westmoreland County
Find Every Fish Fry in Westmoreland County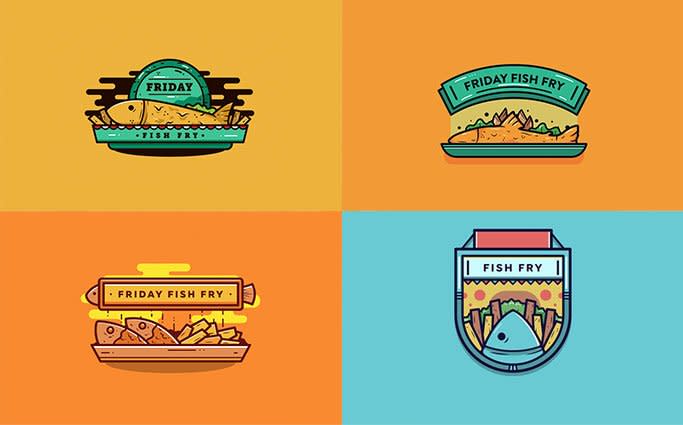 With the largest population of the Laurel Highlands, Westmoreland County has more than 100 fire halls, churches, social clubs and restaurants to enjoy a fish fry at!
Not sure where to start? Our friends at Downtown Greensburg Project have done the hard work of creating a digital guide to all the area fish fries in one place. 
Westmoreland County Churches and Community Centers
The tradition of eating fish during Lent dates to the third century, and Laurel Highlands churches carry on this tradition today. A local favorite is the Knights of Columbus fish fry at St. Joseph's Parish Hall in Derry, where $13 gets you a veritable feast of a half-pound of baked or fried cod plus coleslaw, green beans, roll and your choice of potato, haluski (a delectable Polish dish of cabbage and buttered noodles) or mac and cheese.
Manor Volunteer Fire Department (pictured above) is offering a drive-thru-only option every Friday during Lent. You can get an 8-ounce fish sandwich with fries and homemade coleslaw for $13 or an 8-piece shrimp dinner with those sides for the same price. 
Ligonier Township Volunteer Fire Department #1 in Waterford has a wide-ranging menu, with all dinners including your choice of two sides (green beans, mac and cheese, parsley potatoes, French fries); coleslaw; one dessert, roll or bun (with sandwich). Prices range from $15 for a baked fish dinner, fried fish dinner, fried fish sandwich dinner, and fried shrimp dinner to $12 for a chicken tender dinner and $10 for a fried fish sandwich. Credit/debit cards are now accepted, but a fee will be charged.
Westmoreland County Restaurants and Breweries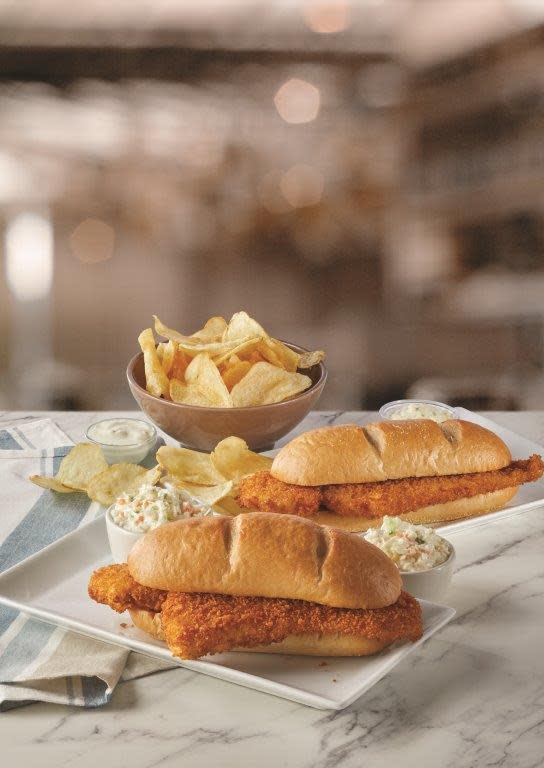 At locations throughout the Laurel Highlands, Eat'n Park has been serving up smiles since 1949. Their Whale of a Cod meal deal is a favorite. It includes two of their amazing fish sandwiches, fresh potato chips, homemade ranch and a pint of coleslaw or soup for $27.99. Try one in Greensburg, Irwin, New Stanton, Somerset, Uniontown, or other Laurel Highlands locations.
Caffe Barista Marketplace in Greensburg has added a cod combo for 2023. It includes a cod sub, fries, coleslaw, and mac and cheese for $12.99. The combo is available Ash Wednesday and every Friday during Lent.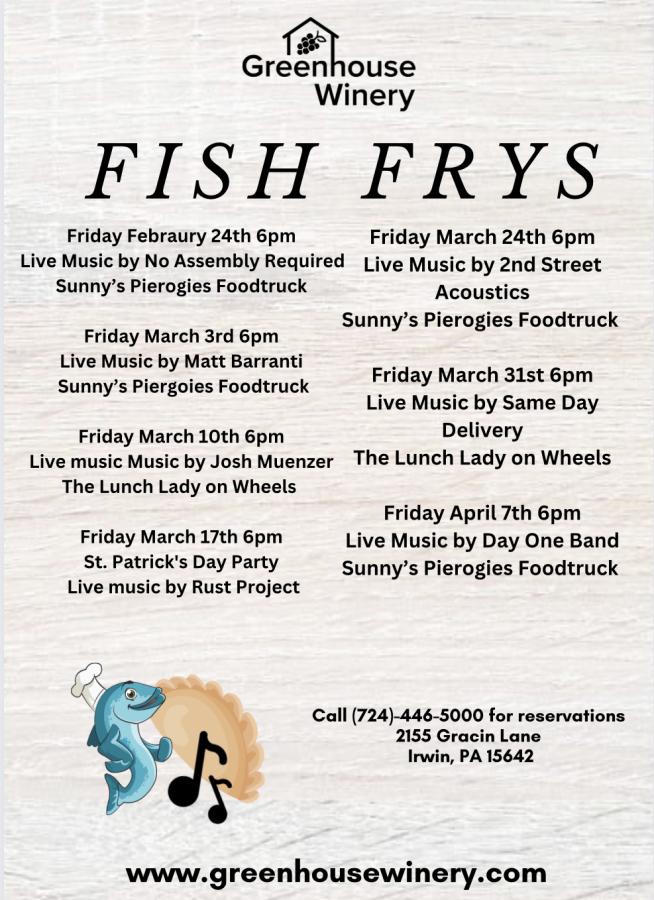 Even our craft breweries and wineries get in on the fish fry fun! Sobel's Obscure Brewery in Jeannette is teaming up with Tin Shack BBQ to offer a fish sandwich ($13) and a fish sandwich platter with fries, coleslaw, mac and cheese, and hushpuppies ($16) every Friday during Lent. Greenhouse Winery will also be hosting fish fries on Fridays with live music and tasty offerings from Sunny's Pierogies Foodtruck and The Lunch Lady On Wheels.
Planning a trip to the Youngwood Historical Railroad Museum and Station Cafe? Your Lenten diet can stay on track with their annual fish fry, which begins on Ash Wednesday and continues every Friday through April 7. The cafe offers a half-pound cod sandwich and coleslaw with your choice of haluski, three pierogies, or fries for $15. They even have a kids' menu with fish sticks and applesauce. 
Brady's Restaurant in Acme will be hosting a fish fry every Friday during Lent. In addition to hand-breaded cod sandwiches and dinners, Brady's has homemade salmon patties with homemade mac and cheese and coleslaw every week. Check in with them regularly, as rotating weekly specials will include shrimp tacos, crab stuffed cod, and more. 
Fayette County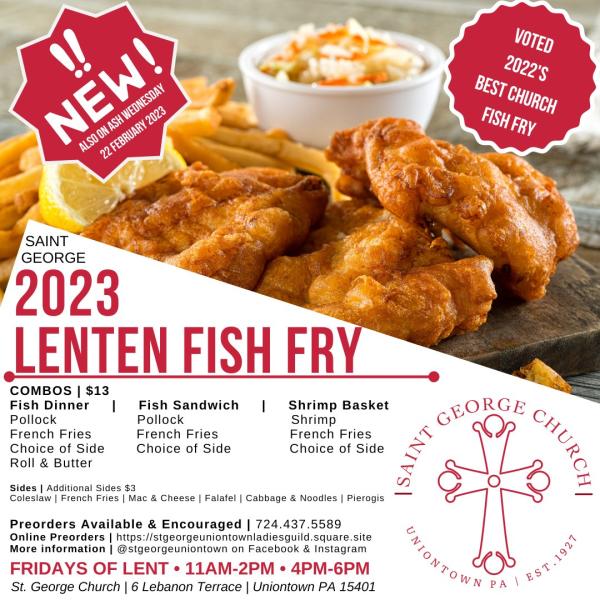 There's plenty of fish fry to enjoy in all three counties! St. George Maronite Church in Uniontown is your place to go in the county for all of the classic dishes. Pre-order is available, so make sure you place your lunch orders with the office and your dinner orders so you can try everything they offer!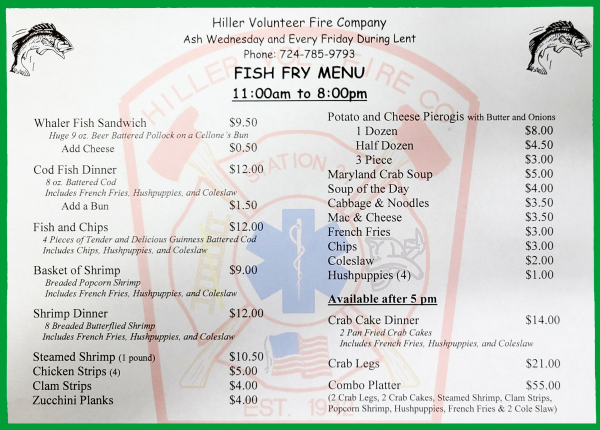 Hiller Volunteer Fire Company offers one of the largest menus we've seen, with pollock or cod, shrimp, clams, crab cakes, and even crab legs! 
Elevating the Fish Sandwich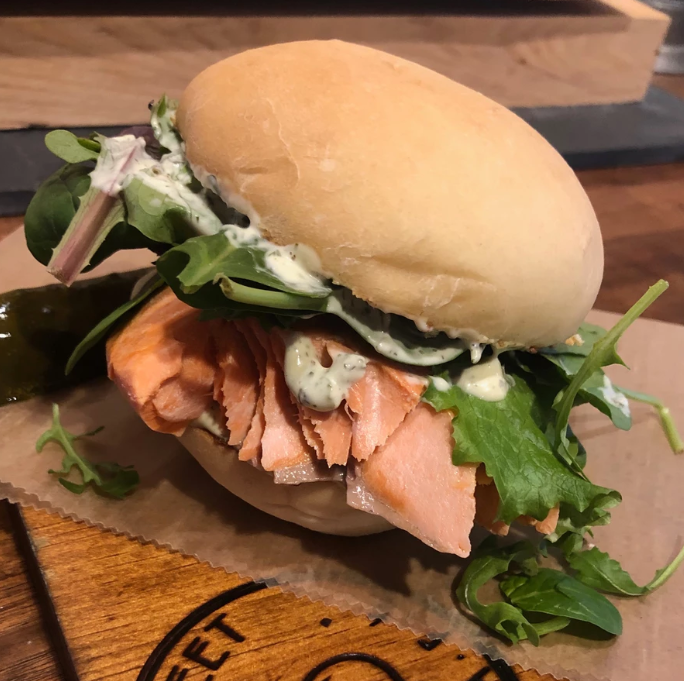 Want to up your fish fry game? There are plenty of places in Fayette County that take the traditional fish sandwich to the next level. Bittersweet Café in Farmington offers a salmon fillet sandwich with an upscale take: Alaskan sockeye salmon served with spring greens and an herb and caper mayo on a homemade bun. 
Take your seafood dinner to the next level of luxury at Nemacolin. Aqueous and Chef De Cuisine Tyler Hutchison have truly excelled with their Chilean sea bass, which is served with couscous risotto, basil tomato, coppa secca, and green Thai curry. Dining at Nemacolin is available to overnight guests and members.
Somerset County Fish Fries and Restaurants
Seven Springs Fine Dining
After a long day exploring the Laurel Highlands, maybe you're just ready to relax at Seven Springs Mountain Resort and dine at Helen's. For the seafood lover, we recommend doing their three-course dining event. Start with the Chesapeake crab bisque and savor the seared shrimp as your main course, served with warm lentil salad, roasted butternut squash, and roasted tomato vinaigrette. Finish the experience with a decadent chocolate blitz. 
Local Fish Fries and Events
The Meyersdale Elks Lodge is offering indoor dining and takeout from 4:30-7 p.m. each Friday during Lent. For carryout, call 814-634-8411, starting at 2 p.m. The menu includes fried or baked haddock, fries or baked potato, coleslaw, roll, and a beverage. Dinners are $12 for dine-in or $13 for takeout. Children's portions are $6 and $7, respectively. 
The Boswell Volunteer Fire Department members plan to host a fish fry dinner on March 10 from 4 p.m. until the food is sold out at the Boswell Firemen's Grove. Dine-in or takeout options are available and include baked or fried fish and a side of either mac and cheese, haluski or pierogies. Coleslaw or applesauce is also offered, along with a dinner roll and dessert.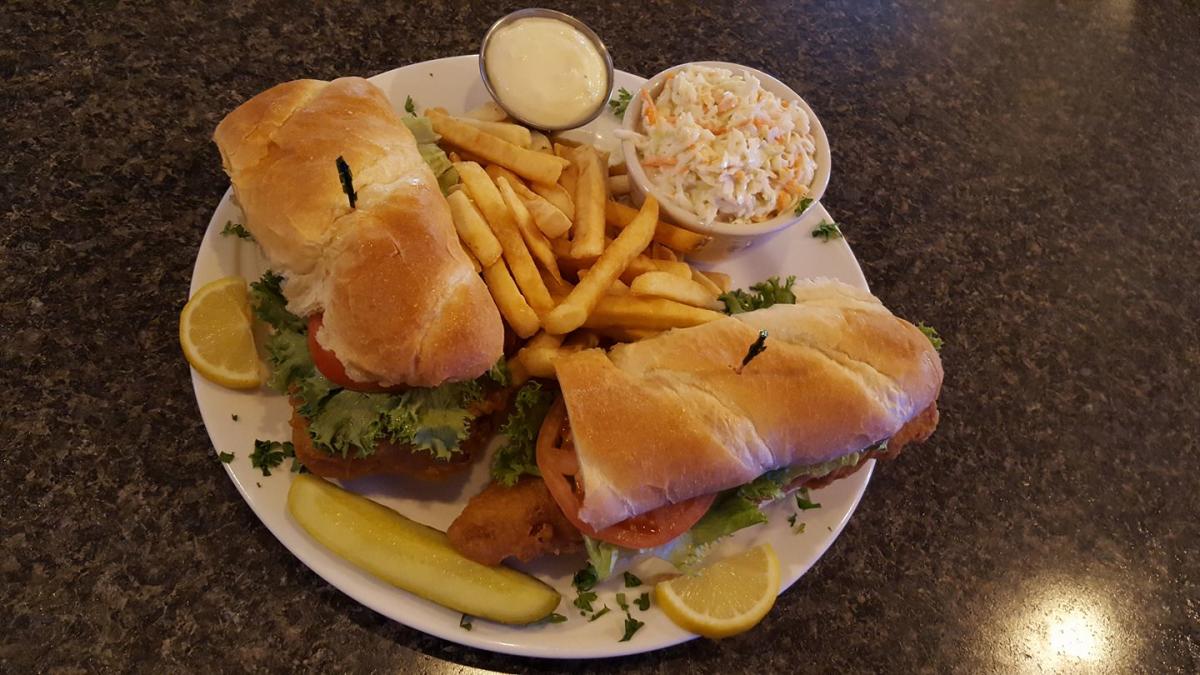 Grab a fish hoagie at Tailgatez, the Hoppy Haddock or deep-fried pierogis at Windber Hotel or the giant fish sandwich from Oakhurst Grille (shown above).
We hope you take this invitation to become a part of the fish fry tradition of the Laurel Highlands and support community organizations, breweries, and restaurants that keep this unique tradition alive in our region!