If you are a fishing enthusiast, you have probably heard of the famous trout trail in the Laurel Highlands. A trout trail is basically a spectacular track for fishermen to journey along while fulfilling all they have ever dreamt to see.
The Laurel Highlands is located in southwestern Pennsylvania and is made up of three counties: Fayette, Somerset and Westmoreland. It consists of miles and miles of immaculate trout fishing streams, creeks, runs and rivers, making it a fisherman's dream come true.
The Laurel Highlands trout trail covers a great amount of area, making it overwhelming to decide where to begin. Here is what you need to know about the trout trail before dropping a visit and how to increase your chances of successfully hunting a bounty. This includes certain steps such as scouting the area before going for the deer hunt, which you can read more about at huntingresearch.org.
Conservation ethics
When it comes to taking care of the environment, the association found in Laurel Highlands is one-of-a-kind. They practice certain ethics that ensure the enhancement of the well-being of their trouts and provide a memorable experience for visitors.
Since the Laurel Highlands is filled with various streams, they focus a lot on the conditions of the water. For example, when Rock Run was facing a relatively high level of acidity in the water, limestone was added to neutralize the water.
Also, the catch and release ethics is practiced when fishing in this area. Trouts are too precious to be fished only once. Therefore, we encourage fishermen to fish with barbless hooks and handle the trout with care.
Fishing regulations and licenses
The Pennsylvania Fish and Boat Commission usually decides which streams are classified as a special trout stream. Specially-classified streams are open year-round, but they usually require special skills and observation on trout possession restriction on fishermen.
However, attaining a license to fish in the Laurel Highlands is not difficult, as they have various types for different durations. You can buy a license that last for one, three or seven days from any convenience store. These licenses normally include trout fishing privileges. However, if you are planning to get an annual fishing license, you will need to separately purchase a trout/salmon permit.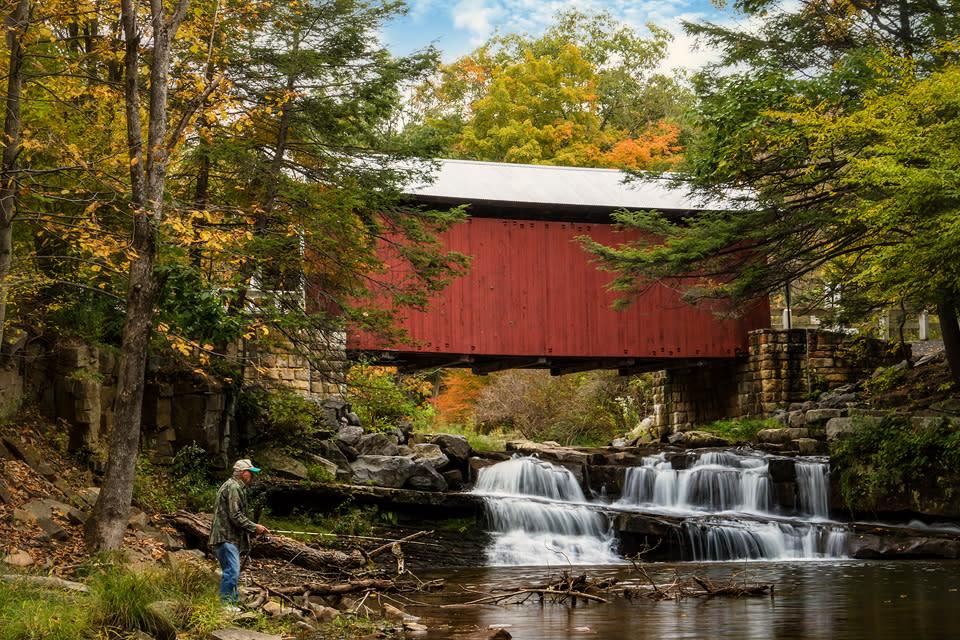 Top 10 trout trails in the Laurel Highlands
The Laurel Highlands does not only have one trout trail but up to 10 amazing different streams in a 70 mile radius. It starts from Ligonier in the north travelling towards south and ending it close to the West Virginia Border.
The 10 streams are not continuous where you can just travel on water from one region to another. Instead, you have to go through a series of driving from one stream to another and experience each of it individually. To get you started, let us introduce the 10 trout trails out there.
Mill Creek
Mill Creek stream starts from Mallard Lane off Wipen Road and travels downstream to Ligonier. This stream is medium in size and three-miles long. The Mill Creek is fed by exceptional value headwater streams and it is open to the public for fishing.
Loyalhanna Creek
The Loyalhanna Creek trout trail is located in Westmoreland County in the Delayed Harvest Artificial Lures Only program, also known as DHALO, which is also located in Ligonier. It starts from State Route 711 and ends at State Route 2045 with a length of 1.67 miles.
The area of this stream is larger in size, making it a comfortable spot for casting width and it is easily waded. Just like the Mill Creek, the Loyalhanna Creek is half suburban, half rural and has a certain degree of wooded sense.
Linn Run
This stream starts off by the Linn Run State Park office, travelling downward to the park boundary of Westmoreland County. Linn Run has a high level of alkaline cold water tributaries and a close-packed tree cover shade. To access this stream, you will need to travel down the park's main road, passing by a number of parking spaces and streamside cabins that you can rent for overnight stays.
Indian Creek
On the East of Donegal, you will find the attractive Indian Creek in Westmoreland County. The Indian Creek runs from Hunters Bridge off Route 381, traveling downstream to the Route 381 bridge located in Jones Mills. It covers an area of 1.6 miles along Route 381 that belongs to the DHALO project as well. This creek is known for hosting wild trout, making it a notable headwater.
Stonycreek River
The Stony Creek River is located along Route 30 and ends at Stoystown. This stream is amazing to fish at because it is filled with wild and beautiful brown trout fishery. You can park your vehicle at the restored Glessner covered bridge and start fishing or set up a picnic before casting out.
Pike Run
Pike Run is located at Laurel Hill Trout Farm and travels three miles east of Jones Mills and on the south side of Route 31. This trail is relatively different compared to other trails as it provides fee fishing. Another added bonus is that you are able to schedule a tour of their trout hatchery. As for fee fishing, no license is needed and you can borrow their rods and baits if you wish to fish in this stream for a price.
Laurel Hill Creek
Laurel Hill Creek is a portion of the trout trail located in Laurel Hill State Park west of Somerset. This creek is a 2.33-mile DHALO project that starts from the stream and travels upwards of Laurel Hill Lake and expands in the direction of Countryman Bridge on Township 364. If you are planning to fish here, you will be able to catch stocked trout in this woodland stream.
Meadow Run
The Meadow Run creek is another trout trail located in Fayette County. It represents 2.2 miles of the DHALO project in Ohiopyle State Park close to the state park office. This stream is known for its strong flowing, fast falling waterfall with smooth streams in its lower section.
Middle Youghiogheny River
The Youghiogheny River is the largest and longest stream in Laurel Highlands. The Middle Yough is a 10-mile segment of the Youghiogheny River between Ohiopyle and Confluence. The stream consists of a tailwater fishery which maintains a constant and long-term water temperature suitable for trouts to be in.
Quebec Run
Quebec Run, located in Forbes State Forest, flows through both Fayette, Somerset and Westmoreland counties. This stream is an essential trail for certain trout trail travelers to visit because it comes with a scenic view and multiple hiking trails.
And that's about all you need to know about the trout trail in Laurel Highlands before visiting. You won't be able to fully absorb the beautiful scenic environment just by reading this. So plan a trip to the Laurel Highlands as soon as you can. It is simply one of a kind!