Endorphins are your friends, and something magical happens when you navigate your way through rapids. You don't have to be an extreme adventurer to get on the river! At Ohiopyle State Park in the Laurel Highlands, there are four outfitters who have the gear, guides and knowledge to give you the float trip you've been dreaming of.
The river is a great place to let go and have some fun, teambuild, unplug from technology and check something off of your bucket list. Not sure how to start planning your rafting trip? Here is some advice.
Choose Your Crew
Whitewater rafting at Ohiopyle State Park is a perfect outing for a group of friends, family members, church group, school group or bachelor/bachelorette party! But deciding who comes along for the ride can be tricky. Keep these few tips in mind when picking your raftmates:
Talk amongst your friends and see who would be comfortable joining
Make sure that everyone have the same expectations for the trip
Share options with your group and work together to plan an awesome trip
Share all of the information provided by the outfitter when booking your trip. The more your group knows, you can plan ahead and have a better time!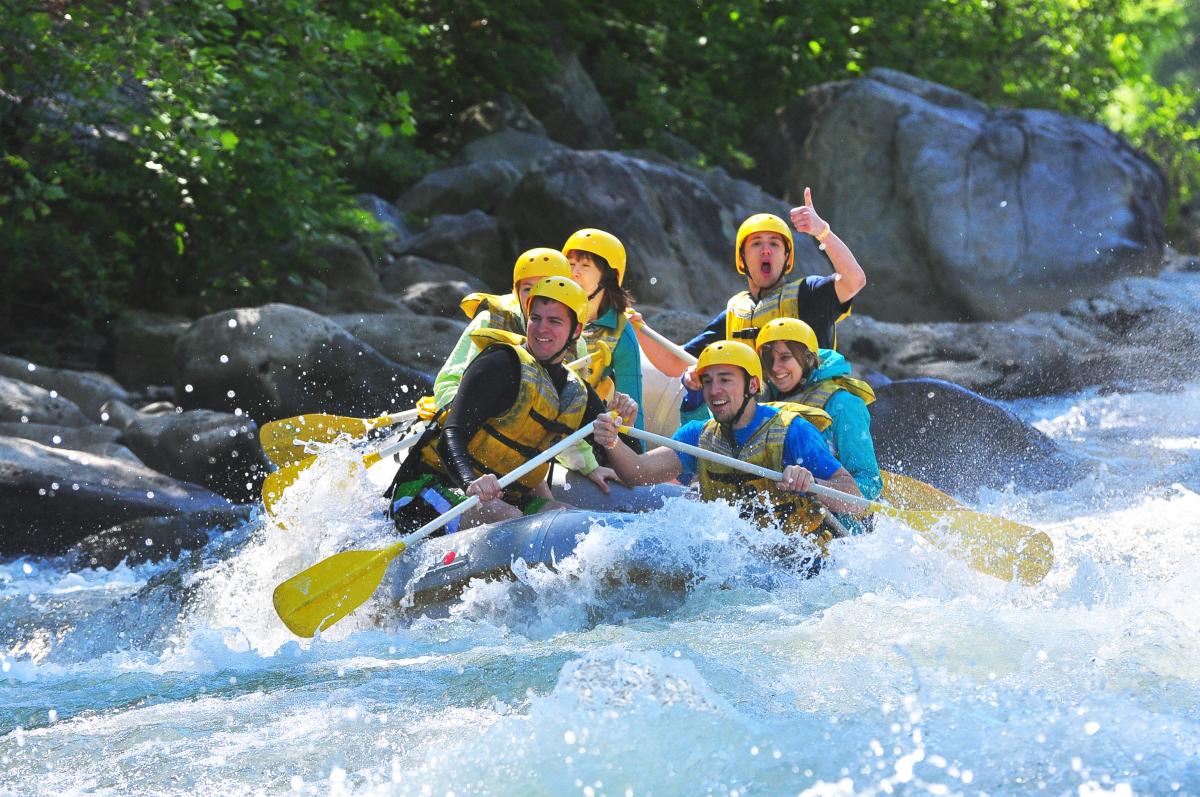 Choose Your Outfitter
Take your pick from four outfitters that offer trips on the Youghiogheny river and other rivers nearby. These companies are stacked with decades of experience, some of the best guides around, quality gear and yummy food! If you're not sure which outfitter is for you, here are some highlights of each to help you choose.
Shop around the Laurel Highlands River Tours' gear store or rent a bike and take a ride on the Great Allegheny Passage. Laurel Highlands River Tours also has a super neat Outdoor Center where you can go gem mining, fly through the sky on a zip lining adventure and make your way through a ropes course.
Ohiopyle Trading Post and River Tours is not only the closest outfitter to the Great Allegheny Passage, but also the Lower Yough put-in! After your trip, you can grab an scoop (or two) of ice cream and shop for the best t-shirt that highlights all of the awesome rapids you just conquered.
Whitewater Adventurers is the closest outfitter to the Lower Yough put-in! This is super convenient because you don't have to trek very far with all of your rafting gear.
Wilderness Voyageurs is the only outfitter with bath houses. So if you need to wash up before your next stop on your vacation, a shower at Wildnerness Voyageurs is a luxury. Another cool feature is that trip check-in is at their downtown location instead of the area off of Dinner Bell Road, so you don't have to walk far to get started.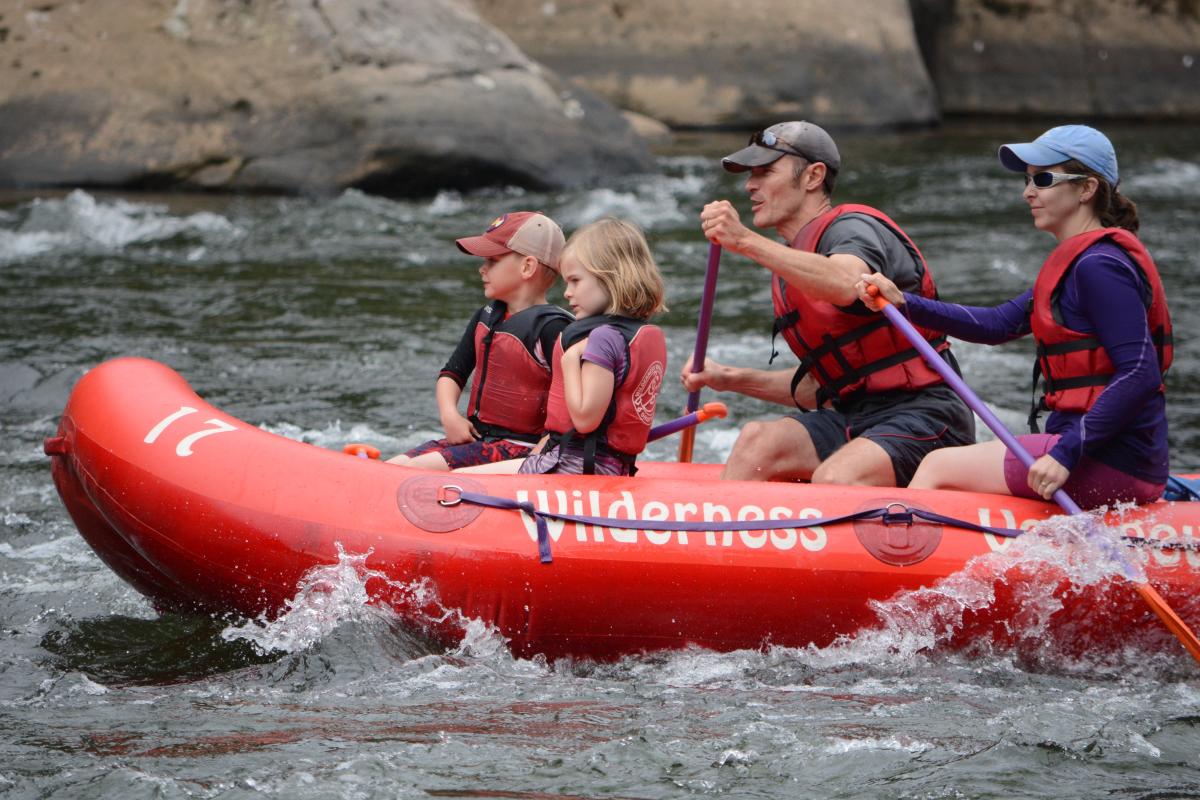 Meet the Yough
The Youghiogheny is a diverse river, offering a trip for the beginner, expert and everyone in between! 
Middle Yough
11 miles of easy water with just enough splash
Class I-II with Class V scenery
Perfect for families, minimum age is four
Lower Yough
Seven-and-a-half miles of Class III-IV water
Unique river features with a lot of action
Minimum age is 11
Pick Your Trip
The outfitters have a trip for everybody, regardless of age or experience! Let us explain:
Fully-Guided
During a fully-guided tour, a guide will accompany you in the boat at all times. They will coach you and help you paddle to give you the best ride possible.
Guide-Escorted
Independently paddle your way through the water while a guide floats beside you in kayak, showing you the way.
Rentals
if you're experienced enough and confident you don't need a guide, just rent the equipment you need from an outfitter and hit the water with your group!
Deluxe
The deluxe package is perfect for any romantic occasion, from a date to an anniversary getaway. Instead of sharing your rafting trip with other boaters, you will be lead by a guide on your own personal trip and shown special spots along the way.
P.S. Lunch is included on guide-assisted, fully-guided and deluxe trips!
Plan Your Trip
Ohiopyle has much so much more to offer once you get off of the water. You will work up quit the appetite during your trip. So first things first, grab a bite to eat at a restaurant that definitely won't judge you for possibly being wet and a little rugged-looking. After lunch, don't be afraid to explore more of the Laurel Highlands! You can find historic sites, animal parks, breweries, wineries and more in the surrounding area.
Check two things off of your bucket list during one vacation and visit Frank Lloyd Wright's Fallingwater, a ten minute drive from Ohiopyle! Wrap up your adventurous day by relaxing and unwinding at Ohiopyle Guest Houses, Trillium Lodge, Yough Plaza Motel, Yough Lake Campground and other welcoming places to stay nearby. Now that you've built your rafting trip and mini-vaca in your head, start rallying your crew!