I'm by no means an art critic. I have styles I enjoy, and can name some of my favorite artists and painters. But by and large I just go to museums to admire skill and creativity. What I didn't expect when I visited The Westmoreland Museum of American Art was for Stephen Towns' work to leap off the canvas and resonate with me in so many ways.
I'm writing this now still buzzing from those emotions after viewing Declarations & Resistance, the newest exhibition at The Westmoreland running from Jan. 30 through May 8, 2022.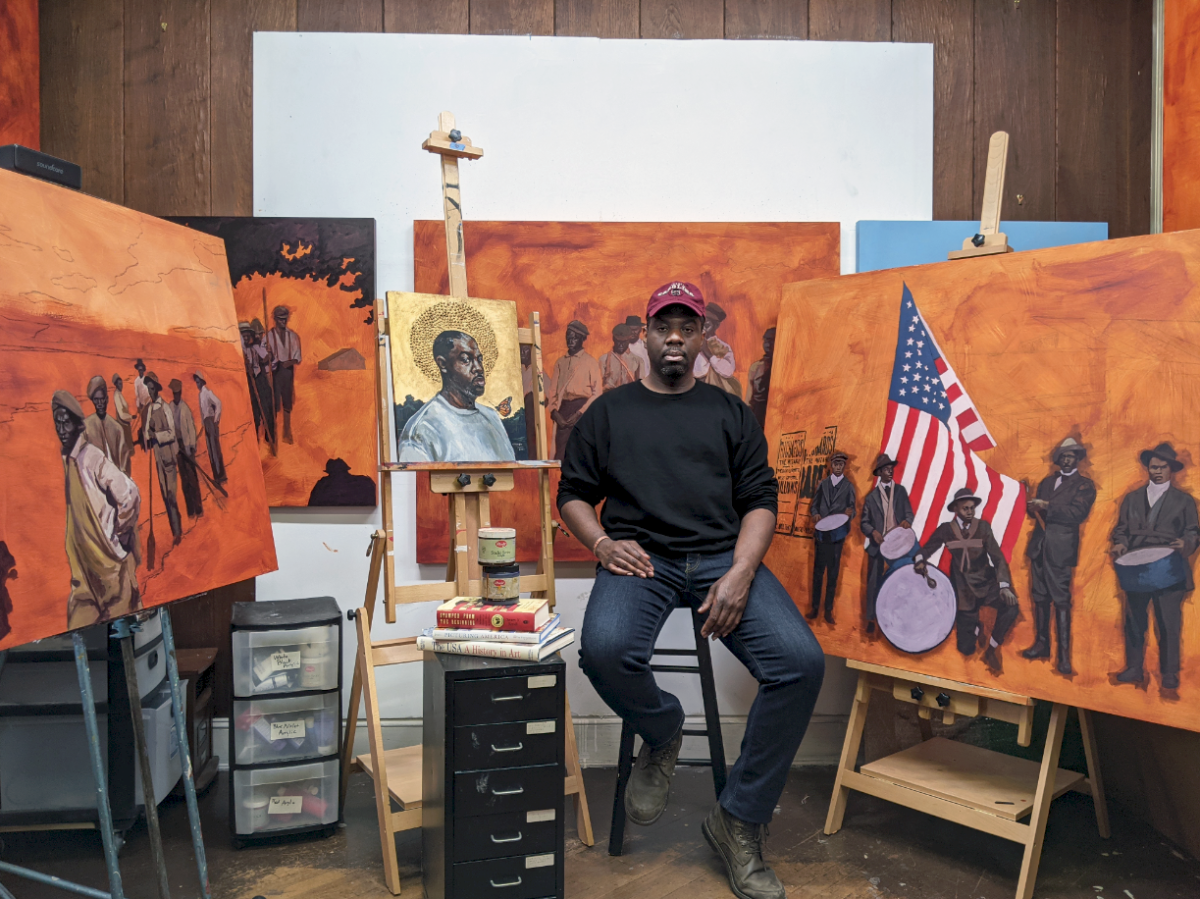 So, what was it about meeting Mr. Towns and hearing guest curator Kilolo Luckett explain each work that really affected me?
Most amazing is the conditions under which Declarations & Resistance were created. If you look at the title cards beside each painting or quilt, you'll notice the vast majority were made during the pandemic. Originally scheduled to open in 2020, Towns took the challenges of quarantine that canceled the first version of his show, and channeled that into the stellar burst of inspiration and creativity you now see on display.
I find hope and such strength in this proliferation of work. Throughout the pandemic and ensuing isolation, there has always been doubts gnawing at each of us about the world and our place in it. Towns has emerged in 2022 with a singular vision, with his body of work focusing on the hidden, uncelebrated workers in America's history as we celebrated essential workers in our current predicament.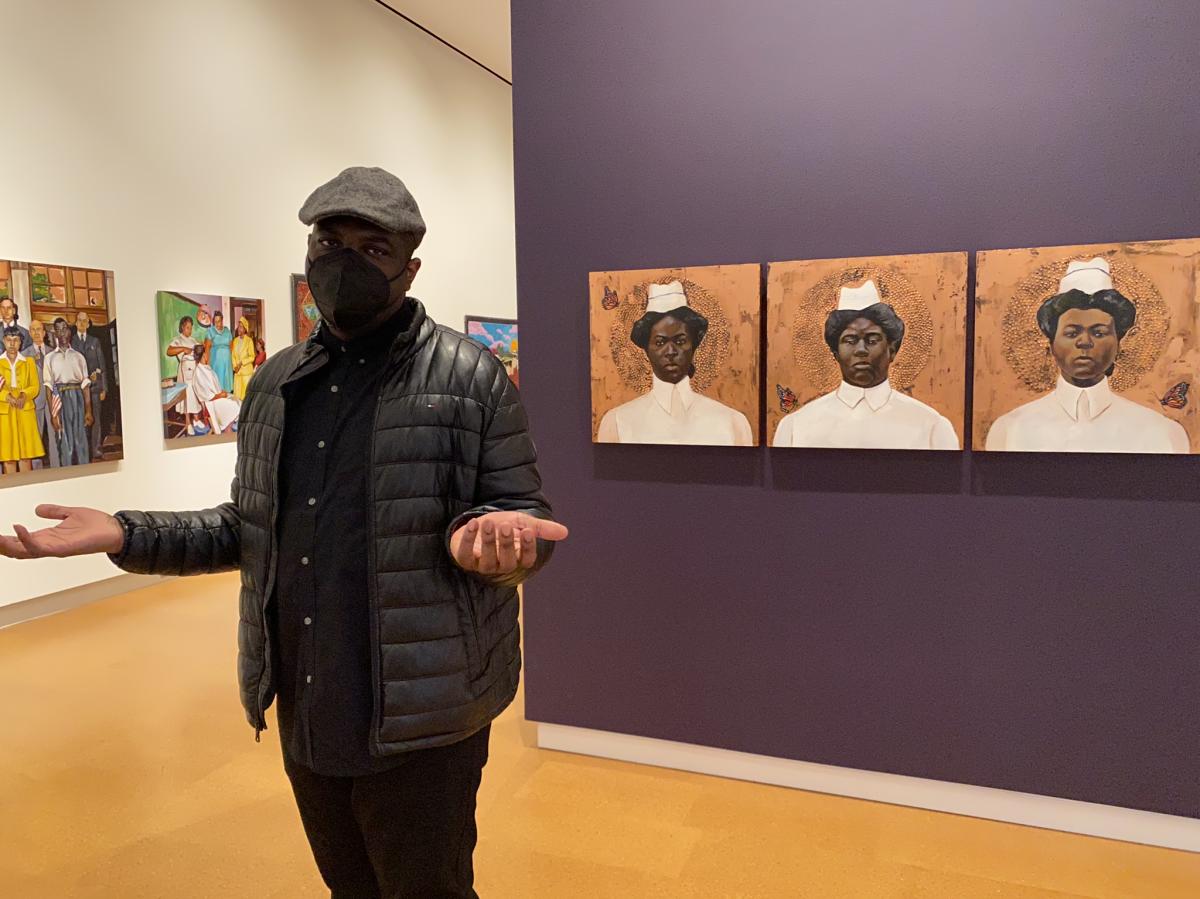 There was no accident in making Brewster Hospital Nurses, 2021, one of the first pieces you see upon entering the exhibit floor. In a time where we celebrate frontline health workers, Towns hearkens back to the lesser known heroes. The triptych shows three Black nurses surrounded by halos of hammered copper leaf, perhaps elevating these women to Sainthood in a style reminiscent of renaissance art.
But who are these women? I never learned about Brewster Hospital in school, but after viewing this piece I had to know more. Now a National Historic Place, Brewster Hospital was erected in Jacksonville, Florida after a great fire in 1901 destroyed the only place Black Americans could be treated (white hospitals did not treat Black residents). What a stunning difference this made not only to my own understanding of American history and also the gravitas of this piece in just five minutes of research.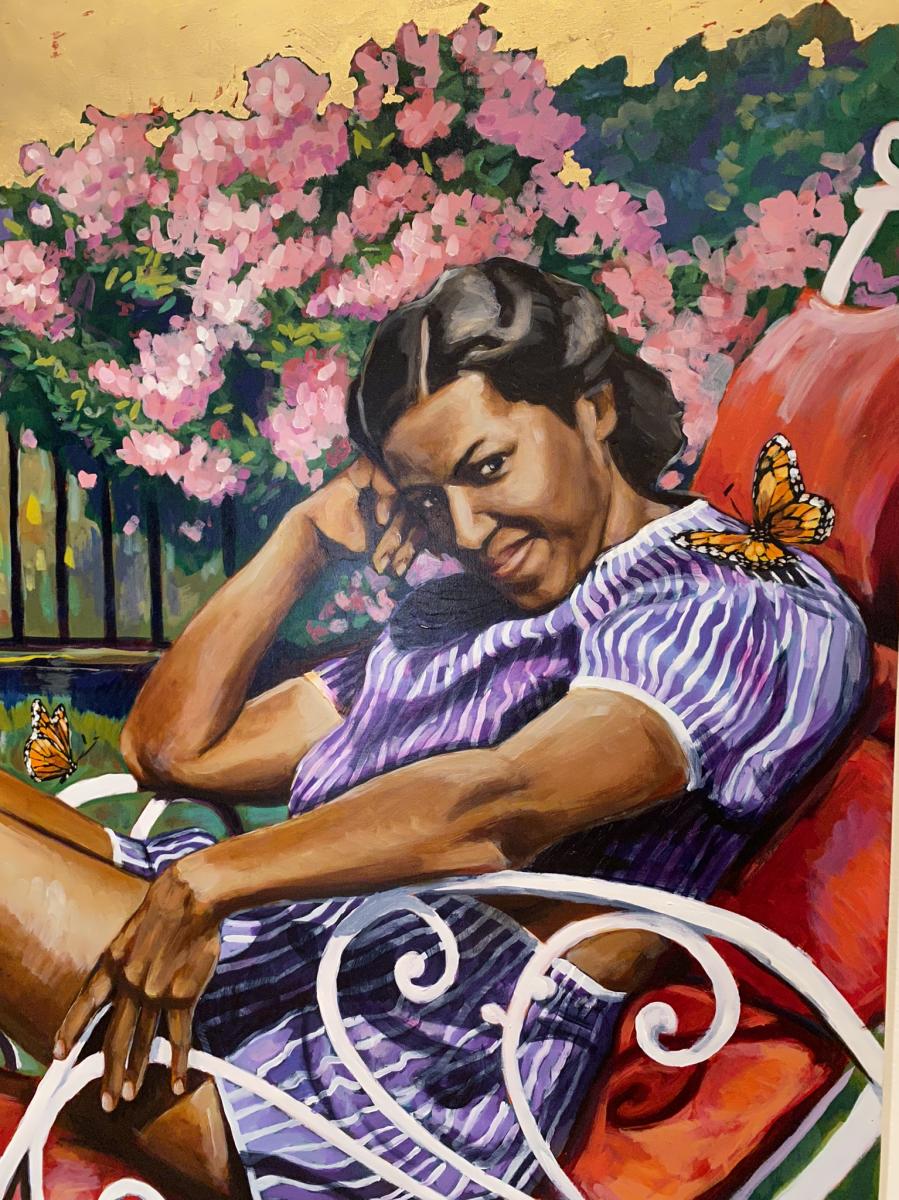 Similar themes echo throughout Declarations & Resistance, as hidden Black workers and their stories are brought to the forefront of each work. Steel workers, educators, hair dressers and crossing guards are elevated from forgotten workers to enshrined heroes. Even local hidden figures like Ms. Elsie Henderson, who helped shape American cuisine from her employment at Fallingwater, and Charles 'Teenie' Harris, renowned photographer for The Pittsburgh Courier, are gorgeously rendered.
What spoke to me most was The Coal Miners, six mixed-media paintings that feature Black miners in West Virginia. Each miner is depicted with strong, proud postures and uncompromising faces, standing apart from the stark black backgrounds made from mica flakes and charcoal. Canaries (apt for our coal miners) flutter in and out of each frame, sometimes landing on but always facing our subject.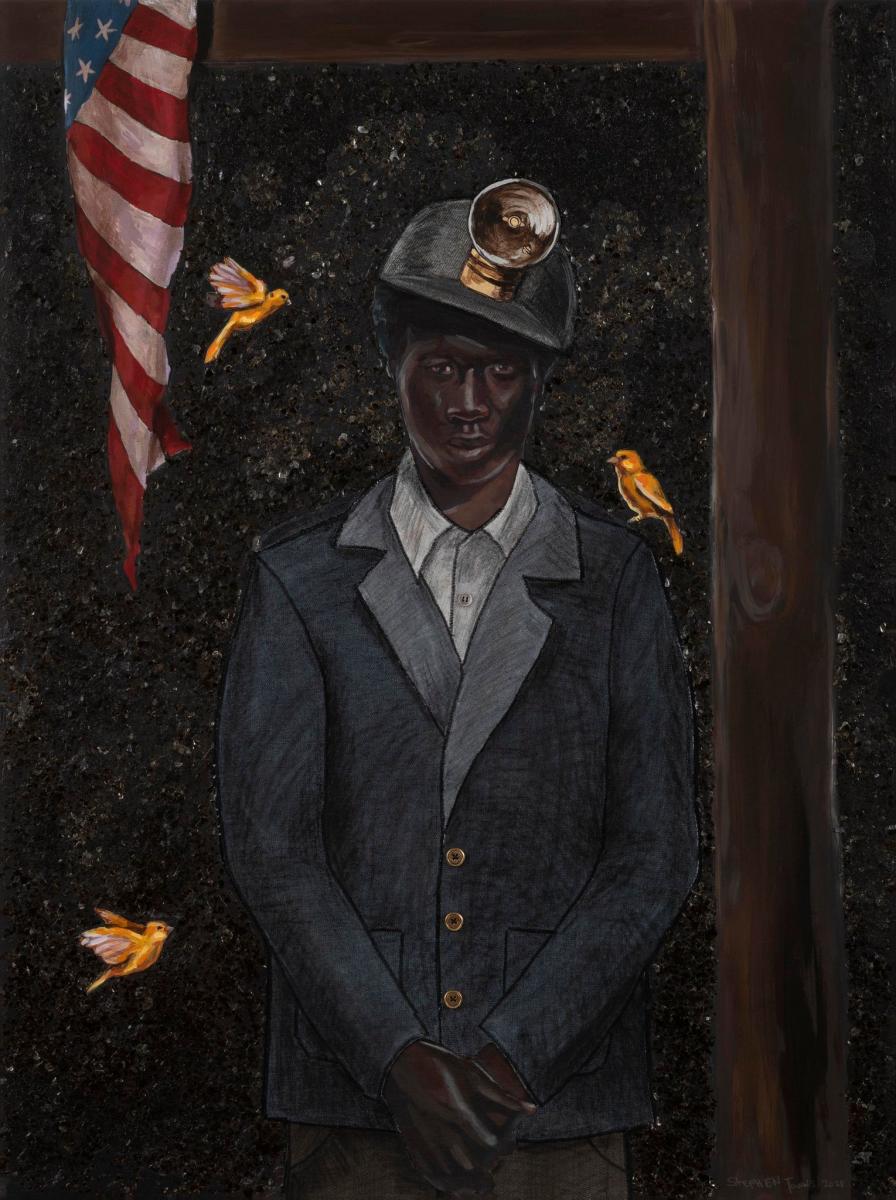 I come from a mining family. My grandfather worked in coal mines like Towns and Luckett described, where you were paid in coal company scrip, shopped at the company store, and lived in company housing. Brutal stories were shared around my dinner table of the working conditions in those mines, and it instilled me with a ton of respect for this often marginalized blue collar job.
Add on to those already punishing conditions that Black miners left their work day to face racism and discrimination, and you realize that these heroes never stopped fighting even off the clock. Just like Quecreek celebrates the resilience of miners in the Laurel Highlands, Towns' miners are imbued with such strength that their expressions and heroism stay with you long after leaving The Westmoreland.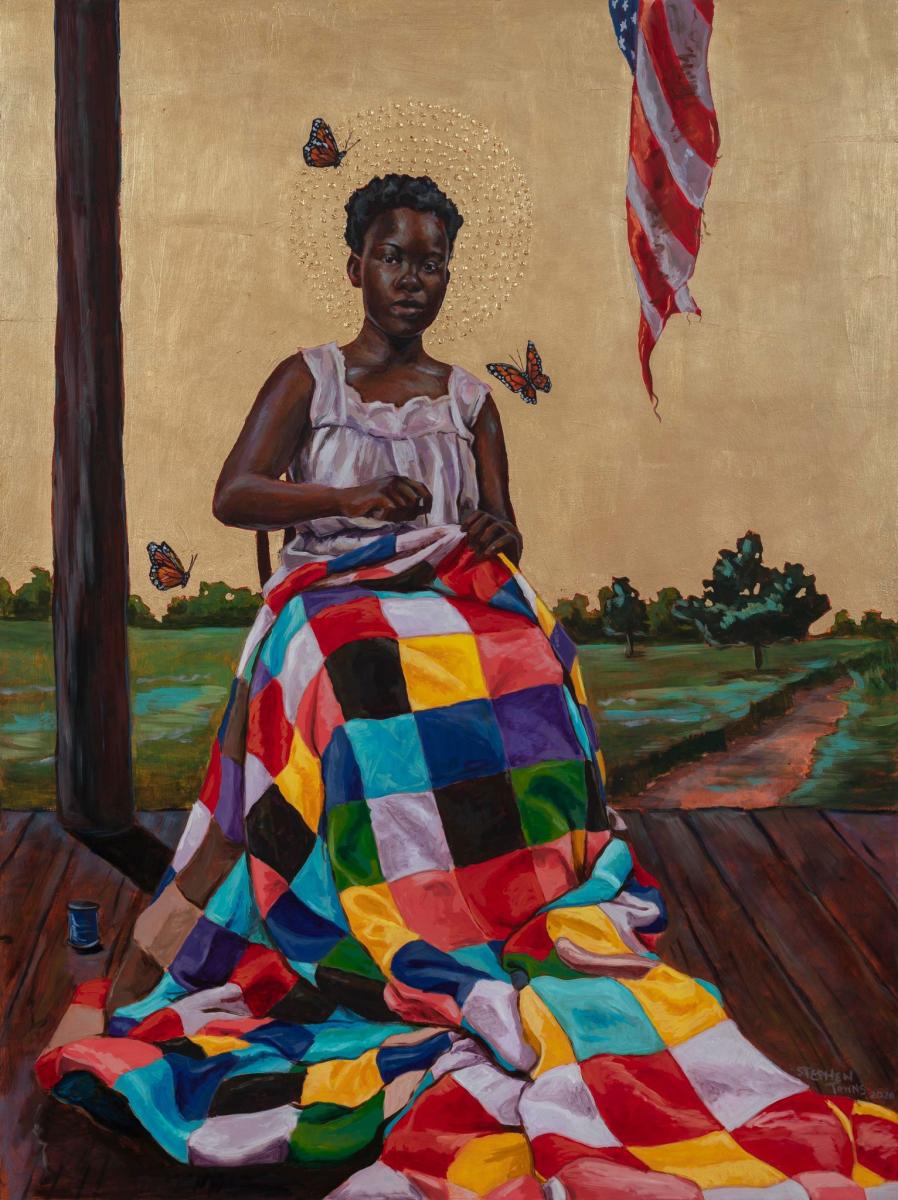 While Towns is often bringing light to difficult subjects and forgotten heroes, it is astounding how much patriotism factors into his work. American flags heavily feature into the backgrounds of his paintings, are held by subjects such as in A New Generation, or fill the backdrop of scenes such as in Sisterhood.
Towns does not shirk away from his depictions of labor and resilience, nor does he come across as anti-American. This delicate balance is integral in tying the themes of the entire show into one cohesive voice: shining a light on the stories of these unsung Black laborers and their role in shaping our nation is so important as their contributions have too often been overlooked.
I hope you will take the time to see Declarations & Resistance while it is at The Westmoreland. I hope its themes come across as clearly, moving and powerful as it did to me. And I hope to see much more of Stephen Towns as he makes an emphatic statement to the art world, using quarantine to create a one-of-a-kind exhibition that has a message for all Americans.