I learned to ski as a teenager and my husband even earlier. The sport has been the centerpiece of our winter months, offering an experience unlike any other.  The crisp air, the expansive views, taking flight on the chairlifts, testing your skills all the way down, and even getting some cardio – there's just nothing that compares. So when our three kiddos grew old enough to manage themselves (without any major meltdowns throughout the day), we knew it was time for the introduction to the mountain.
While we personally taught them the basics, note that Snowsports School is available for individual and group lessons at all Laurel Highlands ski areas. For 2021, group lessons are limited to the group you've come with, meaning no mixing of parties, but available and worthwhile nonetheless for those looking to gain a comfort level from a trained professional. Keep in mind too that lessons are open to folks of all ages and abilities and are a great way to learn the sport or enhance your skills.
As with learning any new sport, there were spills and mishaps, but most of all excitement and laughter. Once we had successfully navigated the chairlifts, the birds spread their wings to fly and there has been no looking back. Fast forward to now, year three for us, heading to the mountain for a day on the slopes is the shining beacon for excitement to lead us through the long winter stretch. We plan our days around the various ski areas in the area based on what we feel like for the day, almost as if we were choosing how we wanted our eggs prepared, with each location offering its own unique mountain experience. Smiles can be found on every little face along with the chatter of plans for which part of the mountain we'll conquer first, and that's pure magic.
Of course, 2021 looks different than in years past, but rest assured the mountain experience still offers the same thrills you've come to expect and with safety measures in place to keep all guests comfortable and protected.
Here are some tips to kick off your trip to the slopes:
Limited quantities of lift tickets are being sold at the ski areas daily to avoid overcrowding during the pandemic. Tickets are available for purchase online through the resorts' websites listed below. Be sure to consider the demand for weekends and holidays when planning your trip and purchase in advance to ensure availability. Season pass holders and lodging guests are eligible to ski any time at any location regardless of availability status.

Indoor dining is at limited capacity in Pennsylvania this winter, so please keep this in mind when considering your meal options for the day. Pack some snacks and grab your lunch to-go from the food vendors on-site for an outdoor picnic or make your indoor dining reservations in advance.
 
Face coverings must be worn when social distancing requirements cannot be met, so be sure to hitch up your neck gaiters at the lift lines and when in crowded spaces.
 
Indoor activities and spaces are limited, so be sure to pack some additional hand and feet warmers to ensure that your crew stays comfortable when indoor warming isn't available. You'll also find plenty of outdoor fire pits and heaters at most sites to help you warm up after your runs.

Ski and snowboard equipment rentals are available onsite at all locations for those who don't have their own equipment.
 
All ski areas offer a ski shop, complete with new gear top to bottom for those who may have forgotten items or who are looking to update their gear.
 
A reminder from earlier that private individual and group lessons are available, but group sessions are limited to those who have traveled together or are in your direct crew.
 
Snowtubing operations are open and available at Seven Springs, Hidden Valley, and Nemacolin and make a great option for your après-ski activities or for those who just want the snow-filled fun without the sport.
 
Seven Springs and Hidden Valley have increased outdoor seating slopeside, so there's plenty of picnic benches and seating options available if some of your party prefers to simply enjoy the fresh air while watching their loved ones cruise the mountain.
 
Following Pennsylvania guidelines, all alcohol purchases must be accompanied by a food purchase, so keep this in mind when seeking adult beverages. Most locations offer low-cost food options to accommodate the requirement.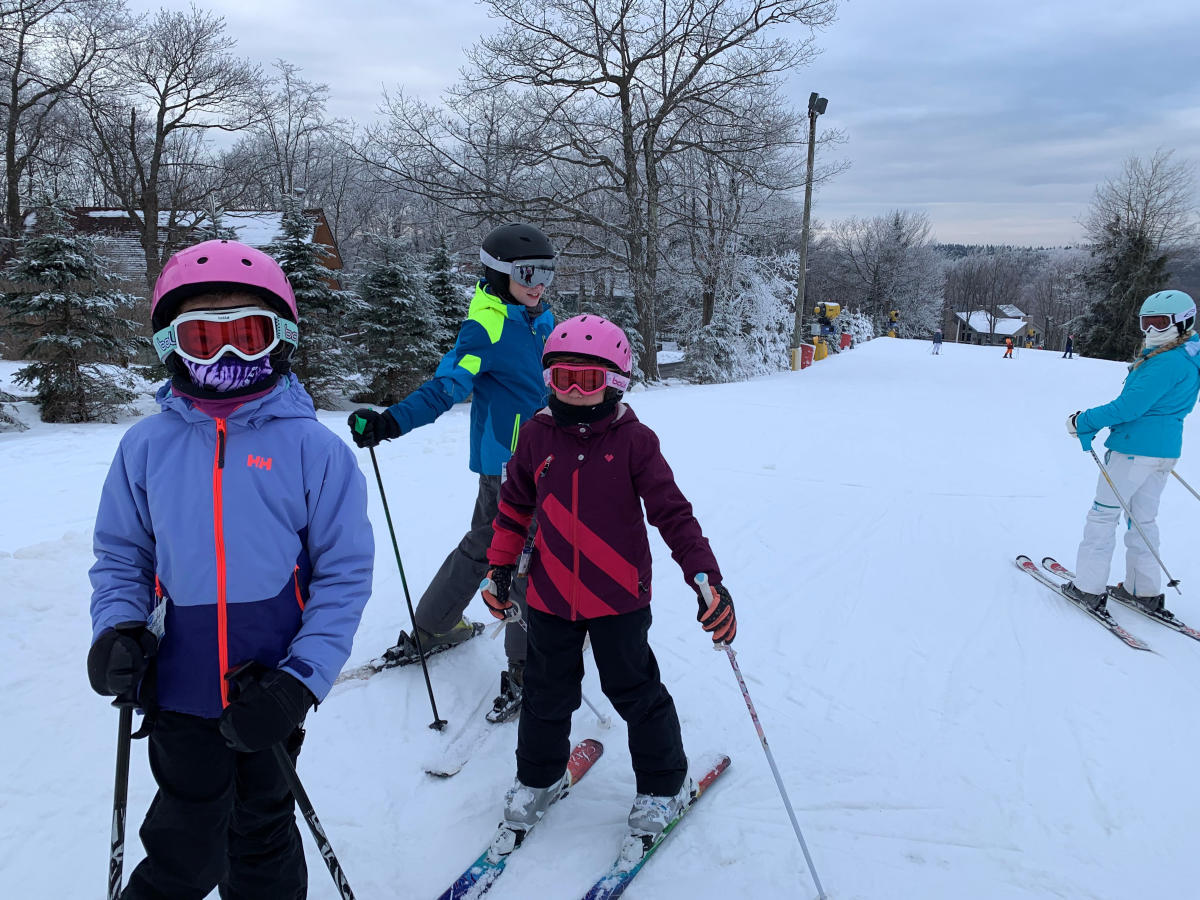 When Planning Your Trip:
The Laurel Highlands is blessed with thousands of square miles of the great outdoors which has made it quite a popular destination for those seeking private, safe, outdoor, open-air experiences throughout the pandemic. Ski and snowboard (not to mention snowshoeing, cross country skiing, and snowmobiling available at nearby parks) season is no exception here and demand can be high for a snowy escape perched in the mountains. Be sure to plan accordingly and book your stay in advance to ensure you find the best lodging to match your getaway needs.
Seven Springs Mountain Resort, also Pennsylvania's largest ski resort, offers a plethora of lodging options from hotel rooms at the lodge to ski-in, ski-out condo rentals, to your very own private cabin or chalet rental on the property. Check out the resort's website for a full list of options and be sure to take a look at their resort packages to get the most out of your trip. With its nearby proximity to Hidden Valley Resort, Seven Springs makes for a great place to stay while exploring both ski areas.
Nemacolin, an upscale boutique resort that you can preview on the current season of ABC's "The Bachelor," offers a luxurious getaway suited for the entire family. You'll find a more intimate skiing experience on 25 acres, plus loads of amenities and activities suitable for the whole gang ranging from ice skating on their outdoor rink to relaxing at the world-class spa. Find glamorous rooms in the Chateau, private butler service at Falling Rock, private home, and townhome rentals all onsite with convenient resort shuttling.
If you're looking for something a little more secluded and private, you'll find plenty of vacation home rentals, condos, cabins, and chalets available for rent in the Laurel Highlands this winter.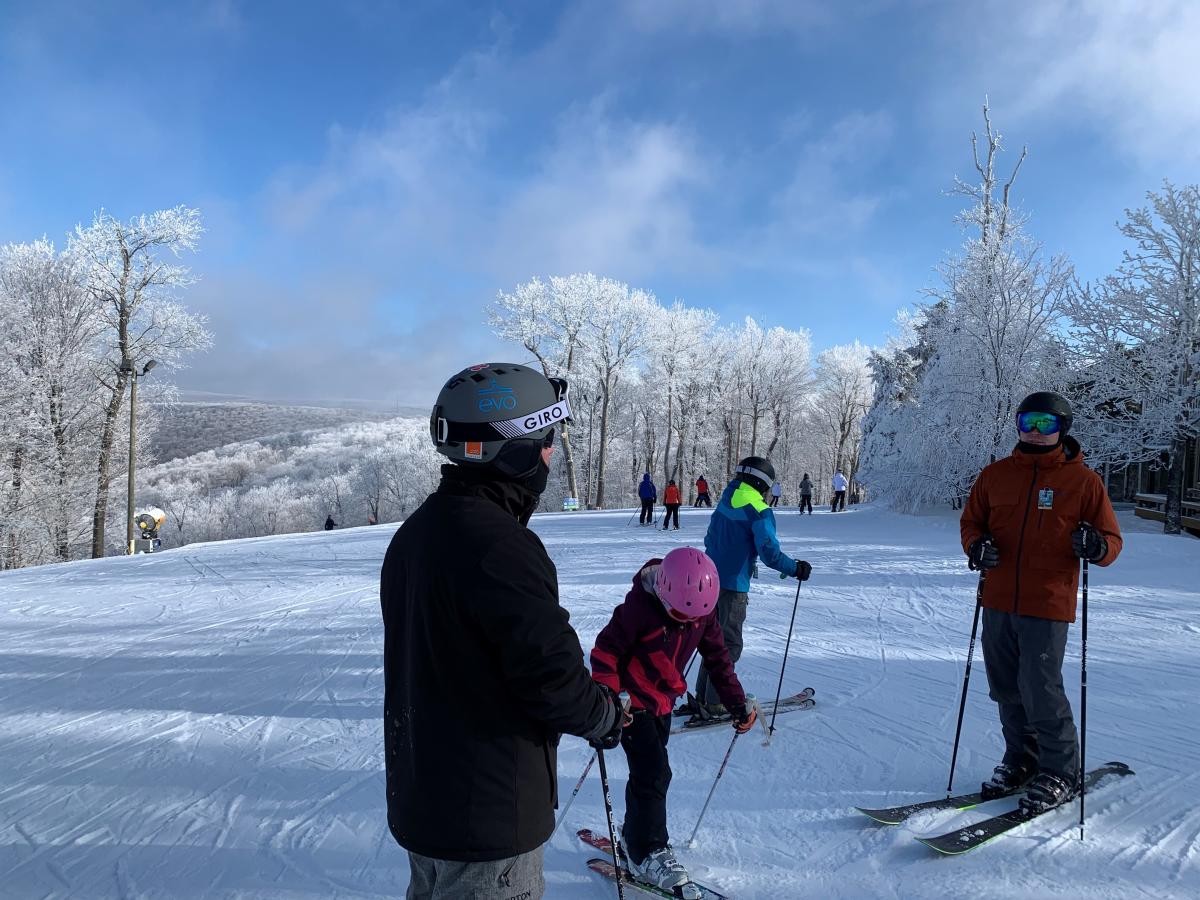 In Conclusion:
Downhill winter sports are a great way to spend a snow day with your crew and there's no better time to give it a try or rekindle your love for the mountain. The slopes are a great place to experience natural social distancing surrounded by fresh air, where friends can reconnect in safe outdoor spaces and feel rejuvenated. The snowy drive, full of expansive vistas, does wonders for the soul. So beat the winter blues and head to the mountains – you won't regret it!
Seven Springs Lift Tickets Here.
Hidden Valley Lift Tickets Here.