When FX artist Eric Haskell found Tom Savini's Special Make-Up Effects Program at Douglas Education Center, he moved with his wife from across the country to the Laurel Highlands. Ten years later, Haskell's hard work is on display every week and seen by half a billion people on FOX's The Masked Singer.
As soon as he graduated, it was obvious that Haskell was destined for great things. He first landed a job with Strategic Operations in San Diego, where he fabricated realistic body parts and organs used for military training exercises.
A side project led Haskell to his current role at J&M Costumers, a costume fabrication shop that has been churning out incredible work since 1977 and featured in everything from Taxi and The Big Lebowski to Frasier and Fresh Prince of Bel Air.
The Lion, The Peacock and the Wardrobe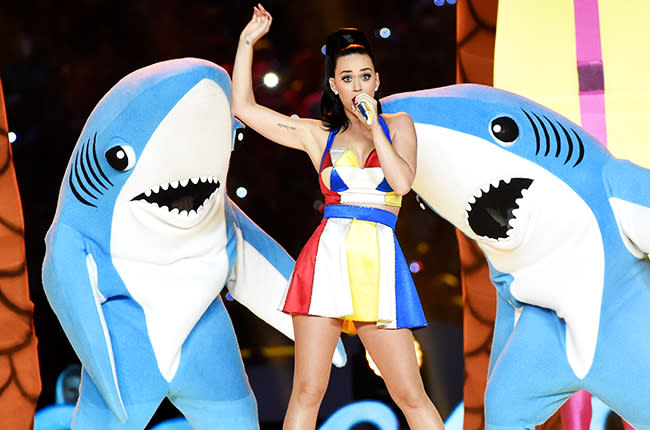 Haskell fit in right away, excelling at sculpting and helping with major projects any way he could. Remember the infamous left shark from the Katy Perry Super Bowl Halftime Show? Eric was on the field helping right shark get into costume. But more importantly, this show led him to work with Emmy Award-winning costume designer Marina Toybina!
Toybina is the head designer of all the Masked Singer looks, and knew J&M Costumers were the ones to bring her visions to life. Haskell specifically sculpted the Lion and Peacock masks along with J&M's teams of talented artists.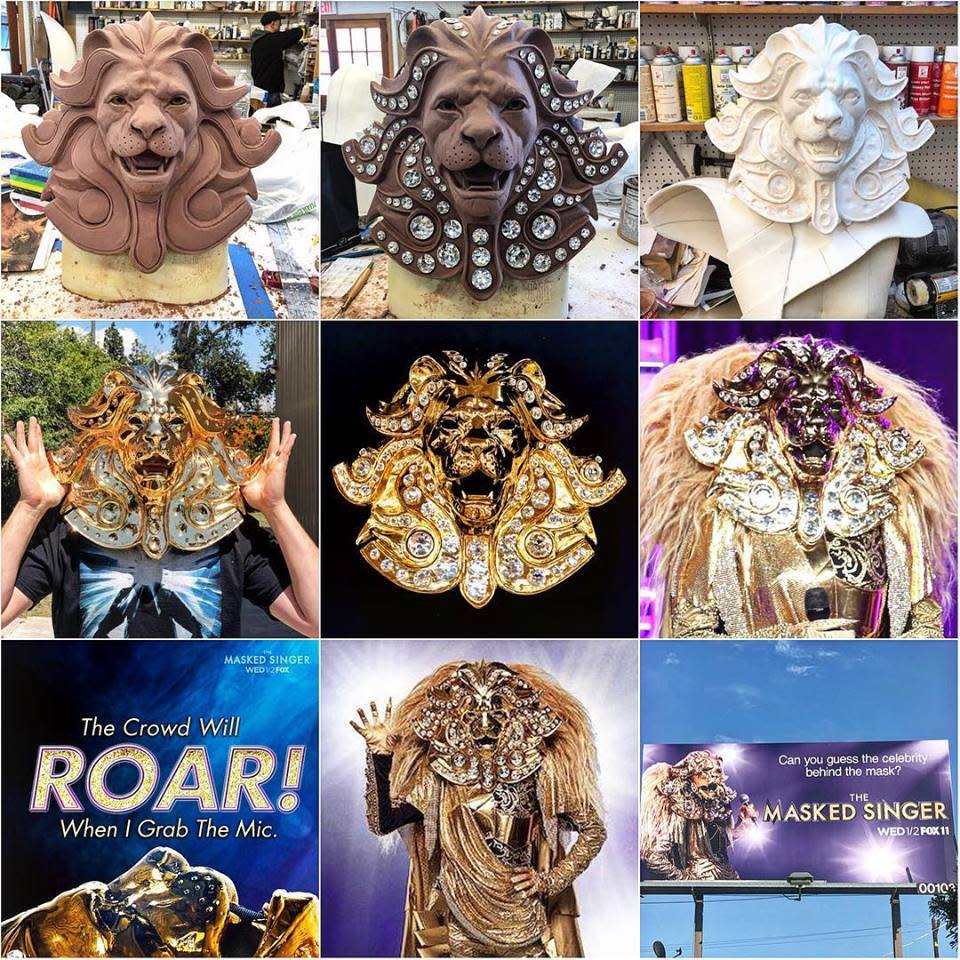 What no one could have predicted was how fast this show would take off, thanks in no small part to the innovative mascots that Haskell helped bring to life. The show has soared in popularity and is now watched live by eight million Americans weekly, with an audience worldwide estimated to be half a billion!
"I'm driving through LA now and I see a billboard with my work. It's surreal," said Haskell.
Heavy Metal Collectibles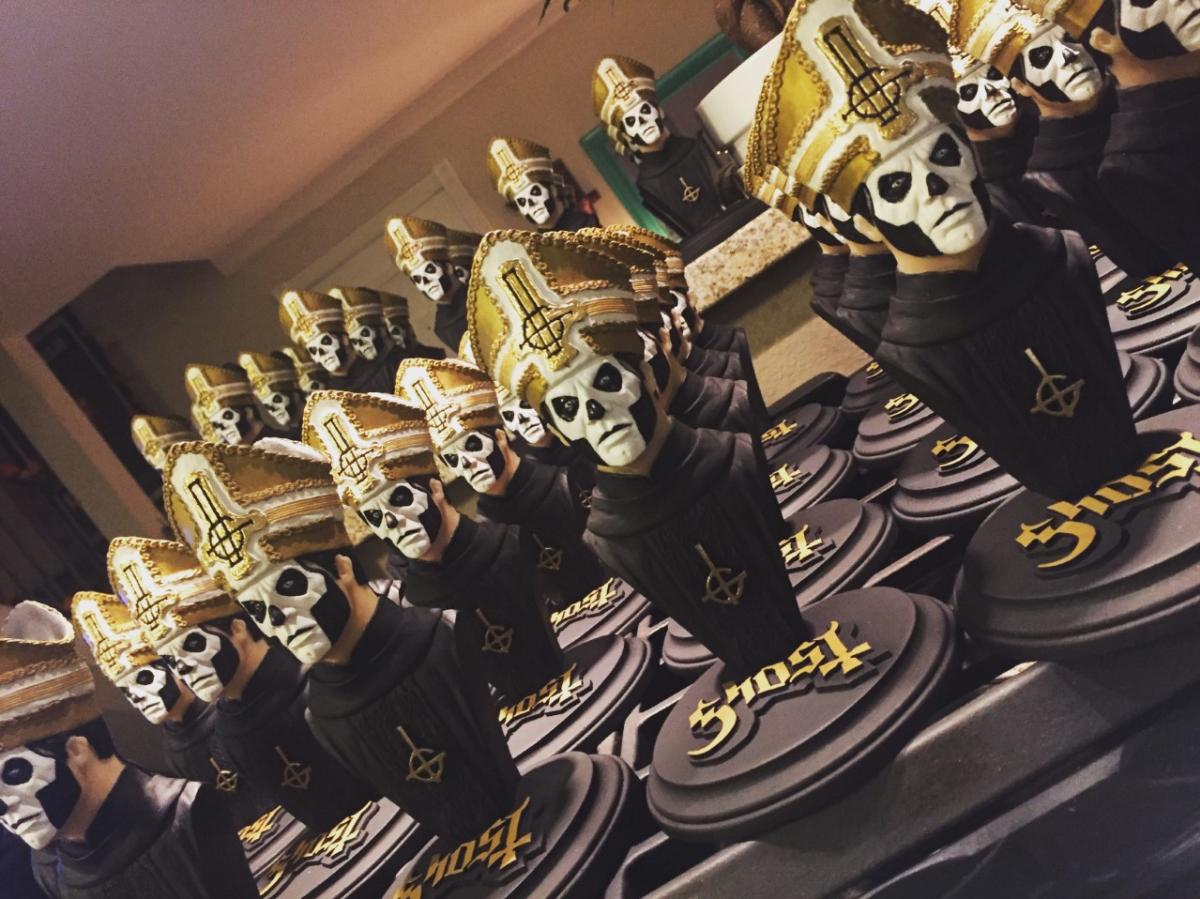 Outside of J&M, Haskell never says no to an opportunity. A huge fan of heavy metal, Haskell has had the opportunity to partner with heavy hitters of the genre like Slayer and Ghost, sculpting collectibles that fans worldwide crave.
Whether it is a gold chalice, screaming skull or ghostly statue, Haskell's creations help make his favorite bands even more memorable with his expert sculpting and ingenuity. Plus, he just loves to do it. 
"This is my most proud achievement," noted Haskell.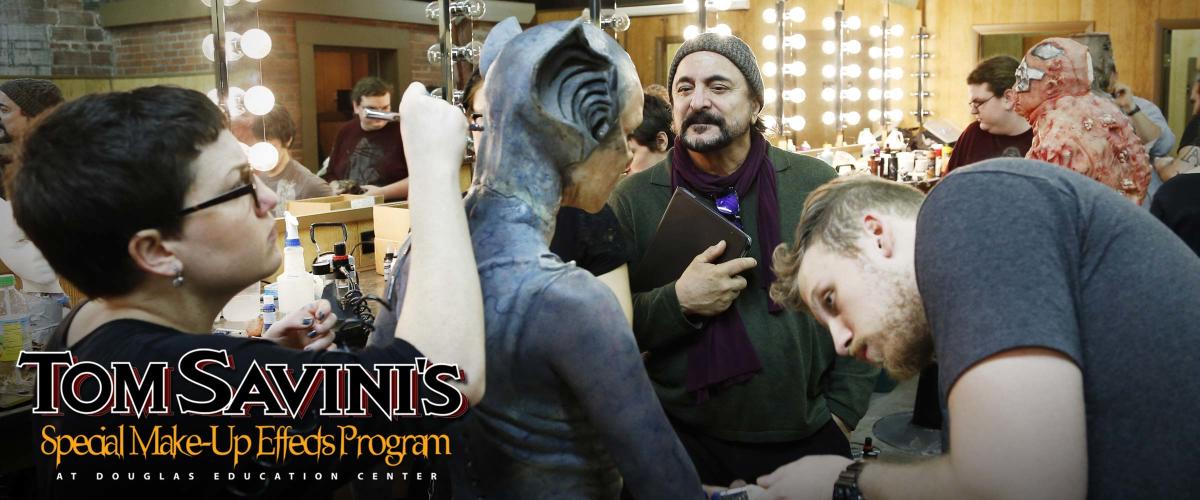 Haskell had no idea he would ever travel cross country to enroll in special effects until a fateful trip to Best Buy. After picking up the new box set of Friday the XIII films, he saw Douglas Education Center in the Bonus Features and was hooked. He loved horror legend Tom Savini, and decided to enroll, uproot his family and figure out the rest later.
Immediately taking to sculpting, Haskell was amazed to see how talented his teachers were, passing on that skill so Haskell had the confidence to excel at any project. He still checks in with the school and his favorite instructors from time to time, and is happy to see how much the school is growing and continuing to produce amazing artists through the program.
Advice for Students
Haskell's journey has a lot of lessons for anyone looking to succeed in their career, regardless of what they study. His lifelong love of learning means that he is always learning something new and surrounding himself with mentors to help him reach the next step.
Also, Haskell doesn't have the word no in his vocabulary. "I don't really turn down anything," he said. This openness to new experiences and ideas took him all the way to the Laurel Highlands for his education, and his side projects put him on the radar of J&M Costumers and eventually to his spotlight role with The Masked Singer.
Still, Haskell stays humble through all of his achievements. "It's wild, and it's great to be a part of a team that creates such amazing work. I'm extremely lucky."