Perhaps the idea of making a full Thanksgiving dinner leaves you in a cold sweat, nervously pacing the kitchen, watching and re-watching videos on how to roast a turkey. Maybe your personal plate is too full helping the kiddos with remote learning, working from home and you just do not have the time to facilitate a full feast.
Whatever your situation, some of our Laurel Highlands culinary partners have your back. Take a peek at just a few of the Turkey Day Take-Out dinners cooking up in the Laurel Highlands!
DiSalvo's Station Restaurant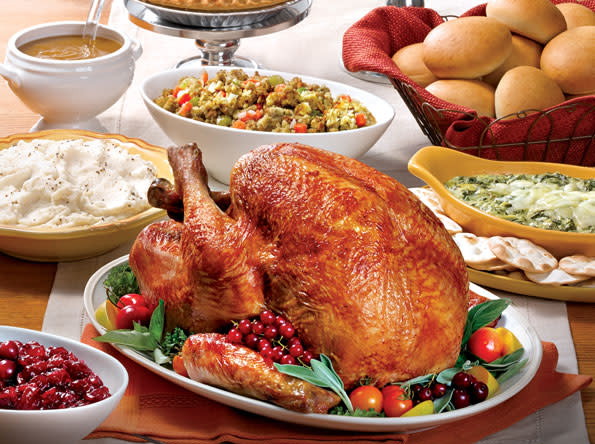 Set the table, light some candles, and pop open some local wine or beer, DiSalvo's has done all the work for you. Just follow their handy-dandy directions to reheat and serve!  This tasty menu serves six people with traditional slow roasted turkey, honey-glazed ham, classic stuffing, roasted garlic mashed potatoes, whipped sweet potatoes, cranberry sauce, and yes, pumpkin pie.
Bonus offer here! You can upgrade your dinner by adding on some extra turkey or ham. Perfect for seconds or leftovers over the weekend. Orders must be placed by Mon., Nov. 23!
The Historic Stone House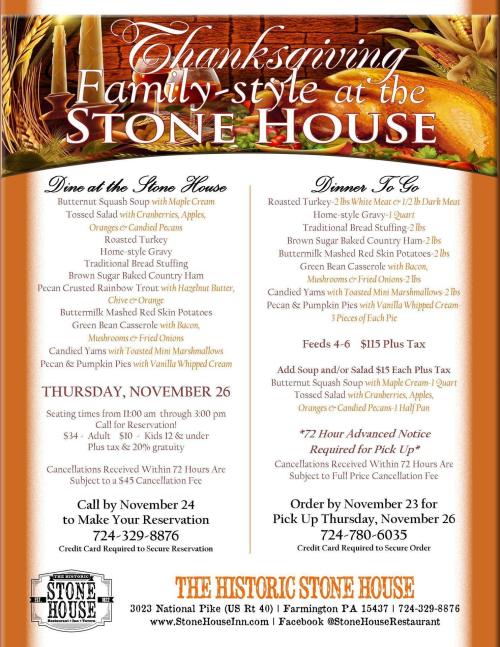 There's no doubt in my mind. When I think about a hearty meal, I think Stone House and their Thanksgiving menu takes it to the next level. This delectable menu serves 4-6 people with yummy classic roasted turkey, homestyle gravy, traditional stuffing, brown sugar baked country ham, buttermilk mashed red potatoes, green bean casserole, candied yams with roasted mini marshmallows, and get this, pecan AND pumpkin pie – oh, my!
Here you can also add-on butternut squash soup and a fresh tossed salad. Get your order in by Mon., Nov. 23!
Seven Springs Mountain Resort's Take-Home Thanksgiving Feast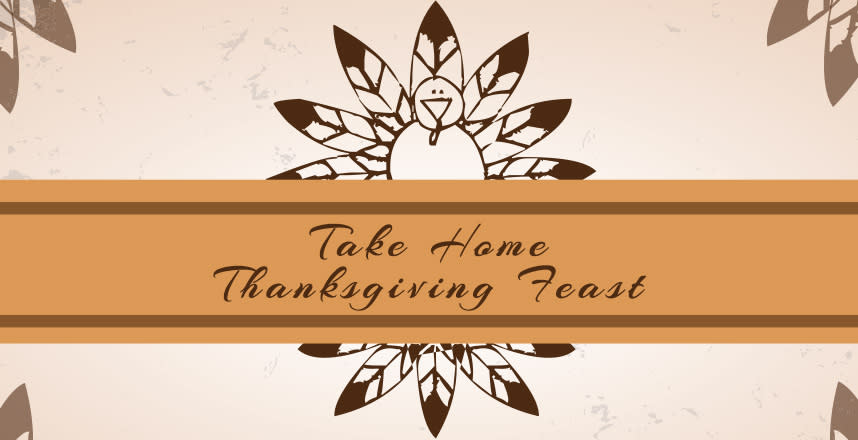 A feast fit for a king, this menu includes everything from a shrimp cocktail appetizer all the way to the pièce de résistance, pumpkin pie! This feast feeds 10-12 people and includes pumpkin soup, shaved brussels sprouts and chestnut salad with dried cranberries, roasted turkey with herb stuffing and rosemary gravy, roasted lamb, mashed potatoes, and green beans with garlicky almond breadcrumbs.
Be sure to get your order in by Wed., Nov. 18!