It's almost that time of year again – the one when procrastinators are in a last-minute panic, trying to figure out what to do for Valentine's Day. It's even worse this year, as Feb. 14 falls on a Tuesday, leaving many couples to celebrate on the weekend ahead of the heart-shaped holiday.
Don't have plans yet? Have no fear – unless you're into that, in which case you'll want to skip to the end – as we've got you covered with a wide array of options on how to mark the special occasion.
The Classic Romantic Dinner
Chapel Hill Wines, Dawson
Feb. 10-11 – 5-9 p.m.
Treat your Valentine to this special dinner celebrating romance!
The menu includes savory chicken Marsala, fettuccini Alfredo, Caprese salad with fresh Italian bread, red velvet cheesecake, and a glass of Chapel Hill's finest wine. 
Stone House Restaurant, Tavern & Inn, Farmington
Feb. 10 – 4-10 p.m.; Feb. 11 and 12 noon-9 p.m.
Celebrate your Valentine with modern classic cooking in a historical setting and out-of-this-world cocktails.
Entrees, which are served with house salad and a breadstick, include lemon pepper chicken, crab stuffed cod, slow-roasted prime rib, Cajun seafood Alfredo, filet mignon ala Angela, and veal osso buco.
Enhance your dinner by preordering chocolate-covered strawberries, roses, and/or champagne for your table. Call 724-329-8876 for reservations, which require a credit card.
Seven Springs Slopeside Restaurant, Champion
Feb. 10, Feb. 11, Feb. 14 – 4-9 p.m.
Celebrate with a special Sweetheart Dinner that includes one of the following: surf and turf for two (twin cold-water lobster tails and two 6-ounce filets); chateaubriand for two (20-ounce prime filet of tenderloin and demi aux bleu sliced); or a heart-shaped ribeye for two (grilled double heart-shaped ribeye).
The Sweetheart Dinners are served with truffle whipped potatoes, fresh asparagus topped with hollandaise sauce, tossed salad or Caesar salad, and a special sweetheart dessert. Sweetheart meals for two are $145. Reservations can be made by calling 814-352-7777, ext. 6000
Greendance – The Winery at Sand Hill, Mount Pleasant
Feb. 14, 6-9 p.m.
Escape the cabin fever and chilly winter for a special Valentine's evening. Guests will enjoy a two-course fondue dinner with an Emmentaler-Gruyère cheese course with meatballs, vegetables, and artisan bread - followed by a sweet slice of dessert prepared by Sand Hill Berries.
Complimentary wine tasting will begin at 6 p.m. with dinner to follow. Tickets, which cost $40 per person, are extremely limited, so call ahead at 725-547-6500.
Fun and Games
Tall Pines Distillery, Salisbury
Feb. 14, 6 p.m.
Come have a fun evening in the Tall Pines Saloon and see how well you know your significant other – or how well they know you. You can watch and laugh along or be chosen from the group to participate.
Dinner, catered by Fat Squirrel Café, includes pan-seared steak medallions plus bacon/Brussel sprouts, risotto, gravy and onion straws; or spinach and artichoke manicotti with homemade pasta and parmesan cream sauce; plus a garden salad and homemade rolls. Dessert and one cocktail are included with the $65 ticket. Email tallpinesdistillery@gmail.com to purchase tickets.
Full Throttle Adrenaline Park, Monroeville
Monday- Thursday, noon to 10 p.m.; Friday-Saturday, 11 a.m.-11 p.m.; Sunday noon-8 p.m.
OK, so the Rage Room isn't really a Valentine's Day special, but we have to include something for those who aren't into the holiday, right? This is a great way to unleash your anger – or just have a smashing good time. You will need to wear closed-toe shoes, but Full Throttle will provide the safety equipment – coveralls, hard hats, eye protection, etc. – as well as one glass package with additional smashables available for purchase. Just don't bring a picture of your ex, as no outside smashables are permitted!
Spending Time with Your Besties
Forbes Trail Brewing, Stoystown
Feb. 8, 6 p.m.
Bring your favorite gal pals for some great food, drink, and bonding. Ellen's Crafts – Décor & More will be hosting the class at Forbes Trail.
Reservations are required, and your $45 entry includes all board materials, artisan tastings, and your first drink. Plus, you'll get to take your finished board home with you. Contact Ellen Mostoller at etmchalk@gmail.com or text her at 814-242-5394. 
Irwin Business and Professional Association
Feb. 11, 11 a.m.-3 p.m.
Celebrate female friendship in Downtown Irwin! Enjoy brunch or lunch at your favorite Irwin restaurant and shop at your favorite Irwin boutique. Each business will be hosting specials.
Little hearts will be hidden around town. Find one and turn it in at Feathers Artist Market Gifts at 102 4th Street for a gift from a local business in Irwin, "The Biggest Little Town in Pennsylvania™."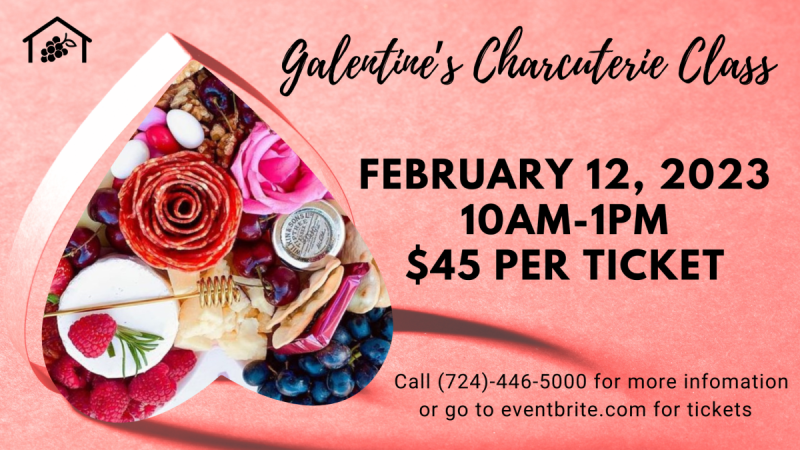 Greenhouse Winery, Irwin
Feb. 12, 10 a.m.-1 p.m.
Like so many American holiday celebrations, food is an integral part of Valentine's Day, and here's your opportunity to learn to create a beautifully unique charcuterie display with your friends.
Greenhouse Winery's charcuterie class, which is $45, includes all food and instruction in addition to a wine tasting. When purchasing tickets separate from your group please inform Greenhouse by calling 724-446-5000 so that they can ensure your entire group is seated together.
Overnight Options
Lodge at Chalk Hill, Chalk Hill
Book your stay at the Lodge at Chalk Hill and take advantage of the Sweetheart Special.
Enjoy a stay in their rustic lodging rooms and suites with your very own private deck at the lodge, which is located on Lake Lenore. It's a great location to stay after a romantic dinner at the Stone House Inn or Braddock's Tavern or a fun night at Christian W. Klay Winery.
Book via the website or call 724-438-8880 to receive the Sweetheart Special.
Nemacolin, Farmington
Love and luxury are in the air! Revel in the romance and celebrate your love with an unforgettable stay at Nemacolin.
Order flowers, pastries, charcuterie, or a special wine to be delivered to your room. Indulge in spectacular dining with divine features. Find bliss together at the Woodlands Spa with a couples escape. Immerse yourself. Romance awaits.
Scaring Up a Romantic Evening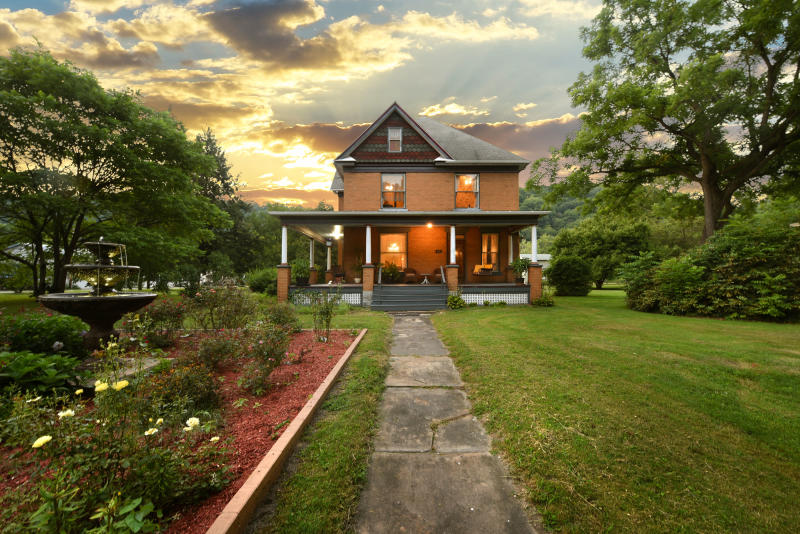 Buffalo Bill's House, Perryopolis
Feb. 10-19
Looking to spice up your Valentine's Day? Then consider spending some time at the home used to film the climax of the Academy Award-winning film "The Silence of the Lambs," which was released on Valentine's Day in 1991.
The Valentine's Day package includes: a complimentary choice of a bottle of champagne, wine (red or white) or non-alcoholic sparkling cider; a complimentary assortment of fine chocolates from Gene and Boots Candies; complimentary Buffalo Bill's House gifts & souvenirs for every person in a booked party (includes travel size BBH Skin Suit Soft lotions, magnets, lip balms, bumper stickers, and Tote Bags); Valentine's Day decor throughout the dining room and rose petals sprinkled in the shape of a heart on the bed in the master bedroom, Buffalo Bill's Suite
Email stay@buffalobillshouse.com for more information.
Haunted Hills Estate Scream Park, Uniontown
Feb. 10-11, 7-10 p.m.
The ultimate horror date night is BACK with two Valentine's-themed haunted houses at Haunted Hills Estate Scream Park.
Start by strolling through The House of Love. Can you survive this interactive adventure in a dark haunted house? Then, get ready for The Bloody Nightmare. Twisty's girlfriends are waiting to give you a shocking good time. They just may break your heart. Tickets are available at bit.ly/scarytix