In honor of President's Day, step back to a simpler time with this round up of past presidents and their experiences in the region. Tour the Laurel Highlands to retrace the steps of a young George Washington before he became our nation's first president. Rewind to President Eisenhower's visit in 1958, or have a stately stay at the Summit Inn, where presidents and other notable figures have gathered. 

Follow George Washington Through the Laurel Highlands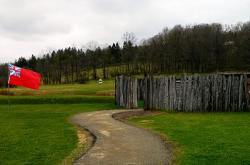 Just off the National Road (Route 40), near Fort Necessity National Battlefield, you'll find the Jumonville Glen, a secluded clearing which young George Washington once called "a charming field for an encounter." At the young age of 22, Washington led a group of nearly 40 men towards French troops, to a skirmish with the French in that clearing. No one knows who fired the first shot, but hundreds followed in that peaceful glen, leaving all of the Frenchmen dead or captured, with the exception of one escapee. Great controversy surrounded the events that took place that day.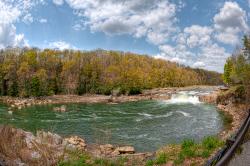 The French forces, claiming they were attacked without cause, wanted to discuss the unjust battle. Washington doubted their intentions and ordered the construction of a small fort, which he named Fort Necessity. Washington was forced to surrender on the morning of July 3, 1754, his losses greater than those of the French and Native Americans. Fort Necessity historically became the site of Washington's first and only surrender. 

That same year, George Washington followed the Youghiogheny River, in an attempt to find a water route to Fort Duquesne, which was then controlled by the French. He abandoned this effort when he discovered Ohiopyle Falls and the whitewater that follows down river. 

Years later in 1758, at the Post at Loyalhanna, which would later be known as Fort Ligonier,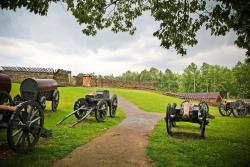 General John Forbes decided to spend the winter. On orders from Forbes, Colonel George Washington, four years after the skirmish at Jumonville Glen, led 500 Virginian soldiers from the fort, while George Mercer led 500 troops in another direction, in an effort to surround French and Native American forces. The two Virginia units encountered each other in a friendly fire incident, leaving 38 killed or missing. Learn more about the unfortunate friendly fire at Fort Ligonier, where you can also view George Washington's original saddle pistols and memoirs. (Fort Ligonier is closed for the season, but will reopen in April.)
Presidential Visits to the Summit Inn Resort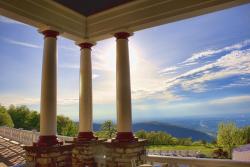 Located along the historic National Road, the Summit Inn Resort has a rich history all its own, first opening to the public in 1907. The inn has hosted many prominent historical figures, such as Henry Ford, Harvey Firestone, and Thomas Edison, who brought the American Science Wizards here to test inventions on Laurel Ridge. Two presidents, Warren G. Harding and Harry S. Truman have hung their hats at the Summit Inn. It is rumored that President Harding once took a tumble on the grand staircases that branches off to the east and west wings from the lobby.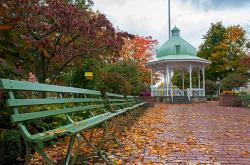 Eisenhower in Ligonier
30,000 people gathered in the small town of Ligonier on September 26, 1958 to see President Dwight D. Eisenhower give a public address. A plaque in the town's Diamond park commemorates this historic event.
A Suite Fit for the President
Give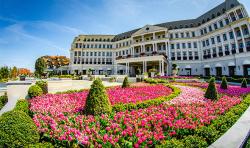 yourself the presidential treatment with a night in the Chateau Presidential Suite at Nemacolin Woodlands Resort. This suite alone features $1 million of renovations, upgrades, and grand furnishings, including two French balconies, a regal dining room, a lavish master bedroom with a fireplace, and vanishing television displays. Dine like a king in the Forbes Five-Star and AAA Five Dining restaurant, Lautrec, during your stay.