What comes to mind when you think of mosaics? Roman villas? Mosaic kits from Michael's craft store? Or those mosaic tiles for the kitchen? Well, prepare yourself for the full spectrum of color in the form of Sager Mosaics.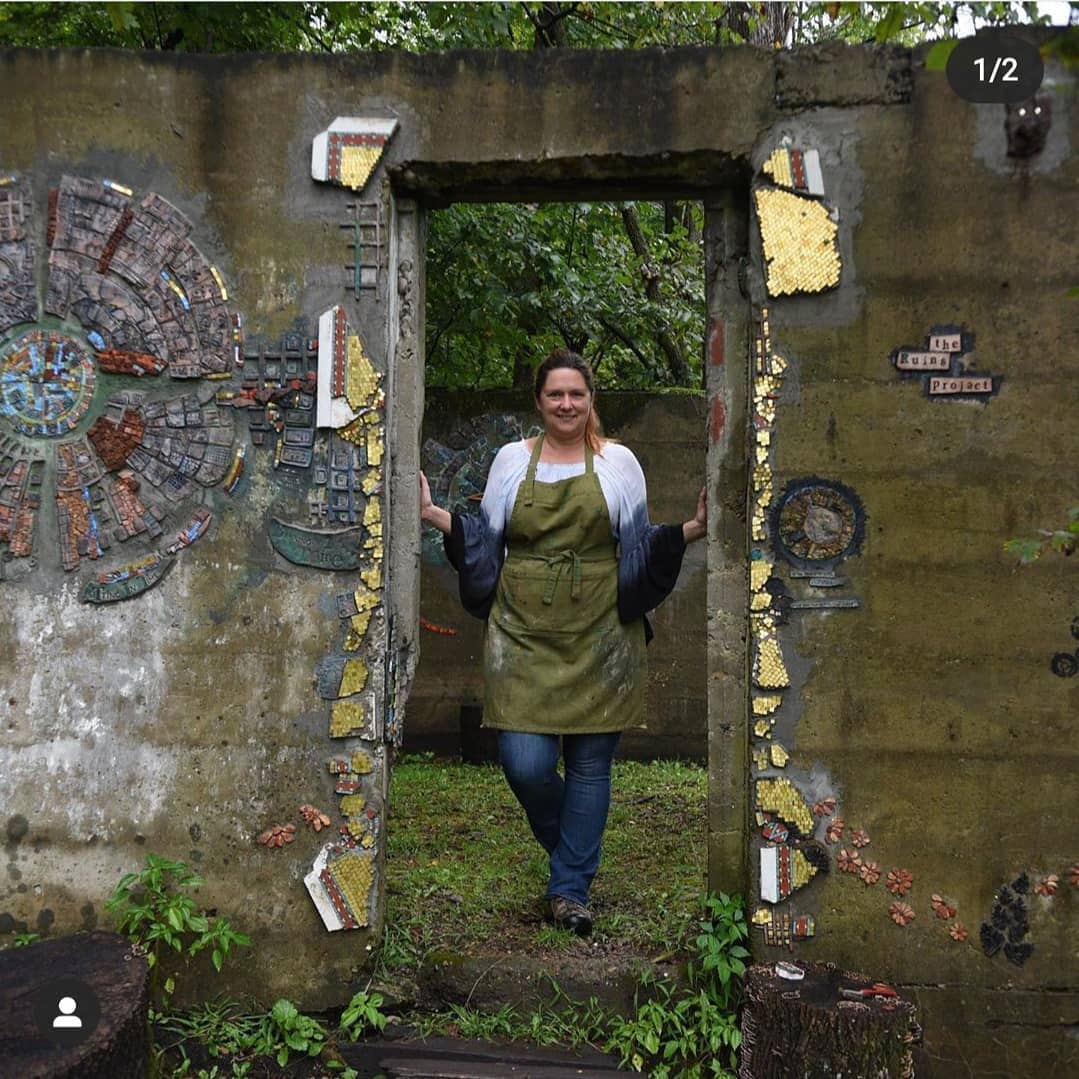 Meet Rachel Sager, the founder, mosaicist, artist, and blogger extraordinaire of Sager Mosaics.  She's about as deep into mosaic artistry as you can go, having devoted half her life to this exquisite craft. Rachel considers herself a "Forager Mosaicist," which basically means that she uses the resources she has around her. And according to Rachel, there's a great selection of raw material to be had in the Laurel Highlands, from sandstone and limestone to dense black shale. It means foraging, walking the land, following the topography, learning about the environment, connecting with the past, and above all discovering the medium to work with. And then, with your own hands and tools exploring the raw material, learn how to cut it, how to use it, and how best to display it.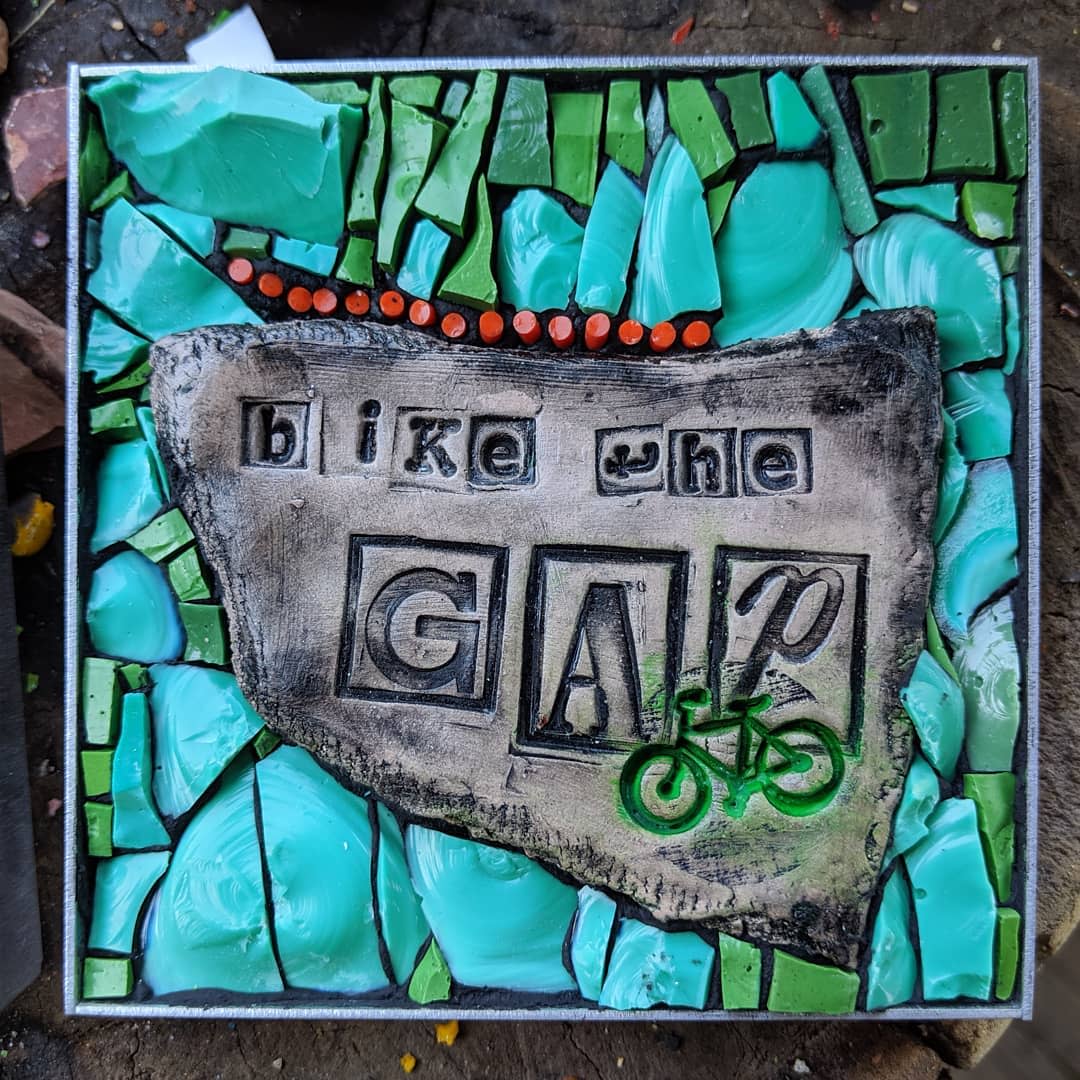 Sager Mosaics is located right in the heart of the Laurel Highlands. With the early 1900's red brick studio/gallery/shop located at mile marker 104 of the Great Allegheny Passage rail-trail, in the small coal town of Whitsett overlooking the Youghiogheny River. It's picture-perfect or as Rachel describes it "a little bit of Heaven." Born and raised in the Laurel Highlands, Rachel is a proud native and incorporates the region's history and heritage in her biggest challenge yet, The Ruins Project.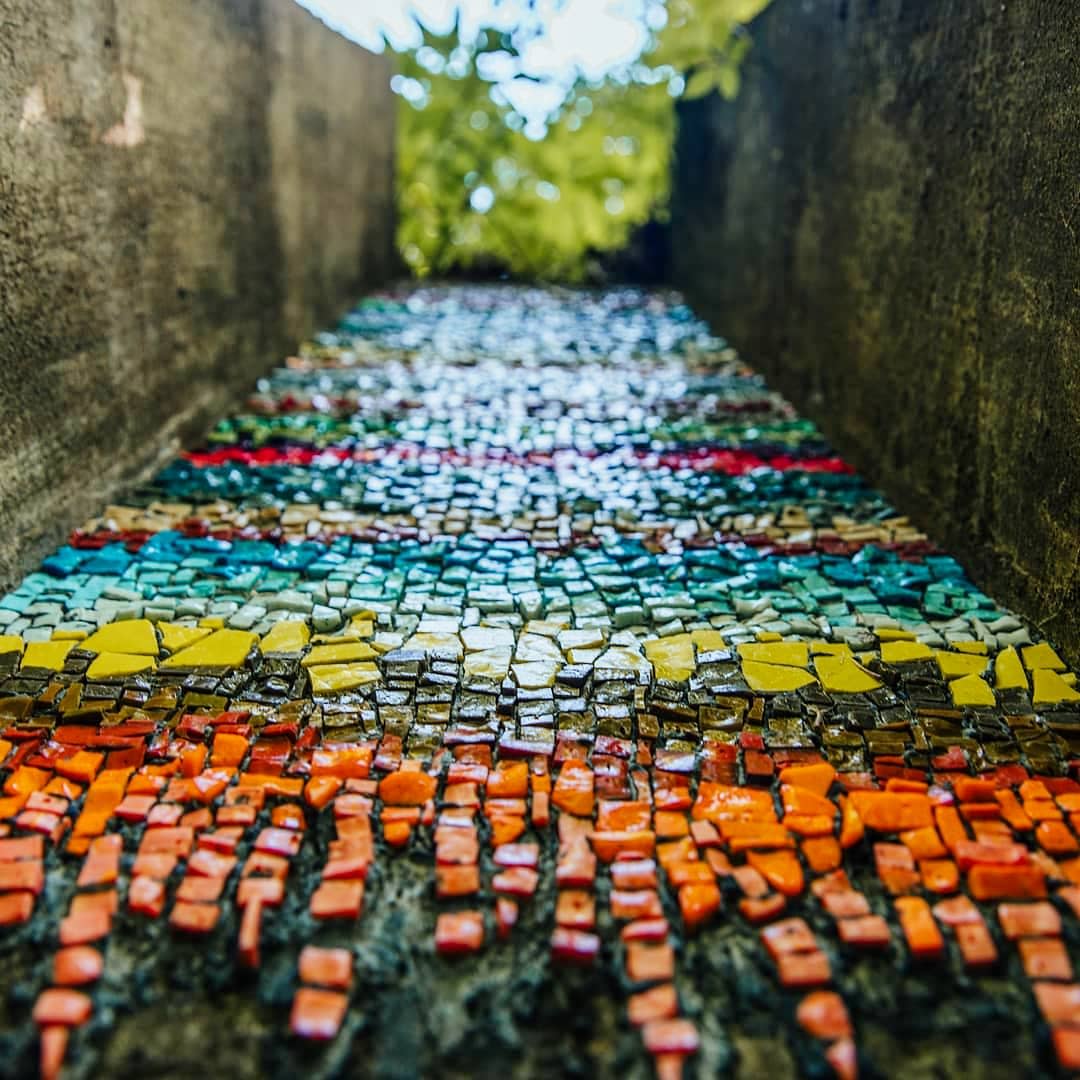 Which once was a coal mine operating station until it closed in 1946, it's now Rachel's giant cement canvas' covering over two acres. Little by little, with the collaboration of hundreds of artists, Rachel is slowly covering this extraordinary canvas with an eclectic collection of mosaics, ranging from coal mining features, a nod to the local heritage and her family's past (her father, grandfather, and great grandfather all mined in the local mine), to birds, animals, local landmarks, and we can't leave out the 67' train mosaic.  Yes, you read that correctly, 67 foot-long mosaic, most probably the longest train mosaic in the world?
The Ruins Project is open for tours year-round, where Rachel will give you a personalized one-hour tour of this magnificent mosaic project. Booking tours online is preferable, see the link at the bottom of the page for details.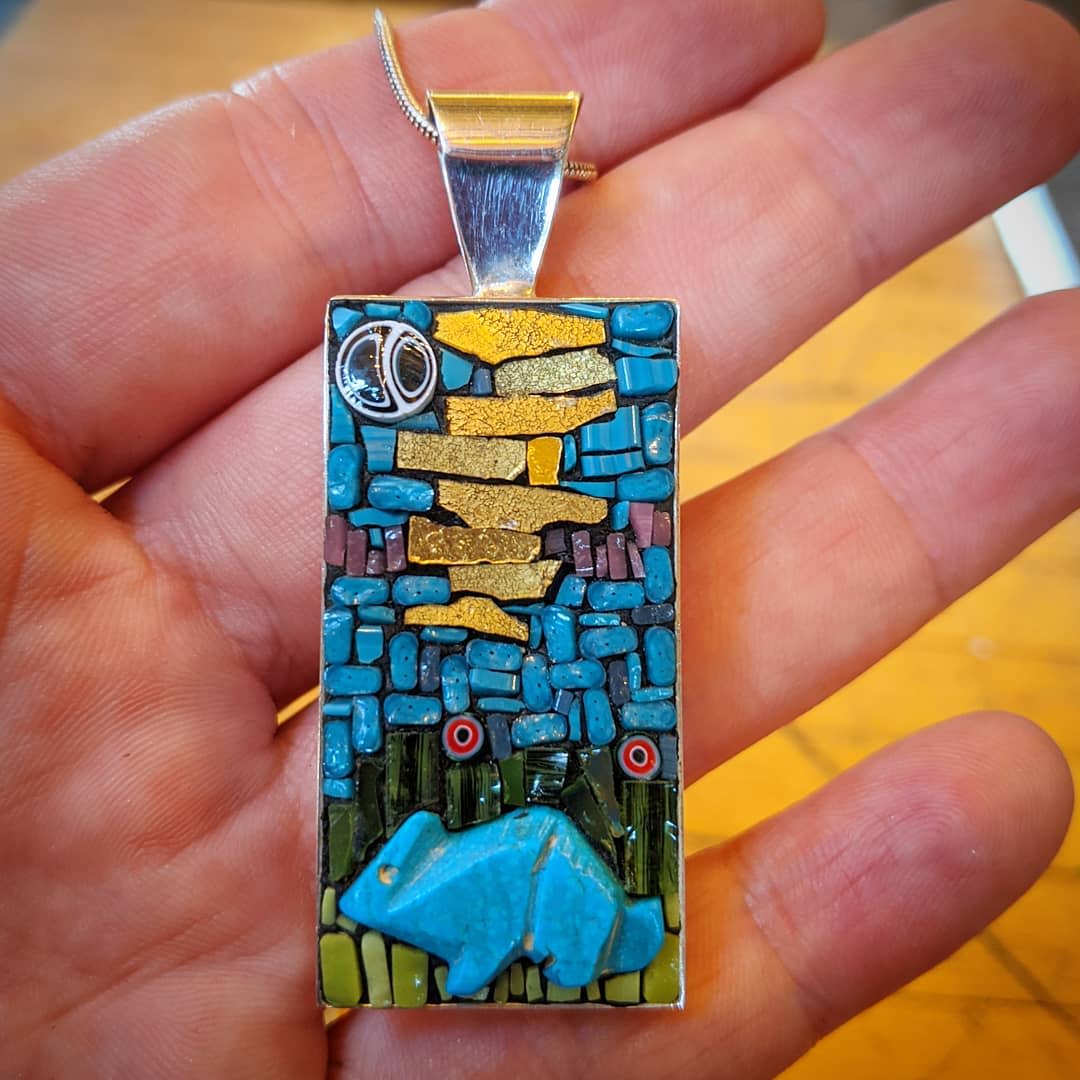 Aside from The Ruins, Rachel also offers virtual online mosaic classes starting at beginner through to advanced, in all quests of mosaic creativity.  There's also the studio/shop where she works away in the quieter winter months making beautiful mosaic jewelry, as well as other smaller more extricate projects.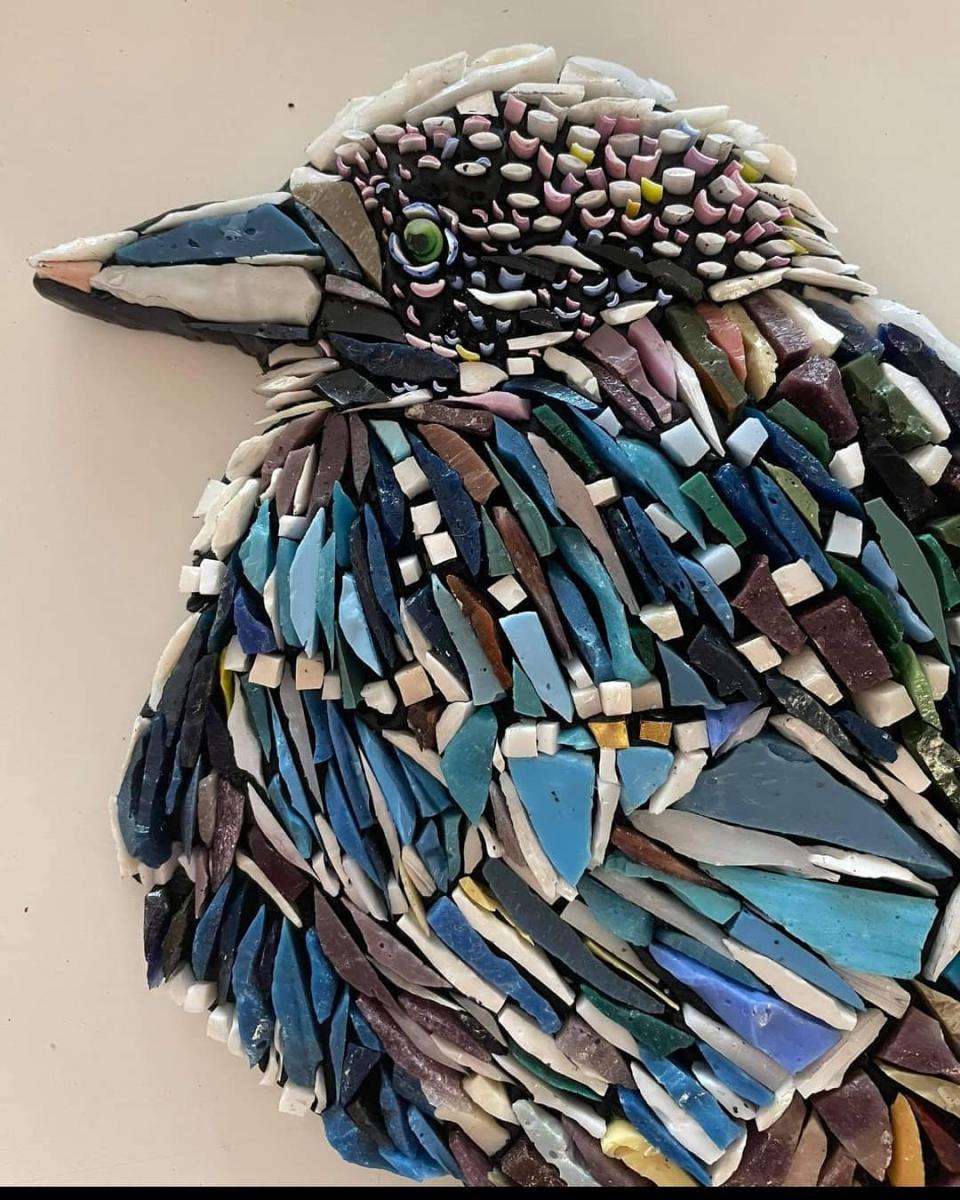 One project which has captured my attention is "Feather," a spin-off project from The Ruins Project. Plans were underway for many international artists to visit and create on-site in 2020. Those plans were tabled and the Feather Project was born, offering the opportunity for artists around the world to contribute to The Ruins Project from their own homestead. The Feather Project asked mosaicists to make native Pennsylvania birds in detail then ship them to Sager Mosaics, where they will be placed on painted trees on The Ruins. The starling pictured above was created by Mireille Swinnen. 
According to Rachel they have 40 birds in the works, all life-size including a chickadee, a cardinal, and a barn owl all waiting to be installed later this year. Personally, I can't wait to see the result, judging by the bird mosaic images Rachel has shared on Facebook.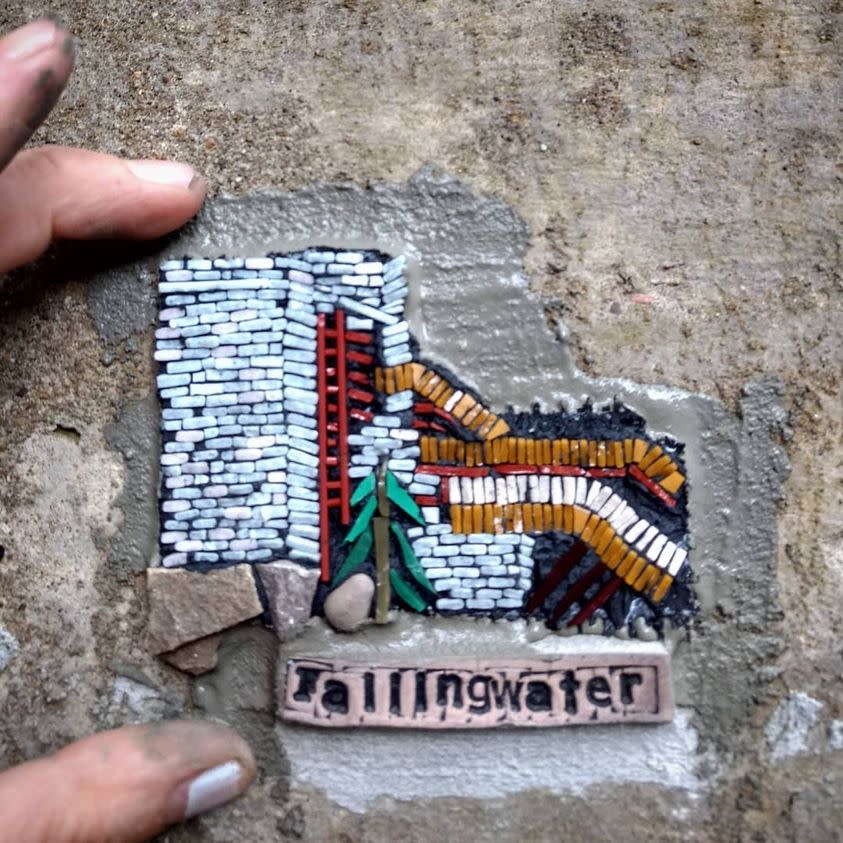 I can't express enough how inspirational, captivating, and bold Sager Mosaics and The Ruins Project is to me. I totally recommend diving into Rachel's beautifully written blogs and following The Ruins Project progress on Facebook or Instagram, the vibrant, colorful mosaics will blow you away.
Sager Mosaics was a guest on the Laurel Highlands Happenings podcast series in January 2021. Listen here.
Learn more about Sager Mosaics and The Ruins Project here