If you're looking for something to do in the Laurel Highlands this weekend, look no further! With the fall leaves' colors peaking, zooming through the Laurel Highlands will definitely be a sight to see! Pick a route closest to you, invite some friends and family and hit the road! No matter which fall drive you choose, there will be attractions, restaurants, parks and historic sites along the way! 

This route will take you on Lincoln Highway: Route 30 from Irwin to Stoystown. On your way, stop at the Lincoln Highway Experience Museum to get an enriching tour of the history of "Main Street Across America." Along Lincoln Highway, stop at Twin Lakes Park, equipped for a full day of fun with three fishing decks, a dog park, pavilions, picnic and play areas and an outdoor amphitheater! Grab a bite to eat at The Pie Shoppe, where they have more than just pies! They have delicious fresh baked bread, gobs, pizza, sandwiches, their popular "snail" cookies and more. Pay your respects to the 40 passengers and crew members of Flight 93 at the Flight 93 National Memorial in Shanksville. From dawn until dusk, you can visit the crash site of Flight 93 and see real artifacts and learn more about the tragic accident at the Visitors Center.   

Start your adventure at Ohiopyle State Park, where you can take a brisk walk to Cucumber Falls and get some Instagram-worthy photos. Not too far away are two of architectural genius Frank Lloyd Wright's structures Fallingwater and Kentuck Knob. With a waterfall running through it, Fallingwater is absolutely breathtaking and a must-see. Kentuck Knob is nestled into the hillside with only two right angles in the entire house! Journey back to the 18th century and discover Fort Ligonier, a restored French and Indian War. Its museum includes over 200 artifacts recovered from the Fort and George Washington's original saddle pistols. While you're in Ligonier, grab a coffee and a sandwich at Abigail's Coffehouse. Their house brew, Dancing Goats, is the best!

First things first, head to Nemacolin Castle to take a tour, or a ghost tour if you're brave enough, of the castle that stands at the crossroads of national history and contains furnishings from the late 1700s. Looking for adventure along the way? Be sure to visit Laurel Caverns, Pennsylvania's largest cave with over three miles of natural passages. It is truly unlike anything you've ever seen! Ready to relax? Make your way to Christian W. K Winery, located in a restored 1880s barn perfect for a wine tasting. In addition to wine tastings, you can go on a tour of the vineyard or shop for bottles of wine to take home with you. Before or after you indulge in delicious wines, enjoy some comfort food prepared by an award-winning chef at Stone House Restaurant.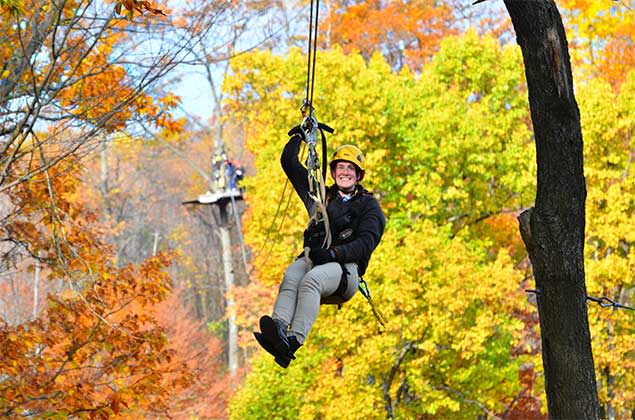 It can be your first or last stop, it's up to you, but pick up a few bottles of wine from Greendance Winery, a Laurel Highlands winery committed to providing local wine to its customers.  Now, this is where things get super fun, at Caddie Shak. With 12 different attractions, like go-carts, bumper cars, mini golf and more, your whole group will have a blast. Sit on Out of the Fire's patio deck with an incredible view of the fall foliage and enjoy lunch. And guess what? They're BYOB, so you don't have to wait until you get home to drink your bottle of Greendance wine! After you've eaten, get an amazing up-close zoo experience at Living Treasures Animal Park. Buy a bag of baby carrots or some cheerios, and feed the animals!