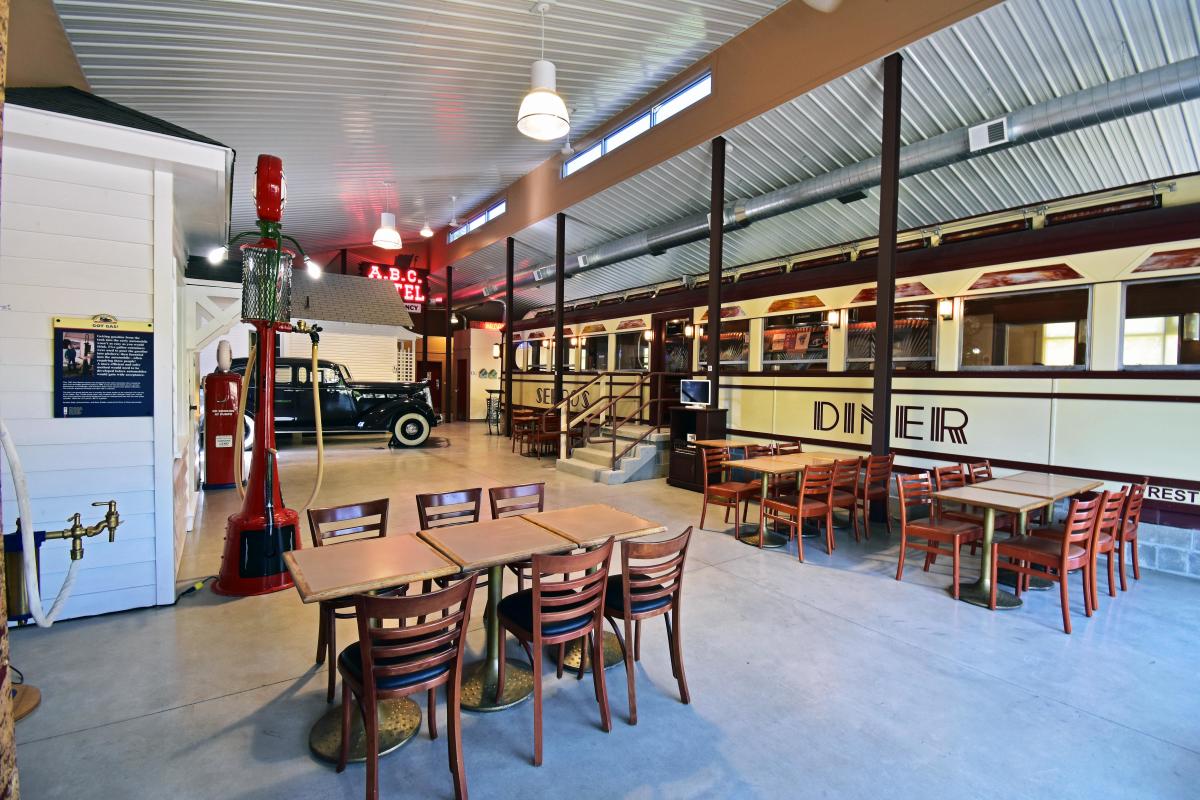 LATROBE, Pa., (March 6, 2019) – Do you know which historic road is twice as long as the Mother Road (Route 66) and 10 years older? Designated in 1913, the Lincoln Highway was America's first coast-to-coast road, stretching from New York City to San Francisco with 70 miles weaving through Pennsylvania's Laurel Highlands.
In the early 1900s, automobile travel skyrocketed, allowing Americans to explore towns and attractions beyond the designated stops along the railroad. However, most roads, with the exception of city streets, were unsuitable for cars to drive on, leading to the creation of the Lincoln Highway. This road helped to launch tourism in small towns and grew the related roadside industries of gas, food, lodging and postcards.
Inside the Museum
A beautiful stone house that was once a stagecoach stop on the Lincoln Highway in Latrobe, Pa., is now home to the Lincoln Highway Experience. The interactive museum allows visitors to travel back in time and learn about this historic road and the interesting sights along the way.
All of the museum's displays are authentically restored Lincoln Highway artifacts, including a variety of vintage gas pumps, a 1939 filling station and tourist cabin, lots of neon signs, a 1937 Packard automobile, which is considered "the" car of the Lincoln Highway, and the showstopping restoration of the 1938 Serro's Diner.
At the end of the 19th century, lunch wagons, similar to present-day food trucks, made way for diners. The Serro's Diner, measuring roughly the size of a train car, was purchased by the Serro brothers in 1938, who intentionally placed the diner at the new Pennsylvania Turnpike exit in Irwin to serve truck drivers and tourists. In its heyday, the diner featured high-end details such as solid mahogany, marble, porcelain, copper, pocket doors and leather stools and cushions. It makes sense why it was described as the "Cadillac of diners."
After 20 years of service, the diner was sold and moved twice. In 2003, the Senator John Heinz History Center donated the diner to the Lincoln Highway Heritage Corridor, who had the diner meticulously restored before installing it in the Lincoln Highway Experience.
Visitors will also view an award-winning film, "Through the Windshield," in the adjacent National Register-listed building. Also available – a virtual ride on a Cannondale bike across the country via the Lincoln Highway route. Preschoolers will have a blast in the "A Penny for Your Tots" room.
Instead of sending photos from their smartphones, visitors are encouraged to pen their greetings on the Lincoln Highway postcard that's included with admission. Once it's written, a docent will affix a postage stamp and mail it.
Hours of Operation and Tour Information
The museum is open from 10 a.m.- 4 p.m., with the last visitors admitted at 3 p.m., Monday-Saturday from April through December and Monday-Friday from January through March. The $14 museum fee includes use of a Tour-Mate audio wand, a 60-page Lincoln Highway Driving Guide, a four-page insert identifying locations of murals, "Roadside Giants," and 65 interpretive exhibits along the 200-mile Pennsylvania Corridor, a Lincoln Highway postcard with postage and, last but not least, a piece of pie and cup of coffee in the restored 1938 diner. Group rates and reduced youth rates are available.
Must-See Roadside Attractions Along the Lincoln Highway in Pennsylvania's Laurel Highlands
The Lincoln Highway Experience makes a great pit stop on a cruise through the Laurel Highlands. Don't miss these attractions! Custom Google Map online here.
Mural – Remote Control Building

75 PA Avenue, Irwin, 15642

Roadside Giant – Packard Car

Westmoreland Chamber of Commerce, 241 Tollgate Hill Road, Greensburg, 15601

Roadside Giant – 1940s Gas Pump

3435 State Route 30 E., Latrobe, 15650

Lincoln Highway Experience

3435 State Route 30 E., Latrobe, 15650

Ligonier Diamond
Roadside Giant – Bicycle Built for Two

2811 Lincoln Highway, Stoystown, 15563

Mural on Barn – Abraham Lincoln

3241 Lincoln Highway, Stoystown, 15563

Mural – Vintage Automobile Tow

101 W. Main Street, Stoystown, 15563

Flight 93 National Memorial

6424 Lincoln Highway, Stoystown, 15563

Painted Gas Pump and Exhibit

Duppstadt's Country Store, 6885 Lincoln Highway, Stoystown 15563
About Pennsylvania's Laurel Highlands
A magnificent mountainous region, the Laurel Highlands spans 3,000 square miles in southwestern Pennsylvania. Located an hour's drive east of Pittsburgh, the beautiful four-season destination offers spectacular natural scenery, outstanding outdoor recreation, historic sites and attractions, family activities and world-class resorts. Notable destinations within the region include four architectural masterpieces by Frank Lloyd Wright – Fallingwater®, Kentuck Knob, Mäntylä and Duncan House – Nemacolin Woodlands Resort, Seven Springs Mountain Resort, Flight 93 National Memorial, Idlewild and Soak Zone, whitewater rafting at Ohiopyle State Park and more.
Located within 200 miles of the major metropolitan areas of Pittsburgh, Baltimore, Cleveland and Washington D.C., the Laurel Highlands can be easily accessed from exits 67, 75, 91 and 110 of the Pennsylvania Turnpike.
Visitors to the Laurel Highlands can find information online at www.LaurelHighlands.org, calling 724.238.5661, www.facebook.com/laurelhighlandsPA and www.twitter.com/laurelhighlands. Established in 1958, the Laurel Highlands Visitors Bureau is the official destination marketing organization for Fayette, Somerset and Westmoreland counties in southwestern Pennsylvania.