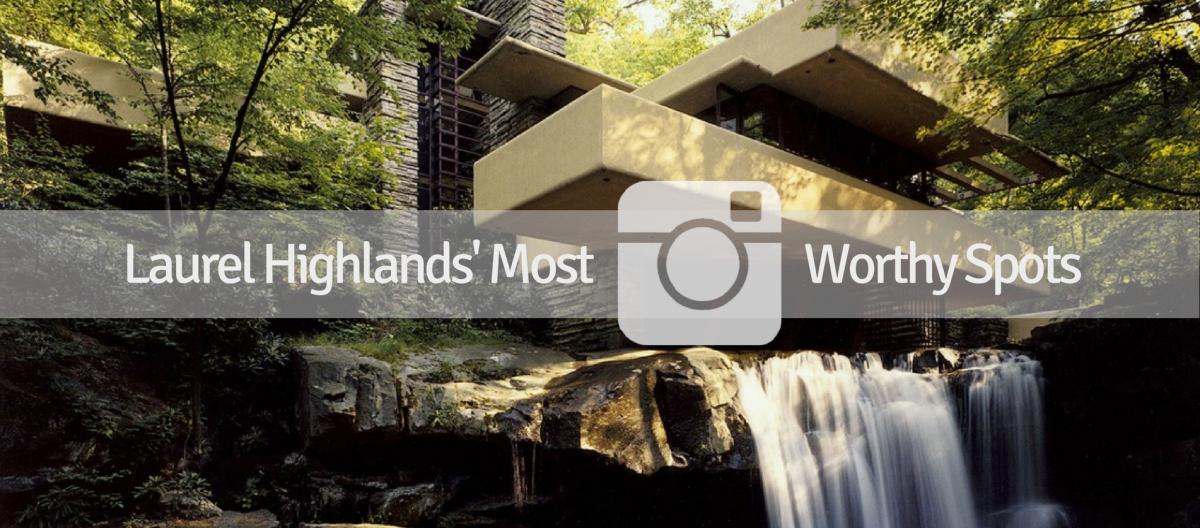 LAUREL HIGHLANDS, PA., (April 18, 2018) – The Laurel Highlands Visitors Bureau (LHVB), the official destination marketing organization of Fayette, Somerset and Westmoreland counties in southwestern Pennsylvania, shares a sampling of the region's top places for a mind-blowing Instagram photo.
"It's been said that a picture is worth a thousand words," said Anna Weltz, LHVB's Director of Public Relations. "In some cases, an amazing Instagram photo can be worth a thousand likes. This round-up shares some of the most popular images our visitors and residents are sharing in their social networks.
"We encourage visitors to show off their photography skills with fellow adventurers by using #laurelhighlands," added Weltz. "Or submit your photo to the LHVB's 2018 Photo Contest for a chance to win up to $500 and maybe even see your photo on a billboard, the 2019 Destination Guide or on LaurelHighlands.org."
Media Toolkit: The LHVB is happy to provide a sampling of these awesome user-generated photos and a handy Google Map to members of the travel media for content creation.
Frank Lloyd Wright's Fallingwater
Wright's iconic architectural masterpiece, Fallingwater is a must-do for Laurel Highlands visitors. And seriously, if you didn't take a photo of Fallingwater and post it on Instagram, did you actually visit it?
Covered Bridges
There are 10 covered bridges in Laurel Highlands, and each is different in its own way, making them all 100 percent Instagram-worthy.
Cucumber Falls at Ohiopyle State Park
Cucumber Falls is undoubtedly the most photographed natural wonder sight in the Laurel Highlands. Just as the seasons change, so does the waterfall, making it a must-see any time of year.
Beam Rocks in Forbes State Forest
The reward for the conquering this challenging hike is the unparalleled stunning view from Beam Rocks. Enjoy a break along the journey through Forbes State Forest and take in the view of the mountainous surroundings.
The Youghiogheny River
For the most adventurous Laurel Highlands visitors, the best memories are days spent on the water. Convince your friends to join you on the next river run by sharing a photo while cruisin' down the Yough.
Laurel Highlands Hiking Trail
Gear up, get outdoors and tackle a few miles of the Laurel Highlands Hiking Trail. With 70 miles of natural beauty, hikers are bound to get amazing photos of plants, animals and the rugged shelters along the trail.
Steelers Training Camp at Saint Vincent College
Every summer, the Pittsburgh Steelers call Chuck Noll Field at Saint Vincent College home for a few weeks while they practice for the upcoming season. A shot of your favorite player from the sidelines is sure to impress.
Great Allegheny Passage High Bridge in Ohiopyle
A walk or ride on the Great Allegheny Passage doesn't come without a view! The sight from the High Bridge in Ohiopyle shows off the fast-flowing Youghiogheny River and its surrounding mountainous landscape.
About Pennsylvania's Laurel Highlands
A magnificent mountainous region, the Laurel Highlands spans 3,000 square miles in southwestern Pennsylvania. Located an hour east of Pittsburgh, the beautiful four-season destination offers some of the most spectacular natural scenery, outstanding outdoor recreation, historic sites and attractions, family activities and world-class resorts. Notable destinations within the region include four architectural masterpieces by Frank Lloyd Wright – Fallingwater®, Kentuck Knob and Duncan and Lindholm Houses – Nemacolin Woodlands Resort, Seven Springs Mountain Resort, Flight 93 National Memorial, Idlewild and Soak Zone, whitewater rafting at Ohiopyle State Park and more.
Located within 200 miles of the major metropolitan areas of Pittsburgh, Baltimore, Cleveland and Washington D.C., the Laurel Highlands can be easily accessed from exits 67, 75, 91 and 110 of the Pennsylvania Turnpike.
Visitors to the Laurel Highlands can find information online at www.LaurelHighlands.org, calling 800.333.5661, www.facebook.com/laurelhighlandsPA and www.twitter.com/laurelhighlands. Established in 1958, the Laurel Highlands Visitors Bureau is the official destination marketing organization for Fayette, Somerset and Westmoreland counties in southwestern Pennsylvania. Check out the 2018 Laurel Highlands Destination Guide!
###