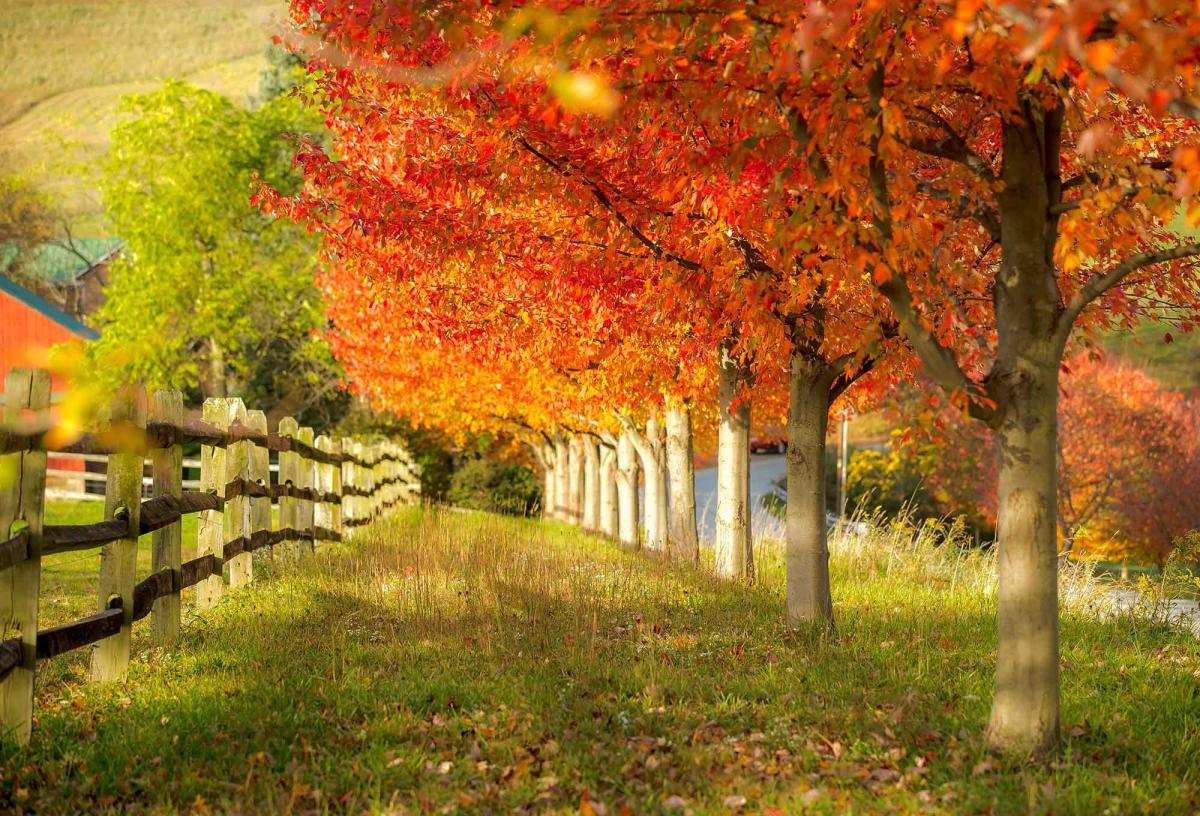 LAUREL HIGHLANDS, PA., (Sept. 8, 2017) – In the Laurel Highlands of southwestern Pennsylvania, Mother Nature has set the stage for an impressive show. In just a few short weeks, an array of towering trees, soaring mountain ridgelines and lush valleys and river gorges will be ablaze in breathtaking colors that rivals New England. As home to the commonwealth's highest mountain elevation and thousands of acres of unspoiled state forests, parks, and game lands, the Laurel Highlands is the ideal destination for an autumn getaway for leaf peepers.
"With our mountain vistas, historic highways, fertile farmlands and state parks, Pennsylvania's Laurel Highlands is a beautiful place to visit any time of year, but in the fall, the region turns into a spectacular palette of red, orange, yellow, russet and bronze colors," said Ann Nemanic, Executive Director, Laurel Highlands Visitors Bureau. "Visitors enjoy a drive under a canopy of colors on the region's scenic byways and historic routes and through one of our picturesque covered bridges, which offer the perfect setting to enjoy the changing leaves. In addition to the wonderful foliage, autumn also brings fantastic fall festivals and harvest goods."
Why Do the Leaves Change Color?
According to the Pennsylvania Department of Conservation and Natural Resources (DCNR), three factors impact autumn color — leaf pigments, length of night and weather. The timing of color change and leaf fall are primarily controlled by the increasing length of night. While environmental factors like temperature, rainfall and food supply are important, the steadily increasing length of night during autumn is the most pivotal influencer. As days grow shorter and nights grow longer and cooler, biochemical processes within the leaves begin.
The species of tree will influence the color scheme and since Laurel Highlands is home to an extensive variety of deciduous trees, the variety of color is diverse. The DCNR reports that the highest plateaus are covered with northern hardwood species, such as sugar maple, American beech, red maple, black cherry, sweet birch, northern red oak and white ash. The valleys, lower elevations, and side slopes are covered with the oak-hickory forest type which consists of northern red oak, red maple, black oak, white oak, chestnut oak, hickory, sweet birch, white ash, American beech and yellow poplar.
Each species of tree provides distinctive colors to the autumn palette in the Laurel Highlands. Oaks turn red, brown, or russet; hickories show golden bronze; dogwood, purplish red; beech, light tan. Maples differ by species — red maple turns brilliant scarlet, sugar maple glows orange-red and black maple a rich yellow. But the little striped maple becomes almost colorless. Leaves of some species such as the elms simply shrivel, turn brown and fall.
When Will the Leaves Begin to Change or Be at Peak Color?
Eager leaf peepers are always anxious to take their first fall hike or drive of the season and curious to know when the leaves will start changing. While Mother Nature is not always predictable, fall foliage begins to shine in mid-September with the brightest bursts of color ablaze in mid-October.
Not-To-Miss Leaf-Peeping Spots in the Laurel Highlands
Baughman Trail and Baughman Rocks Overlook, Ohiopyle State Park  – This steep, rocky 3.4 mile trail is a challenging hike, but well-worth the effort to see the dramatic panoramic vista of the Youghiogheny River Gorge.
Covered Bridges – The Laurel Highlands is home to 10 historic covered bridges, originally built in the 19th century. While all are painted red with white trim, each has a unique design feature such as either burr truss designs or multiple kingpost truss bridges.
Mount Davis, Forbes State Forbes – Nothing takes your breath away like the magnificent view from Pennsylvania's highest point. Standing 3,213 feet about sea level, Mt. Davis gives you an incredible view of the foliage. Forbes State Forest Road takes you nearly to the top, so you don't have to scale the summit to enjoy the view. 
Frank Lloyd Wright's Fallingwater - The natural setting of the Laurel Highlands was the inspiration for the house which is cantilevered over a waterfall. This is one of the busiest seasons to tour one of the most famous homes of all time. Reservations are recommended. Don't miss another Wright masterpiece, Kentuck Knob just six miles from Fallingwater. The view from Kentuck overlooking the Youghiogheny River Gorge is one of the region's most panoramic and scenic.
Must-Do Fall Drives in the Laurel Highlands
"Many times, visitors and residents will reach out to the LHVB for recommendations on scenic fall drives," added Nemanic. "Our team has created suggested driving routes for our leaf-peepers that travel the Laurel Highlands Scenic Byway, the Lincoln Highway and the National Road. These maps highlight great places to snap photos and not-to-miss attractions along the way."
Routes include Irwin to Stoystown along the Lincoln Highway (Route 30), the Laurel Highlands Scenic byway (Routes 711 and 381) from Ligonier to Chalk Hill, and Brownsville to Addision along the National Road (Route 40.) Routes and suggested itineraries are online at www.laurelhighlands.org/things-to-do/fall-drives/
Family-Friendly Fall Festivals and Hauntingly Good Fun
"The Laurel Highlands is steeped in history and culture and home to many family farms that provide harvest goods synonymous with autumn," said Nemanic. "Our region's fall festival organizers do an excellent job of incorporating those roots into annual festivities such as Fort Ligonier Days, FestiFall at Friendship Hill and Faranda Farm's Harvest Festival."
The Laurel Highlands has become a destination for Halloween fun as well, as haunted attractions have grown in popularity. Long-time haunts like the Haunted Hayloft and Huston's Haunted Hollow change their themes every year, enticing visitors to return every fall to have themselves frightened.
Halloween-themed fun isn't just reserved for goosebumps and screams. Children's and family events such as Idlewild's HallowBoo! and Living Treasures Wild Animal Park's Night at the Zoo provide an opportunity for kids to dress up in their costumes, trick-or-treat and have fun in a safe and silly environment as scary costumes are not permitted at either. 
Where Can I Find More Info about Fall Fun?
For a comprehensive guide to the region's fall festivals, fall foliage drives, fall getaway deals, Halloween haunts, hiking trails and more, please visit www.laurelhighlands.org/fall.
About Pennsylvania's Laurel Highlands
A magnificent mountainous region, the Laurel Highlands spans 3,000 square miles in southwestern Pennsylvania. Located just east of Pittsburgh, the beautiful four-season destination offers some of the most spectacular natural scenery, outstanding outdoor recreation, historic sites and attractions, classic family activities and world-class resorts. Notable destinations within the region include three architectural masterpieces by Frank Lloyd Wright – Fallingwater, Kentuck Knob, and Duncan House – Seven Springs Mountain Resort, Nemacolin Woodlands Resort, Flight 93 National Memorial, Idlewild and Soak Zone, whitewater rafting at Ohiopyle State Park and more.
Located within 200 miles of the major metropolitan areas of Pittsburgh, Baltimore, Cleveland, and Washington D.C., the Laurel Highlands can be easily accessed from exits 67, 75, 91 and 110 of the Pennsylvania Turnpike.
Visitors to the Laurel Highlands can find information online at www.LaurelHighlands.org, calling 800.333.5661, www.facebook.com/LaurelHighlandsPA and www.twitter.com/LaurelHighlands. Established in 1958, the Laurel Highlands Visitors Bureau is the official destination marketing organization for Fayette, Somerset and Westmoreland counties in southwestern Pennsylvania. Check out the 2017 Laurel Highlands Destination Guide!
###