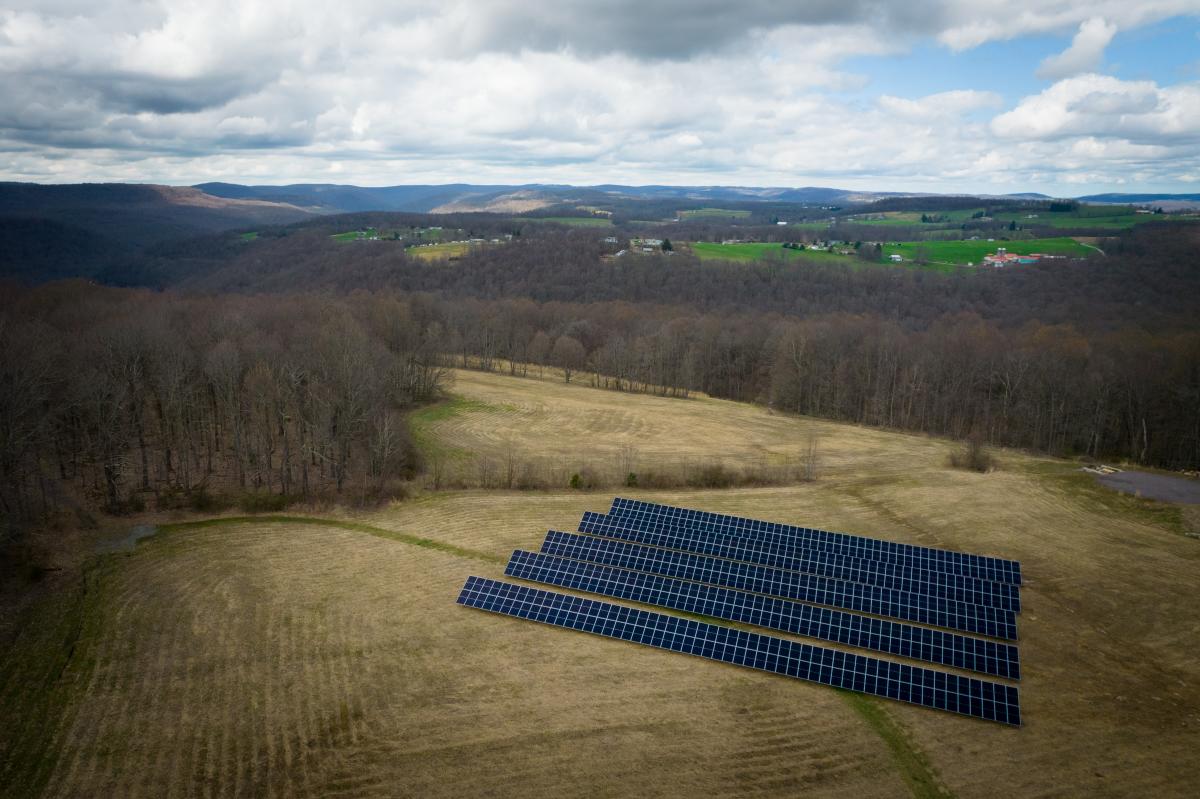 Pittsburgh, Pa.—April 22, 2022—A new solar array on the campus of Frank Lloyd Wright's Fallingwater in Fayette County will soon harness the power of the sun to offset 100% of electricity used by Fallingwater's main and guest houses, the Western Pennsylvania Conservancy announced today. 
Located on a half-acre in an existing open field near Fallingwater on the Conservancy's Bear Run Nature Reserve, the solar array consists of 540 individual panels that will annually produce 254,880 kilowatt hours of energy to offset the electric power supplied by West Penn Power. The array will also offset 25% of the overall facility's electricity use.
Fallingwater's transition to clean renewable energy was made possible through grant funding from the Pennsylvania Solar Center's G.E.T. Solar Initiative and a power purchasing agreement with Ecogy Energy of Brooklyn, New York. PECO, an electric utility company based in Philadelphia, purchased the Solar Renewable Energy Certificates from Ecogy Energy to help meet renewable energy goals set forth by the Commonwealth of Pennsylvania. Groundhog Solar of Altoona, Pa., completed the installation of the array in February 2022. The system will begin producing solar energy in the coming weeks.
The 5x3 foot solar panels are mounted on ground-anchored posts that required no landscape alterations or tree removal. The area surrounding the panels will continue to be maintained as meadow habitat, which attracts a multitude of wildlife including native species, insects and pollinators.
Vice President of the Conservancy and Director of Fallingwater Justin Gunther says Fallingwater undertook a detailed feasibility analysis before deciding on solar, and the array is one of many projects over more than 20 years that advance the Conservancy's commitment to sustainability practices.
"In designing Fallingwater, Wright sought to create a harmonious relationship between architecture and nature. He was inspired by the natural features of the woodland landscape for the house's colors, materials and design motifs, and oriented the building to take advantage of natural light and passive airflows," adds Gunther. "Installing solar carries forward Wright's ideals and continues the Conservancy's commitment to protect and preserve this beautiful landscape and the architectural principles that make Fallingwater unique. We're thankful to Ecogy Energy and Groundhog Solar for their partnership, helping us take steps toward a more sustainable future through clean renewable energy."
Ecogy Energy used bifacial solar panels, which produce power from both sides to maximize efficiency and increase overall solar production, for the construction of the array.
"To be involved in a project for a conservation-minded organization like the Western Pennsylvania Conservancy and in such a beautiful location is undoubtedly an honor for Ecogy," said Ecogy Energy CEO Jack Bertuzzi. "Fallingwater has a rich history, so being able to support and energize the site's operations with clean energy truly represents the integration of sustainable solar technology with Wright's architecture."
###
About Fallingwater
The Western Pennsylvania Conservancy (WPC) owns, operates and preserves Frank Lloyd Wright's Fallingwater, which is one of the renowned American architect's most widely acclaimed works. Fallingwater was designed by Wright in 1935 as a private residence for the Kaufmann family, owners of Pittsburgh's largest department store. Fallingwater best exemplifies Wright's philosophy of organic architecture: the harmonious union of art and nature. Fallingwater was entrusted to WPC in 1963 and opened to the public as a house museum in 1964. It is surrounded by WPC's Bear Run Nature Reserve, a 5,100-acre wilderness of forests, streams and trails. Fallingwater is designated as a National Historic Landmark and Commonwealth of Pennsylvania Treasure, and was inscribed to the UNESCO World Heritage List in 2019. Fallingwater is located in the Pennsylvania's Laurel Highlands in Mill Run, Pa., Fayette County, about 90 minutes from downtown Pittsburgh. For more information, visit Fallingwater.org. Join the conversation with Fallingwater on Facebook, Twitter or Instagram.
About the Western Pennsylvania Conservancy
The Western Pennsylvania Conservancy (WPC) enhances the region by protecting and restoring exceptional places. A private nonprofit conservation organization founded in 1932, WPC has helped establish 11 state parks, conserved more than a quarter million acres of natural lands, protected or restored more than 3,000 miles of rivers and streams, and assessed hundreds of wildlife species and their habitats. The Conservancy owns and operates Frank Lloyd Wright's Fallingwater, which is on the UNESCO World Heritage List and symbolizes people living in harmony with nature. In addition, WPC enriches our region's cities and towns through 130 community gardens and other green spaces that are planted with the help of more than 5,000 volunteers. The work of the Conservancy is accomplished through the support of more than 10,000 members. For more information, visit WaterLandLife.org or Fallingwater.org.
About Ecogy Energy
Headquartered in New York, Ecogy Energy is a developer, financier and owner-operator of distributed generation resources. Since its founding in 2010, Ecogy Energy has specialized in financing distributed generation assets for traditionally underserved entities including affordable housing, nonprofits, and municipalities. Decoy Energy's current portfolio comprises over 40 systems across 9 states, D.C. and the Caribbean. For more information, please visit: https://ecogyenergy.com/.
Media Contacts:
Carmen Bray
Director of Communications, Western Pennsylvania Conservancy
412-586-2358 –work
412-608-3617–cell
Clinton Piper
Senior Administrator of Special Projects, Fallingwater  
724-329-7821