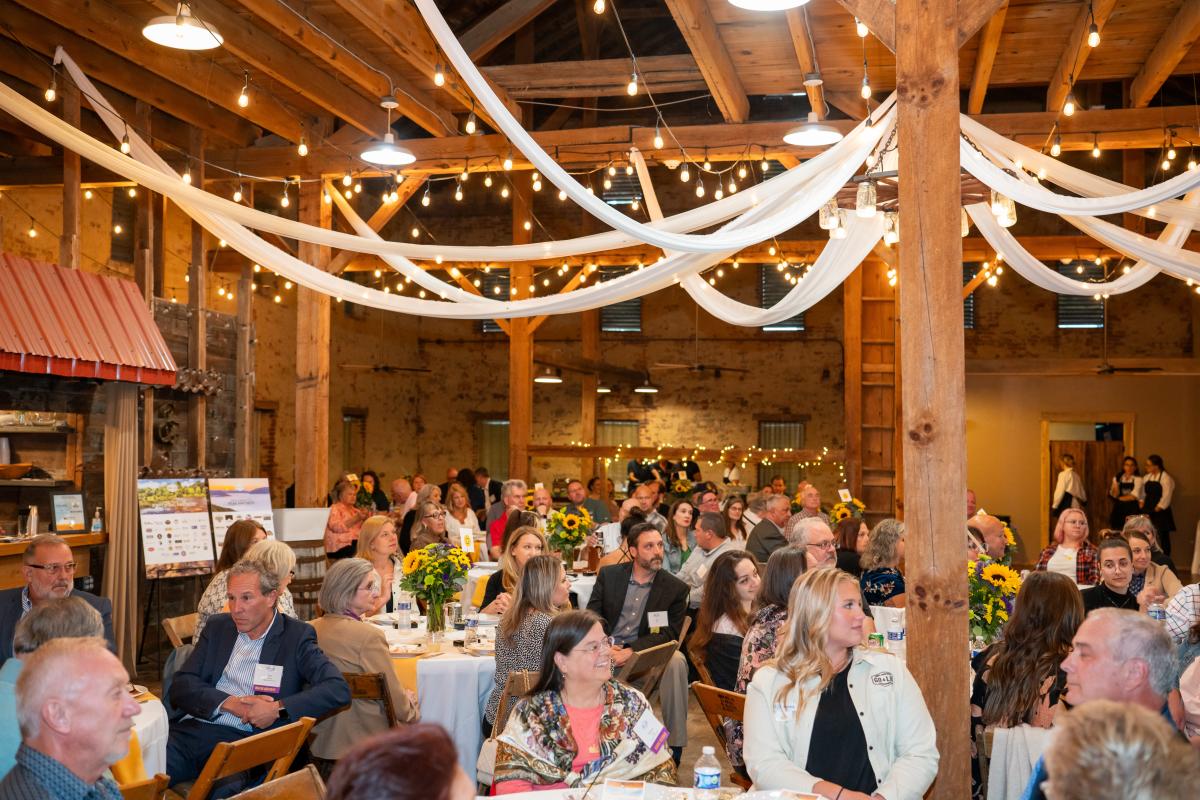 SCOTTDALE (Sept. 28, 2023) – History and hospitality took center stage on Wednesday night as travel and tourism partners gathered for GO Laurel Highlands' Annual Dinner at the Big Barn at West Overton Village.
As Westmoreland County celebrates 250 years since its founding at Historic Hanna's Town, GO Laurel Highlands – the official destination marketing organization for Fayette, Somerset and Westmoreland counties – honored the region's tourism leaders.
"Our annual dinner provides us a moment to pause and recognize the exceptional tourism assets and partners we have in the Laurel Highlands," said Ann Nemanic, executive director of GO Laurel Highlands. "Millions of visitors travel to our region annually, and they depart with lasting memories due to the hospitality and remarkable experiences they find within our 3,000-mile footprint. My team at GO Laurel Highlands and I enjoy the opportunity to celebrate with our incredible partners, supporters, and stakeholders. 2023 marks the 65th year since our founding, and we acknowledge the true partnership it takes to continue to be a nationally recognized destination of distinction." 
Held at West Overton Village, where the museum built by Helen Clay Frick – daughter of industrialist Henry Clay Frick – is celebrating its 95th year, the event attracted 180 tourism partners and friends to Scottdale as the borough marks its 150th year.
GO Laurel Highlands honored Champions of Tourism with Trailblazer of the Year, Pathfinder of the Year and Tourism Employee of the Year awards. GO Laurel Highlands also awarded three $2,500 college scholarships.
The event was catered by The Yard, and desserts were prepared by the culinary students from Westmoreland County Community College. Craft beverages were featured from the Laurel Highlands Pour Tour.
GO Laurel Highlands Champions of Tourism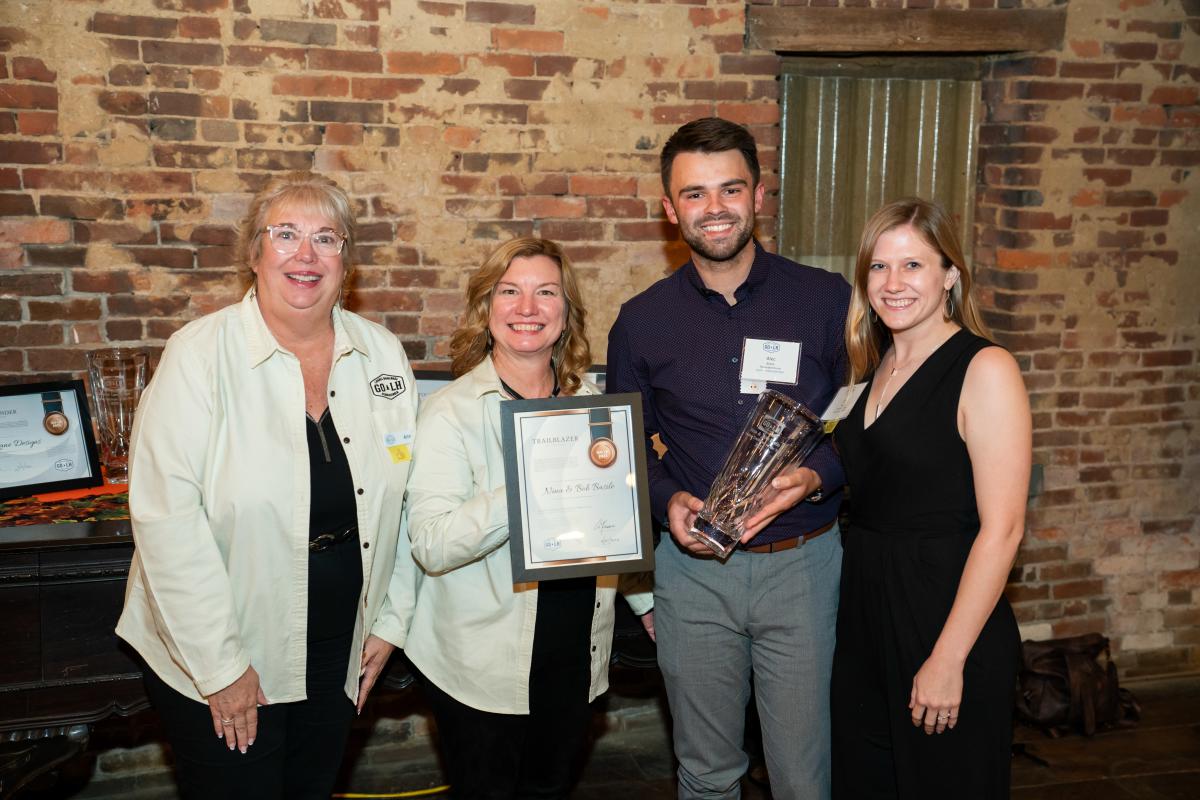 Trailblazers of the Year
Nina and Bob Basile, Ohiopyle Treehouse and Ohiopyle Hobbit House (Farmington)
This husband-and-wife team are the builders, designers and owners of two of the most memorable lodging options in the Laurel Highlands. The Luxury Treehouse, which opened in 2021, has drawn visitors from more than 20 states and is often featured in articles about amazing short-term rental options in Pennsylvania.
In 2023, the Basiles unveiled the Ohiopyle Hobbit House, a stunning three-bedroom homage to "The Lord of the Rings" that is built into a hillside. The home has quickly become a social media favorite, with custom-designed features such as medieval doors and peak-throughs, while hidden charms can be found throughout the property.
"Nina and Bob recognized an opportunity to elevate the region's vacation rentals to an entirely new level," Nemanic said. "These two vacation homes offer visitors unique and memorable overnight accommodations that truly represent lodging at its finest."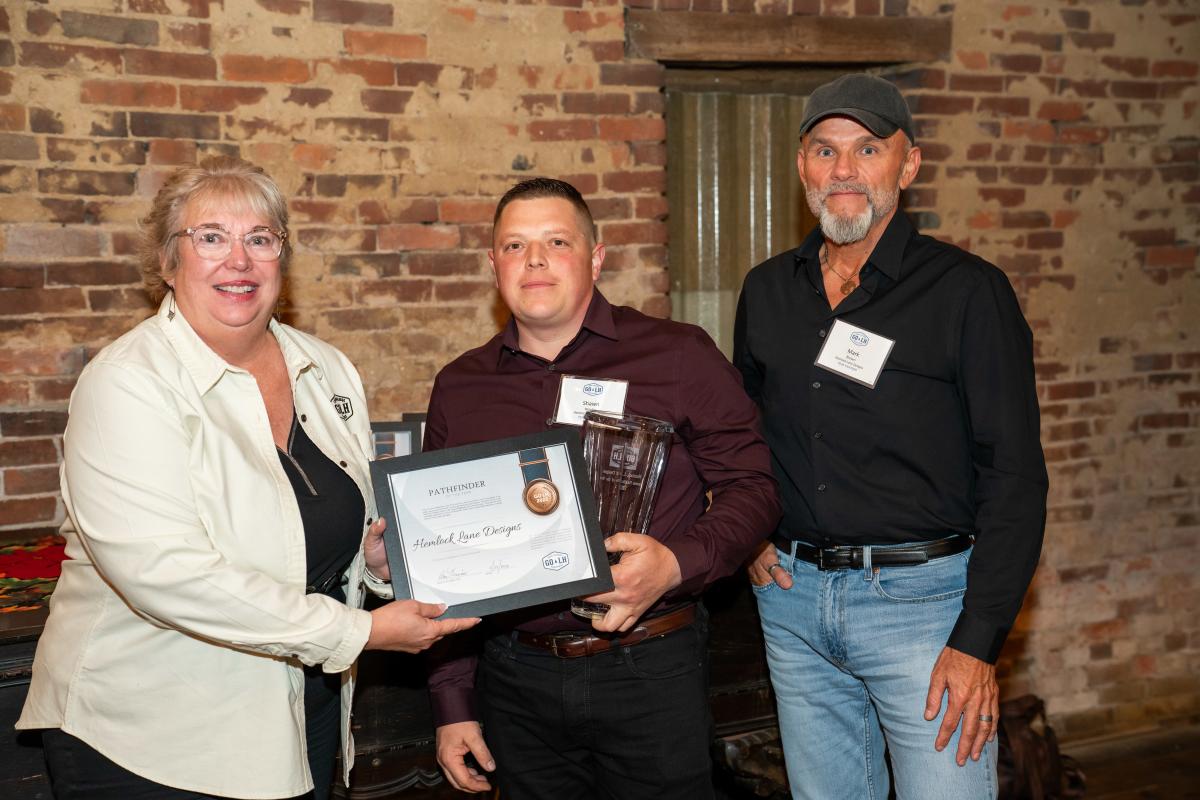 Pathfinders of the Year
Hemlock Lane Designs (Jones Mills)
The owners of Hemlock Lane Designs are a father-and-son duo with a long history in the Laurel Highlands. Mark Brown and his son Shawn Hresko are sixth- and seventh-generation residents of Westmoreland County. Brown can trace his roots back to his great-great-great-grandfather, who lived at Historic Hanna's Town in the early 1800s. Brown's grandfathers were both lumber men, and now he and his son carry on the industry for two more generations.   
Hemlock Lane Designs is a handmade furniture and design company specializing in custom woodworking, furniture, home decor and repurposed items. Brown and Hresko have more than 20 years of experience in vintage home restoration and woodworking.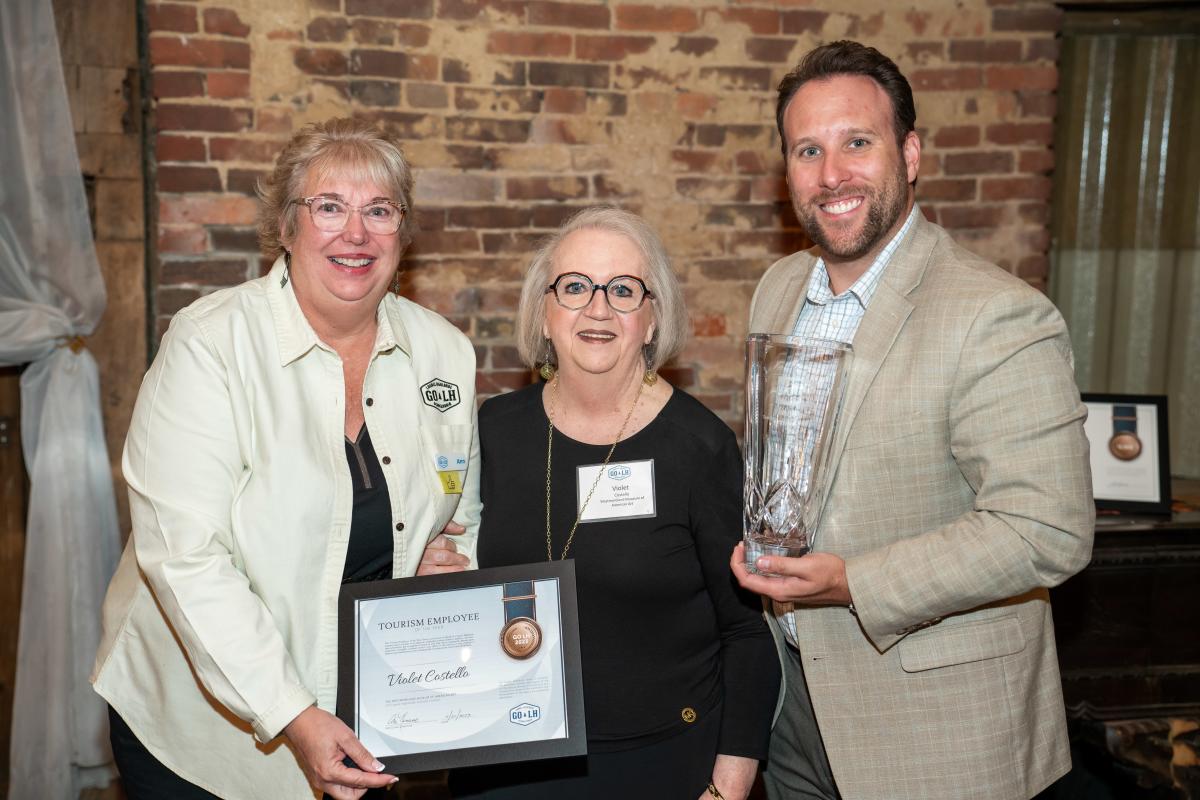 Employee of the Year
Violet Costello, The Westmoreland Museum of American Art (Greensburg)
A retired emergency room nurse, Violet Costello now works as a frontline gallery host at The Westmoreland Museum of American Art. Her passion for people is evident in her interactions with visitors. For eight years, Costello has welcomed visitors to this Laurel Highlands gem. She approaches her job with enthusiasm and provides a wonderful warm presence while assisting visitors, according to her nominator. She answers questions and generously shares information about the Greensburg museum as well as activities, experiences and places to see in the Laurel Highlands.  
Chief curator Jeremiah William McCarthy said Costello is one of the reasons he decided to apply for his position at The Westmoreland, as he was so impressed by his interactions with her while visiting of the museum several years earlier when he worked for the National Academy of Design.
Winners of $2,500 GO Laurel Highlands scholarships are: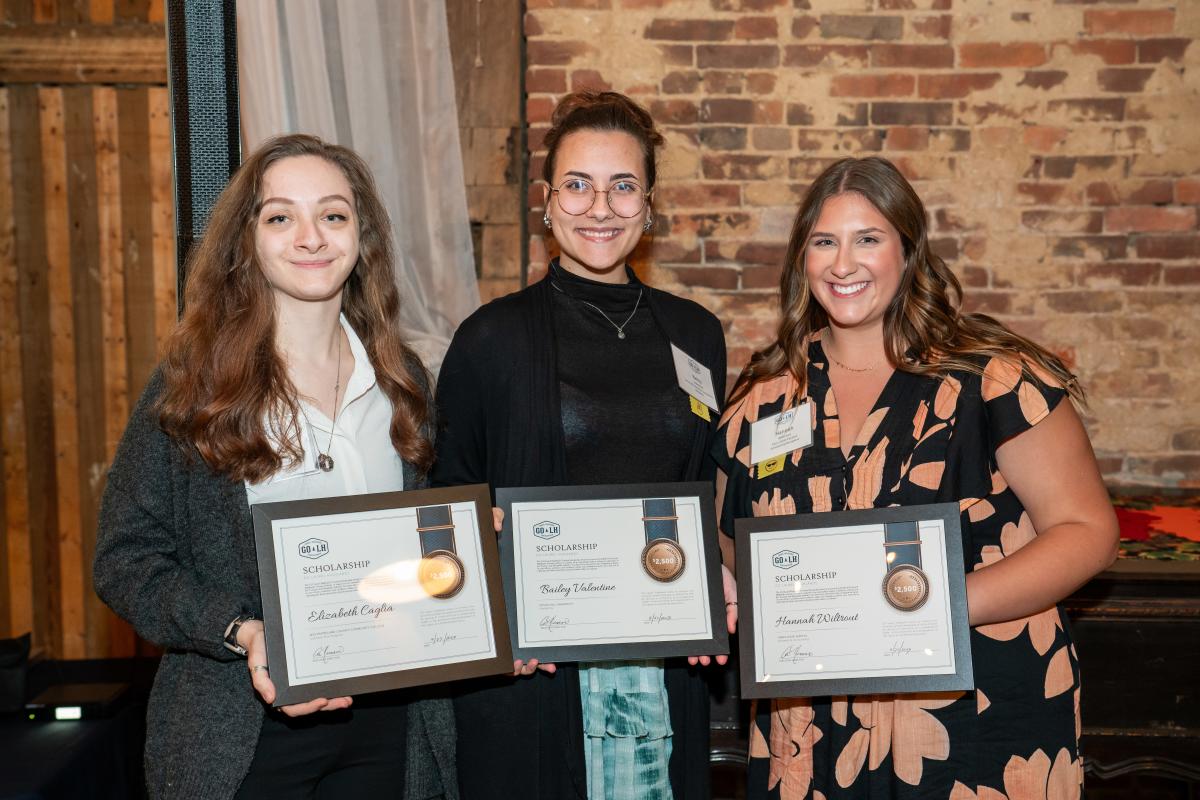 Elizabeth Caglia, Westmoreland County Community College
A culinary arts major, Caglia is a self-proclaimed perfectionist who enjoys preparing savory dishes.
"I love working with tweezers and making something super-duper intricate," she said. "My favorite thing is when I have to do a task for 20 minutes and make it perfect."
When she was younger, Caglia used to help her mother, a pastry chef who attended the WCCC, decorate wedding cakes. Caglia now works at the Duquesne Club in downtown Pittsburgh, and she plans to continue her career there after graduation.
"I want to learn all there is to learn," Caglia said. "I'm really interested in getting into a Michelin Star restaurant. That level of tediousness is what I want. I want to be able to go in to work at 6 in the morning and do one thing and make it perfect."
Bailey Valentine, Seton Hill
A senior from Ligonier, Valentine is completing her marketing degree with minors in human relations and communications with specializations in social media and public relations. She is an intern at the Elliott Group in Jeannette.
She enjoys being artistic as well as taking advantage of the outdoor recreation opportunities in the Laurel Highlands at places such as Linn Runn State Park.
"You best bet I'm going there and enjoying a day off, just staring at the water or walking one of the paths," she said.
She is appreciative of the scholarship and how it will help her at Seton Hill.
"As somebody who comes from the Laurel Highlands, I've spent 20 years growing up there," Valentine said. "It's a major thing to receive a scholarship like this. It's helping me pursue my dreams and hopefully helping others do the same."
Hannah Wiltrout, Penn State-Fayette
A Fayette County resident, Wiltrout lives in White and is majoring in business with a minor in accounting.
She is interning at a salon in Mount Pleasant, which is helping her learn what it takes to succeed as a small business owner. She hopes to own a salon one day and the scholarship money will help her in that pursuit.
"It really means a lot to me," Wiltrout said. "College is expensive (and) everything else is expensive. Any money that I can save I can put toward my dream of hopefully owning a salon.