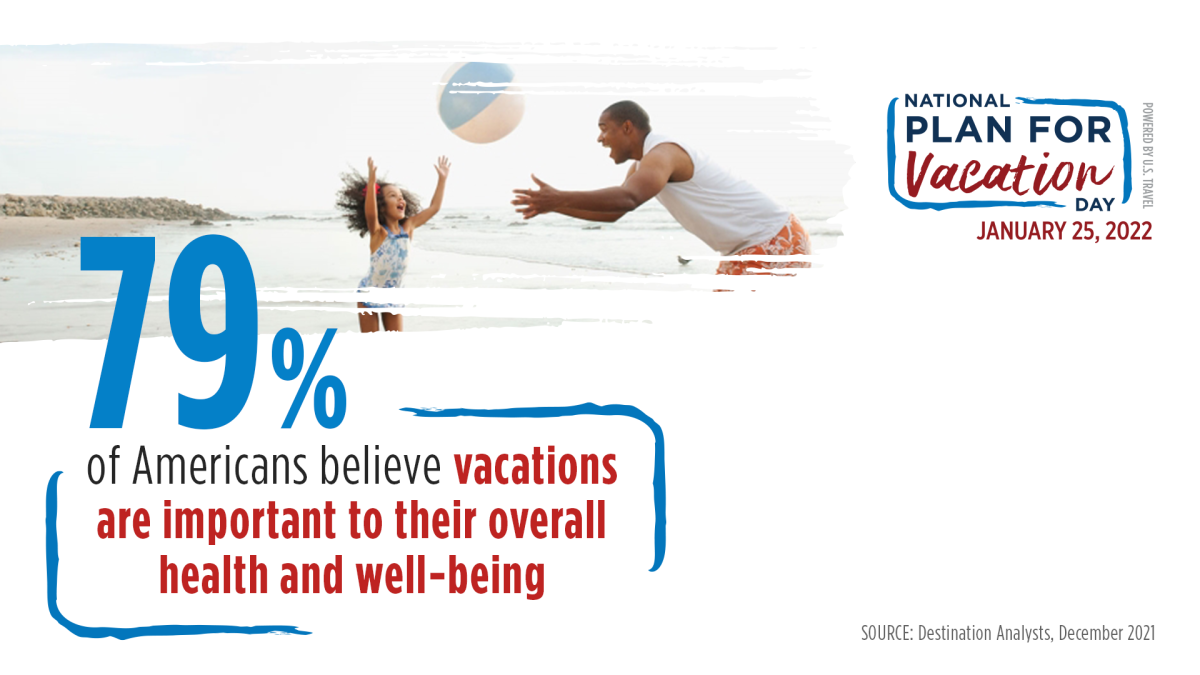 LIGONIER, Pa. (Jan. 19, 2022) – In 2021, one-quarter of American workers used all their earned time off, leaving an average of 4.6 days of paid time off on the table.
GO Laurel Highlands joins U.S. Travel Association in encouraging Americans to celebrate National Plan for Vacation Day (NPVD) on January 25 by taking time to plan their vacation days for 2022 at the start of the year. After nearly two years of pandemic stress and fatigue, NPVD is an opportunity for Americans to look ahead to brighter days and make plans for getaways or vacations over the coming months.  
"GO Laurel Highlands is joining thousands of organizations across the country to celebrate National Plan for Vacation Day and encourage Americans to take some much-needed time off," said Ann Nemanic, Executive Director, GO Laurel Highlands. "By committing to planning on January 25, Americans can enjoy the many benefits of taking a break while giving themselves something to look forward to. Residents of and visitors to the Laurel Highlands have four seasons of adventure, natural beauty, and classic family fun to enjoy. We are eager to welcome new and returning visitors to the Laurel Highlands in 2022 and encourage residents to continue exploring their beautiful backyard."
Earned vacation time is critical to relationships, personal well-being, and professional success. Yet, nearly half of Americans skip the one step that could help them vacation: planning. Individuals who plan are more likely to use all their time off, take more vacation days at once, and report greater levels of happiness in every category measured.
Planning is the key to taking time off and traveling. A new study from Destination Analysts, commissioned by U.S. Travel Association, reveals that Americans who plan out their paid time off take more time off to travel, but one-quarter (24%) of American households don't take this simple step.
National Plan for Vacation Day comes at a time when American workers report feeling extreme levels of burnout. According to Destination Analysts, more than two-thirds (68%) of American workers feel at least moderately burned out and 13% are extremely burned out.
"The research reflects what so many have known for quite a while––that the stresses of the past year can, at least in part, be lifted by thinking about and planning time away to recharge and experience something new," said U.S. Travel President and CEO Roger Dow. "There are real benefits to getting vacation plans on the calendar at the start of the year which include the happiness associated with travel and committing to take off all the time that is earned for a well-deserved break."
Data also shows that while vacation is essential to Americans' mental health and well-being, it is also a crucial benefit for American workers. Nearly 70% of U.S. workers agree that their ability to take vacations is an important factor in keeping them in the workforce. In fact, paid time off is the second most important employee benefit an employer could offer after health insurance benefits.
"Americans say it is important to use their paid time off to travel. Vacation gives us a chance to recharge and reconnect with family and friends, as well as explore more of our beautiful, diverse country," added Dow.
To learn more about National Plan for Vacation Day, please click here.
About Pennsylvania's Laurel Highlands
A magnificent mountainous region, the Laurel Highlands spans 3,000 square miles in southwestern Pennsylvania. Located an hour's drive east of Pittsburgh, the beautiful four-season destination offers spectacular natural scenery, outstanding outdoor recreation, historic sites and attractions, family activities, and world-class resorts. Notable destinations within the region include four architectural masterpieces by Frank Lloyd Wright – Fallingwater®, Kentuck Knob, Mäntylä and Duncan House – Nemacolin, Seven Springs Mountain Resort, Flight 93 National Memorial, Idlewild and Soak Zone, whitewater rafting in Ohiopyle State Park, and more.
Located within 200 miles of the major metropolitan areas of Pittsburgh, Baltimore, Cleveland, and Washington D.C., Pennsylvania's Laurel Highlands can be easily accessed from exits 67, 75, 91, and 110 of the Pennsylvania Turnpike.
Visitors to the Laurel Highlands can find information online at www.GoLaurelHighlands.com, calling 724.238.5661, www.facebook.com/laurelhighlandsPA and www.twitter.com/laurelhighlands. Established in 1958, GO Laurel Highlands, formerly known as Laurel Highlands Visitors Bureau, is the official destination marketing organization for Fayette, Somerset, and Westmoreland counties in southwestern Pennsylvania.
About U.S. Travel Association
U.S. Travel Association is the national, non-profit organization representing all components of the travel industry. In 2020, travel generated $1.5 trillion in economic output and supported 11 million jobs, a drastic decline from pre-pandemic figures. U.S. Travel's mission is to increase travel to and within the United States. Visit ustravel.org for information and recovery-related data.
Source: Destination Analysts, 2021. Methodology: This research is based on an online survey of employed Americans distributed to the Dynata Business Professionals Panel, one of the largest in the world. Survey respondents must have worked at least 20 hours a week at a company that employed at least two people and earned paid time off in 2021. The survey was fielded December 6–December 17, 2021. In total, 1,200 completed surveys were collected.