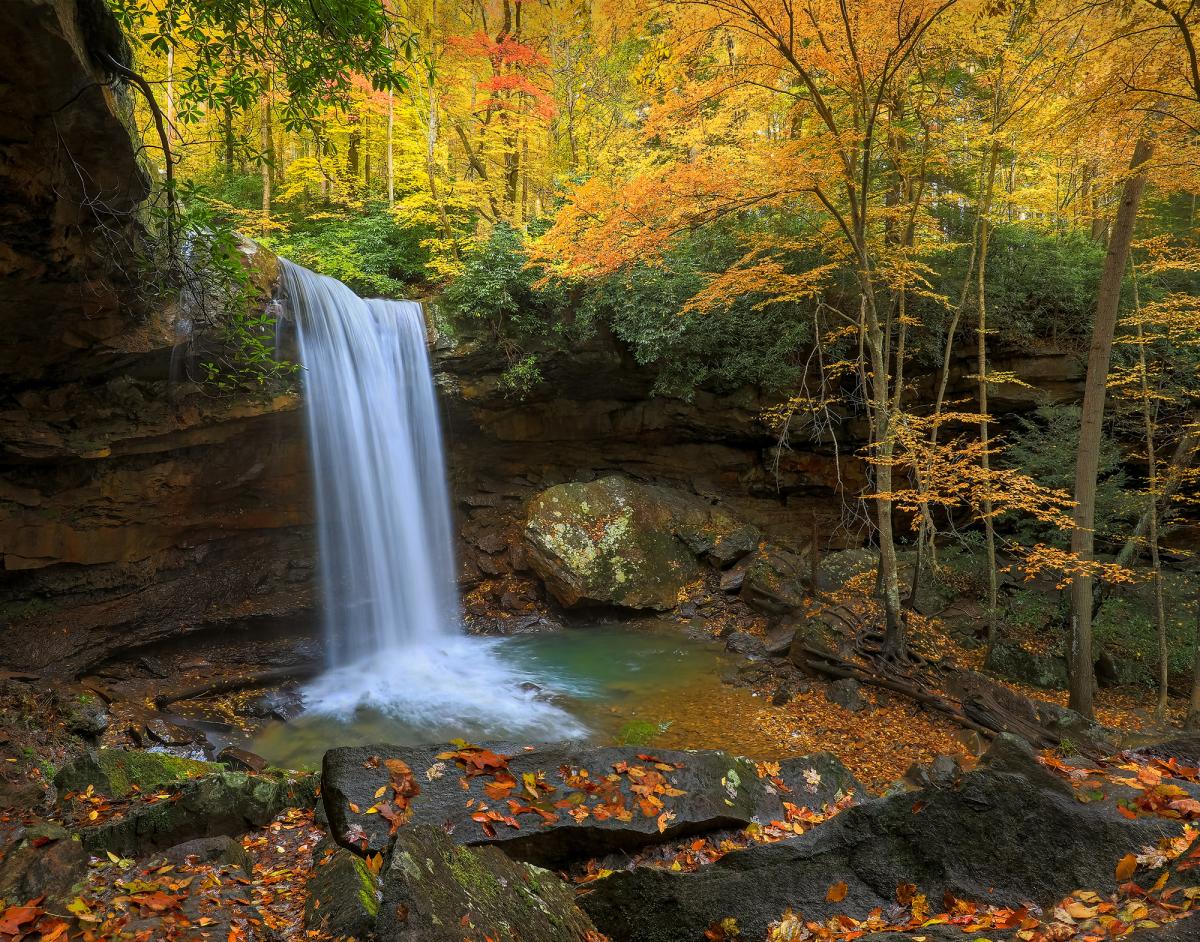 LIGONIER, Pa., (Sept. 4, 2020) –  USA Today announced that Pennsylvania's Laurel Highlands has been named a Readers' Choice Winner for the Best Destination for Fall Foliage category in the 2020 USA Today 10Best Travel Award Contest.
"We are extremely honored to have been nominated and now recognized as a Top 10 destination by the readers of USA Today," said Ann Nemanic, Executive Director, Laurel Highlands Visitors Bureau.  
"We embrace all four seasons here in the Laurel Highlands, but there is something very special about experiencing the colors of fall along our scenic byways and historic routes. Toss in clear streams, covered bridges, and a corn maze or two, and you've just mapped out one of many scenic drives in the region."
The Laurel Highlands placed third overall in voting amid a field of 20 nominees that included Pocono Mountains, Pa., Asheville, N.C., and Ozark Mountain Region, Ark.
Winners were selected by readers' choice via a month-long online contest that encouraged travelers to vote daily for their favorite place to explore for fall. The winning destinations were announced on the 10Best website on Friday, Sept. 4, just as the first leaves began to change in the Laurel Highlands.
"It's time to roll down the windows, pull back the convertible top and soak in the fresh air and absolutely splendid scenery of the Laurel Highlands," said Nemanic.
"Autumn is a season of change and it is time for all of us to move forward into a new chapter and embrace travel and tourism once again. A fall foliage excursion is just what everyone needs to recharge and reenergize his or her spirit."
The Readers' Choice designation comes at an important time for the region as the tourism industry looks to rebound from the COVID-19 pandemic that halted many guests' travel plans earlier in the year.
Laurel Highlands' outdoor attractions, which include Frank Lloyd Wright's Fallingwater, Ohiopyle State Park, and the Flight 93 National Memorial, gives travelers the room to explore safely while they social distance.
The Best Destination for Fall Foliage award is one of several USA Today 10Best honors recently won by the Laurel Highlands. The region previously won one of the top Best New Destinations in 2018 for Flight 93 National Memorial's Tower of Voices and Best Pennsylvania Attractions for Ohiopyle State Park.
10Best.com provides users with original, unbiased, and experiential travel content of top attractions, things to see and do, and restaurants for top destinations in the U.S. and around the world. Their staff is made up of a collection of local travel experts that specialize in the region or city they write about.
About Pennsylvania's Laurel Highlands
A magnificent mountainous region, the Laurel Highlands spans 3,000 square miles in southwestern Pennsylvania. Located an hour east of Pittsburgh, the beautiful four-season destination offers spectacular natural scenery, outstanding outdoor recreation, historic sites and attractions, family activities and world-class resorts. Notable destinations within the region include four architectural masterpieces by Frank Lloyd Wright – Fallingwater®, Kentuck Knob, Mäntylä and Duncan House – Nemacolin Woodlands Resort, Seven Springs Mountain Resort, Flight 93 National Memorial, Idlewild and Soak Zone, whitewater rafting at Ohiopyle State Park and more.
Located within 200 miles of the major metropolitan areas of Pittsburgh, Baltimore, Cleveland and Washington D.C., the Laurel Highlands can be easily accessed from exits 67, 75, 91 and 110 of the Pennsylvania Turnpike.
Visitors to the Laurel Highlands can find information online at www.LaurelHighlands.org, calling 724.238.5661, www.facebook.com/laurelhighlandsPA and www.twitter.com/laurelhighlands. Established in 1958, the Laurel Highlands Visitors Bureau is the official destination marketing organization for Fayette, Somerset and Westmoreland counties in southwestern Pennsylvania.