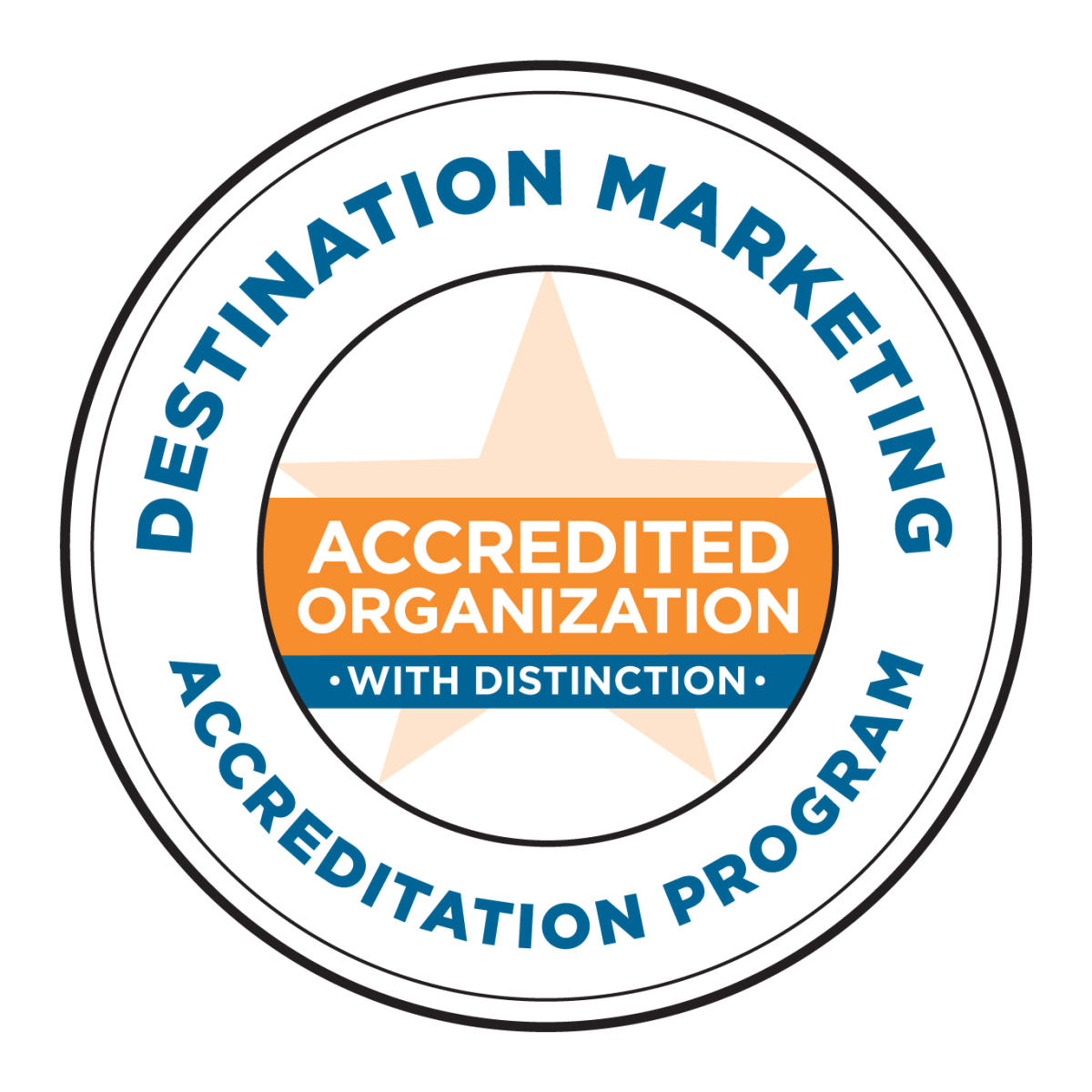 LIGONIER, Pa. (Nov. 18, 2020) – Laurel Highlands Visitors Bureau (LHVB) has been awarded the Destination Marketing Accreditation Program (DMAP) seal by Destinations International in recognition of the organization's commitment to industry excellence and meeting the industry standard for performance and accountability of destination organizations around the world. The LHVB serves as the official destination marketing organization for Fayette, Somerset and Westmoreland counties in Pennsylvania.
In addition, LHVB was awarded "Accreditation with Distinction," the highest possible recognition for a destination organization. "With Distinction" indicates that the organization far exceeded the minimum requirements for accreditation and that the independent DMAP Board found no opportunities for the organization to improve its responses to the required standards.
The accreditation program requires a destination organization to successfully comply with a multitude of mandatory and voluntary standards that span a variety of performance areas to gain this momentous achievement. The standards cover nearly all aspects related to the management and marketing of destination organizations including governance, finance, human resources, sales, communications, destination development and research. Laurel Highlands Visitors Bureau joins the ranks of over 200 destination organizations that have obtained DMAP recognition.
"We are pleased to have Laurel Highlands Visitors Bureau join our distinguished group of professionals," said Don Welsh, President and CEO of Destinations International. "The industry distinction defines quality and performance standards for destination organizations and I look forward to welcoming them to the DMAP community."

"By achieving DMAP accreditation, Laurel Highlands Visitors Bureau has demonstrated that they have developed strategies for the direction of their destination and the policies and procedures to safeguard the use of public dollars," said Maura Allen Gast, FCDME, executive director at Visit Irving.
"The tourism industry is extremely competitive," said Ann Nemanic, LHVB's Executive Director. "Depending upon one's interests there are a multitude of choices. The ability to set yourself apart is critically important. I am proud to say the Laurel Highlands Visitors Bureau has always had a pulse on the visitor who seeks our tourism assets. That is the forward-facing side of our organization. The DMAP accreditation required our staff to look at all our processes, internal and external, and we were judged by a board who understands the complexities and nuances of our industry. The two-year timeframe spanned over months of the Covid-19 pandemic, which, in my mind exemplifies the sheer professionalism of the Bureau to receive the 'Destination of Distinction' honor of the accreditation." 
"The accreditation was a personal goal of mine as Executive Director and required our entire team to fine-tune many aspects of our day-to-day operations," added Nemanic. "We are now in elite company with Destination Marketing Organizations across the globe. It solidifies to our stakeholders, and our partners, our credibility and authority as a tourism marketing organization."
"The Board and I are very proud of the work Ann and the LHVB team has done to receive the accreditation," said Eric Mauck, LHVB Board Chairman and CEO of Seven Springs Mountain Resort. "They are an incredibly strong group of marketing professionals that produce awesome creative that makes our region shine. This accreditation strongly supports the bureau's mission of bringing millions of visitors to the Laurel Highlands region each year. We are looking forward to a very strong 2021 and thank them for all for their hard work in supporting us and the region."
About Pennsylvania's Laurel Highlands
A magnificent mountainous region, the Laurel Highlands spans 3,000 square miles in southwestern Pennsylvania. Located an hour's drive east of Pittsburgh, the beautiful four-season destination offers spectacular natural scenery, outstanding outdoor recreation, historic sites and attractions, family activities, and world-class resorts. Notable destinations within the region include four architectural masterpieces by Frank Lloyd Wright – Fallingwater®, Kentuck Knob, Mäntylä and Duncan House – Nemacolin Woodlands Resort, Seven Springs Mountain Resort, Flight 93 National Memorial, Idlewild and Soak Zone, whitewater rafting in Ohiopyle State Park, and more.
Located within 200 miles of the major metropolitan areas of Pittsburgh, Baltimore, Cleveland, and Washington D.C., the Laurel Highlands can be easily accessed from exits 67, 75, 91, and 110 of the Pennsylvania Turnpike.
Visitors to the Laurel Highlands can find information online at www.LaurelHighlands.org, calling 724.238.5661, www.facebook.com/laurelhighlandsPA and www.twitter.com/laurelhighlands. Established in 1958, the Laurel Highlands Visitors Bureau is the official destination marketing organization for Fayette, Somerset, and Westmoreland counties in southwestern Pennsylvania.
About Destinations International:
Destinations International is the world's largest resource for official destination organizations, convention and visitors bureaus (CVBs) and tourism boards. Destinations International is about serving destination marketing professionals first and foremost. Together with more than 4,700 members and partners from nearly 600 destinations in approximately 15 countries, Destinations International represents a powerful forward-thinking, collaborative association; exchanging bold ideas, connecting innovative people and elevating tourism to its highest potential. For more information, visit www.destinationsinternational.org.  
###