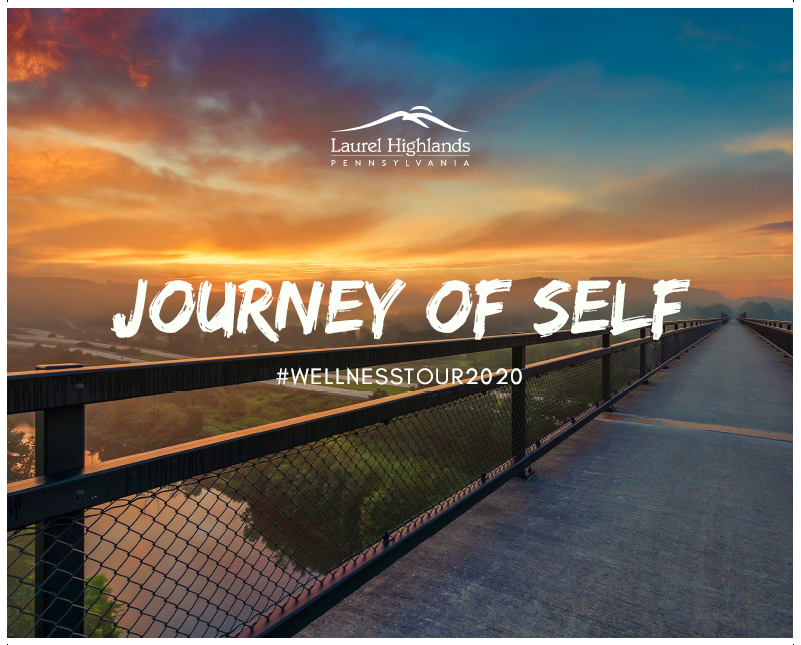 LIGONIER, Pa., (March 12, 2020) – After a successful inaugural tour in 2019, Journey of Self: A Wellness Tour of Pennsylvania's Laurel Highlands, returns May 17, 2020.
The full-day group tour encourages participants to get away and explore the world of wellness. Activities include yoga, group meditation, nature hikes and wellness workshops facilitated by professionals at great locations throughout the region. This year's planned stops include Nemacolin Woodlands Resort's Holistic Healing Center, OmBody Yoga, Laurel Hill State Park, and SanaView Farms. Plus, participants will enjoy healthy, rejuvenating meals at two top restaurants, a few surprises along the way and on-board expert guide service.
"All are welcomed to enjoy a day of self-care and exploration at various sites in the Laurel Highlands on our upcoming Journey of Self Wellness Tour," said Stacey Magda, Director of Tourism Development. "With so much to offer, this tour is a sampler of wellness experiences in the area. Each stop focuses on the elements of wellness with workshops, activities, fresh meals and unique individual and group experiences. We look forward to welcoming another sold-out tour in this new year."
The 2020 tour offers a refreshed experience with stops at garden-inspired restaurants including a customized wellness workshop with Body in Balance Healing Center, as well as expanded activities at Laurel Hill State Park.
Journey of Self: A Wellness Tour of Pennsylvania's Laurel Highlands includes all activities, on-board refreshments, healthy snacks and two locally-sourced meals for $160 per person. Participants can receive a $5 discount for commitment to bring a reusable water bottle. Register online at https://www.laurelhighlands.org/plan/scenic-tours/journey-of-self/. All participants must be 18 years or older to attend and are welcome to bring their own snacks and refreshments for the day. Maximum capacity for this event is 48 participants.
Participants will be picked up at 7:30 a.m. at the North Huntingdon Target and 8 a.m. at the Cracker Barrel New Stanton. The tour bus will return guests at 8:30 p.m., Cracker Barrel New Stanton and 9 p.m., North Huntingdon Target.
Participants are encouraged to wear comfortable active layers and bring a change of clothes for dinner. While Wi-Fi will be available on the Quest motorcoach, participants are encouraged to unplug for the day and immerse themselves in the experience.
About Pennsylvania's Laurel Highlands
A magnificent mountainous region, the Laurel Highlands spans 3,000 square miles in southwestern Pennsylvania. Located an hour east of Pittsburgh, the beautiful four-season destination offers spectacular natural scenery, outstanding outdoor recreation, historic sites and attractions, family activities and world-class resorts. Notable destinations within the region include four architectural masterpieces by Frank Lloyd Wright – Fallingwater®, Kentuck Knob, Mäntylä and Duncan House – Nemacolin Woodlands Resort, Seven Springs Mountain Resort, Flight 93 National Memorial, Idlewild and Soak Zone, whitewater rafting at Ohiopyle State Park and more.
Located within 200 miles of the major metropolitan areas of Pittsburgh, Baltimore, Cleveland and Washington D.C., the Laurel Highlands can be easily accessed from exits 67, 75, 91 and 110 of the Pennsylvania Turnpike.
Visitors to the Laurel Highlands can find information online at www.LaurelHighlands.org, calling 724.238.5661, www.facebook.com/laurelhighlandsPA and www.twitter.com/laurelhighlands. Established in 1958, the Laurel Highlands Visitors Bureau is the official destination marketing organization for Fayette, Somerset and Westmoreland counties in southwestern Pennsylvania.
###