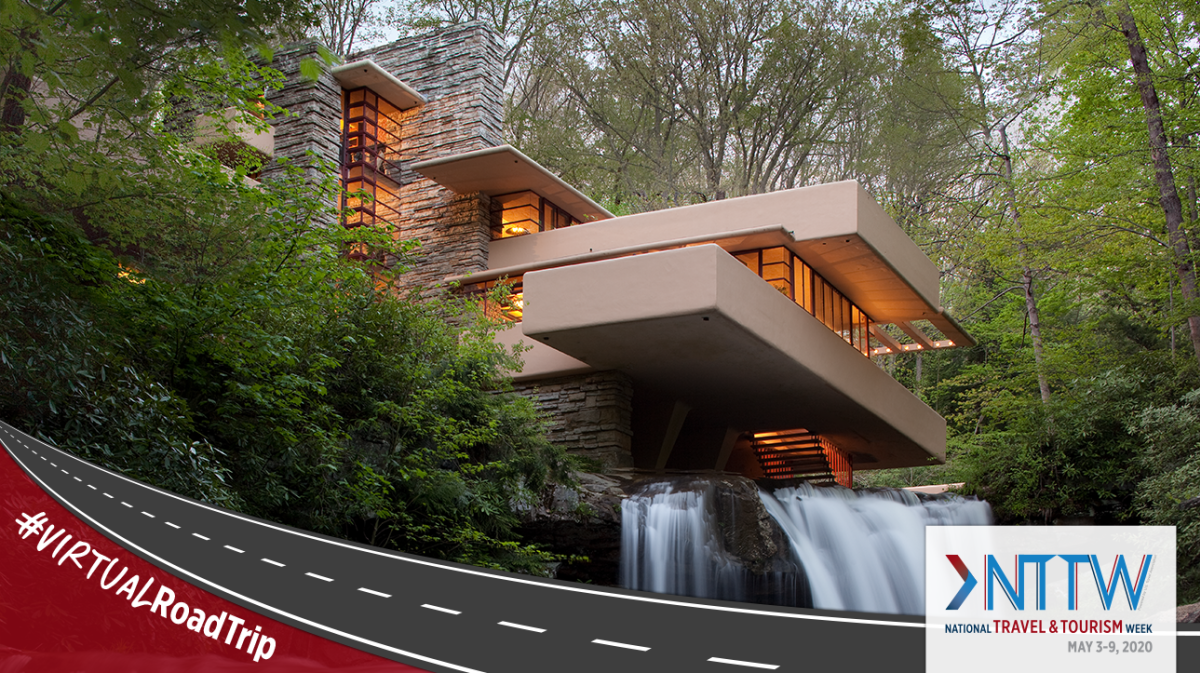 LIGONIER, Pa., (April 29,2020) – National Travel and Tourism Week (NTTW), the annual celebration of the contributions and accomplishments of the U.S. Travel industry, will spotlight the resilience and hope in the face of the coronavirus pandemic with this year's theme: the Spirit of Tourism. The Laurel Highlands Visitors Bureau (LHVB), the destination marketing organization for Fayette, Somerset, and Westmoreland counties, embraces this year's theme by showcasing the people, communities, and tourism properties which represent what it means to be "Laurel Highlands Strong." For the Laurel Highlands, travel means critical regional jobs, economic growth and a warm and welcoming smile to visitors who count on our unique brand of hospitality.
"NTTW falls at an opportune time to highlight the true spirit and resilience of our tourism industry," said Ann Nemanic, Executive Director of the LHVB. "These are extremely challenging times for our tourism partners, but we have seen them join together, adapt, and modify their business model to survive. I feel confident we will emerge stronger than before."
"The Laurel Highlands has, and will continue to be, a destination of choice for visitors seeking the opportunity to connect, experience and embrace our tourism assets. Our wide-open spaces, peaceful settings, cultural and historical attractions, remarkable restaurants, craft beverage establishments, and restful lodging properties will be waiting when visitors are ready to return."
During recent weeks, the LHVB has continued to stay connected and continues to promote the region through their #LHSTRONG messaging. "I'm very proud of our creative team and the development of numerous on-line activities, videos, and blogs under a branding message of #LHSTRONG," added Nemanic.
"We've simply hit a pause button and I anticipate a renewed, strong, and robust enthusiasm for travel, especially to the Laurel Highlands over the next few months. Travel is good for the soul and the Laurel Highlands will help in the healing process for our nation."
Throughout NTTW, the LHVB will launch of series of videos, photos and other content showcasing the many partners in the region. Followers of the LHVB's social media channels will see the faces of tourism demonstrating their unique spirit of tourism and holding fast to a speedy recovery.
"Until visitors are able to return, we encourage our local residents to embrace the spirit of travel by supporting local businesses, helping their neighbors, and enjoying virtual tours of so many of our regional tourism gems. This is the perfect time to visit, even remotely, the true treasures in your own backyard. And, when the time is right, go visit in person and help us rebuild our tourism community and make it stronger than ever before."
About Pennsylvania's Laurel Highlands
A magnificent mountainous region, the Laurel Highlands spans 3,000 square miles in southwestern Pennsylvania. Located an hour's drive east of Pittsburgh, the beautiful four-season destination offers spectacular natural scenery, outstanding outdoor recreation, historic sites and attractions, family activities, and world-class resorts. Notable destinations within the region include four architectural masterpieces by Frank Lloyd Wright – Fallingwater®, Kentuck
Knob, Mäntylä and Duncan House – Nemacolin Woodlands Resort, Seven Springs Mountain Resort, Flight 93 National Memorial, Idlewild and Soak Zone, whitewater rafting at Ohiopyle State Park, and more.
Located within 200 miles of the major metropolitan areas of Pittsburgh, Baltimore, Cleveland, and Washington D.C., the Laurel Highlands can be easily accessed from exits 67, 75, 91 and 110 of the Pennsylvania Turnpike. Visitors to the Laurel Highlands can find information online at www.LaurelHighlands.org, calling 724.238.5661, www.facebook.com/laurelhighlandsPA and www.twitter.com/laurelhighlands. Established in 1958, the Laurel Highlands Visitors Bureau is the official destination marketing organization for Fayette, Somerset, and Westmoreland counties in southwestern Pennsylvania.