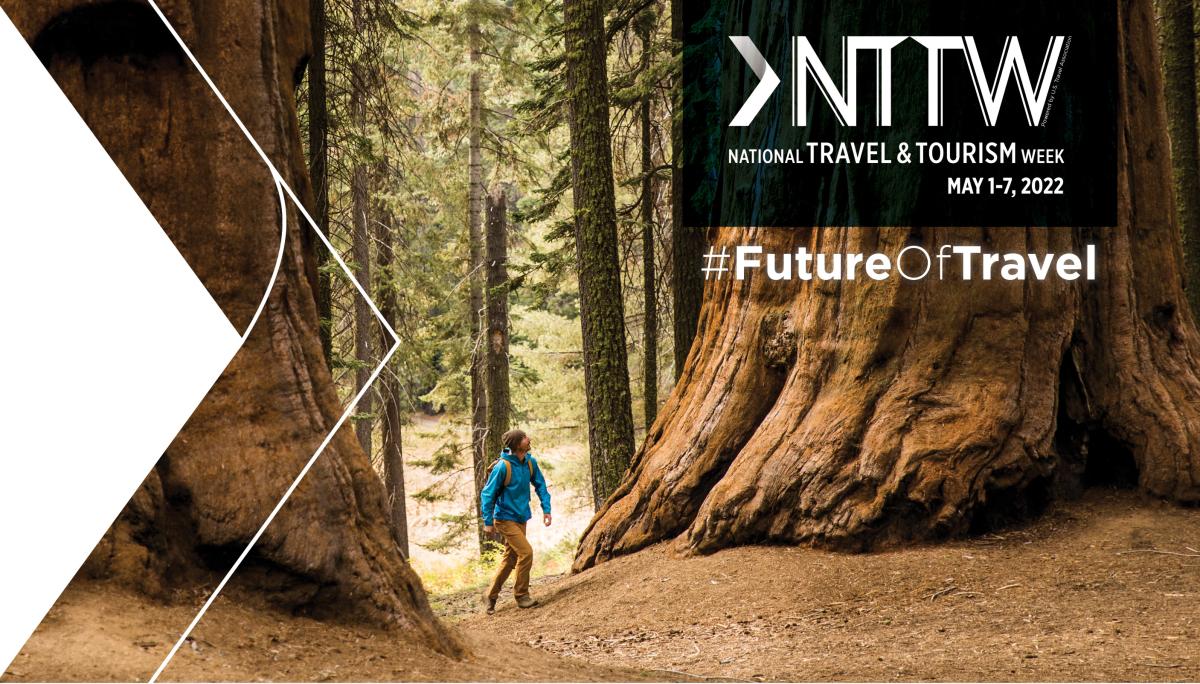 Annual event spotlights the collective strength of the U.S. travel industry
LIGONIER, Pa. (April 26, 2022) – In honor of National Travel and Tourism Week (NTTW), GO Laurel Highlands, the destination marketing organization for Pennsylvania's Fayette, Somerset, and Westmoreland counties, spotlights the critical role that travel will play in driving economic growth and building the path forward through the theme Future of Travel.
Celebrated annually the first full week in May, NTTW was created by Congress in 1983 to elevate the economic power of travel in the United States. The 39th annual NTTW, taking place May 1-7, arrives as the industry looks ahead to future growth and success following the challenges of the past two years.
"NTTW has special significance this year as the travel industry looks ahead to a bright future," said U.S. Travel Association President and CEO Roger Dow. "This NTTW is an opportunity to recognize the collective strength of the U.S. travel industry and how we are rebuilding to be more dynamic, innovative, sustainable and inclusive in the months and years to come.
"Before the pandemic, travel generated $2.6 trillion in economic output, supported 17 million American jobs and delivered a $51 billion trade surplus to the U.S.—evidence of the outsized role the industry will play in driving America's recovery and future economic growth," added Dow.
"We have always been forward-thinkers in the Laurel Highlands and National Travel and Tourism Week gives us that keen opportunity to look into the future of travel and know the Laurel Highlands is genuinely ready and excited about the increase of visitors and visitor experiences within our footprint," said Ann Nemanic, Executive Director, GO Laurel Highlands. "We also realize that partnership is key in helping to promote not only the Laurel Highlands, but the Commonwealth of Pennsylvania.  That is one of the primary reasons we are partnering and promoting seven other destinations during NTTW."
During NTTW, GO Laurel Highlands will partner with VisitErie, Crawford County CVB, VisitMercerCounty, the Oil Region, Visit Lawrence County, Butler County CVB and Beaver County CVB in a cross-promotion sweepstakes May 1-7. Each organization will supply the others with $100 gift cards or incentives to be given away during the week via social media.  Winners will be drawn on Monday, May 9. 
GO Laurel Highlands is also sending Get-Ready-For-Summer care packages to eight Pennsylvania Welcome Centers in the Commonwealth. During NTTW, these Welcome Centers will be highlighting many regions across the state of Pennsylvania, including the Laurel Highlands. 
"The employees at these strategic entry points are true ambassadors for tourism and understand the importance of a warm welcome as visitors frequent their locations," said Nemanic. 
"The future of travel looks bright," added Nemanic. "With over 3,000 square miles the Laurel Highlands offers many diverse experiences for visitors of all generations to enjoy. NTTW is the ideal time to focus on summer getaways.  Allow us to help with your tour planning and request a Destination Guide, Calendar of Events, and our new Summer Coupon Book with over 45 different offers."     
About Pennsylvania's Laurel Highlands
A magnificent mountainous region, the Laurel Highlands spans 3,000 square miles in southwestern Pennsylvania. Located an hour's drive east of Pittsburgh, the beautiful four-season destination offers spectacular natural scenery, outstanding outdoor recreation, historic sites and attractions, family activities and world-class resorts. Notable destinations within the region include four architectural masterpieces by Frank Lloyd Wright – Fallingwater®, Kentuck Knob, Mäntylä and Duncan House – Nemacolin, Seven Springs Mountain Resort, Flight 93 National Memorial, Idlewild and Soak Zone, whitewater rafting in Ohiopyle State Park and more.
Located within 200 miles of the major metropolitan areas of Pittsburgh, Baltimore, Cleveland, and Washington D.C., Pennsylvania's Laurel Highlands can be easily accessed from exits 67, 75, 91 and 110 of the Pennsylvania Turnpike.
Visitors to the Laurel Highlands can find information online at GoLaurelHighlands.com, calling 724.238.5661, facebook.com/laurelhighlandsPA and twitter.com/laurelhighlands. Established in 1958, GO Laurel Highlands, formerly known as Laurel Highlands Visitors Bureau, is the official destination marketing organization for Fayette, Somerset and Westmoreland counties in southwestern Pennsylvania.
###