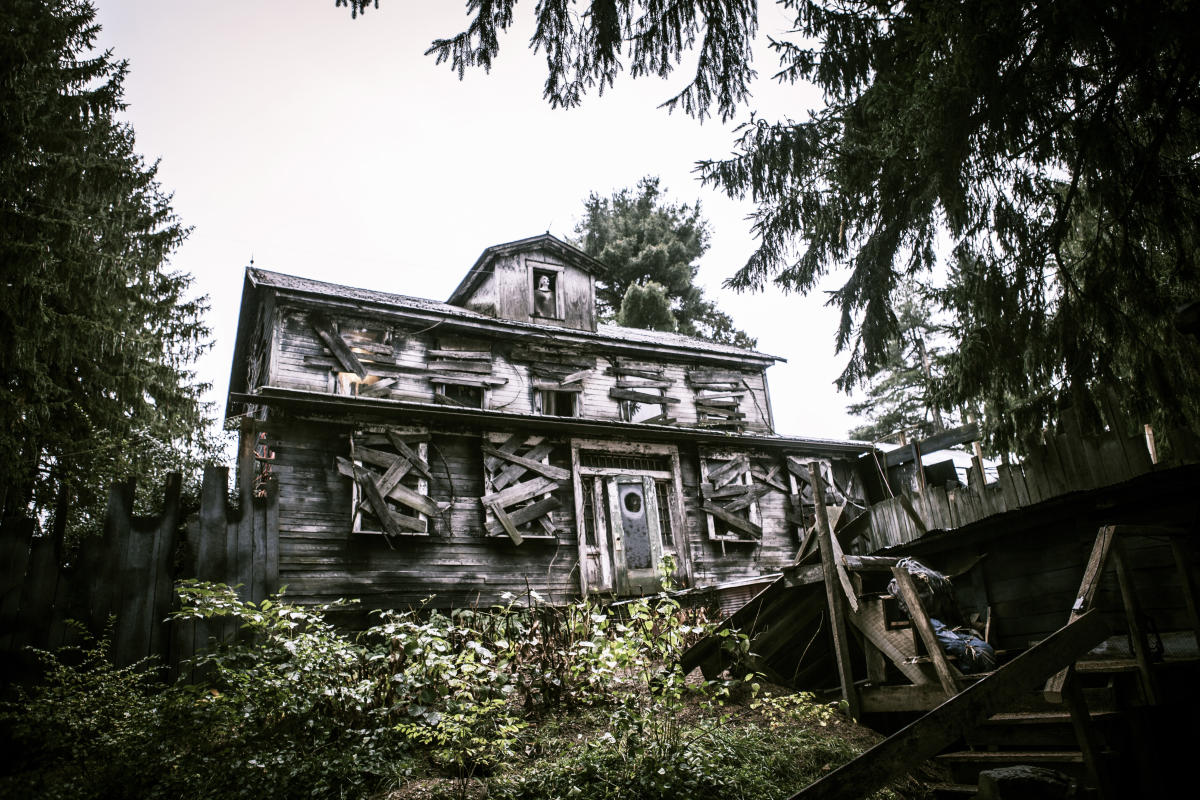 LIGONIER, Pa., (Oct. 1, 2019) – When the sun goes down this fall and you're looking for a night full of thrills and chills, there's nothing better than a haunted hayride or house to bring on the terror. With decades of experience and excellence in horror-inducing haunts, we're highlighting what's new at these infamous Laurel Highlands attractions, from escape rooms to blindfolded journeys to a full-contact experience.
Haunted Hollow
6:30-10:30 p.m., Fridays and Saturdays, Sept. 27- Oct. 26
A new year means new fears at Haunted Hollow, a horror experience complete with hayrides, corn mazes, and a haunted house. Follow the twisted story of the Bruner Boarding House where a different fate befell the doomed tenants room by room as you're pursued by evil mistress Mad Mae and caretaker Willie.
Race against the clock in the Haunted Hollow Escape that pits you against Willie as he locks you in his shack. With only 15 minutes until your doom, you'll need to use your wits to find clues and solve puzzles. Can you escape before Willie returns?
Lonesome Valley Farms
Dark - 10 p.m. Fridays-Saturdays, Sept. 27-Oct. 26 and Dark - 9 p.m. Sundays Oct. 13-27 (Haunted attractions), 7-10 p.m. Fridays and Saturdays (corn maze)
Combining all the best parts of Halloween, Lonesome Valley Farms is celebrating 32 years of fear with haunted and kid-friendly attractions. If you're looking for a scare, start with their haunted hayride and maze trail that ends at Slotter Farm, where the deranged Will B. Slotter and his family have set up a terrifying barn full of crossbred mutants and other horrors.
Every year, the non-haunted Get Lost Corn Maze gets a new design, and this year is may be the cutest! Bring your flashlight and see if you can solve the challenges through endless turns, corners and dead ends.
If you have young ones, the Pumpkin Patch Playland (open 2-6 p.m.) includes the corn maze along with slides, spider crawls, steer roping, a barrel train, and more non-scary stuff so the whole family can have a blast.
Haunted Hills Estate
6:30-11 p.m. Fridays and Saturdays, Sept. 13-Oct. 26; 6:30-10 p.m., Sundays, Oct. 6-27, Nov. 1; 6:30-11 p.m., Day of the Dead Festival, Nov. 2 6:30-11 p.m.; Lights Out, Nov. 8-9, 6:30-11 p.m.
Be in the dead center of the action at the all-new Haunted Hills Estate, which has gone all out for its 2019 season. The experience now has three individual attractions along with an expansive, themed Midway area and nightly live music. They even added Kyle Vest from the GSN show Skin Wars to help bring the Hollywood-level horror.
Start your night of dread at The House haunted mansion, test your thinking skill and solve the Word's First Escape House to make your way out of a warehouse filled with government experiments. Tackle the Deadwoods Challenge Trail, a sinister take on flag football where creatures try to stop you as you navigate a haunted trail riddled with challenges.
Also new for 2019 is the Day of the Dead Festival on Nov. 2, an all-night party with your favorite ghouls and ghosts complete with a DJ, fireworks and more. For the truly fearless, the Lights Out event Nov. 8-9 is a full-contact immersive experience where the fiends are allowed to touch the guests. Don't miss this unique opportunity to be in a real-life horror movie where you're the star.
Bushy Run's Haunted History Hayride
Saturday, October 19 (Rain Date: October 26)
Experience Bushy Run Battlefield from an entirely new perspective at night! Guided hay wagons take visitors back in time as they stop along the trail where reenactors will portray the story of the Battle of Bushy Run. But beware! Ghosts and goblins are lurking in the woods to put a haunted twist on your historical journey.
Afterward, visit the Stone Room for ghost stories and children's activities! Don't forget your flashlight.
*Reservations are required for this event. Reservations begin online promptly at 9 a.m., Wed., Oct. 2.
Crawford School of Terror
7-11 p.m., Fridays and Saturdays, Sept. 27-Nov. 2; 7-9:30 p.m., Sundays, Oct. 20, 27; Open Halloween 7-11 p.m.
School is never out when you're trapped in the Crawford School of TerrorOpens a New Window. This former school with a paranormal past has been turned into three floors of terror, starting with the 3D Playground of Fears and ending at the Kidnapped blindfolded experience. When your sight can't be your guide, how will you escape the basement?
New for the 2019 school year is Escape Crawford, a full 60-minute escape room experience where you discover the legend of the Crawford School and, hopefully, a way out.
Fright Farm
6-11:30 p.m. Fridays and Saturdays, Sept. 23-Oct. 27; Family Nights 6-9:45 p.m., Sundays, Oct. 6-27; Student/Military Night, 6-9:45 p.m. Oct. 3-31; Open Halloween and Halloween Week, Oct. 28-31
Fright Farm has been a Halloween tradition for three decades, and this year they're celebrating with a "Gone Dark" theme, combining five harrowing haunts into one nightmarish journey. The classic Fest-Evil Midway and Hayride of No Return are back along with three new themed areas.
The Doctor will see you now at The Clinic, a remote research facility where you'll be testing a powerful experimental drug with an uncontrollable side effect of hallucinations and violence. Then, try to survive the Slaughter Grounds (running shoes recommended) as you are separated from your friends and your only instinct is survival. Even if you make it, all hope ends at The Abyss, where you'll find that there's always a bit of truth in legends as horrors arise from beyond the grave.
Castle Blood
7-11 p.m. Fridays and Saturdays, 7-9 p.m. Sundays, Oct. 5-28, No-Scare Matinee Tours Oct. 21, 28. Open Halloween!
Voted one of the Top "Must-See" Haunted Houses every year, Castle Blood is celebrating its 27th year of fear. Described as "playing Clue in the Addams Family house," Castle Blood delivers a classic American Halloween tale full of vampires, monsters, werewolves, and witches!
On Sept. 21, grab your flashlight for a real ghost hunt along with special guests from Ghosts N' At as you set up shop in a 100-year-old funeral home.
The No-Scare Matinee is a great option for the younger ghouls and ghosts. Visit the Castle during the day to trick-or-treat without the scares.
Halloween Hauntings Storytelling Tours - Compass Inn Museum
Oct. 19, 26-28: 6-7:30 p.m., family-friendly tours and 7:30-9 p.m., haunted tours
Enjoy the fascinating stories of the various inhabitants and travelers who stayed at the Compass Inn and hear the fabled ghost stories that surround them and others.This ethereal excursion includes a candlelight tour of the inn, cookhouse and blacksmith shop. While you are visiting the past, you might just feel a presence as you explore the buildings and grounds of the Compass Inn Museum.
Hobgoblin Hikes
7-9 p.m., Oct. 19 at Northmoreland Park, Oct. 26 at Mammoth Park
The annual Hobgoblin Hikes are free haunted walks sponsored by Westmoreland County Parks and Recreation. Recommended for ages eight and over, the Hobgoblin Hikes are half-mile guided outdoor walks through the haunted woods of the park. Visitors can expect to be led through tunnels and cemeteries and past more than 100 zombies, ghosts and monsters. No two Hobgoblin Hikes are exactly the same and each park has unique haunted scenes!
The Hobgoblin Hikes are a safe family alternative to conventional trick-or-treating. Parents are encouraged to attend with their children. Food and drink will be available for sale at the end of the trail.
Ghost Walk - Irwin
7:30 and 9:30 p.m., Oct. 19
Hear the history of Downtown Irwin and learn the findings of recent paranormal investigations at the annual Ghost Walk. Your terror tour will take you to five different locations as you discover the most haunted places in town!
Monster Ball - Jeannette
8 p.m., Oct. 26
Have the best Halloween costume? Prove it and show off your spooky self at the Monster Ball Halloween dance at the American Legion of Jeannette! There's a $500 prize for the best costume, and a cash bar and food are also available. (This event is 21+ only)
About Pennsylvania's Laurel Highlands
A magnificent mountainous region, the Laurel Highlands spans 3,000 square miles in southwestern Pennsylvania. Located an hour's drive east of Pittsburgh, the beautiful four-season destination offers spectacular natural scenery, outstanding outdoor recreation, historic sites and attractions, family activities, and world-class resorts. Notable destinations within the region include four architectural masterpieces by Frank Lloyd Wright – Fallingwater®, Kentuck Knob, Mäntylä and Duncan House – Nemacolin Woodlands Resort, Seven Springs Mountain Resort, Flight 93 National Memorial, Idlewild and Soak Zone, whitewater rafting at Ohiopyle State Park, and more.
Located within 200 miles of the major metropolitan areas of Pittsburgh, Baltimore, Cleveland, and Washington D.C., the Laurel Highlands can be easily accessed from exits 67, 75, 91, and 110 of the Pennsylvania Turnpike.
Visitors to the Laurel Highlands can find information online at www.LaurelHighlands.org, calling 724.238.5661, www.facebook.com/laurelhighlandsPA and www.twitter.com/laurelhighlands. Established in 1958, the Laurel Highlands Visitors Bureau is the official destination marketing organization for Fayette, Somerset, and Westmoreland counties in southwestern Pennsylvania.
###