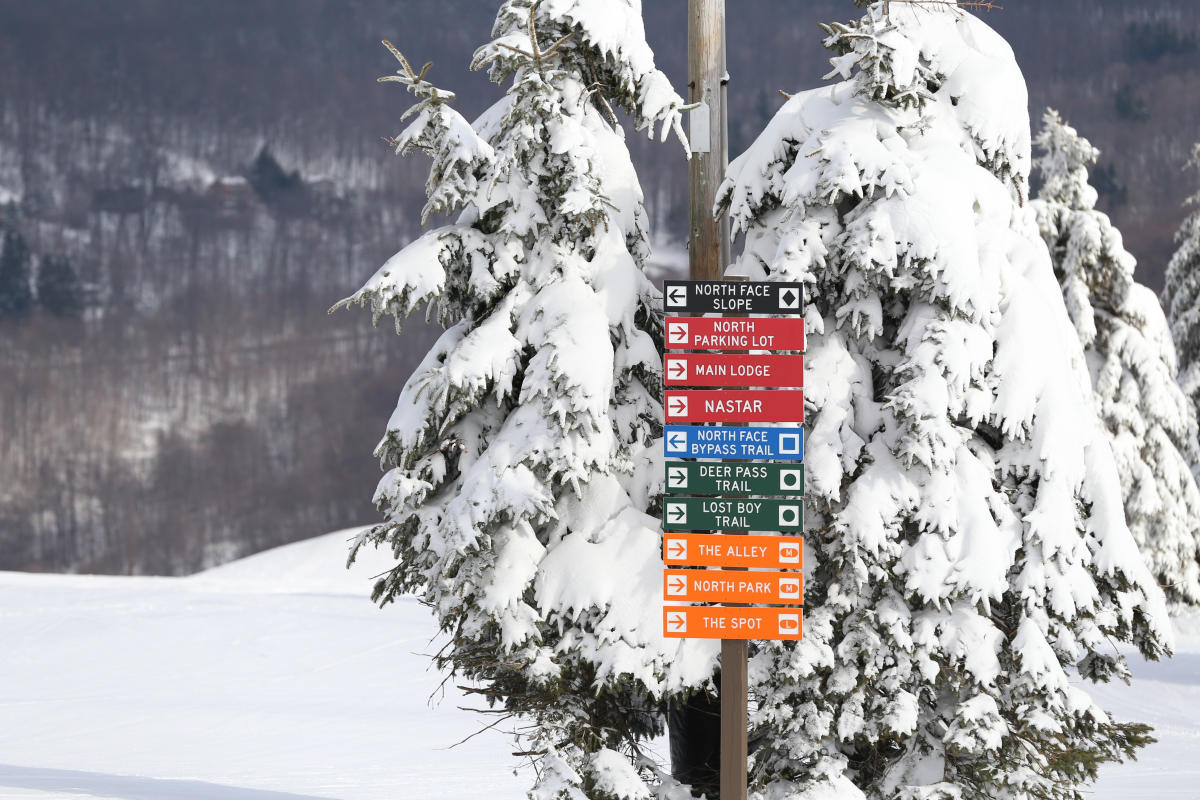 LAUREL HIGHLANDS, Pa. (Dec. 14, 2017) – If you have been longing for powder days, first tracks and a winter getaway, look no further than Pennsylvania's Laurel Highlands. In the last two days, the region has received more than 6 inches of natural snow and cold temperatures to help area ski resorts with prolific snowmaking. 
The arrival of natural snow and cold temperatures has winter sports enthusiasts wondering which of their favorite resorts are open, when will they open, what's new and when to make getaway plans. 
Seven Springs Mountain Resort, www.7springs.com, 800.452.2223 
The state's largest resort, Seven Springs began snowmaking in early November and opened for weekend-only skiing and snowboarding after Thanksgiving. 
This summer, 66 HKD tower snow guns and six portable snow guns were added to Seven Springs' extensive armada of snowmaking equipment. A new fleet of Rossignol children's skis and boots and Burton snowboards and boots were added to the rental shop. Nighttime ski enthusiasts can look forward to a new night ticket this year, available Sundays through Thursdays, from 4-9 p.m. 
Off-mountain improvements include complete renovations to the Center Lobby and Bavarian Lounge, as well as hotel room renovations featuring remodeled bathrooms, new carpeting, new paint, new furnishings and upgraded bedding and amenities. 
Seven Springs Facts
•    Status: Open daily beginning Dec. 15
•    285 skiable acres, Pennsylvania's largest ski resort
•    33 slopes and trails
•    7 terrain parks
•    Region's largest snow tubing park
•    Snowmobile tours, sleigh rides and late night snowcat rides
•    Indoor fun includes bowling, mini golf, swimming, full-service spa and arcade
Hidden Valley Resort, www.hiddenvalleyresort.com, 814.443.8000
A favorite of families with small children and beginner skiers and snowboarders of all ages, Hidden Valley also began snowmaking in early November. Over the summer, the resort tweaked snowmaking infrastructure to boost its snowmaking power and enhance efficiency. 
Hidden Valley Facts
•    26 slopes and trails
•    Two terrain parks
•    110 skiable acres
•    Snow tubing
•    Status: Open daily beginning Dec. 16
Laurel Mountain, www.laurelmountainski.com, 888.547.3388
Last winter, the Laurel Highlands celebrated the rebirth of Laurel Mountain, which had been dormant for more than a decade. Established in 1940 as a private ski area for powerful steel, coal and banking magnates of Pittsburgh, Laurel Mountain's challenging terrain draws skiers and snowboarders from all over the Mid-Atlantic by offering:
Laurel Mountain Facts
•    20 slopes and trails
•    70 skiable acres
•    Lower Wildcat slope, the steepest in Pennsylvania at nearly 60% slope
•    Highest vertical drop in the Laurel Highlands
•    Status: Open daily beginning Dec. 21
Winter Getaway Offer – Friday Night Friends of Laurel Mountain
Adults and kids can ski or snowboard 4-9 p.m. and pick up rental equipment on Fridays for only $45. Add on a one-hour group lesson for $20. More details online here, www.laurelmountainski.com/ski-ride/special-offers/. 
Mystic Mountain at Nemacolin Woodlands Resort, www.nemacolin.com, 866.344.6957  
An ideal learning environment for first-time skiers and snowboarders, Mystic Mountain will offer extended operating hours for the coming season with slopes and trails open Thursdays through Sundays and snow tubing open five days per week.
Mystic Mountain Facts
•    Status: Scheduled to open Dec. 22
•    7 slopes and trails
•    25 skiable acres
•    Snow tubing 
Winter Wonderland of Even More Fun
While the Laurel Highlands offers incredible skiing and snowboarding, there's more winter fun to be had including dog sledding, horse-drawn sleigh rides, snow tubing, snowshoeing, snowmobiling, cross-country skiing, luxurious spas, sporting clays, winter festivals and events and much, much more. Want to learn more? Follow the Laurel Highlands blog for regular updates and even more story ideas.
About Pennsylvania's Laurel Highlands
A magnificent mountainous region, the Laurel Highlands spans 3,000 square miles in southwestern Pennsylvania. Located just east of Pittsburgh, the beautiful four-season destination offers some of the most spectacular natural scenery, outstanding outdoor recreation, historic sites and attractions, classic family activities and world-class resorts. Notable destinations within the region include three architectural masterpieces by Frank Lloyd Wright – Fallingwater, Kentuck Knob, and Duncan House – Seven Springs Mountain Resort, Nemacolin Woodlands Resort, Flight 93 National Memorial, Idlewild and Soak Zone, whitewater rafting at Ohiopyle State Park and more. 
Located within 200 miles of the major metropolitan areas of Pittsburgh, Baltimore, Cleveland and Washington D.C., the Laurel Highlands can be easily accessed from exits 67, 75, 91 and 110 of the Pennsylvania Turnpike.
Visitors to the Laurel Highlands can find information online at www.LaurelHighlands.org, calling 800.333.5661, www.facebook.com/LaurelHighlandsPA and www.twitter.com/LaurelHighlands. Established in 1958, the Laurel Highlands Visitors Bureau is the official destination marketing organization for Fayette, Somerset and Westmoreland counties in southwestern Pennsylvania. Check out the 2017 Laurel Highlands Destination Guide!
###