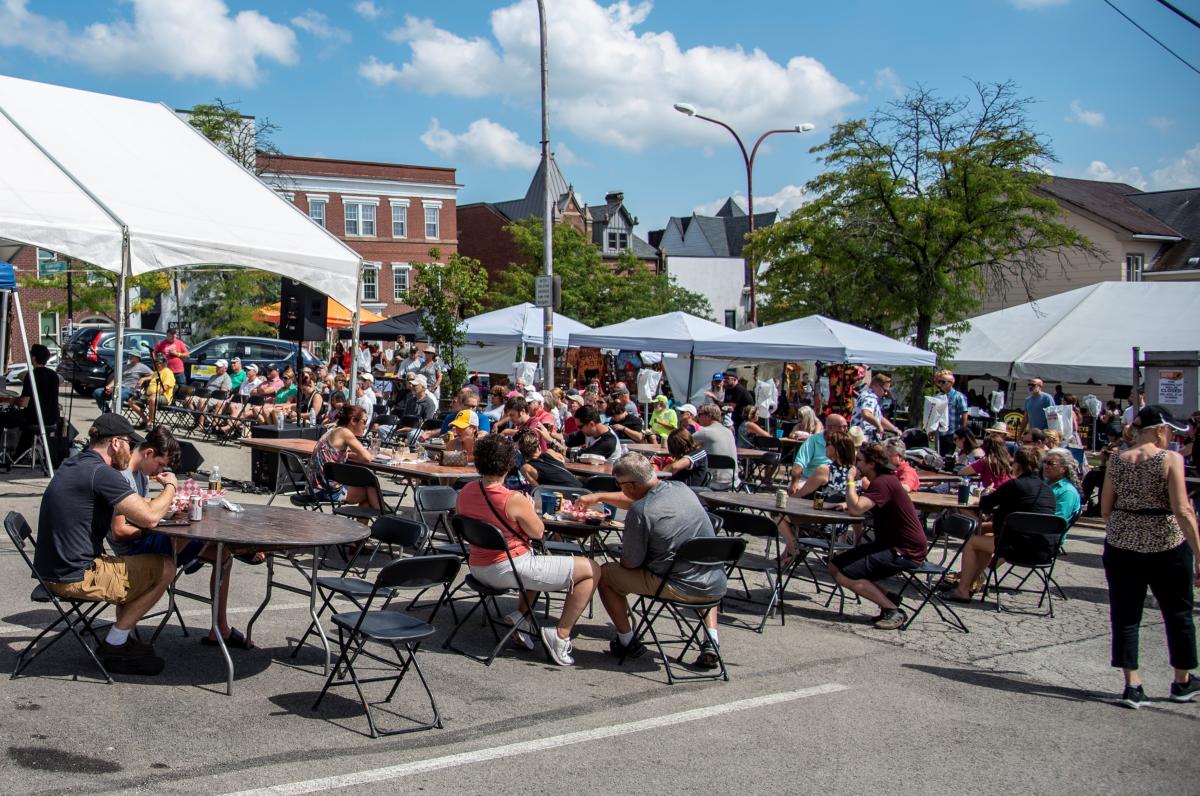 Greensburg, PA (August 22, 2023) – Westmoreland Cultural Trust's Greensburg Music Fest returns for its fifth year. On Saturday, August 26, hundreds of music fans will flock to downtown Greensburg to enjoy live performances from ten local and traveling bands on three stages. This all-ages music festival is free and lasts from 12:30 – 9:30 P.M. in the Helman-Ghrist parking lot on North Main Street, Greensburg, and The Palace Theatre, 21 West Otterman Street, plus The Palace Theatre Courtyard Karaoke after-party with Brenda Lynn in the S&T Bank Courtyard from 9:30 P.M. to 11:30 P.M.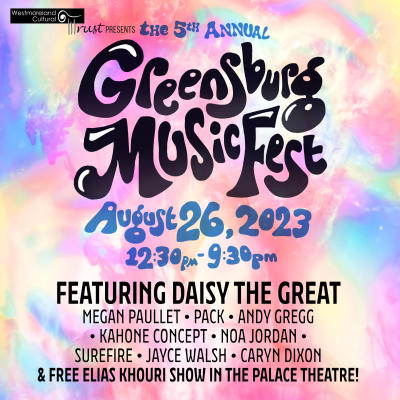 "Westmoreland Cultural Trust is thrilled to bring back this full day of music for the community" states Interim CEO Teresa Baughman.  "We are featuring many bands and performing artists that are new to WCT special events which will supply fresh musical content and some unique digital tie-ins on social media.  Zach and our marketing team have done a great job putting this all together, and the support of our corporate partners and sponsors is greatly appreciated." 
The Palace Theatre will host Elias Khouri at 7 P.M. This general admission event is free to the public with doors opening at 6:30 P.M.
In addition to the free headlining event, attendees who are looking for a more exclusive experience can buy a VIP Wristband for $12 online prior to the event or $15 at the festival. The VIP experience allows patrons access to The Palace Theatre, Megan's Suite, and S&T Bank Courtyard complete with air conditioning, an outdoor lounge, and indoor restroom facilities. The VIP band will also allow patrons to have access to a full bar including well liquor. The outside bar simply features beer, wine, and seltzers. Wristband holders receive a $1 discount on all drinks at Westmoreland Cultural Trust bars and a free reusable Palace Theatre cup to bring drinks into the Theatre.  VIPs also have premium reserved seating for the Elias Khouri concert at 7 P.M. at the Palace Theatre. Finally, the wristband purchase also grants access to the Courtyard Karaoke after-party with Brenda Lynn.
Free outdoor performances will take place consecutively throughout the festival on the Smail Kia and Elegant Catering stages, found in the Helman-Ghrist Parking Lot on North Main Street, which connects to The Palace Theatre via Westmoreland Cultural Trust's Art in the Alley (Wilcox Way).   
Emporio Meatball Truck, Millie's Ice Cream, The BBQ Buggy, and Yappy Dawgs food trucks will be on-site for attendees to enjoy local food with plenty of seating by each stage. Westmoreland Cultural Trust will have beverages for purchase, as well. Additional vendors will be present selling their local fare. Those vendors are Beez Designs, Eternal Links Permanent Jewelry, Hipsy Haven, RAS the Artist, The Fudge Affair, and Women Who Rock.
"This year's festival is bringing a whole new energy to downtown Greensburg. I'm excited to see everyone join forces to support these up-and-coming artists with a fun day full of live music, food, and more," says Digital Marketing Associate Abby Sistek. "After many months of brainstorming, researching, and collaborating, our team is proud to share this free event with our community on Saturday!"
Schedule of Events:
The Palace Stage:
7 pm – Elias Khouri (free event) (Funk, Soul, Rock)
Smail Kia Main Stage: (12:30 – 9:30PM)
12:30 PM – Megan Paullet (Alt. Indie, Soul)
2:30 PM – Pack (Alternative Pop, Rock)
4:30 PM – Andy Gregg (Country)

6:30PM – Kahone Concept(Pop)

8:30PM – HEADLINER- Daisy The Great (Indie Rock, Pop)

Elegant Catering Side Stage: (1:30 – 8:30 PM)
1:30 PM – Surefire (Pop, Rock)
3:30 PM – Jayce Walsh (Classic Covers)
5:30 PM – Caryn Dixon (Country, Indie)

7:30 PM – Noa Jordan (Indie-Rock)
Greensburg Music Fest is sponsored by Elegant Catering, Smail Kia, SunDawg and El Diablo, Hampton Inn Greensburg, J Corks and Headkeepers, Smail Auto Group, Somerset Trust, Tribune-Review, Artisan Plastic Surgery, Baird, Blue Sky Signs, Bulava and Associates, Captrust, Design 3 Architecture, Integrity Retirement Solutions, Kacin, Live Casino, Mc Dowell and Associates, Mobile Concepts, PNC, Redstone, S&T Bank, and Saint Vincent Summer Theatre.
For more information, please visit www.westmorelandculturaltrust.org

About Westmoreland Cultural Trust
Westmoreland Cultural Trust is a 501(c)(3) nonprofit organization whose mission is to stimulate cultural and economic development in the Westmoreland County region, to promote the performing arts; preserve and enhance the region's assets for the benefit of the community.
102 N. Main Street, Suite 232, Greensburg PA 15601
724-836-1123
www.westmorelandculturaltrust.org
Facebook: Westmoreland Cultural Trust/ Instagram: WCulturalTrust