LIGONIER, Pa. (June 1, 2021) – History buffs, art aficionados, and curiosity seekers now have a helpful new resource available to them to explore Westmoreland County's historical and cultural sites.
Westmoreland Heritage recently debuted a new vintage-themed exploration map, pocket folder, and collectible magnets to showcase the organization's 56 partner sites.
"We wanted to create a campaign that would inspire residents and visitors to explore the county's intriguing and diverse sites," said Jessica Petrovich, Director of Westmoreland Heritage.
Simply pick up a map and travel folder at one of the participating locations and set out to explore. Brochures and ticket stubs can easily be placed in the travel folders as a memento or scrapbook of the experience.
"You can collect up to five limited edition magnets," added Petrovich. "Different magnets are available for arts and cultural sites, historical organizations, festivals, performance venues and groups, and community establishments. The information on the magnets is good forever, so your new collection can take up permanent residence on your refrigerator or desk."
Westmoreland Heritage partners are eager to welcome residents and visitors utilizing the new map.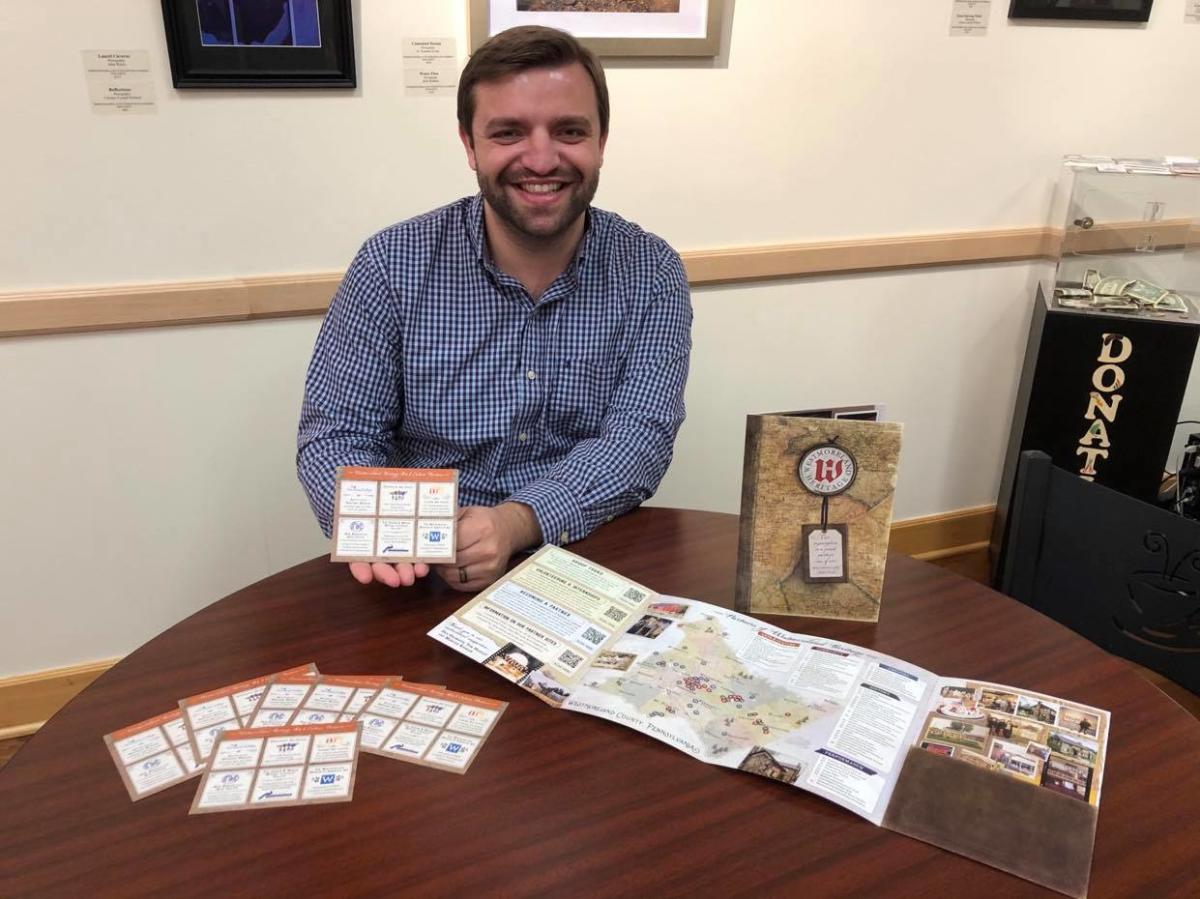 "At the Latrobe Art Center, we are thrilled to be gradually offering in-person programs again and welcoming everyone back into the art center to experience the works of our talented local artists firsthand," said Michael Tusay, Executive Director, Latrobe Art Center. "Now, residents and visitors to Westmoreland County can plan their trip to Latrobe Art Center and other awesome Westmoreland Heritage partner locations with ease using new maps, travel folders, and informational magnets. These are the perfect tools to help you plan the perfect outing and experience everything Westmoreland County has to offer."
Westmoreland Heritage maps are available at the following locations:
GO Laurel Highlands offices, 113 East Main Street, Ligonier
Westmoreland County Visitor Information Center, 814 US 119, New Stanton
Media Toolkit
A selection of images is available online here for use by our media partners. Please provide photo credit to Westmoreland Heritage.
About Westmoreland Heritage
Westmoreland Heritage is a county-wide partnership that serves as a network for Westmoreland County's numerous historical and cultural organizations. The organization, its partners, and supporters seek to educate residents and visitors about the county's remarkable history and culture, as well as to encourage the general public to visit the historic and cultural assets.
Westmoreland Heritage was founded in 2002 and is a division of GO Laurel Highlands, the county's tourism promotion agency.
Visitors can find information online at www.WestmorelandHeritage.com, calling 724.238.5661, ext. 102, www.facebook.com/WestmorelandHeritage, and www.twitter.com/westmlheritage.
About Pennsylvania's Laurel Highlands
A magnificent mountainous region, the Laurel Highlands spans 3,000 square miles in southwestern Pennsylvania. Located a short drive east of Pittsburgh, the beautiful four-season destination offers spectacular natural scenery, outstanding outdoor recreation, historic sites and attractions, family activities, and world-class resorts. Notable destinations within the region include four architectural masterpieces by Frank Lloyd Wright – Fallingwater®, Kentuck Knob, Mäntylä, and Duncan House – Nemacolin, Seven Springs Mountain Resort, Flight 93 National Memorial, Idlewild and Soak Zone, whitewater rafting in Ohiopyle State Park, and more.
Located within 200 miles of the major metropolitan areas of Pittsburgh, Baltimore, Cleveland, and Washington D.C., the Laurel Highlands can be easily accessed from exits 67, 75, 91, and 110 of the Pennsylvania Turnpike.
Visitors to the Laurel Highlands can find information online at www.GOLaurelHighlands.com, calling 724.238.5661, www.facebook.com/laurelhighlandsPA, and www.twitter.com/laurelhighlands. Established in 1958, GO Laurel Highlands, also known as the Laurel Highlands Visitors Bureau, is the official destination marketing organization for Fayette, Somerset, and Westmoreland counties in southwestern Pennsylvania.
###