The Laurel Highlands region is home to four houses that were designed by architectural genius Frank Lloyd Wright. The most well-known house, Fallingwater, is a bucket list item for many and lives up to the hype. Fallingwater is inscribed as one of 24 UNESCO World Heritage sites in the U.S. and is listed along attractions including the Pyramids of Egypt, the Great Wall of China and the Taj Mahal.
First things first: if you're interested in touring Fallingwater, advance ticket purchase is necessary. To keep tours organized and optimal, you must call ahead at 724-329-8501 or go online to reserve your spot. Tours run from March 5 through November 27, 2022 except Wednesdays, Easter Sunday morning and Thanksgiving.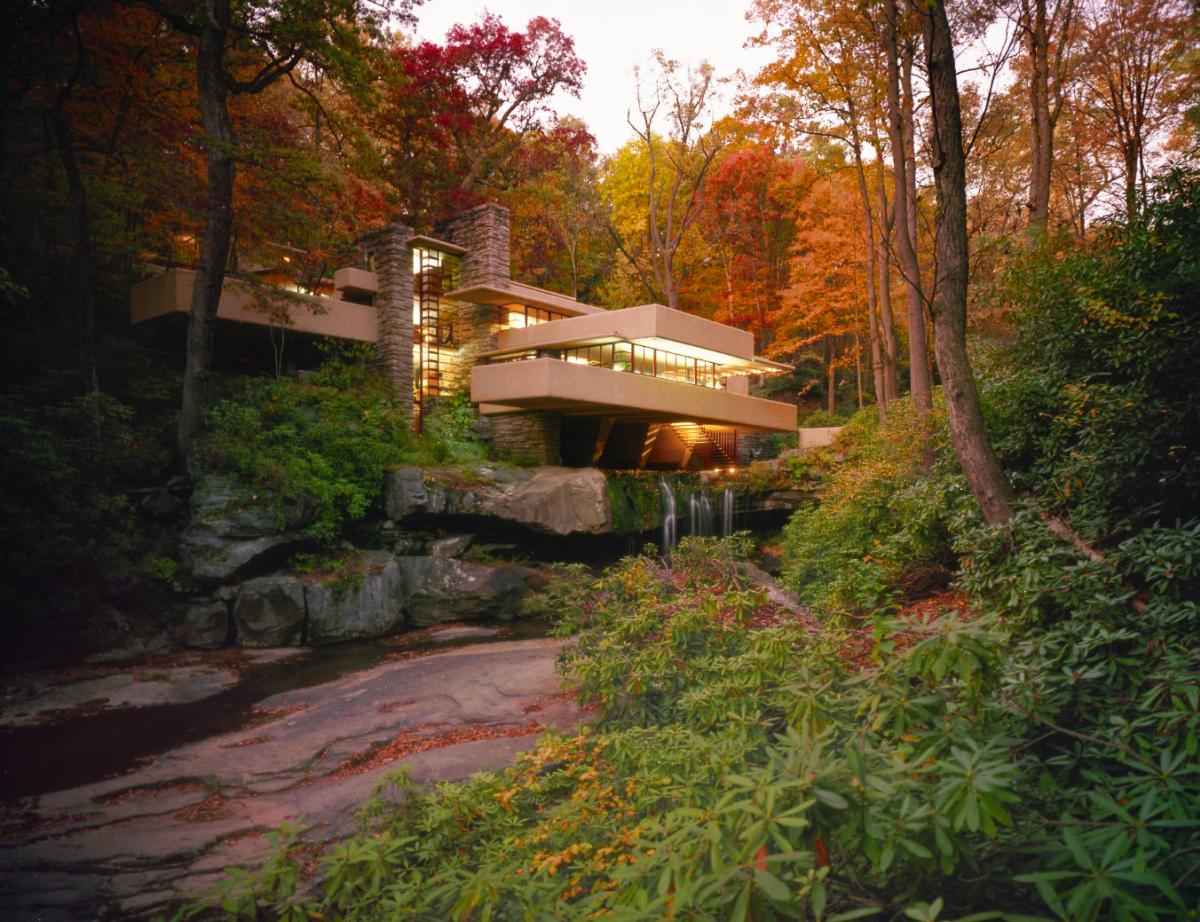 If you don't know which tour to take, here is a quick run down of the most common tours and a list of specialty tours:
Guided Architectural Tour 
On this hour-long tour, you will be led by a knowledgeable, friendly Fallingwater tour guide. This option is most common for first-time visitors. You will walk through all of the main rooms in the house, step out onto the terraces and get to take a look the guest house. Along the way, you will learn about the history about both small and big details of the house. To ensure you're fully present, this is a screen-free tour, but your guide will announce photo ops and allow you to snap a few! At the end of your tour, you are free to roam to the "iconic spot" to get a picture of the famous view. Guided house tours are $32 per person and available from 9 a.m. to 4 p.m. daily, except Wednesdays, Easter Sunday morning and Thanksgiving.
In-Depth Guided Tour
This in-depth tour is very similar to the guided house tour, but is an hour-and-a-half long instead of one hour. During the in-depth tour your expert educator guide will share extensive details about the history architectural design of the house, the landscape and the art that will help you to better understand the harmony of the landscape and house. Another bonus is that you will get exclusive access to spaces not shown on the guided architectural tour! 
Specialty Tours
Fallingwater also offers a variety of tours including Brunch Tours, which features a tour by an expert Fallingwater guide followed by a relaxing brunch on the covered terrace. If you're a family with children, Fallingwater offers private one-hour Family Field Trip tours for groups of 6 or less on Tuesdays and Thursdays. While this tour is exterior-only, it's still a fun yet educational outing for the whole family. During a Sunset Tour, you will experience Fallingwater during many lighting stages as the afternoon turns to evening. Your enchanting night will end on the terrace where you will enjoy hors d'oeuvres from Fallingwater Café. 
Grounds Pass
This is a perfect option if you're on a tight schedule, interior tours are booked or just want to explore the beautiful grounds around the home. If you need need suggestions for walking routes or places to explore, download Fallingwater's visitor guide and print a copy to bring on your adventure.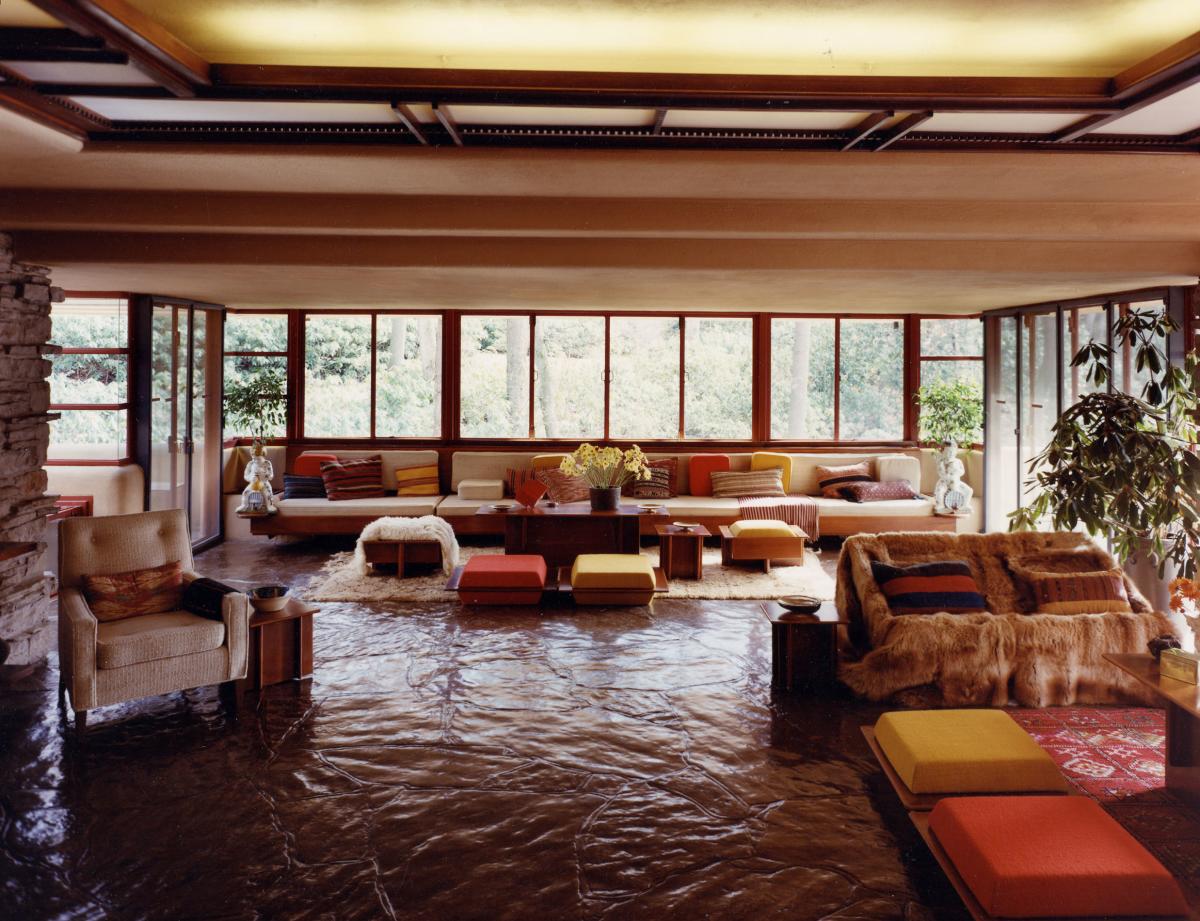 The Day of Your Fallingwater Tour
Once you've picked your preferred tour and time and purchased your ticket, make sure you arrive about a half hour before your tour time. Not because there will be traffic or you'll get lost, but because there is so much to do before your tour. After parking in the lot, walk to the visitors center and check in at the desk in the center and take note of your group number. 
While you're waiting to hear your group number to be called over the loudspeaker, explore the visitor center. Fun fact: The building of the visitors center was overseen by Edgar Kaufmann jr.'s life partner Paul Mayén. It was the Kaufmanns' intentions to let the public enjoy the house, so what you see and experience at Fallingwater today was influenced by the family.
The Fallingwater Café serves breakfast items, coffee, snacks and drink as well as delicious, healthy lunch entrées including wraps, salads and sandwiches that are all made in-house with locally-sourced ingredients. Fallingwater Café also offers bagged lunches and group lunches in the Meadow if you give them a 48 hour heads up! 
Take a stroll through the Speyer Gallery, featuring two special exhibitions in 2022. "Building Fallingwater," a collection of historic photos, materials and film footage of Fallingwater will be on display from April 15 through September 30. The second exhibition, "Touchstone: A Half-Century of Craft," celebrates the 50th anniversary of Touchstone Center for Crafts and showcases six artists' amazing work in wood, ceramic, metal and paper.
Be sure to browse the Museum Store for a unique Fallingwater or Frank Lloyd Wright souvenir and other treasures. Lastly, take advantage of the restrooms located at the visitors center before your tour starts. There are no public restrooms once you leave the visitor center. Once your group number is called, you will gather on the ramp leading to the house and you're off!
A few quick tips:
If you're visiting during July, August or October, be sure to buy your tickets well in advance. Peak season books fast!
Allow an extra 15 minutes for driving time if you're not used to rural roads. You can find driving directions and a map on Fallingwater's website.
Please keep in mind that pets are not allowed on the grounds or at the visitors center, but service animals are welcome to join you on your tour.
Make sure you snag a photo or selfie at the infamous spot! You know the one. Just follow the arrows on the signage that point toward "View."
Help the Western Pennsylvania Conservancy keep Fallingwater beautiful and clean. Please take your trash with you.
To prevent anything from being bumped into and knocked over, only small wallets and handheld cameras are allowed inside the house.
Dress for the weather and always bring a light jacket. Not only can western Pennsylvania weather can change in a matter of minutes, it's usually about 10 degrees colder on the mountain.
Wear comfortable walking shoes. There is a quarter-mile walk from the visitors center to the house, and there a lot of exploring to do on the grounds after your tour. 
COVID Policy
Proof of vaccination or a negative COVID test is required for guests 5 years and older.
Guests 2 years and older are asked to wear a mask indoors.
Keep a safe distance from Fallingwater staff and other guests.
Please refrain from touching surfaces and use the sanitizing stations often.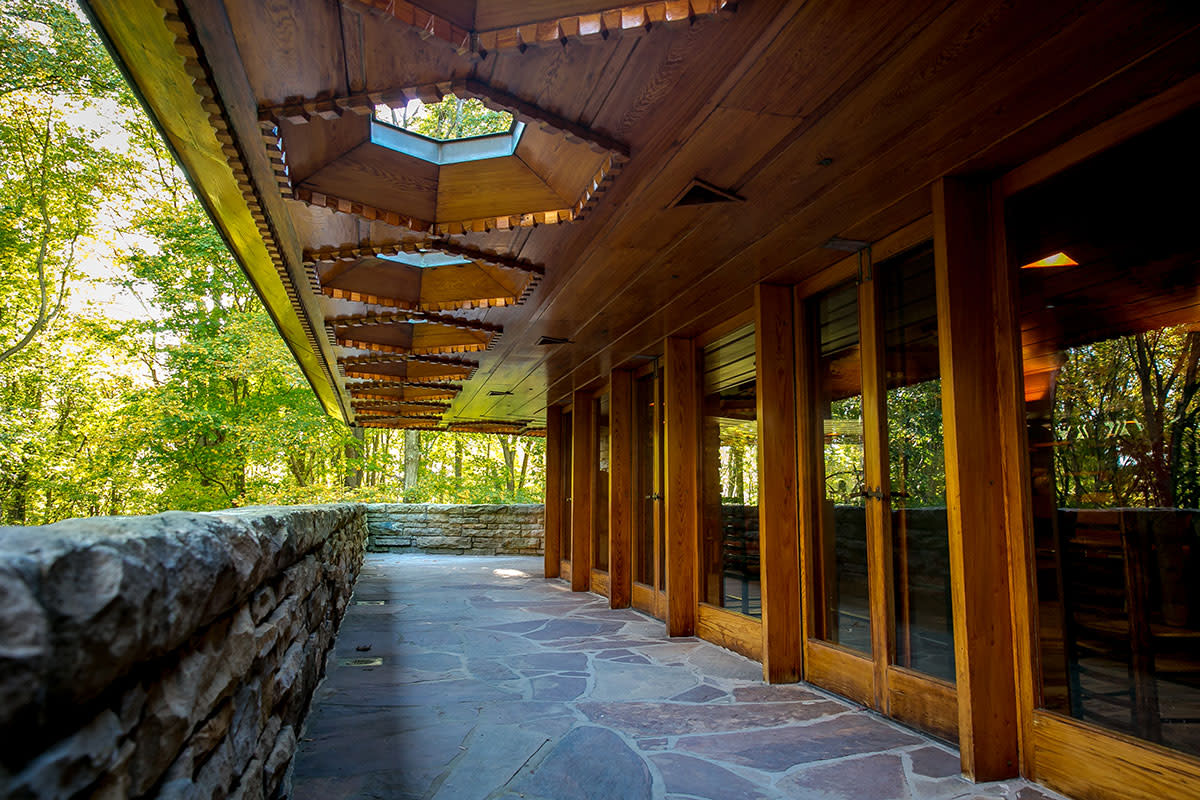 Keep in mind that three other Frank Lloyd Wright houses are located near Fallingwater and are worth the detour. Frank Lloyd Wright at Polymath Park is an architectural park that is home to Frank Lloyd Wright's Mäntylä and Duncan House, is only 23 miles away and Frank Lloyd Wright's Kentuck Knob is less than seven miles down the road from Fallingwater. Even though they were all designed by Wright, they all have unique features and different origin stories. Why tour only one when you can leave the region after seeing all four!? 
In addition to Frank Lloyd Wright homes, the Laurel Highlands offers outdoor recreation, family fun, expansive wineries, historic sites and more. Start planning your Laurel Highlands getaway today!