If you're a vegetarian or vegan, or even if you've been out to eat with one, you know how difficult it may be to find a meat and dairy-free meal. Even though the world isn't completely up to speed with the plant-based movement, vegheads visiting the Laurel Highlands can find something delicious to eat on most menus. The following places will feed you more than a sad garden salad with a side of fries.
Double Wide Grill in Irwin is the place in the Laurel Highlands where vegans die and go to heaven. The sports bar has omni bar food staples like wings, pizza and ribs, but also offers a completely vegan menu. So you can bring your meat-eating friends to watch a game or to just pig out. The seitan cheesesteak, house made burgers and coconut curry tofu are good options, but the veggyro and seitan wings are a must.
Yumzio Bistro
If you're looking for an amazing vegan breakfast selection, you gotta go to Yumzio Bistro in Greensburg. Sausage and JUST egg breakfast sandwiches, tofu scramble and hashbrowns and a breakfast wrap are just the start of it. In addition to breakfast, they have many other vegan lunch options including grilled cheese. And the best part: they're always stocked up on vegan baked goods, from donuts and brownies to banana cream pie and pudding parfaits.
If you're more of a healthy vegetarian/vegan rather than a junk food vegetarian/vegan, Connections Café is about to be your fave. They focus on three staples: soups and not-your-average salads and grilled cheese. My personal faves are the tamari soba noodle and french potato salads. On Friday summer evenings, they also cook up specialties like grilled pizza for dinner to enjoy on the porch! Since everything is made fresh, their menu changes daily. So be sure to give them a call or check their Facebook before stopping in! 
In the heart of Ohiopyle, Falls Market Restaurant is a quick and convenient place for a herbivore to refuel before heading back out into the woods. The quaint restaurant gets brownie points, because they actually have an entire vegetarian menu! The veggie reuben is the best looking plate on the menu, featuring a veggie patty, sauerkraut and thousand island dressing served on grilled marble rye with crispy tots on the side. Before vegetarians leave, they should definitely grab a scoop of ice cream for the road!
The chef at Carol and Dave's Roadhouse in Ligonier dabbles with a plant-based diet, so they go out of their way to offer veggie-friendly entrees on their menu! You can't go wrong with the classic Beyond Burger with fries and the Beyond sausage gnocchi smothered in a tomato alfredo sauce is a delicacy. While you decide on an entree, order the crispy fried tofu. You won't regret it.
Sun Dawg Café knows how to make a vegan happy, labeling all of their vegetarian/vegan options with a V and also offering a meatless option for most omni meals! For example, for most breakfast plates, you can swap out sausage or bacon for a vegetarian chorizo. For lunch, it's a hard choice between a sweet potato coconut thai red curry bowl , quinoa bowl and falafel tacos. And for dinner, a few of the bowls can be veganized upon request!
While you're visiting Frank Lloyd Wright homes in the Laurel Highlands, you don't have to go far for lunch or dinner. Enjoy a sustainable meal choice onsite at Treetops at Polymath Park! While their menu changes with the seasons, a vegetarian/vegan meal is always available. Currently, their vegetarian/vegan entrees are vegetable gnocchi, grilled vegetable and tofu skewers, portabello ravioli and vegetable primavera. The food is spectacular, but the environment at Treetops is so serene and relaxing, the Wright way!
Falls City Restaurant and Pub in Ohiopyle is the best place to snag a beer and a hearty meal after an outdoor adventure. Here, the vegetarian options are unlimited, from the smokehouse mac and cheese to the black bean burrito, and a bunch of apps. Vegans can indulge in a southwest burrito bowl, a salad topped with tofu, Beyond burger and an impressive hummus spread. Side note: their sweet potato fries are the tastiest side option.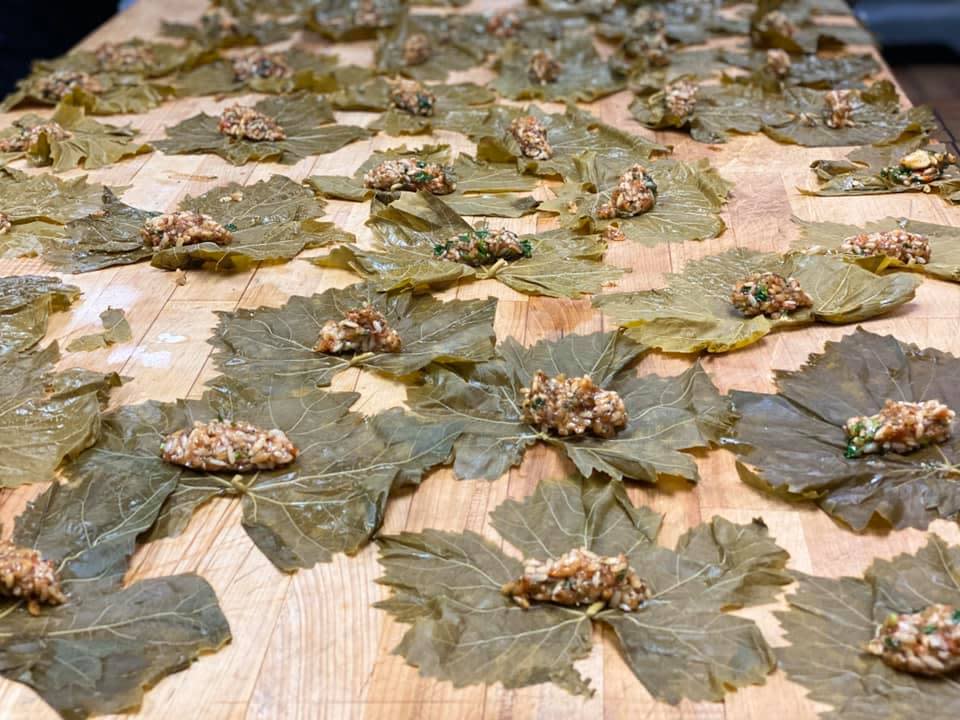 Try something new at Anatolia Turkish Restaurant in Greensburg. Did you know that unlike American foods, a lot of ethnic cuisine is veggie-friendly? While the majority of Turkish entrees include lamb or beef, vegetarians and vegans can order almost all of the interesting starters. As a matter of fact, 11 out of 15 appetizers are meatless! From the popular baba ghanoush, hummus and yaprak sarma (grape leaves) to haydari, piyaz and sigara borek, you are guaranteed to try new things and leave with a favorite.
Specializing in made-from-scratch food, Maywood Grill in Chalk Hill offers dozens of vegetarian meals and a few vegan options as well! Their eclectic menu offers a little bit of everything for vegetarians. For breakfast, Maywood offers classics like french toast, a veggie omelet and a giant pancake, which are always good choices. For lunch, indulge in a white pizza or an ultimate grilled cheese with a cup of garden vegetable soup. The only as-is vegan option is the rustic roasted tomato butter beans, but a lot of the meals can be made vegan with a few modifications
While you're in Fred Rogers' neighborhood, make a stop in the Latrobe Art Center to browse pieces by local artists and grab a bite to eat at Ricolita's Cafe. They offer traditional diner breakfast foods like Belgian waffles, muffins and omelettes and for lunch the veggie options are endless. Veggie lunch favorites are the caprese panini and the neighborhood salad that is as big as your face, you will definitely not leave hungry! But you will leave with a delicious cup of cappuccino from the coffee bar!
Don't forget to post your food pics on Instagram and use #LaurelHighlands. But before you go, let's just take a moment of silence to thank the early vegans who only ate tofu and veggies and paved the road for today's vegans to eat like kings. They're the real MVPs.