If you attended a maple event or visited a maple camp, baking a burnt sugar cake is a unique way to use the maple product you brought home. We got our hands on an authentic recipe for this traditional dessert that Somerset County natives cherish, and we want to share it with you! 
It's so popular, that sometimes Laurel Highlands brides serve burnt sugar cake to their guests instead of the traditional white or chocolate flavors. Yeah, it's that tasty. 
Wait, don't jump right in to baking the cake! First, follow the directions below to make a batch of burnt sugar syrup, an ingredient used in both the cake and icing.
Burnt Sugar Syrup
Heat 2 cups maple sugar over low heat until melted; Resist from stirring too much. Remove from heat and slowly add 1 cup hot water. Stir together well. Return pan to heat and continue cooking another 5 minutes over low heat. Syrup will be thin when hot and thickens as it cools. Remove from heat and set aside to cool. Store in refrigerator in covered container.
Burnt Sugar Cake
3 cups all-purpose flour
2 teaspoons baking powder
½ teaspoon salt
¾ cup butter, room temperature
1 ½ cups sugar
2 eggs, yolks/whites divided
1 cup burnt sugar syrup
¾ cup milk
Preheat oven to 350°. Combine flour, baking powder, and salt and set aside. In another bowl, combine room temperature butter and sugar. Cream together then add two egg yolks and beat again. In a small bowl, beat egg whites until fluffy. To the bowl with flour, add the creamed butter, sugar, egg yolks, burnt sugar syrup and milk. Beat well. Gently fold in the egg whites. Do not beat again. Divide into two round, greased cake pans. Bake at 350° for 25-30 minutes or until a toothpick inserted near the center comes out clean. Cool and frost with burnt sugar icing.
Burnt Sugar Icing
16 ounces powdered sugar
Burnt sugar syrup
¼ cup butter, room temperature
1 teaspoon vanilla
Milk or water as needed
Combine and beat till smooth and spreadable. If your icing is too stiff, add a bit of milk or water. Frost cake and decorate with pecan halves.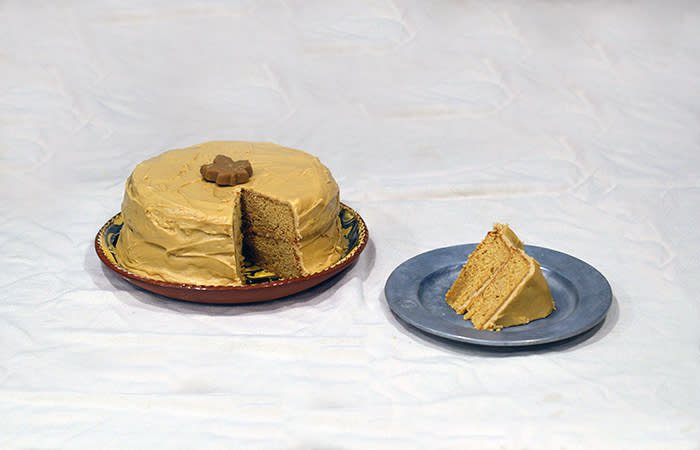 Your final product doesn't have to look like it was made on the Great British Baking Show, it will taste just the same! Promise. Serve each slice with vanilla ice cream for the tastiest combination. Enjoy! 😋