One of the best things about working in the tourism industry is the opportunity to explore new locations and get reacquainted with places you've been before. While I was not born and raised in the Laurel Highlands, my family has deep roots here. See, I grew up in a military family, so we frequently moved around. But the Laurel Highlands was always a sort of home away from home for me. Most of my childhood summer and winter vacations were spent here with my grandparents, aunts, uncles and cousins. I have wonderful childhood memories of summer days and winter snowfalls here, and I try to recreate those memories for my little girl.
So when my usual dental check-up came around, I thought I'd hit the road and retrace some distant foggy memories. I headed west on Route 30 from Ligonier to Irwin, where I had spent some time with my grandpa way back when. As I turned off Route 30, one of the first things I noticed was the beautiful Lincoln Highway murals welcoming me to town and reminding me of the town's history with iron foundries, coal mines, flour mills and mirror factories. These murals fascinate me and I always marvel at the artist's talent.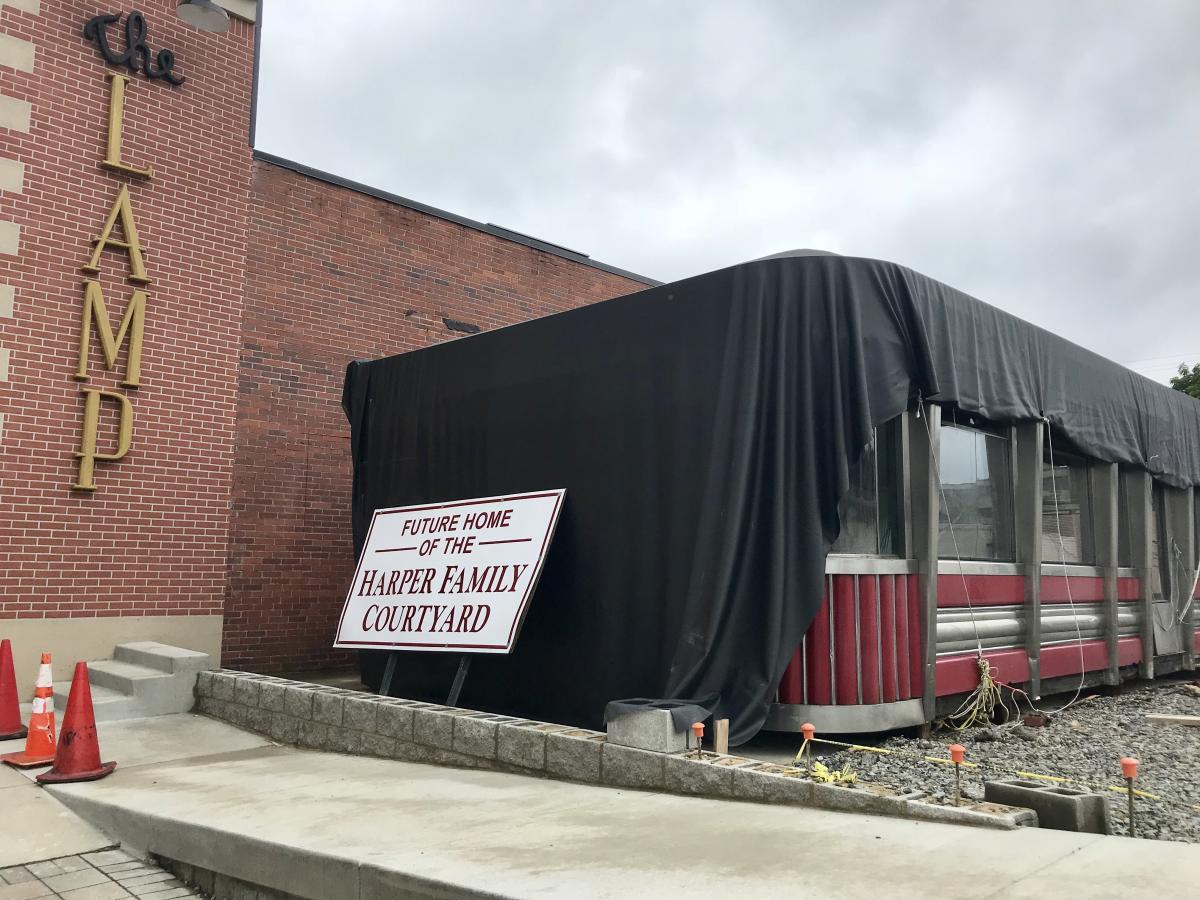 As I wound into town that morning, I found parking to be easily accessible and free in many locations. So I parked alongside The Lamp Theatre on Main Street, grabbed my tea and began my exploration. And I grabbed my wallet since my little girl's birthday was the following weekend. It was a midmorning, but Main Street was bustling. I stopped to watch a construction crew working on renovating a beautiful tall building and admired the stainless steel diner adjacent to The Lamp. The diner was hauled in via tractor trailer from Pittsburgh's Station Square last year. When it's complete, the diner will provide a super cool lounge for theatre guests.
My first stop was The Curious Cat, where the ladies in the shop could not have been nicer. This fun shop is loaded with wreaths, artwork, jewelry, yummy goodies for your kitchen pantry and more. Here I picked up a mermaid bracelet for my little girl in her favorite color, complete with a pearl, her birthstone. I chatted with the ladies for a bit and got some recommendations for lunch or a belated anniversary date with my husband.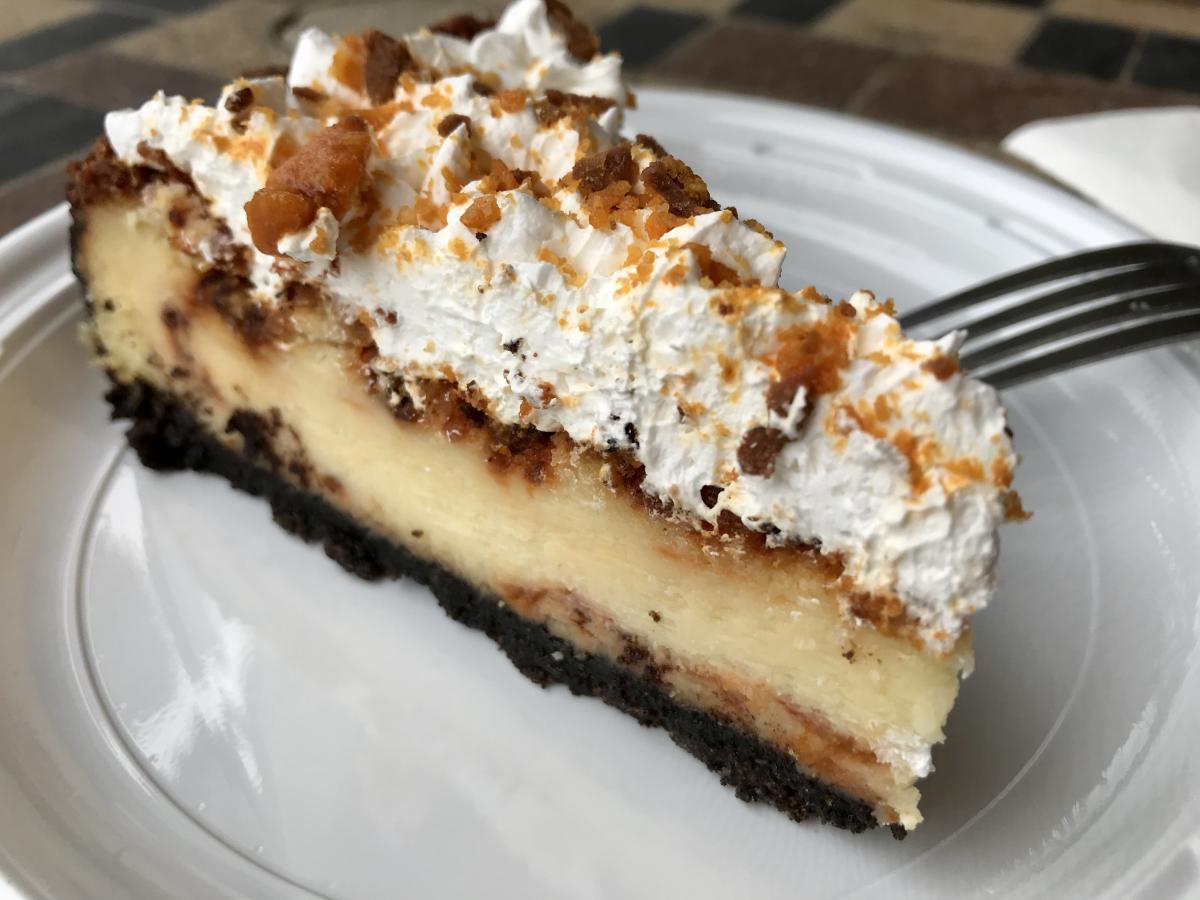 As I headed back down the street, I was greeted by the laughter of children. The nearby church must have been in the midst of their vacation Bible school. The kids were outside in the playground having a blast as I passed by on my way to The Cheesecake Caffe. I seldom have an afternoon to myself so I thought a slice of Butterfinger cheesecake on the patio was a great way to treat myself. Let me just assure it was delicious!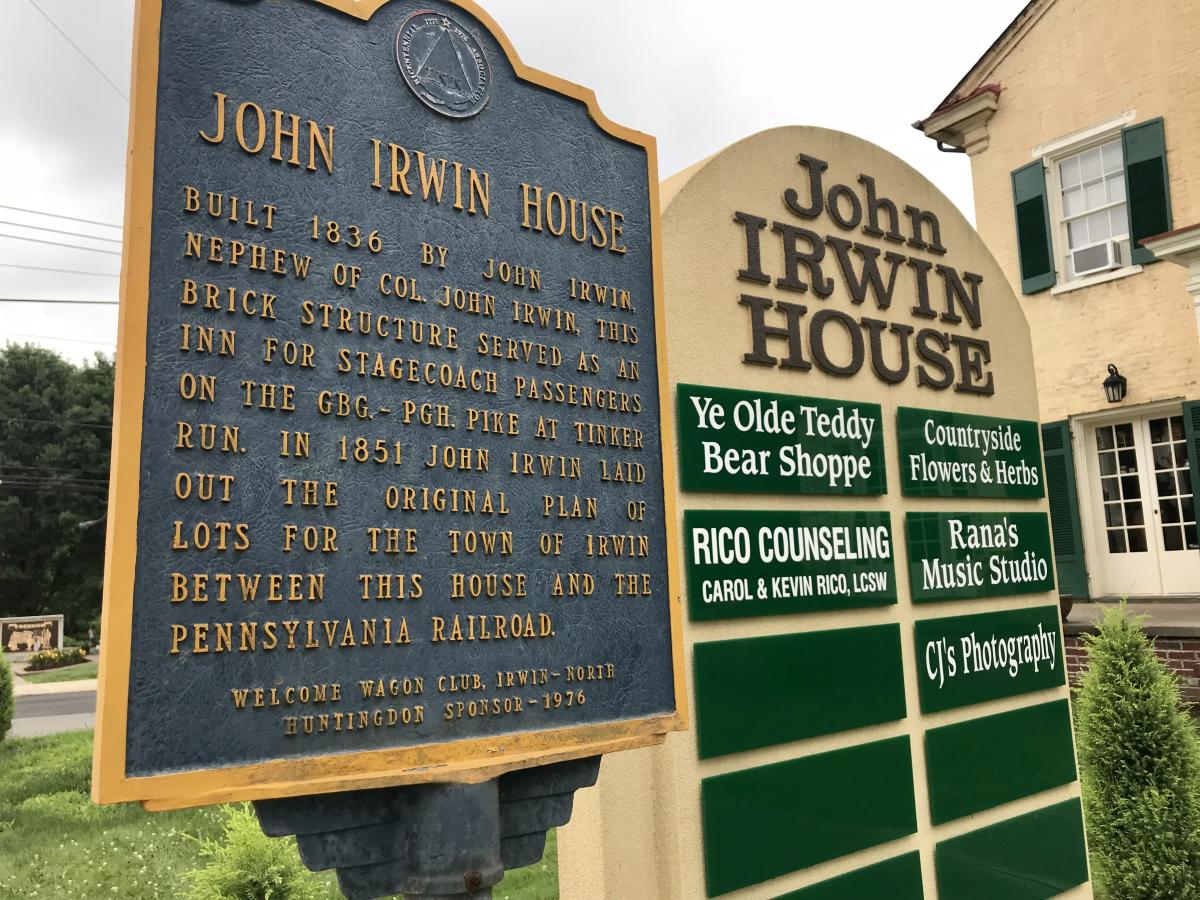 As I made my way to the Ye Olde Irwin House, one of the private homes caught my attention and brought me back to my childhood visit to Irwin with my grandpa. I wasn't in the home, but I remembered the turret and windows of the home. It's beautifully restored! Funny how those little things hang around in your memory.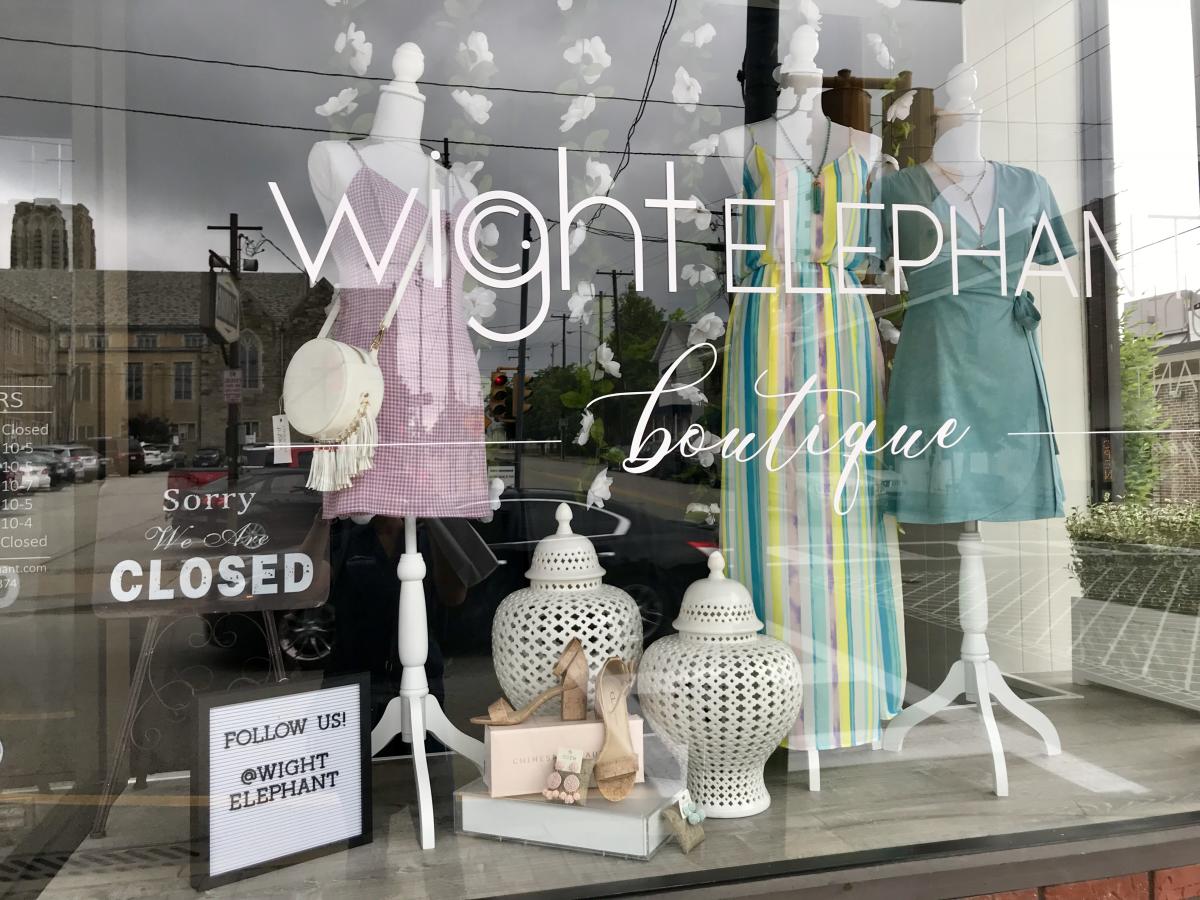 As I headed back up the street, I popped into several awesome shops and boutiques including Oh, What Fun! I hit the birthday jackpot in this toy store. I loaded up with a doll-sized tea set she can paint on her own, an outfit and teeny little sparkly shoes for her doll and, of course, some candy. Next door I found the Wight Elephant Boutique, a women's clothing store. Oh, I could do some serious damage here. EEK! Their grand opening was slated for the following Saturday, so I think it's safe to say, I'll be back.
I could have spent all day in downtown Irwin, but had planned to visit Schramm Farms and Orchards, just a short drive away. The sun had just peeked out from behind the clouds as I pulled into the parking lot, where a little boy greeted me. He was there with his grandma and thought I could use a hello. What a welcome!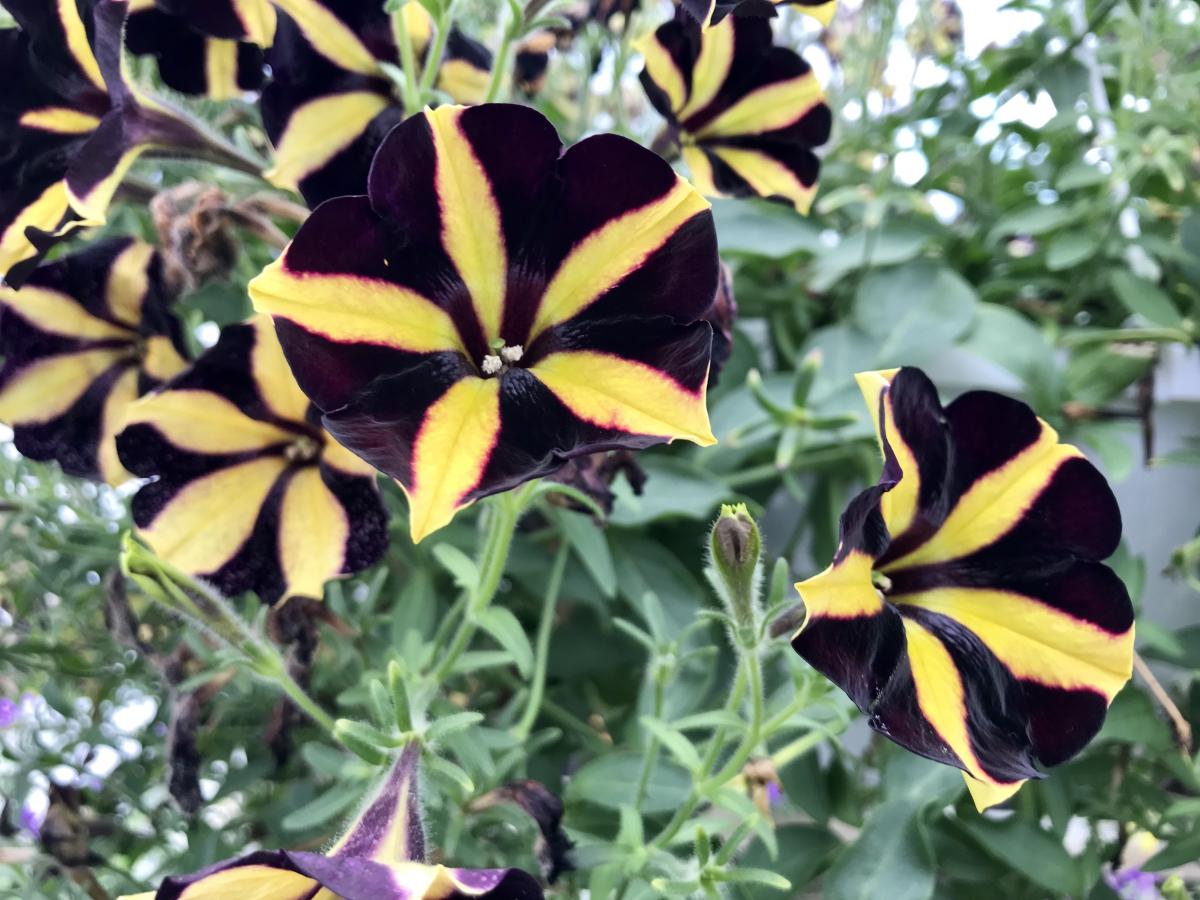 I meandered through the greenhouses before heading into the main store. Here I found a bevy of fresh herbs, perennials, annuals and more. Plus, this awesome black 'n gold striped petunia hanging basket. Go Steelers!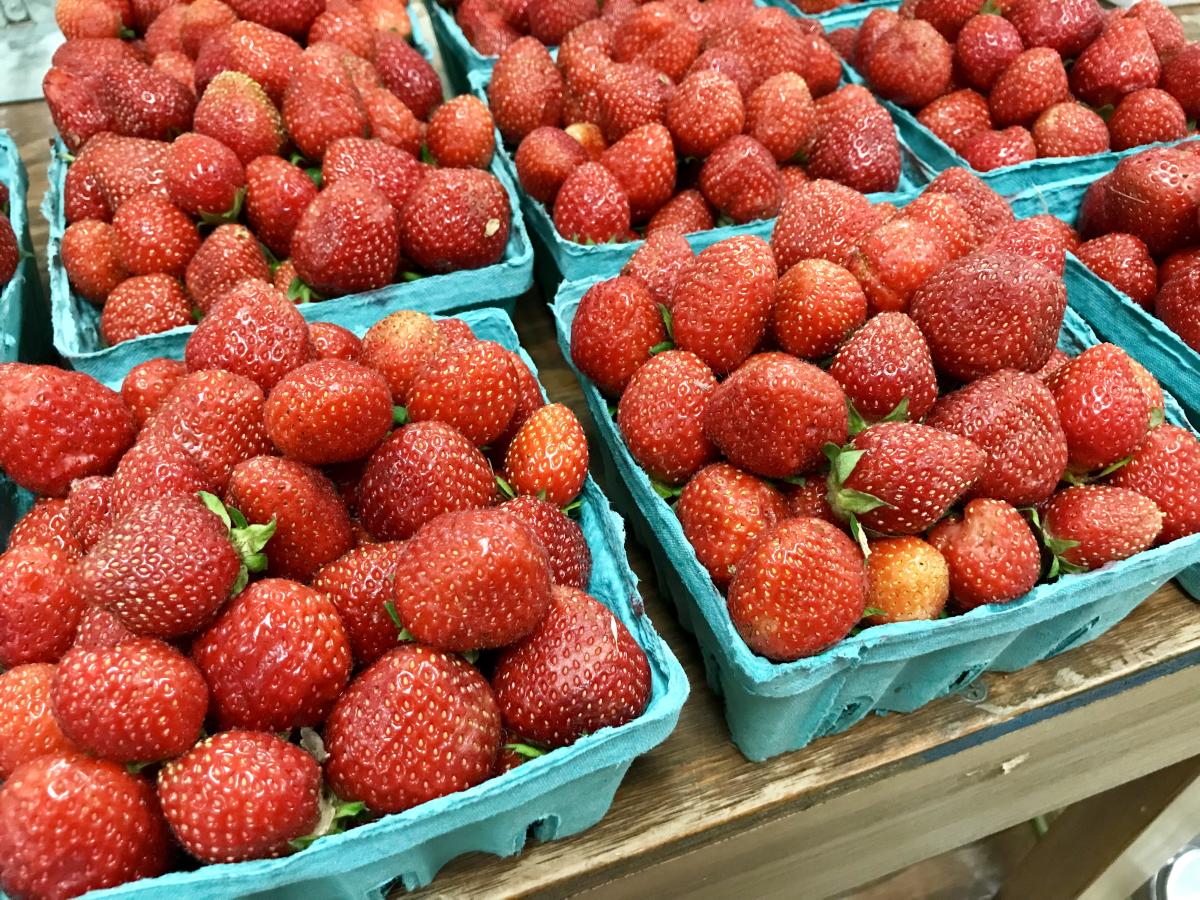 So what was on my shopping list? I wanted to get some yummy fresh produce for our birthday dinner celebration and let me tell you Schramm's did NOT disappoint. I loaded up my basket with fresh asparagus, sweet strawberries and tart radishes – all grown on-site! Plus, I scored a bottle of spicy avocado and tomatillo salsa for snacking on later and a bottle of wine from their selection of Arrowhead Wine Cellars.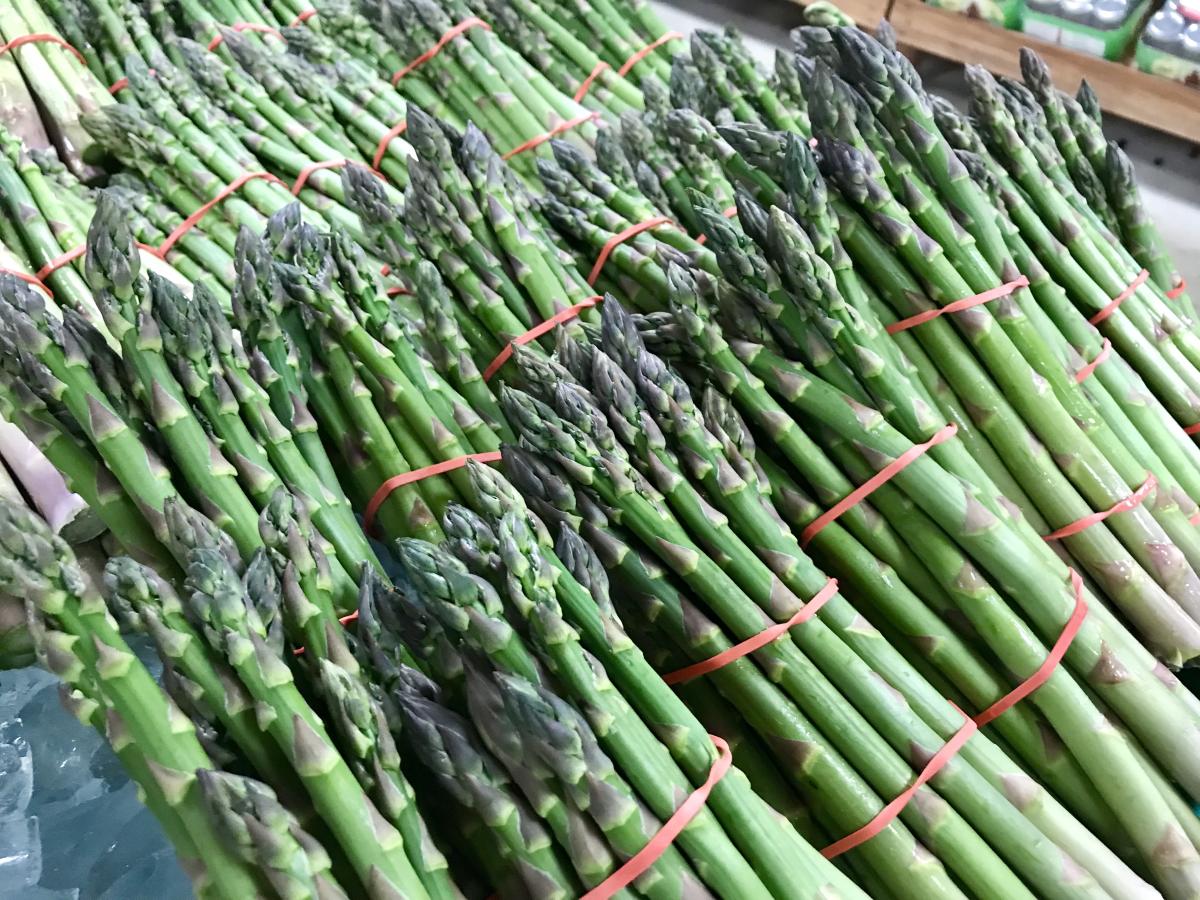 Let me tell you, the asparagus was perfect on the grill, the radishes were a hit with a side of ranch dipping sauce and the strawberries were amazing atop vanilla ice cream. And I even shared my salsa and wine with my husband. Begrudgingly, but at least I shared, right?
If this adventure into downtown Irwin and beyond sounds like something you might want to do, check out their calendar of events. The slogan on the trailer is right – "There's Always Something Happening In Irwin!" From Music in the Streets on Thursday evenings in the summer and their Ethnic Food Festival and Spring Craft Show to Gig on Main and more, Irwin is charming must-see destination in the Laurel Highlands!