Whether you're renting a rustic cabin for the week or planning a weekend getaway to a treehouse, put on a warm sweater, pour a mug of hot cider and enjoy all that fall in the Laurel Highlands has to offer.
Camping in the Laurel Highlands is a year-round activity but autumn is arguably the most beautiful time of year to visit, with dozens of options ranging from pitching a tent in a state park to staying in the comfort of your own recreational vehicle. Have you heard of glamping? This could be the year to try this posh new way to "fancy-camp", and fall is the perfect time to do it.
Spectacular colors and breathtaking landscapes have earned the Laurel Highlands annual ranking as one of the top 10 fall foliage destinations in the United States according to USA Today, which further emphasizes why you need to experience the autumn grandeur for yourself.
An outdoor enthusiast's paradise due to its abundance of hiking, biking and watersports options, Ohiopyle attracts millions of visitors per year. With nearly 20,500 acres of rugged natural beauty and more than 200 camping sites, it's easy to find a spot to call your own for a few nights. Camping is available until mid-December, with options ranging from tent sites to camping cottages and yurts, which sleep up to five people and include a refrigerator and microwave.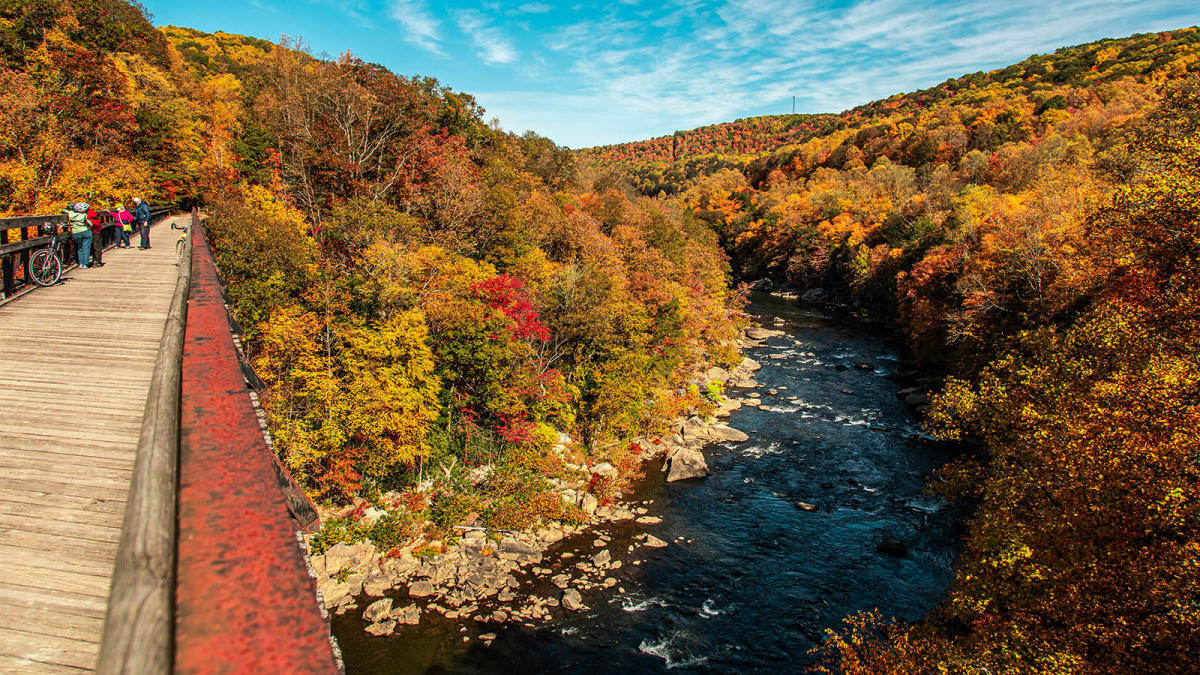 Whether you're looking to pitch a tent, rent a cabin or park your RV, Mountain Pines is a wondrous place to spend a few nights no matter the season. With the largest outdoor swimming pool in Pennsylvania, a miniature golf course and dozens of amenities, there's plenty of family fun to be had without ever leaving the campground. However, those seeking adventure are within a short drive of superb downhill skiing, hiking, biking and watersports.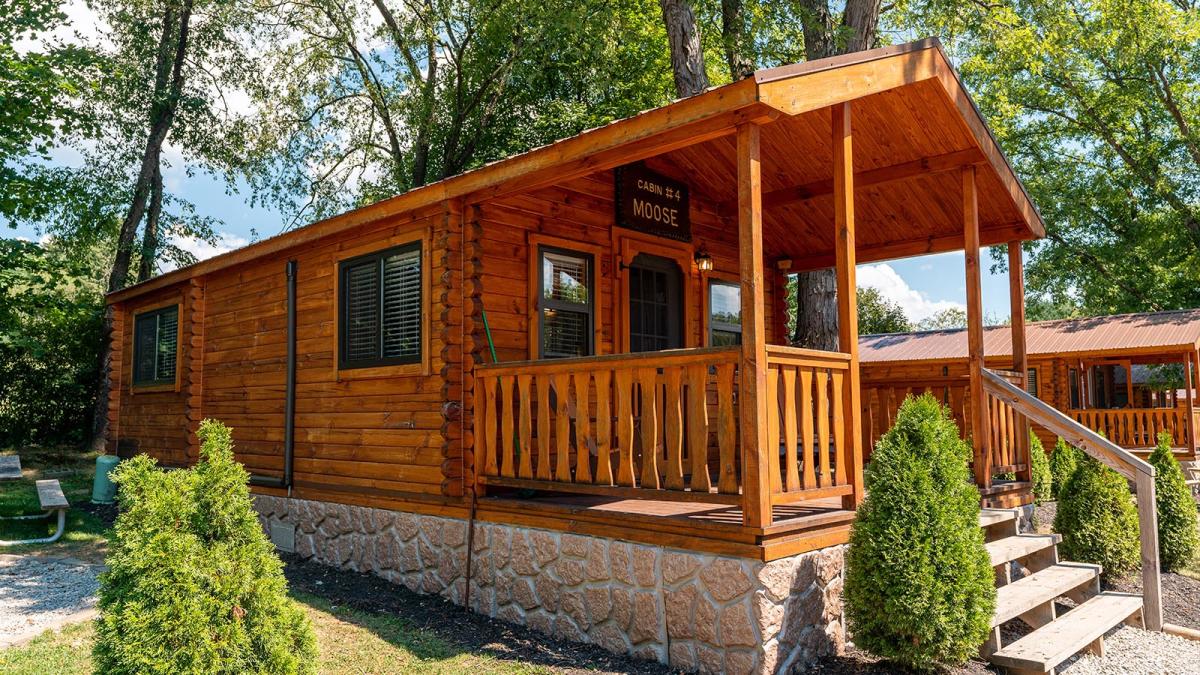 Want to enjoy the great outdoors without giving up the creature comforts of home? Pine Creek is waiting to welcome you. Located on five wooded acres, this cozy tent features a king bed, electricity, air conditioning/heat, a refrigerator, coffee maker, full outdoor bathroom, and rocking chairs overlooking the gently flowing waters of Quemahoning Creek.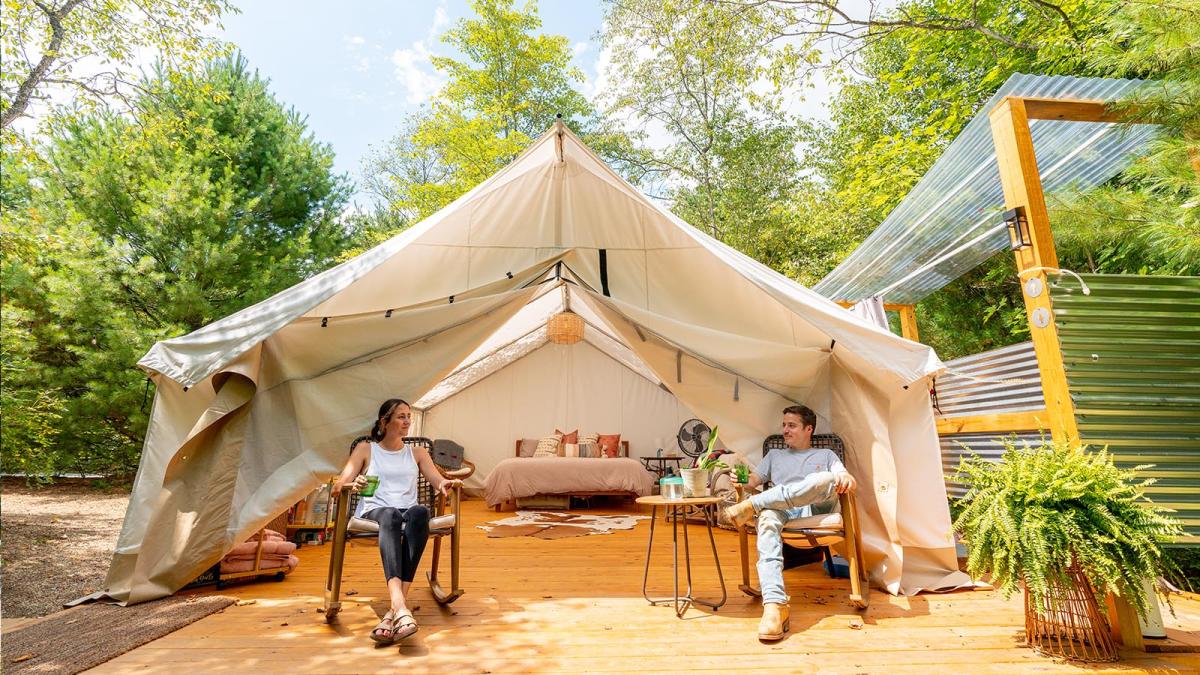 If you dream of immersing yourself in vibrantly colored leaves and sleeping among them, this luxury treehouse will be a fantasy come true. The 900-square foot cabin, which is built off the ground, sleeps six. It boasts three covered patios from which to take in the surrounding forest, a private hiking trail and a hot tub. Its remote setting allows visitors to feel at one with nature while still being within a short drive of attractions such as Fallingwater, Ohiopyle State Park and Laurel Caverns.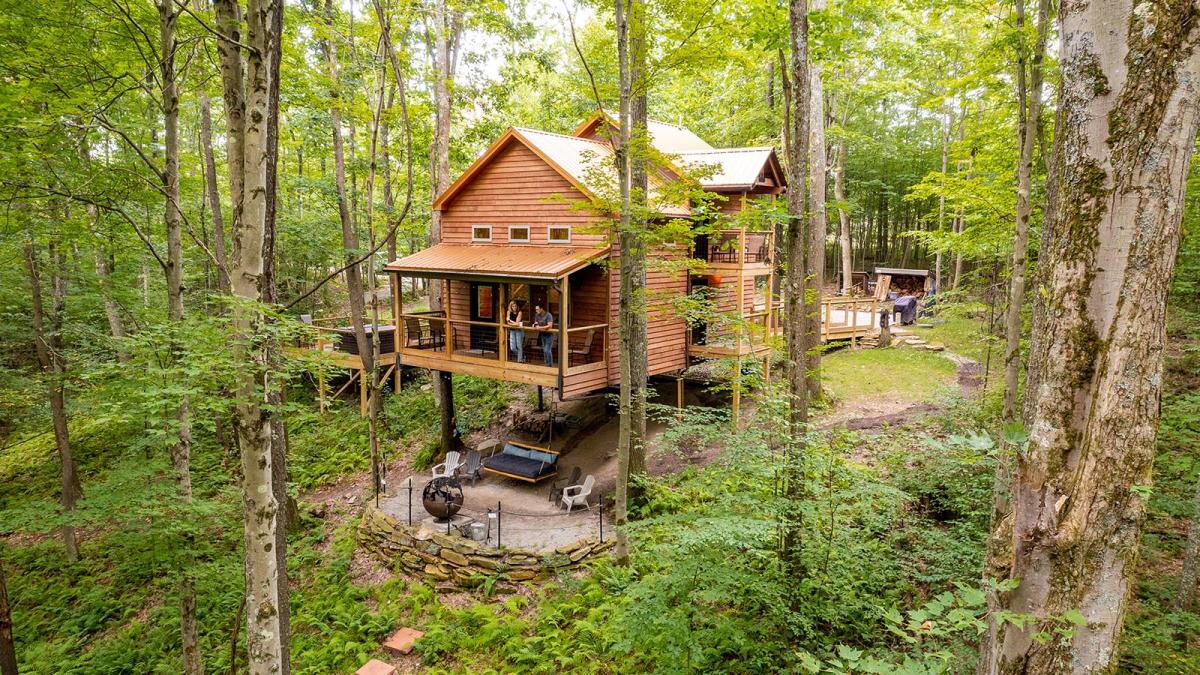 Hey, Boo-Boo, what's a great family destination in the Laurel Highlands? Why, that's an easy one, even if you're not smarter than the average bear. It's Yogi Bear's Jellystone Camp-Resort, of course. Camping is available through Oct. 31, although some activities are not available on the final weekend. Some cabin rentals and RV hookups are available year-round, so there's no need to hibernate all winter!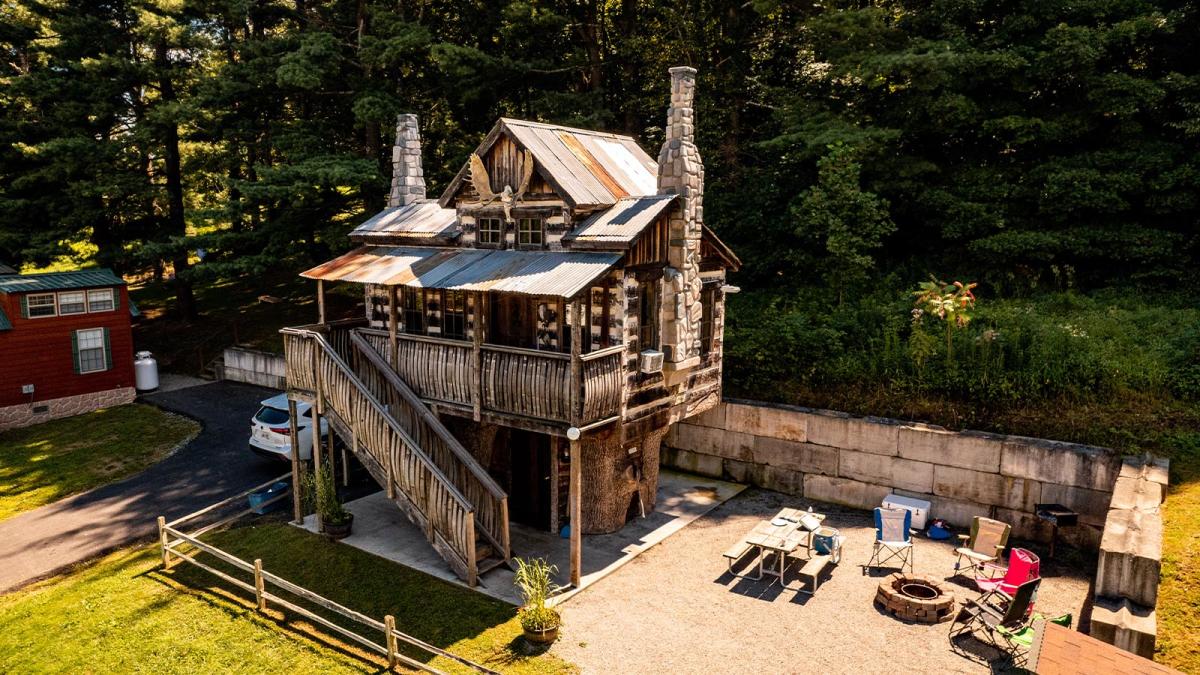 Whether you're checking out the scenic beauty of this 612-acre park with a mixture of hardwood and evergreen forests or enjoying the serenity of Adam Falls, Linn Run is a great option for an overnight stay. Rustic cabins, which are available year-round, feature a kitchen with refrigerator and stove/oven, fireplace, heater, fire ring and beds. A private restroom with shower, toilet and sink is located a short walk from each cabin. An ADA-accessible modern cabin with running water and a full bathroom is also available for rent.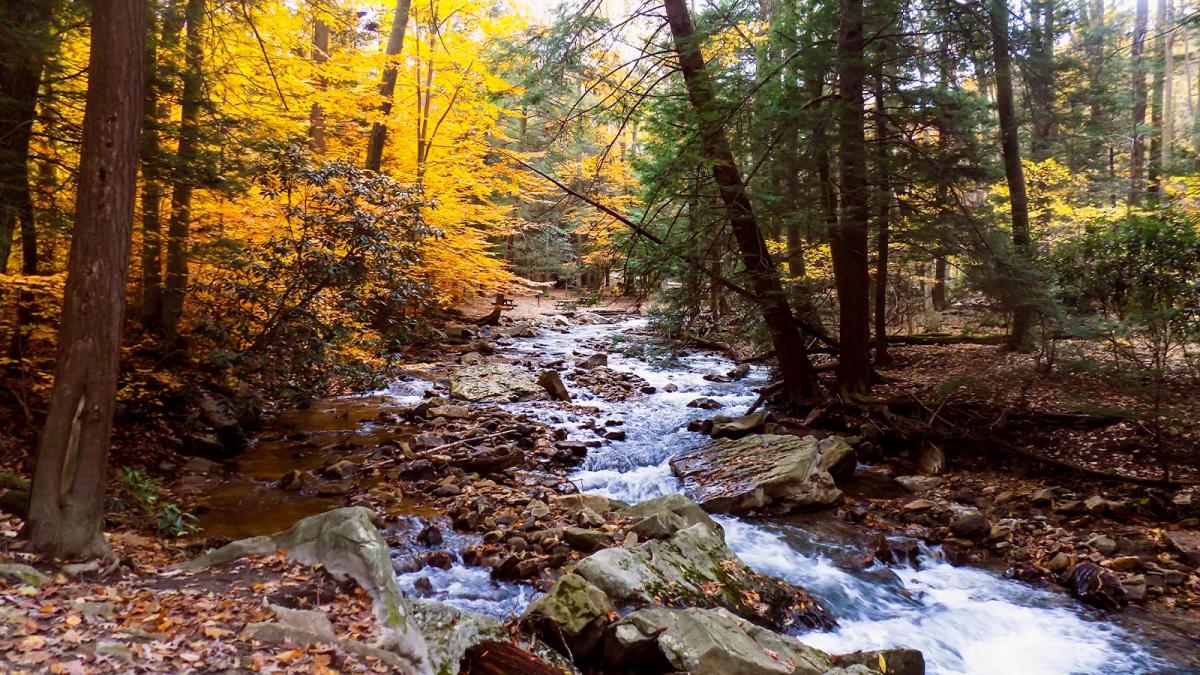 Located just four miles from the Connellsville trailhead of the Great Allegheny Passage, this is a very popular option for bicyclists. KOA features everything from tent sites to glamping and RV sites to deluxe cabins. For the first time, the campground is offering winter options, with a select group of cabins and sites available.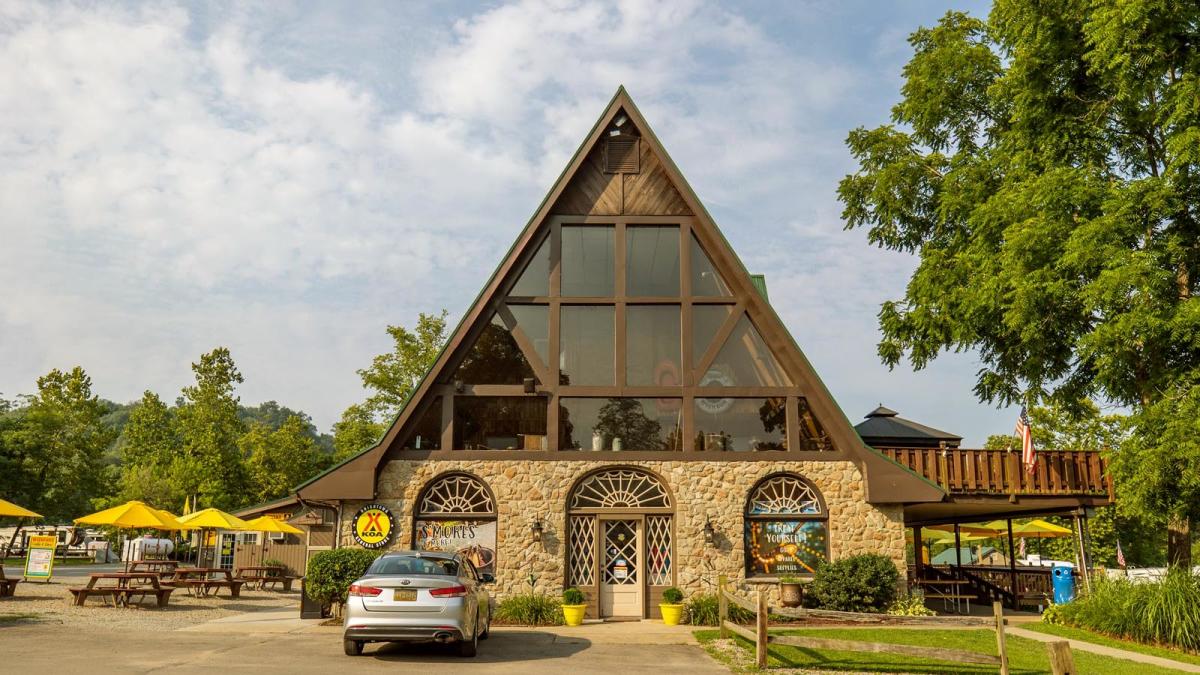 Year-round camping for RVs, fifth-wheels and campers is popular here that many folks have decided to make this their permanent home. If you're looking for a shorter stay, you can pitch a tent or bring your camper then enjoy all of the park's amenities. Those include two fishing lakes, indoor and outdoor pools and much more. It's conveniently located off the Pennsylvania Turnpike and within a short drive of attractions such as Living Treasures Wild Animal Park, Seven Springs Mountain Resort and Hidden Valley Resort.