Introduction and Recipes Courtesy of Donna Holdorf, Executive Director, Historic National Road
"For thousands of years, three elements of human history have been inseparable—people, paths and the food people carried with them or gleaned along the route. Some paths, if they were important enough to enough people, became roads that transported nations into their futures. That is how it was with The National Road across the Laurel Highlands. Grub to Gourmet the History of Food along the National Road celebrates the foods that fueled America's journey from the wild frontier to the present day, over a road that arose from a path scuffed by purposed footprints. 
Across more than 250 years of American history, people from varied cultures traveled the National Road for all kinds of reasons. Whoever they were, wherever they came from, wherever their dreams propelled them, they brought with them those foods they could transport, gleaned others along the way, or acquired what they needed through trade or work. They relied on familiar ways of preparing food but learned new methods from other travelers they met. Often, necessity demanded they improvise with the simplest essentials.
Understanding food along the National Road, its portability and preparation, helps us today, in well-equipped kitchens with diverse pantries, to grasp the hardships and pleasures of explorers, soldiers, American rebels, builders, drovers and the earliest masters of the automobile. A quest for that intimate connection to history is what moved the National Road Heritage Corridor to assemble these recipes for your enjoyment. We hope you savor them with friends and family for years to come, reflecting now and then on how this road influenced the world."
So why should you travel the National Road as a foodie? The Historic National Road offers heritage and cultural elements that enhance the travel experience and make the journey as interesting as the destination. Dine in a former stagecoach stop or tavern with menus that offer a taste of typical fare served to travelers during the National Road's heyday. Menu items also reflect the diverse ethnicities of the region, as immigrants from all over the world arrived in America and traveled the Historic National Road to find their promised land. 
While you travel, take the opportunity to explore the artisan crafting of spirits along the National Road, including several stops along the Laurel Highlands Pour Tour. Influenced by the Whiskey Rebellion, an uprising in southwestern PA that was an antecedent to the National Road, you can find amazing locally made liquor and liqueurs, carefully crafted and often using locally grown ingredients.
Enjoy two great recipes included in Grub to Gourmet below, and purchase your copy online at their website. We used two corn-heavy recipes as we head into fall, but you'll find four seasons of flavor contained in this unique cookbook!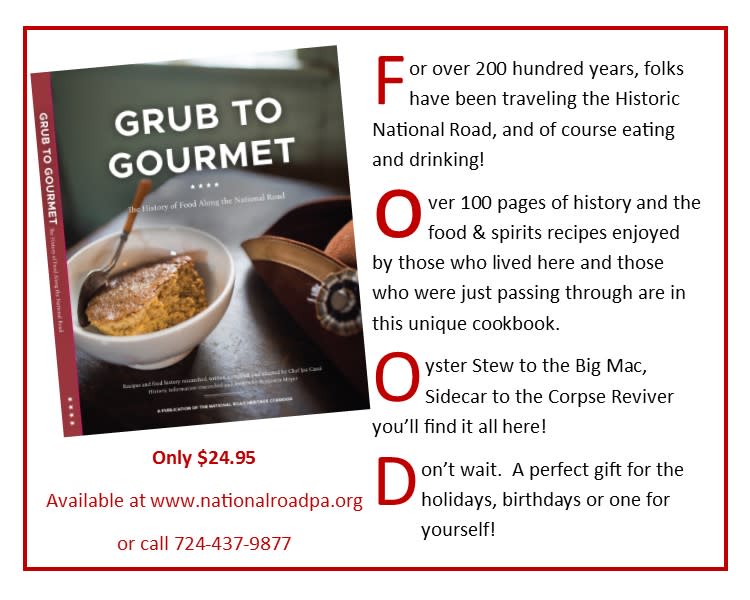 Green Corn Pudding
Green corn pudding was a treat during the early harvest when the corn was just ripe.  However it can be made from more mature corn or reconstituted dried corn, but not as tasty and a much longer cook time.
Ingredients
6 ears corn
3 eggs, separated
2 tablespoons butter, melted
1/2 teaspoon salt
1/4 teaspoon pepper
2 tablespoons sugar
1 1/2 cups milk or cream
Directions
Separate eggs. 
Clean corn and then cut through center of each row of corn to release milk. 
Cut kernels off cob into bowl.
Beat the egg yolk and add to the corn with the melted butter, sugar, salt and pepper. 
Incorporate the milk. 
In separate bowl, whip the whites to peaks and fold into the mixture. 
Pour in a greased casserole dish or 8x8 bake pan. 
Place in 350 degree preheated oven for 45 minutes. 
Note:   For a creamer corn taste, grate the kernels off of the cob and reduce the amount of milk used.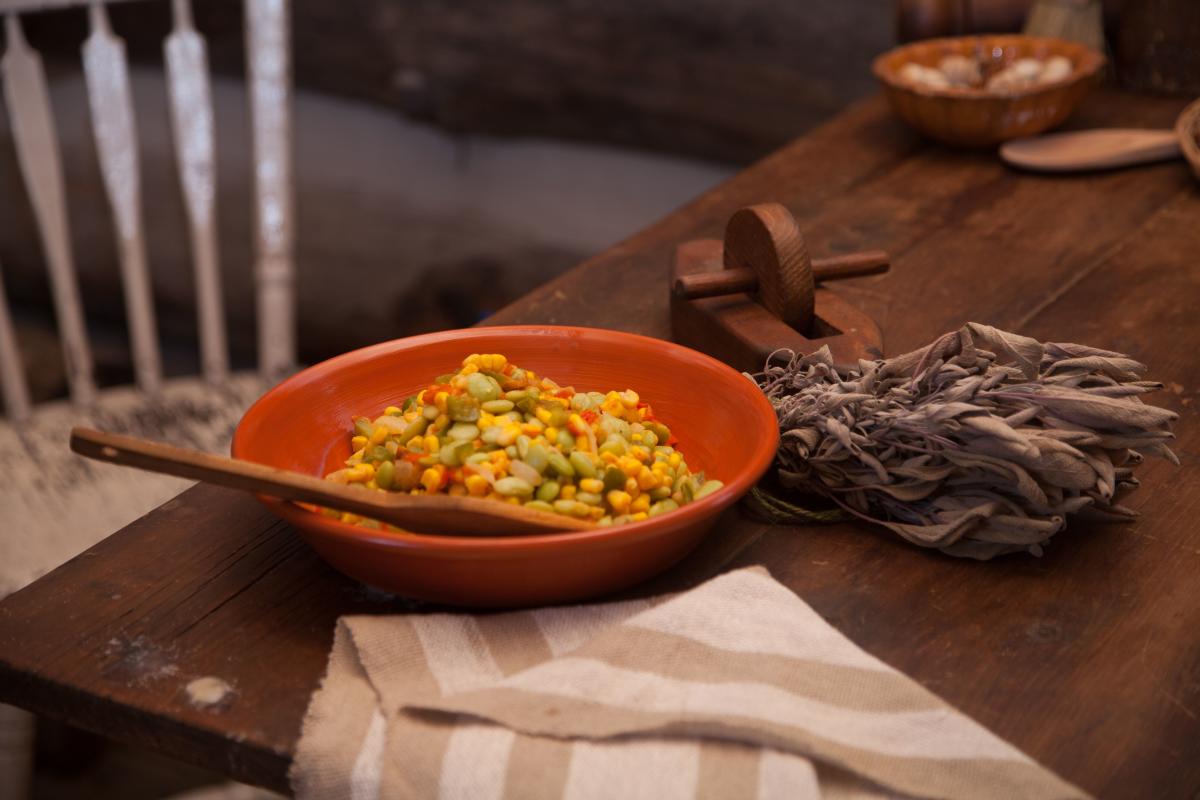 Succotash
Derived from a Native American dish that means 'broken corn', it was an easy and very nutritious dish for anyone on the trail. Lima beans were easy to dry, onions were readily available and you can throw in other ingredients, like ham, bacon or any seasonal vegetables for varied options.
Ingredients
4 ears corn
3 cups lima beans
1 cup green onions chopped
2 sweet peppers diced
1/2 cup suet or butter
Salt and pepper to taste
Directions
Remove corn from cobs and place in saucepan. 
Add lima beans, suet and water, and simmer covered, for 10 minutes. 
Add onions and peppers, simmer uncovered for an additional 10 minutes. 
Salt and pepper to taste. 
Note: Bear grease, not suet or butter, was the original fat for authentic succotash.