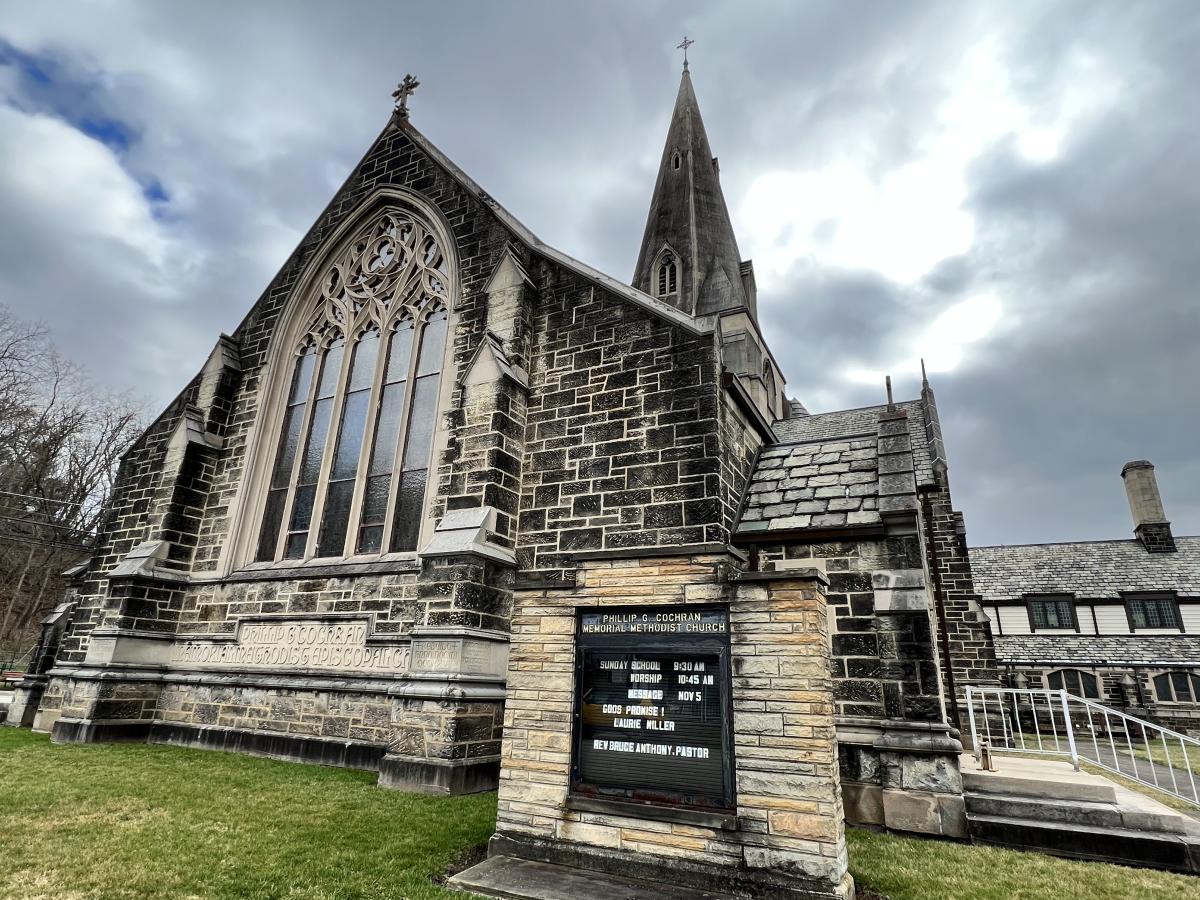 Fayette County native Sarah B. Cochran rose from abject poverty to become America's "Coal Queen," a fierce fighter for women's suffrage and a philanthropist who helped men and women across three states gain access to higher education.
March is National Women's History Month, and that makes it the perfect time to focus on Cochran's incredible story, but hers is one that should be celebrated regularly across the Laurel Highlands.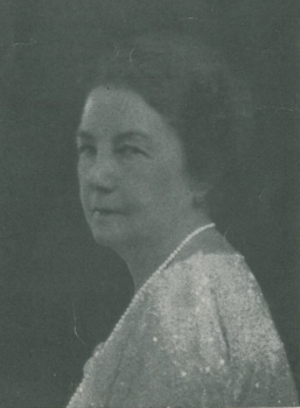 Linden Hall, a Tudor-style mansion, and the Philip G. Cochran Memorial United Methodist Church in Dawson are two lasting monuments to Cochran and her family. Both are on the National Register of Historic Places.
"She wasn't afraid to take up space in the world and she wasn't intimidated," said Kimberly Hess, author of "A Lesser Mortal: The Unexpected Life of Sarah B. Cochran."
"She was teaching women how to take care of themselves," Hess said. "In the 1910s, the vote and a college degree were the two things that a woman needed to be self-sufficient."
Early life
Born Sarah Boyd Moore in 1857, her parents were farmers. It's not clear if her family owned the land they farmed, but they were so poor that young Sarah and her sister couldn't attend school on the same day. They shared a dress and would alternate wearing it.
To help her family supplement its meager income, she took work as a maid in the nearby home of wealthy industrialist James Cochran. There, she fell in love with Cochran's son, Phillip, and they were married in 1879. A year later, she gave birth to the couple's first – and only – child, James Phillip Cochran.
Coal and coke
Phillip was being groomed to take over the family coal and coke businesses, and when James died in 1894, he did just that. James Cochran was the first to sell coke – coal's byproduct that was instrumental to the steelmaking process – from his Fayette County base, according to Hess.
Laws at the time prevented women from working in or around coal mines. Still, Phillip wanted her to be a part of the industry.
"He believed in Cochran's intellect and taught her the business even though business was considered a man's world," Hess wrote.
When Phillip Cochran died just five years after his father, "his will made Sarah the executrix of his estate, left her one-third of the estate, and put her in 'full charge, care, and control' of the other two-thirds until their son would turn twenty-one," Hess wrote.
Tragedy struck again, however, before he reached that age. While studying at the University of Pennsylvania, James Phillip Cochran died of pneumonia, leaving Sarah widowed and childless at 44 and with full control of the family's financial interests.
With roots stretching from Pennsylvania into Tennessee, Virginia, and West Virginia, Cochran's businesses were competing with contemporaries such as Henry Clay Frick in a male-centric world. Even so, the companies thrived and her fortune grew substantially.
"Under her leadership, the business grew threefold and was said to have expanded to sell coke in England, France, Germany and Mexico. At one point, Cochran was called 'the nation's only coal queen,' " Hess wrote.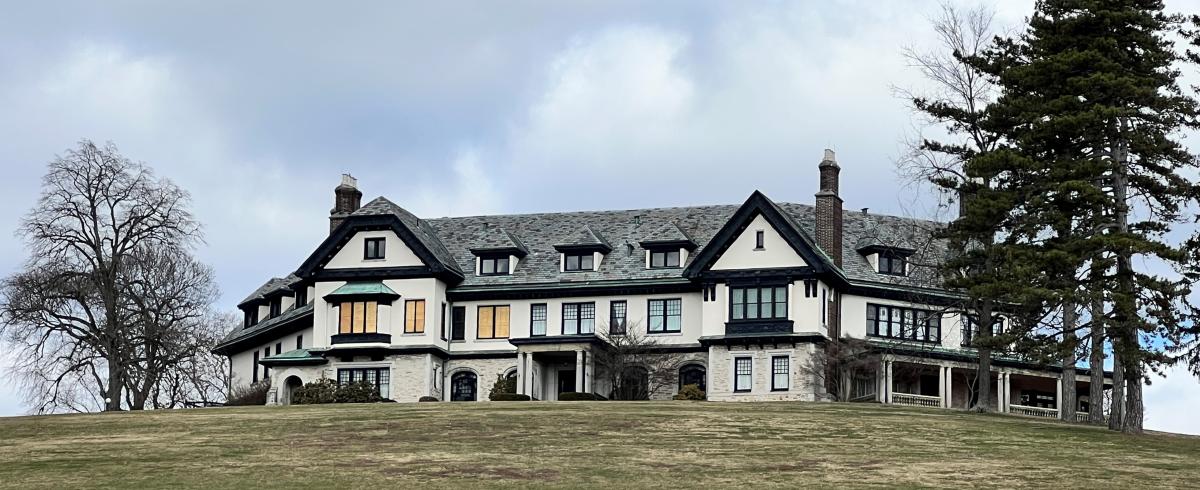 Linden Hall
Rather than rest on her laurels, Cochran was always looking to learn as she grew older. She spoke openly about radio shows that she listened to and books that she was reading.
"She was finding ways to learn and interact with the larger world despite what she started with and had access to," Hess said.
She traveled to Europe and Asia, picking up ideas along the way. It's said that her plans for Linden Hall at Saint James Park were inspired by a trip to London.
The 35-room mansion was built between 1909 and 1911, and she spared no expense in its construction.
"She had 60 Italian stonemasons working on it," Hess said. "She offered to sponsor them for American citizenship. It's such an interesting example of who she was. She wanted them to have a place here if they wanted it."
The home, which was dedicated on Christmas Day 1913, is said to have cost $2 million. The home was purchased by the United Steel Workers of America in 1976 and restored. It now serves as a training center for steelworkers but is also available for weddings and conferences. It also features an 18-hole golf course.
While Cochran used her wealth to obtain the finer things in life, she never saw herself as better than anyone else. In fact, the final decade of her life was spent as an invalid after she was injured. Hess said Cochran was helping servants move furniture at Linden Hall when a gust of wind blew the door against her and injured her.
"That was an example of how democratic she was. She wasn't above helping servants."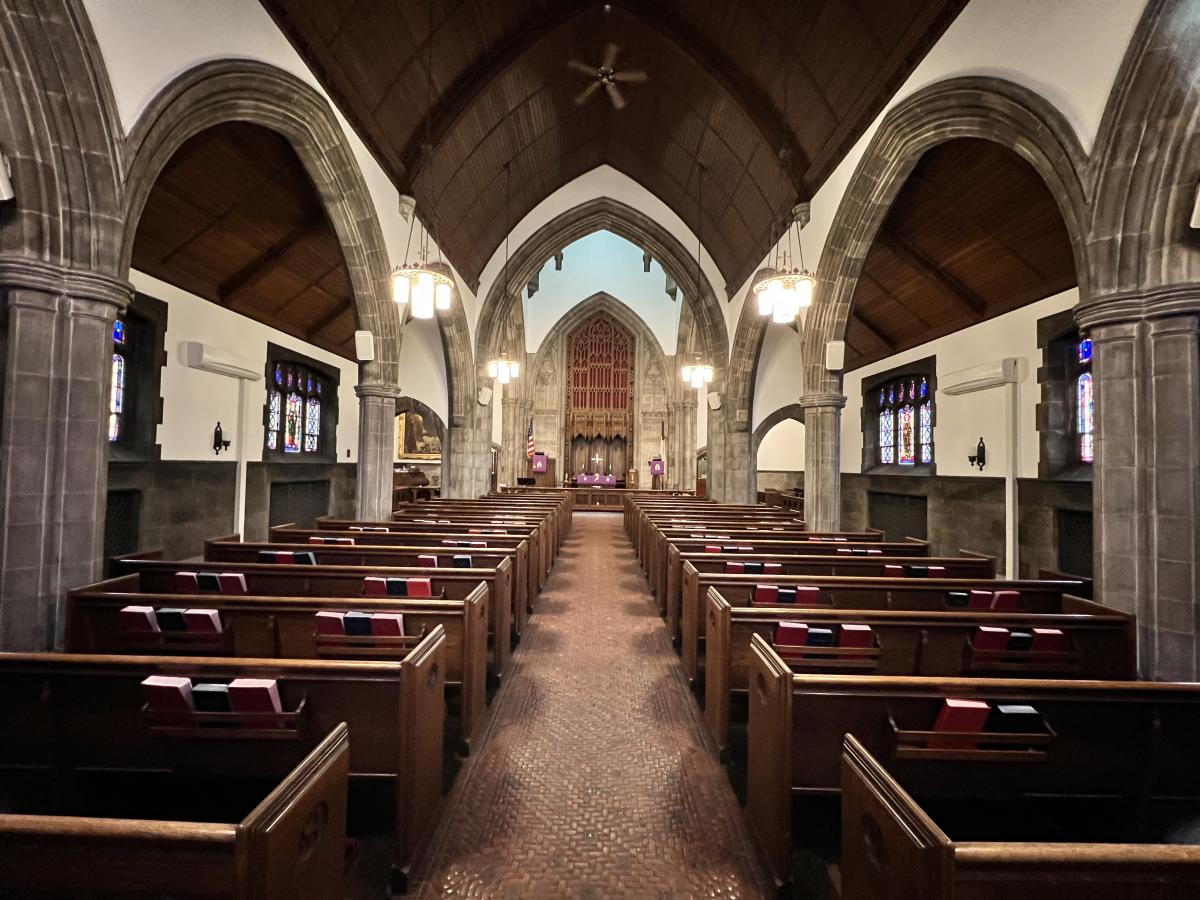 A woman of faith
Religion played an important role in Cochran's life. She sponsored the 1907 World Sunday School Exposition in Rome. She hosted the Methodist bishops of the world at Linden Hall in 1916 in what was reportedly the first such meeting at a private home.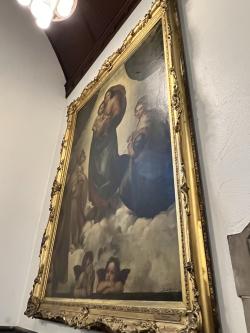 And she financed the construction of the Philip G. Cochran Memorial United Methodist Church in Dawson. It was dedicated in 1900, and she later added a brick house to be used as a parsonage and an area for Sunday School.
As the tiny town of Dawson grew with the coal and coke industries, so did the church's congregation. In October 1922 its membership was 400 with an average attendance of 165. Cochran decided that the church should be replaced with a more extravagant Gothic structure, which was dedicated in 1927.
As it approaches its 100th year, the Philip G. Cochran Memorial United Methodist Church remains a jaw-dropping structure. Its limestone exterior and 105-foot steeple are impressive enough, but the real payoff is inside the sanctuary. Stained glass windows memorialized Cochran's husband and son as well as tributes to the gospel writers. A 12-foot copy of Raphael's Sistine Madonna hangs in the church. When Cochran purchased it in 1906, it was one of only two in the world, and she outbid Andrew Carnegie to get it.
One of the most impressive parts of the sanctuary is a piece that's easy to overlook. Located on the aisle side of one of the heavy wood pews, halfway to the altar is a plate on a pew. It reads simply "Mrs. Sarah B. Cochran" as a tribute to her regular seat in the church.
"People with normal egos that spent all this money to build this church would want a plush seat right in the front or in the back, where they would be artificially humble," said Roy Hess, the great uncle of Kimberly Hess and chairman of the church's board of trustees. "She wanted to be right in the middle, right with the people. That's the kind of person she was."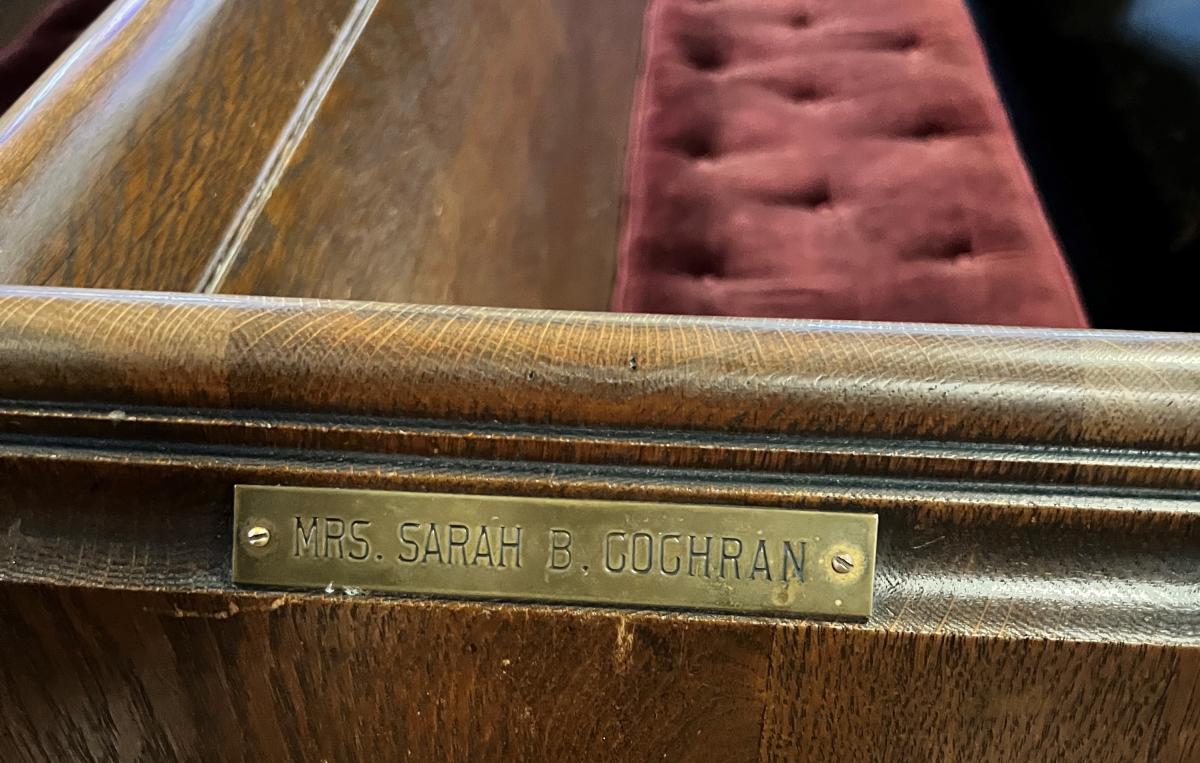 Educational opportunities
Cochran's philanthropy extended well beyond Fayette County's borders. She helped fund the construction of not one but two Cochran Hall buildings – one a men's dormitory at Allegheny College and one a women's dormitory at Otterbein University. She supported the Phi Kappa Psi fraternity that her son had joined at Penn, and became the "mother" to the West Virginia Alpha Chapter (with their house named after her following her death), according to Kimberly Hess.
She served as a trustee at Allegheny College, Beaver College, and American University.
Cochran also paid tuition for local men and women to obtain higher learning. One of those was Henrietta Spoat-Stillwagon – the great-grandmother of Kimberly Hess – who attended Pennsylvania Normal School at Indiana, which is now part of Indiana University of Pennsylvania.
Cochran's philanthropic efforts likely impacted the lives of thousands, as she helped improve the lives of generations that came after her. It's estimated that she donated $2 million prior to her death in 1936. Using 21st-century figures that would amount to more than $43 million.
"With her support of other people's education, it's the one thing she was probably never going to get," Kimberly Hess said. "Some people would say, 'If I can't have it, neither should you.' She didn't take that approach."
Hess, who holds an MBA and lives in New Jersey, said that even though Cochran died long before she was born, the businesswoman and those who followed her had a significant impact on her life.
"My mom put me in the stock market when I was 10, and so I was always familiar with the business world. But I also grew up hearing about Sarah Cochran and visiting Linden Hall. She was a model for me as far as having a business career," Hess said. "I think because of Sarah Cochran, and my great-great-grandmother I always saw capitalism and philanthropy as related. You can't have one without the other. I saw how they lived their lives and lifted up the entire community.
"I saw a woman in business and never thought that feminism and capitalism couldn't work together in some way."