Last Memorial Day, I took part in a learn-to-kayak program at Laurel Hill State Park near Somerset. I'd wanted to learn how to flatwater kayak for some time, but without a kayak of my own and without knowing anything about kayaking, getting out on the water seemed like an unachievable goal.
But thanks to the free Memorial Day lesson, which included instruction from Laurel Hill's Environmental Educational Specialist Kim Peck and use of the park's kayaks and equipment, I learned the proper way to get in and out of a kayak, how to paddle, and a variety of safety tips. The most difficult part of learning to flatwater kayak, I found, was learning my left from my right, which is very important when it comes to steering a boat. (I've never claimed to be the most coordinated person in the world.)
Once I had determined my right from my left, I fell in love with kayaking. Being in a kayak is like being a duck floating along on the water and it quickly becomes obvious that you're gaining a new perspective on your surroundings. Kayaking also offers the opportunity to explore areas that may only be accessible by boat. For instance, the far shore of Laurel Hill Lake is very difficult to reach on foot, but with a few simple strokes of a paddle, we were across the lake exploring everything from a secret beaver lodge to some in-season flora. There's something relaxing and peaceful about being so close to nature and flatwater kayaking is an almost effortless way to do so while also getting in some exercise.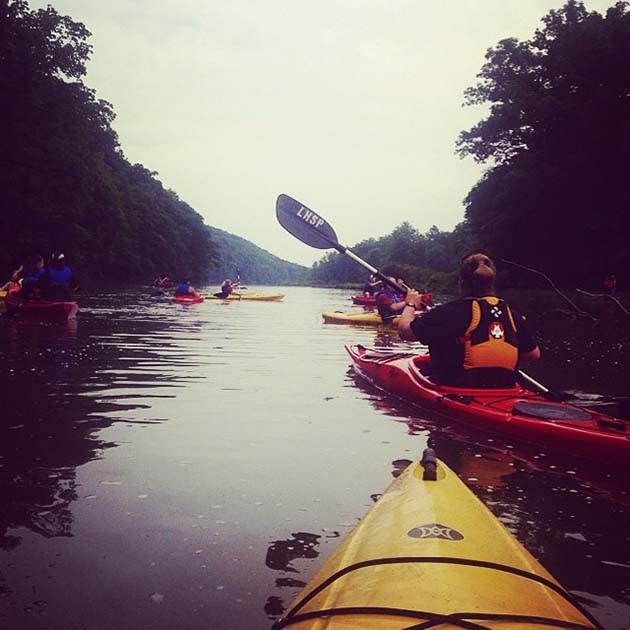 Since I learned to kayak last May, I've seized every opportunity I can to get out on the water, and I've encouraged friends and family to join me. So, to commemorate the anniversary of my kayaking "initiation," here are some tips I've learned that may help you and others who are interested in kayaking get out on the water, too.
Wear a lifejacket at all times: Though Pennsylvania law only requires having a personal floatation device (PFD) of appropriate size for everyone on board, lifejackets save lives and even the most experienced boaters can encounter trouble or can have accidents. According to the American Canoe Association, nearly 70 percent of drownings involving canoes, kayaks and rafts could have been prevented had the victim worn a personal floatation device (PFD). In the case of water safety, it's better to be safe than sorry.
Other items to have on hand: Make sure your PFD is equipped with a whistle or some type of sound device. If you get in trouble, a whistle or a similar mechanism will help you signal for assistance. Also make sure to have a light, like a head lamp, if you plan to be on the water between sunset and sunrise. The light will not only help you see potential hazards in the water, but it will also let other boaters see you. Having plenty of water, sunscreen, sunglasses and even a hat is also important, particularly on hot, sunny days when it's easy to get dehydrated and sunburned. Finally, I recommend investing in a waterproof case for you cell phone if you're planning on taking it with you. Dry bags, available at sporting goods stores, are another option to protect your valuables.
Paddling techniques: If you're a first-time kayaker or if it's been a while since you've been on the water, take a few minutes while you're still close to shore or in shallow waters to practice the different strokes you'll be using when you're underway. Review how to properly hold your paddle, how to paddle backwards and how to stop quickly, and, if you're like me, make sure you check that you know the difference between your left and your right.
Become a weatherman: Before you head out, make sure you know both the temperature of the water and the temperature of the air. Cold water shock can occur after immersion in water as warm as 50 or 60 degrees, and a drysuit or a wetsuit is recommended when paddling in water 60 degrees or colder, or when the combined air and water temperature is less than 120 degrees. Also take a look at the radar. A slight rain shower won't wreak much havoc on your paddle, but a heavy downpour can fill up your kayak quickly. If the radar shows a thunderstorm or lightning in the area, stay out of the water.
Bring dry clothes and a towel: No matter how skilled you are at flatwater kayaking, accidents can happen. Even after seven or eight times kayaking, I took a tumble while getting out of my kayak one evening and I ended up sitting in 8 inches of water on the beach at Laurel Hill Lake. (There isn't much gracefulness involved in getting in and out of a kayak, no matter who you are.) It's also likely you'll splash yourself with your paddle in one way or another while kayaking, plus there's a chance of waves, especially on windy days. Having a towel and dry clothes on hand can make the difference between being warm and cozy on your drive home or being soggy and miserable. 
If you don't own your own kayak, many state parks offer whitewater paddling programs at little to no cost for participants, and both the concession stands at Laurel Hill State Park and Keystone State Park rent kayaks for an hourly fee. Visit the DCNR website for more information on paddling programs and kayaking opportunities at Pennsylvania's state parks.