You wanted more Pour Tour? You got more Pour Tour! Red, White & Brews is the Pour Tour's newest micro tour, starting April 1 and running until May 16. You have 6 weeks to safely collect 16 check-ins to score your limited edition 4th of July Pour Tour shirt! Or should be say...li-beer-tee.
How It Works
1. Download the App
This is an app-only passport, so make sure you download the free Laurel Highlands Pour Tour app on the iTunes or Google Play store to participate. Use the app to see nearby locations, plan your trip and discover events happening at each winery, brewery and distillery.
2. Check In at Pour Tour Locations
While you're at a Pour Tour location, tap the location's profile on the app, tap check-in then take a photo of your purchase. Your phone will use geolocation to make sure you're in the right place, so make sure you're checked in before you leave. Your app will say pending until we approve your check-in, so don't panic!
3. Redeem Your Check-Ins For A Shirt
Once you complete 16 check-ins, tap your current level (see photo below) and fill out the form that pops up. Provide us with your name, email address associated with your Pour Tour account, shirt size and mailing address. Once you see the confirmation screen, we have received your pre-order and we will mail your shirt in time for the 4th of July!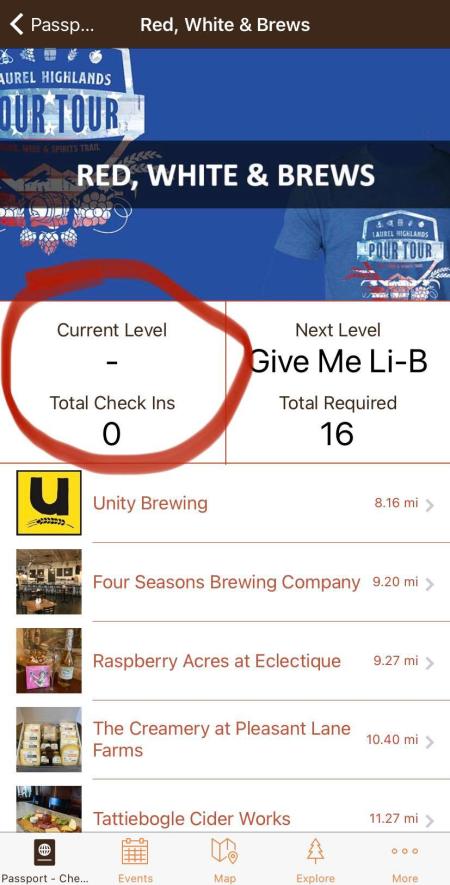 New Pour Tour Stops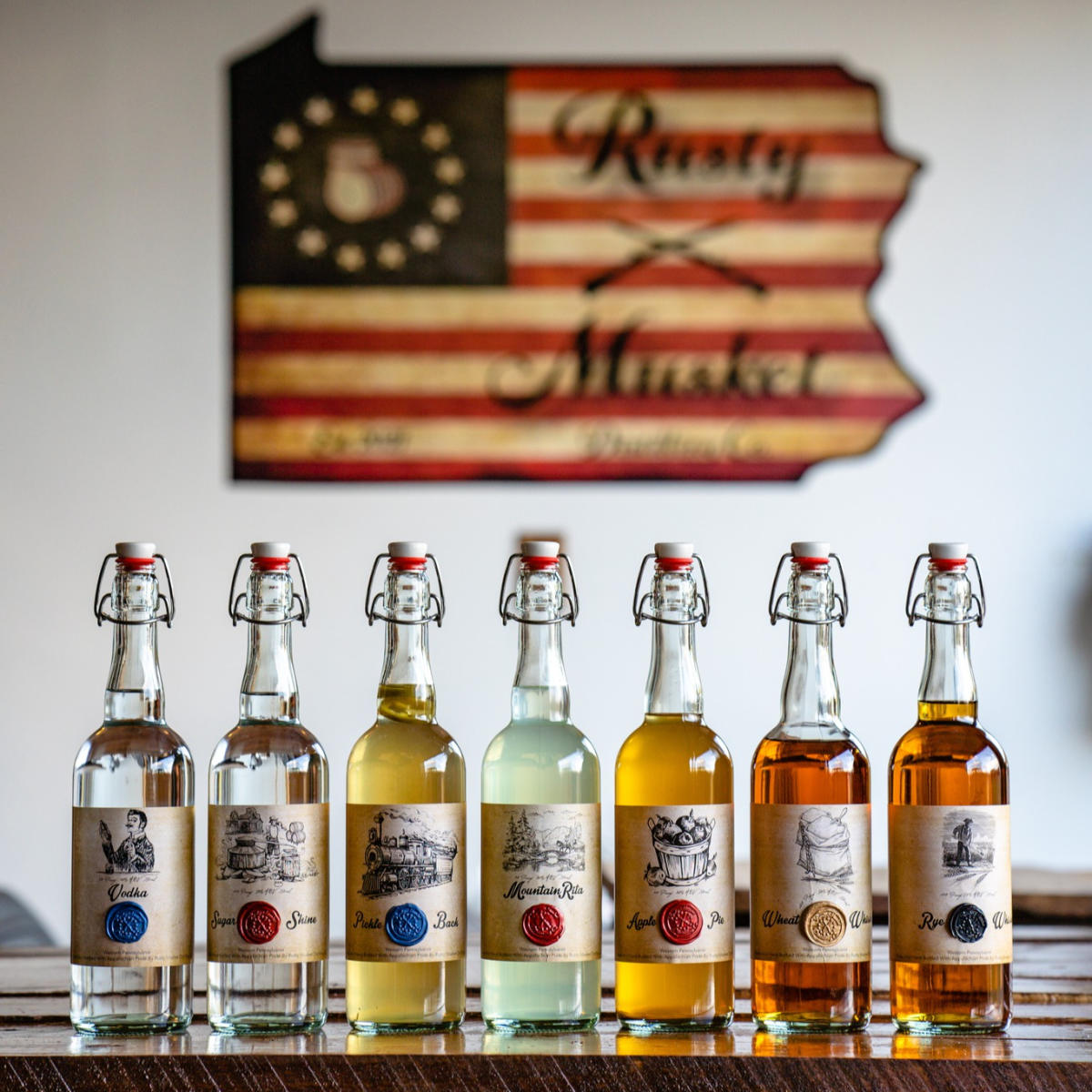 The newest distillery in the Laurel Highlands, Rusty Musket is a family-owned craft spirit distillery located in Boswell. They serve a variety of spirits in a laidback atmosphere, but their pickleback shots and apple pie mountain-style moonshine take the cake. There's always a unique event happening or a food truck posted up at the distillery during the weekend, so be sure to use the calendar on the Laurel Highlands Pour Tour app before you make your plans!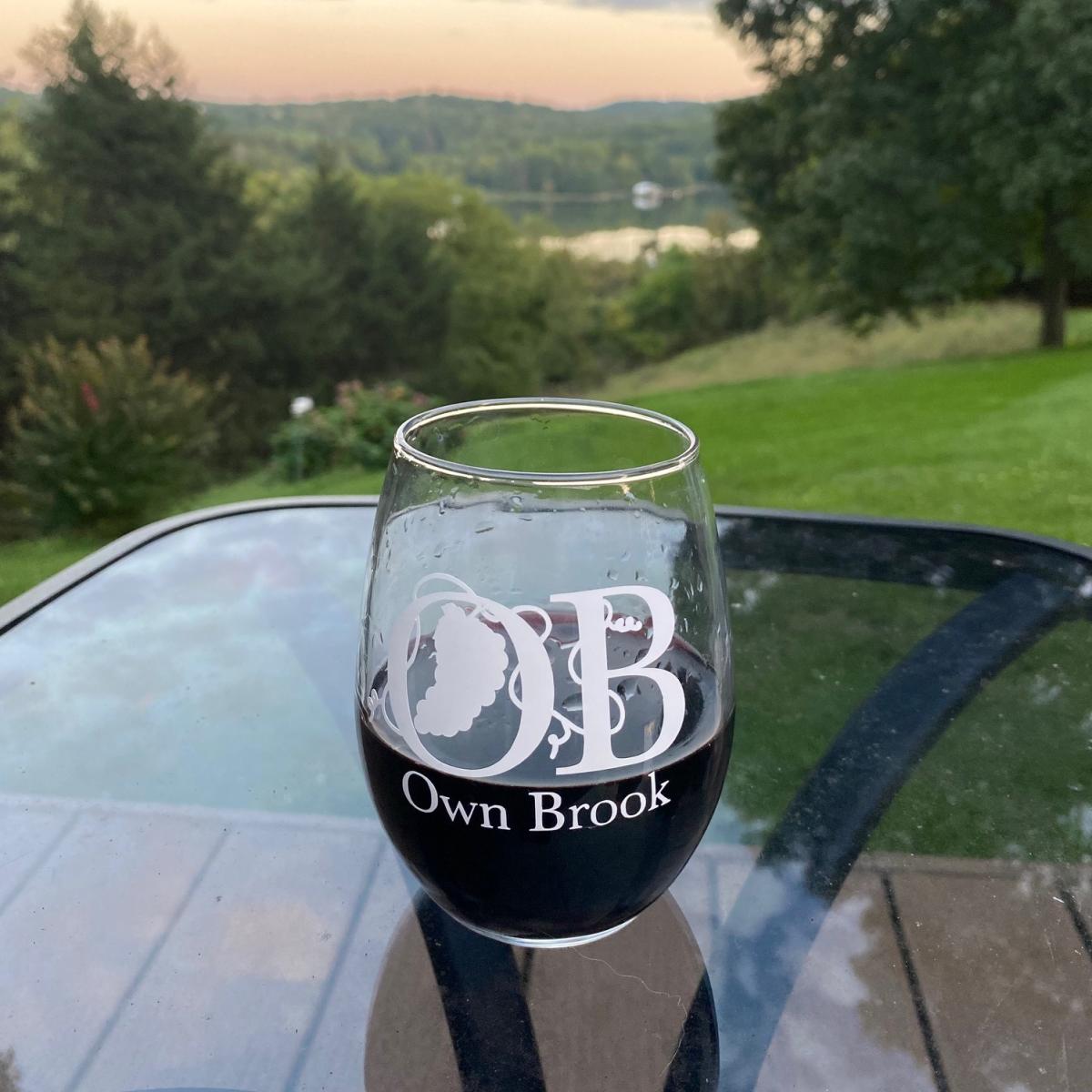 Nestled on a farm conveniently located in Greensburg, Own Brook Winery their doors for the first time in 2022. While the Fry family is familiar with raising cattle and growing soybeans, hay and corn, the winery is a passion project for the husband and wife duo. Stop by and be one of the first to try a bottle of their small batch wine while taking in the beautiful view of Twin Lakes.
Please drink responsibly and appoint a designated driver. Participants must be 21 years of age or older and have a valid photo ID. It is illegal to sell, serve, or give alcoholic beverages to any person visibly intoxicated. Establishments have the right and responsibility to refuse service to anyone who is visibly impaired.