Eagle-eyed viewers of "The Pale Blue Eye," will spot a Laurel Highlands landmark in the historical fiction thriller, which has been one of the most popular movies on Netflix since its release earlier this month.
For the movie, the Compass Inn Museum in Laughlintown was remade into Benny's Haven, the fictional tavern outside of West Point Military Academy where Gus Landor first meets a young Edgar Allen Poe. The filming took place in November 2021.
Theresa Gay Rohall, executive director of the Ligonier Valley Historical Society, worked extensively to help filmmakers shoot at the location. She and Eric Lebo, who maintains Fort Ligonier's cannons – which also made an appearance in the film – spoke about their experiences before a free screening of the event at Fort Ligonier last week.
Here are some of the most intriguing things we learned at the event: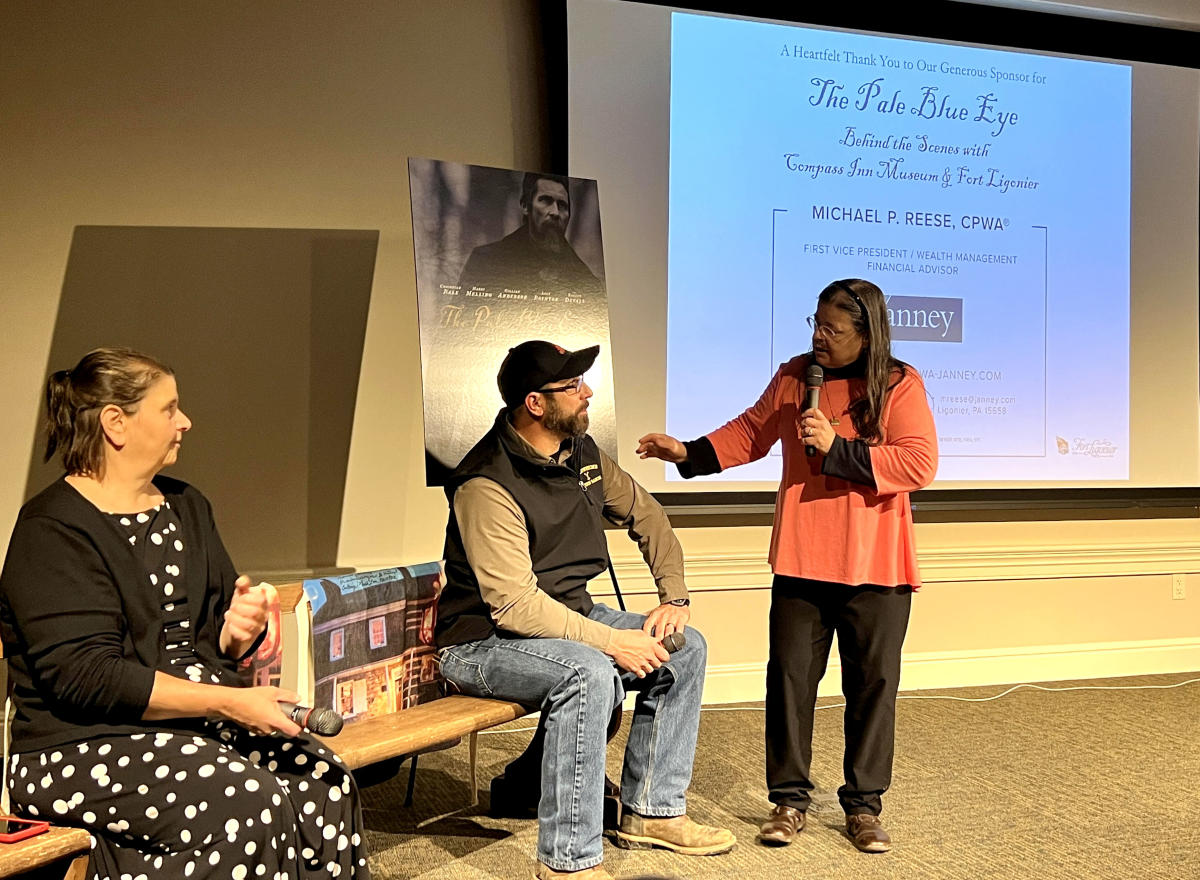 Six Weeks of Work Went Into 6 ½ Minutes of Screen Time
Director Scott Cooper loved the look of the Compass Inn, but it wasn't dark enough for him. He wanted something more sinister looking, so he had a crew take photos of the inside of the building and then recreate it in the blacksmith shop that is on the grounds.
It took the crew about a month to get the exact look that Cooper wanted. The cast and film crew came and spent three very long days – from about 4 a.m. to midnight – shooting scenes at the Compass Inn Museum, but Rohall and her staff still weren't finished. It took another week for a crew to return the blacksmith shop to its original state.
In the finished product, the Compass Inn gets about 6 ½ minutes of screen time spread over two scenes.
Christian Bale Got a Photo of the Cooks and Their Autographs
Long before the actors arrived on set, Rohall and her sister, Michelle Gay, spent hours authentically cooking duck, turkey and rabbit for use in the tavern scenes. They also cooked vegetables and baked about 150 rolls. Combined, the food is visible on-screen for just a few seconds, but their hard work did not go unnoticed.
Actors, producers, and other crew members regularly visited the cookhouse in order to warm up after working in the November cold. Star Christian Bale came in around 6 a.m. one day.
"He hadn't been to makeup yet," Rohall recalled. "He had his civilian clothes on and he said, 'Can I take your picture?' "
The request stunned her.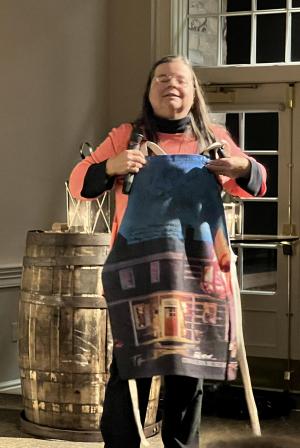 "You want MY picture?" she said.
"He said, 'Of course, I want your picture. And, I want her picture, too,' " he said, pointing toward Michelle.
" 'You don't want my picture,' " Theresa argued.
"He said, 'This is great. You're cooking food authentically for me, and you know, I really like things to be authentic.' "
Rohall reluctantly agreed to the photo on one condition.
"I said, if you're going to take my picture, I need to take your picture," she recalled. "So he came in in costume."
Unfortunately, we're not allowed to share the photo here.
The sisters also had Bale and property master Kris Peck sign their custom aprons, which feature a Compass Inn Museum print.
 "The hysterical part is that I gave them each an apron that Michelle and I signed," Theresa said with a laugh.
Peck has remained in contact with Rohall – he wished her luck the day of the screening – and plans to have her cook a duck for him when he returns to the area in April.
The Compass Inn Nearly Turned Down the Opportunity
Rohall now sings the praises of Kent Jackson, a location scout from Pittsburgh. But she freely admits that she wasn't initially enamored by him.
"I kind of blew him off," she recalled of their first meeting in May 2021. "I talked to him for about 10 minutes. He told me about this film starring Christian Bale. I said 'Who's that?' And then he said, 'Batman.' I said, 'Oh, OK.' "
She didn't seem to believe that Jackson could deliver on his promises.
"I said to my staff, the next time he comes, lock all the doors," she said.
They didn't quite do that when Jackson returned a month later, but she still didn't expect the project to get off the ground, even when he mentioned Netflix for the first time. A July visit didn't do the trick for her.
"I still didn't believe he was for real," she said.
In August, Jackson told her he was going to start negotiating with her for use of the Compass Inn Museum and that the filmmakers would be bringing a tech scout. She didn't know the term, but when a busload of 50 people from Hollywood, including director Scott Cooper, producer John Lesher and property master Kris Peck showed up in Laughlintown, she realized Jackson was serious.
Fort Ligonier's Cannons Received Loving Care
Eric Lebo, Fort Ligonier's director of preservation and restoration, worked with film crew members to transport the historic fort's cannons to Butler County, where filming was being done at Westminster College.
He quickly found that the crew handled the cannons with kid gloves. The process hit a snag from the very start, as he was unable to use a tractor to move the cannons after two weeks of rain in Ligonier. Instead, he hooked his pickup truck to each of the 1,600-pound cannons. They were then loaded onto box trucks – two workers had to get on each side of a cannon and push it into the cargo hold – for transport to Westminster.
"At the end of the day, these guys, they are professionals," Lebo said. "They took better care of the cannons than I did. I mean, I dragged them off the hill with a truck. They're wheeling them around like they're gold."
Filming Resulted in Historic Artifacts Being Found on the Grounds
The first look that viewers get of Benny's Haven is from the outside – interestingly enough, it was the last shot filmed at the Compass Inn. It required some additions to the historic location. Filmmakers wanted hitching posts and horses for that shot, which would require holes being dug in front of the inn.
"I said, 'Oh no, we're a historic site. You can't dig in the ground unless I have an archeologist on site,' " Rohall recalled. "So guess what? We had an archeologist on site."
Markosky Engineering of Ligonier provided an archeologist through the Cultural Resources Division. While the film crew didn't initially seem thrilled with the delay, Rohall said members grew excited when the archeologist unearthed the first artifact from a hole. And it was far from the only one.
"We found 16 artifacts in those three holes," she said.
The artifacts, most of which were shards of pottery, are still being processed. Eventually, they will be categorized at the Pennsylvania State Museum in Harrisburg.
More Insight into 'The Pale Blue Eye' is Coming to Ligonier Valley
The Historical Society announced at the viewing that Louis Bayard, author of the 2003 novel on which the film was based, will take part in a book club event at the "tavern area" of Compass Inn Museum at 1 p.m. on Thursday, Feb. 23.
Bayard will participate virtually in the event, which costs $15 for members of the society and $20 for non-members. The book club is limited to 25 participants.
"I'm looking forward to your event," Bayard said in a message to the society. "I have a personal connection to your area -- my grandparents lived in Laughlintown during their golden years, and I used to visit them at least twice a month. Warm memories (of the Ligonier Valley)."