The Laurel Highlands is excited to announce the brand-new Laurel Highlands Pour Tour. The Pour Tour is perfect for finding a new brew, enjoying a wine tasting with friends and traveling someplace new to change up your next night out. We put together this handy guide so that you can experience everything that the Pour Tour has to offer!
What is the Laurel Highlands Pour Tour?
The Laurel Highlands Pour Tour is a fun, interactive way to enjoy all of the craft beverages made right here in the Laurel Highlands. It includes 31 wineries, breweries, distilleries, meaderies and cideries that are linked together through a Passport book which lets you take notes on your drink, collect stickers and earn exclusive prizes!
How do I get a Passport?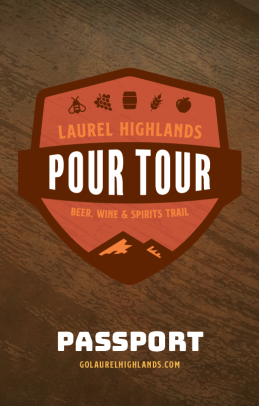 You're in luck. The Pour Tour Passport is free and can be requested online at lhpourtour.com. If you forget, Passports can also be found at all 31 participating locations of the Pour Tour as well as our Laurel Highlands brochure racks throughout the region.
Tell me more about the prizes!

We like where your head's at. Your goal with the Pour Tour is to obtain a sticker from each of the locations in the passport. A purchase must be made in order to obtain a sticker. Once you get 8, 18 and 28 stickers, simply mail us your passport and we'll mail it back with your prize (no shipping). Prizes include LH Pour Tour corkscrews, bottle opners, branded t-shirts, insulated growlers, wine tumblers and even a bonus giveaways of a 2-night Laurel Highlands getaway.
Don't worry! You have until January 1, 2021 to complete your Passport. Then we'll start it all over again with new prizes and giveaways.
Who is involved?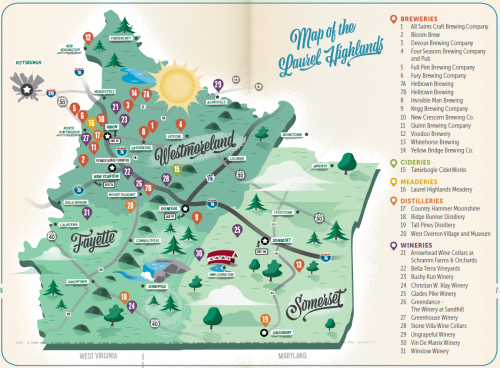 Right now we have 14 breweries, 11 distilleries, four distilleries, a meadery and a cidery for a total of 31 craft beverage makers spanning Westmoreland, Fayette and Somerset counties! Follow our handy map to plan your route to collect your stickers, and make sure to check the official list at lhpourtour.com as new breweries and distilleries seem to be opening every month in the Laurel Highlands.
Is there a cost for this?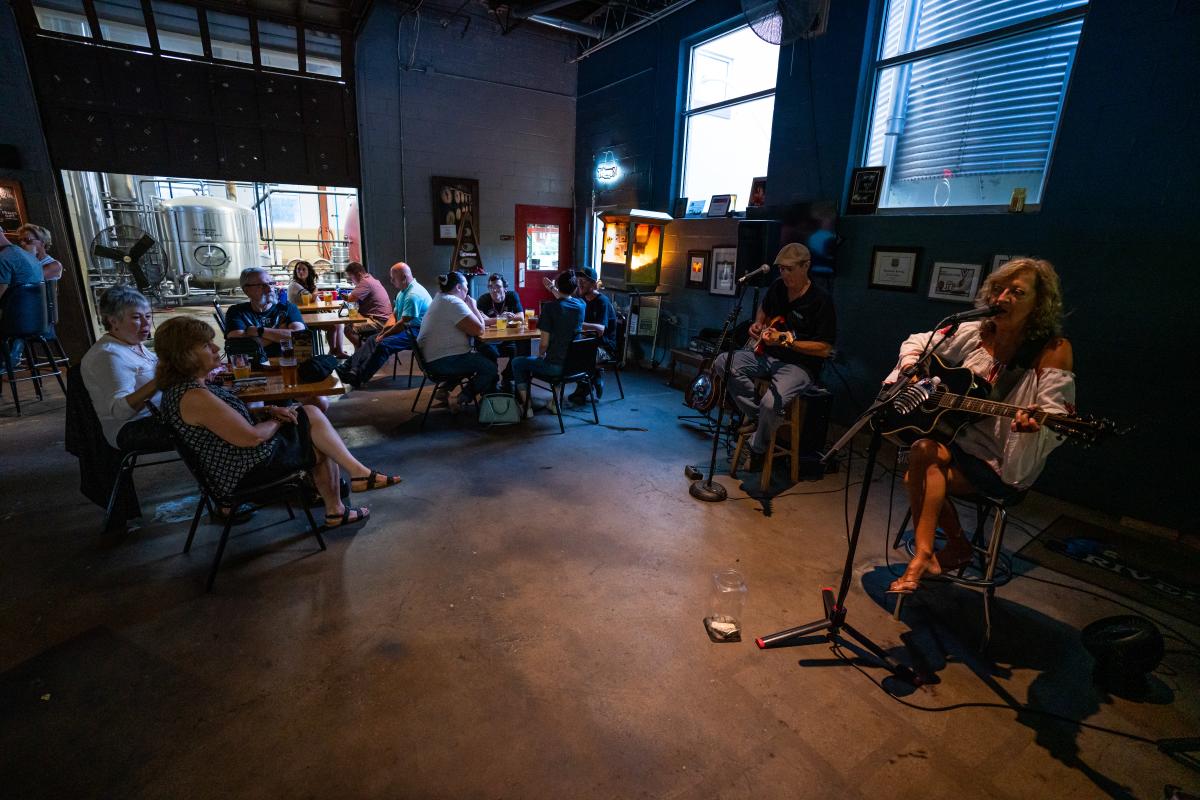 The Laurel Highlands Pour Tour is free! There is so much quality beer, wine, cider, moonshine, whiskey and mead being made in the Laurel Highlands, we simply wanted to encourage everyone to try them all and hopefully find a new favorite along the way.
Is there an App (don't say it!)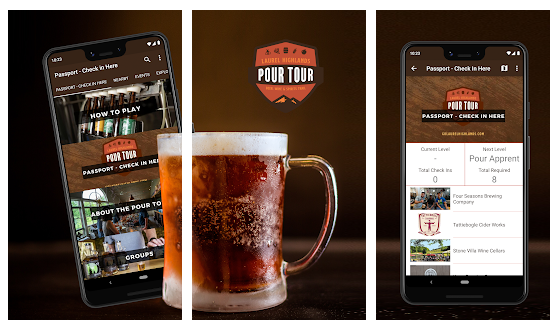 There's an App for that! The Laurel Highlands Pour Tour App (available on iTunes and Google Play stores) is your free digital resource to follow and complete the Pour Tour. The Nearby function will show you the closest brewery or winery from your location so you can plan your next stop. Use the Events calendar to see when the next food truck or live music event will be happening at the location you pick.
You can even check-in virtually and use the App as your virtual passport if you want to go paperless. During your visit, simply Check-In and post a photo of your purchase! Your prizes will unlock after you hit the specified number of check-ins. Let's keep it fair: digital and physical check-ins can't be combined, so choose whether you want to use the App or your Passport.
Can I bring my bachelor party?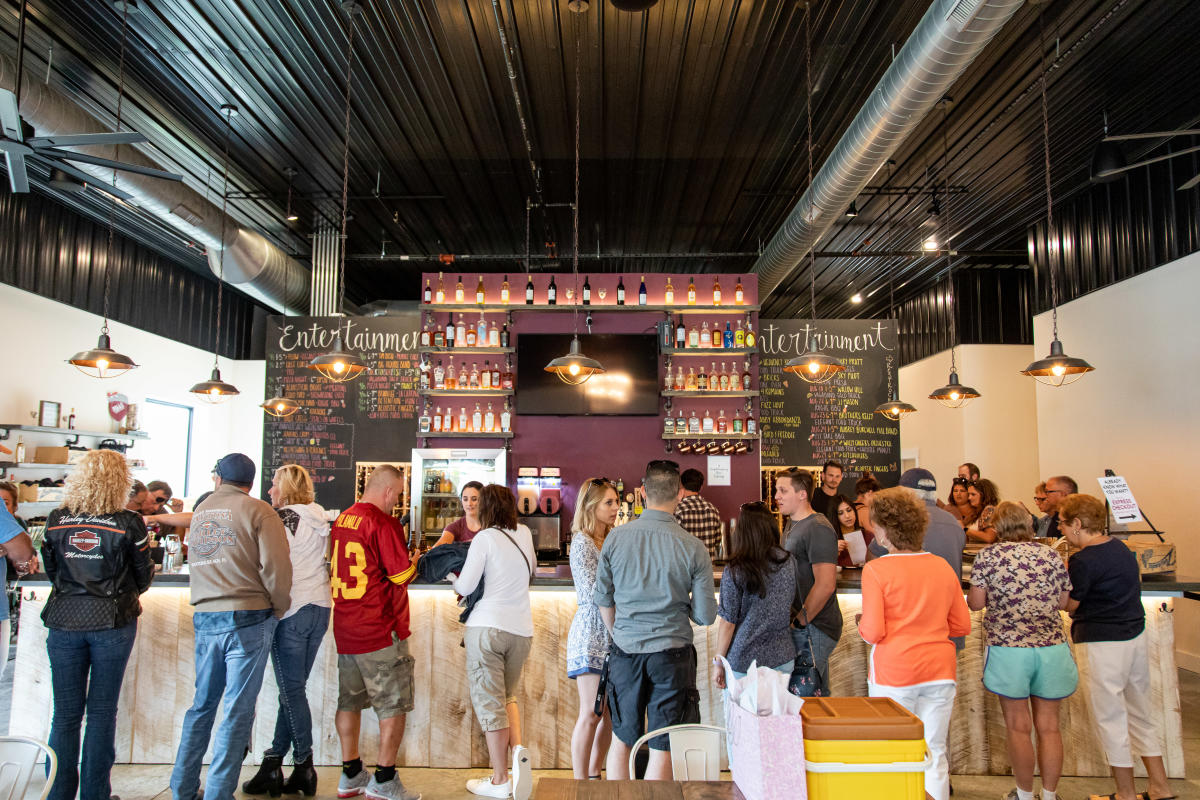 Our locations are great spots to host your stag party, family reunion, ladies night or whatever you're planning, but please give the business a heads-up first! Some of our locations put the micro in microbrewery, so a quick courtesy call will make sure your group gets the best service possible.
Where else can I get involved with the Pour Tour?

You'll be able to meet the Pour Tour team in person at select events throughout the Laurel Highlands and beyond in 2019-20. This fall, we're teaming up with Greensburg Craft Beer Week and sponsoring the Trike & Chug event on Sept. 20 and Homebrew & Chill on Sept. 21, so make sure you stop by and say hello (we might even have some giveaways and merch).
More Pour Tour events will be announced soon!
Can you get an Uber around here?
This is a great place to remind all of our Pour Tour explorers to please drink responsibly. You must be 21+ to participate and have a valid photo ID, no exceptions. 
Please assign a designated driver, or schedule your Uber or Lyft in advance. Because of our rural area, it can sometimes be a minute to find a driver, but someone will always get you home. If you need a place to crash, use the Pour Tour app to find nearby hotels, campgrounds and more.
Can someone help me plan a tour?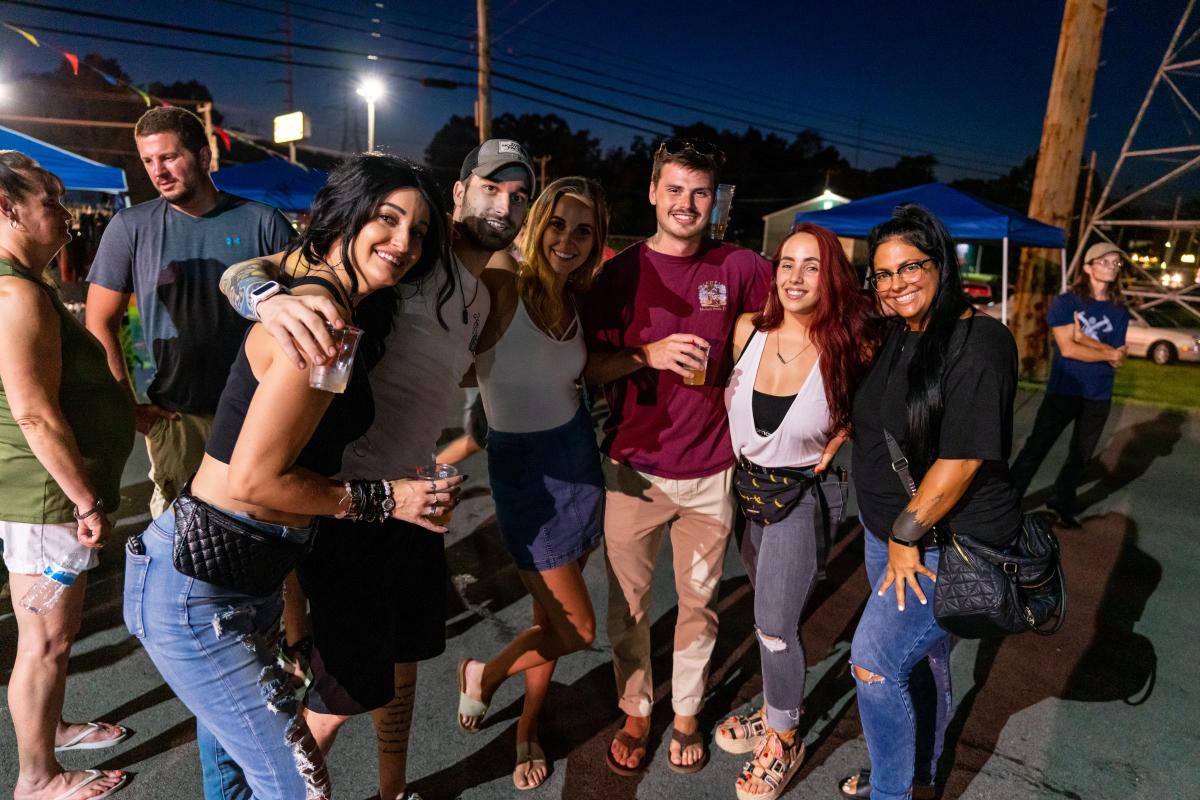 You bet! Our website has plenty of itineraries to get you started, or call the office at 724.238.5661 so we can help you develop the perfect trip with your friends.
Happy adventuring!