Luck. Some find luck in a shiny heads-up penny. Others, a four leaf clover. Today, and on many occasions, my luck can be found living and promoting the region I love, my own "backyard." So, join me as I describe three-and-a-half miles of bliss on the Great Allegheny Passage.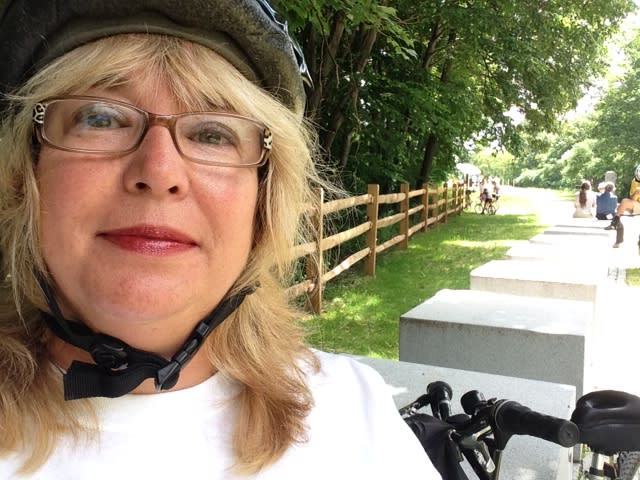 My morning began early in a fog, literally, as I drove to the Deal Trailhead of the GAP.  Fortunately, I could tell the clouds were lifting and I would be in for a beautiful few hours of cycling. My end destination would be the dedication of The Mason and Dixon Line Park. But as I unloaded my bike, I decided I would take the leisurely approach to my ride.
I've always found the trail to be one of discovery. During my three miles this morning, a deer crossed my path, a kitten sat and kept a watchful eye on my passage and tadpoles began their life cycle in a pond by the trail. Songbirds kept harmony with the crunch of my tires on the crushed limestone. A lone train whistle was all that cut through as I was alone with my thoughts. The GAP can bring calm to your soul as you leave your car and cares behind.
This section of the Great Allegheny Passage is a favorite of many riders because of the many photo ops along the way. The Eastern Continental Divide, windmill farms and the Big Savage Tunnel will make you pause if this is your first time on the trail. I'm always pleased to be greeted by the cool temperature of the Big Savage Tunnel even before I pedal her 3,300 feet. I always keep my eye "on the light at the end of the tunnel," but often think about how a lonely locomotive engineer might have felt chugging through the narrow space with only inches to spare on each side of his mighty load.  
I love this section of the trail because it's perfect for small riders too. Cycling through the tunnel is "cool," but you'll hear some "wows" from them when they see the overlook on the other side. Pack some refreshments or a light lunch, you can sit on benches or at a nice trailside picnic table to refuel (handy restrooms, too). When you're ready to ride again, you only have a little more a mile to the Mason-Dixon Line.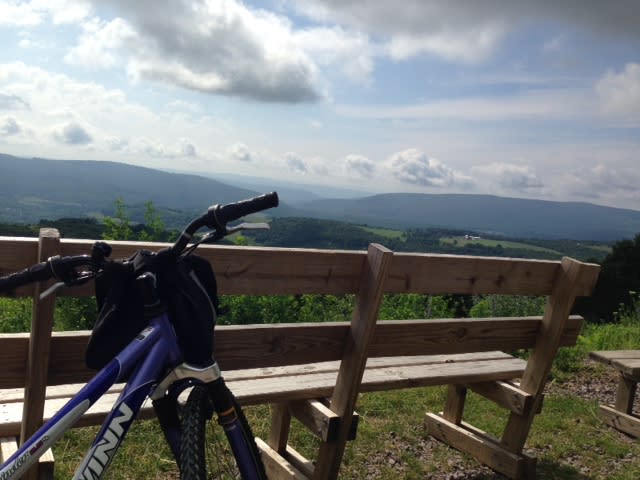 I'm a Maryland girl at heart, born and raised, so today's dedication ceremony was special for me. Now calling PA home, I was excited to put my bike "on the line" between two states. When you ride, be sure to take time to read the interpretive signage at the site. Did you know the dispute on the state boundaries lasted over 80 years? I didn't know until today that it took Charles Mason and Jeremiah Dixon five years to distinguish the 233-mile boundary between Pennsylvania and Maryland.
Today's ceremony involved dignitaries from both sides of the line. The traditional ribbon cutting was a long one. More than 100 cyclists pedaled from one state to the other. Phones were busy posting photos, locations and stories to friends and family. Even in 2014, the Mason-Dixon Line has significant meaning. When you arrive, spend time and enjoy the local native flower gardens, too. Freshly-planted Virginia Spiderwort, Butterfly Weed and Blazing Star will be in full bloom by the end of summer.

If you are like me, you'll be greeted by well-wishers all along your journey. A friendly 'Hello," "Isn't this lovely?" and "Enjoy your ride!" are greetings bantered about rider after rider. Being in the tourism biz, I always ask where folks are from. Today, I met a family of three from Michigan who slowed to enjoy the Mason Dixon Line. They began the morning in Cumberland and their final destination, in a few days, will be Point State Park in Pittsburgh, at the western terminus of the Great Allegheny Passage. Another couple I stopped to meet on my three-and-a-half miles back to my car was a happy couple from England. They were en route to Frostburg and stopped to snap a photo at the overlook at Big Savage.
While you will certainly meet and greet other riders on the trail, you will also have the trail to yourself. Well, almost. Today I played a game of catch-me-if-you can with two Tiger Swallowtails. For me, butterflies represent spirits of those family and friends who have passed. So when two decided to join me for at least a quarter-mile, my smile was trail-wide! Were my grandmothers along for the ride? Or maybe my songbird Aunt Helen? As one swept my shoulder, I once again realized how truly blessed I am to be able to experience something as special as The Great Allegheny Passage.
So, my friends, summer starts tomorrow. What do you have planned for the 14 weeks that compress themselves between spring and fall? Maybe you'll be lucky enough to race a butterfly on a bike trail through my "backyard," Pennsylvania's Laurel Highlands.

Let the photos do all the talking! Explore the photos from my adventure: