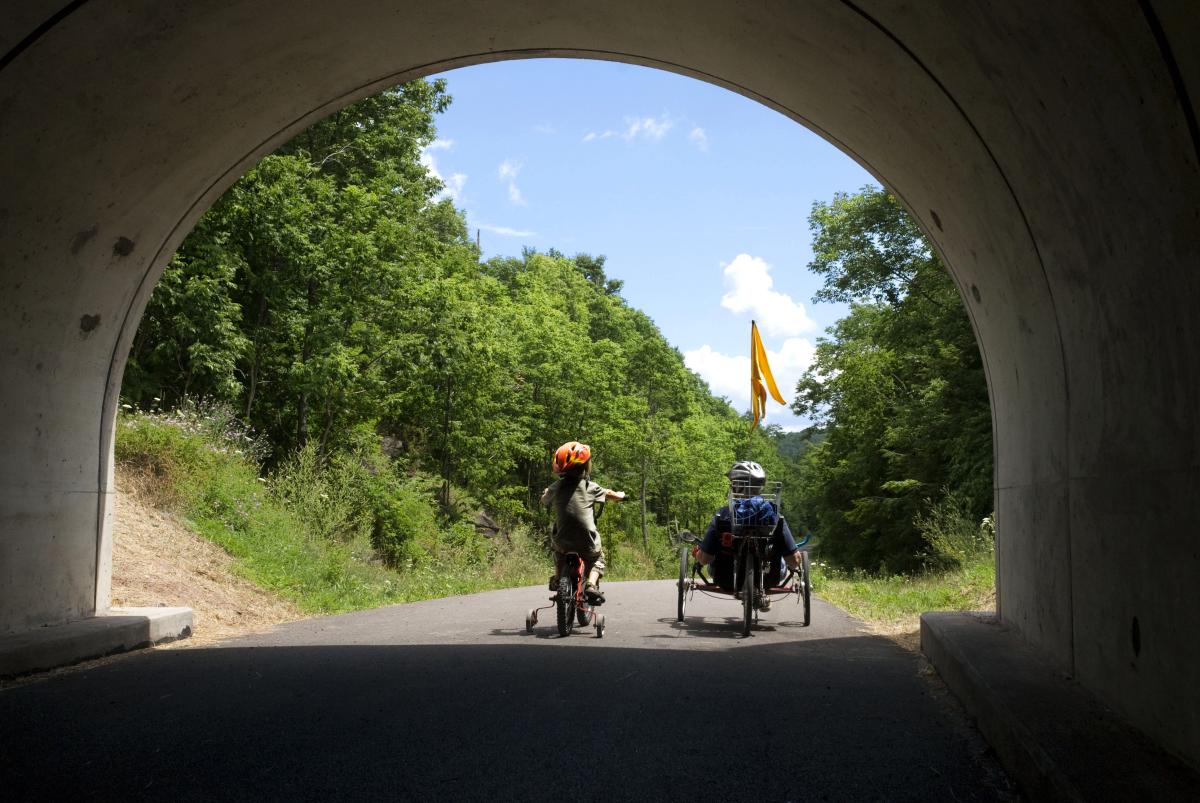 Cumberland, Md. (Nov. 29, 2017): Enterprise Rent-A-Car, the country's largest transportation solutions provider, released a pair of new video shorts featuring bicyclists on the 150-mile Great Allegheny Passage and 184.5-mile C&O Canal Towpath.
Filmed in Pennsylvania's Laurel Highlands, Allegany County, Maryland and Pittsburgh, "The Cumberland Connection" videos highlight a father-daughter duo who ride the Pittsburgh-to-Washington, D.C. journey and make their return trip by renting a vehicle from Enterprise's Cumberland location. The shorts are featured on Enterprise's website as part of Pursuits with Enterprise, the brand's digital magazine designed to inspire and enable more purposeful travel experiences. One of the videos is narrated by Larry Brock of Mountain Maryland Trails.
Production took place during the summer of 2017, and the final cuts feature shots of the Great Allegheny Passage along the Cumberland Narrows, over the Salisbury Viaduct, through the Pinkerton Tunnel, across the Ohiopyle Low Bridge, and in Point State Park.
"We're pleased that Enterprise highlighted Cumberland as a premier trail town along the Great Allegheny Passage," said Bryan Perry, Executive Director of the Allegheny Trail Alliance. "For many cyclists, renting a car for a return trip is a convenient choice that makes a thru-ride seamless and attractive."
"With our location right off the connection point of these two legendary bike trails, we've had the opportunity to create a bond with the cycling enthusiasts, families and friends that come through our doors before embarking on their journey," said Conrad Suter, Enterprise branch manager in Cumberland. "These video pieces showcase what's special about this destination – not just the beautiful countryside and picturesque views, but also the community of cyclists and friendships developed along the way."
The video shorts are available at https://www.enterprise.com/en/inspiration/weekend-adventures/cumberland.html.
About the Allegheny Trail Alliance
The Allegheny Trail Alliance is a coalition of trail owners and trail groups that built and now steward the Great Allegheny Passage, a 150-mile rail-trail connecting Pittsburgh to Cumberland, Md. The Great Allegheny Passage is the longest rail-trail in the eastern U.S., and welcomed over a million visits in 2016. It connects with the historic C&O Canal Towpath in Cumberland, allowing cyclists and hikers to complete a 332-mile journey to Washington, D.C. For trip-planning ideas, visit www.GAPtrail.org.
About Enterprise
The Enterprise brand – which comprises Enterprise Rent-A-Car, Enterprise CarShare, Enterprise Truck Rental, Enterprise Car Sales, the Exotic Car Collection by Enterprise, Zimride by Enterprise and RideShare by Enterprise – offers customers a total transportation solution. Its flagship brand, Enterprise Rent-A-Car, was founded in 1957 and is known for an extensive network of convenient locations, affordable rates and outstanding customer service. Enterprise Rent-A-Car was ranked on BusinessWeek magazine's annual list of "Customer Service Champs" for four years in a row. Enterprise operates not only as a key provider for insurance replacement, weekend getaways and special occasions, but also as a local transportation alternative. With more than 5,800 fully staffed airport and neighborhood offices located within 15 miles of 90 percent of the U.S. population, Enterprise can meet whatever transportation need customers may have – renting, buying or sharing.
# # #