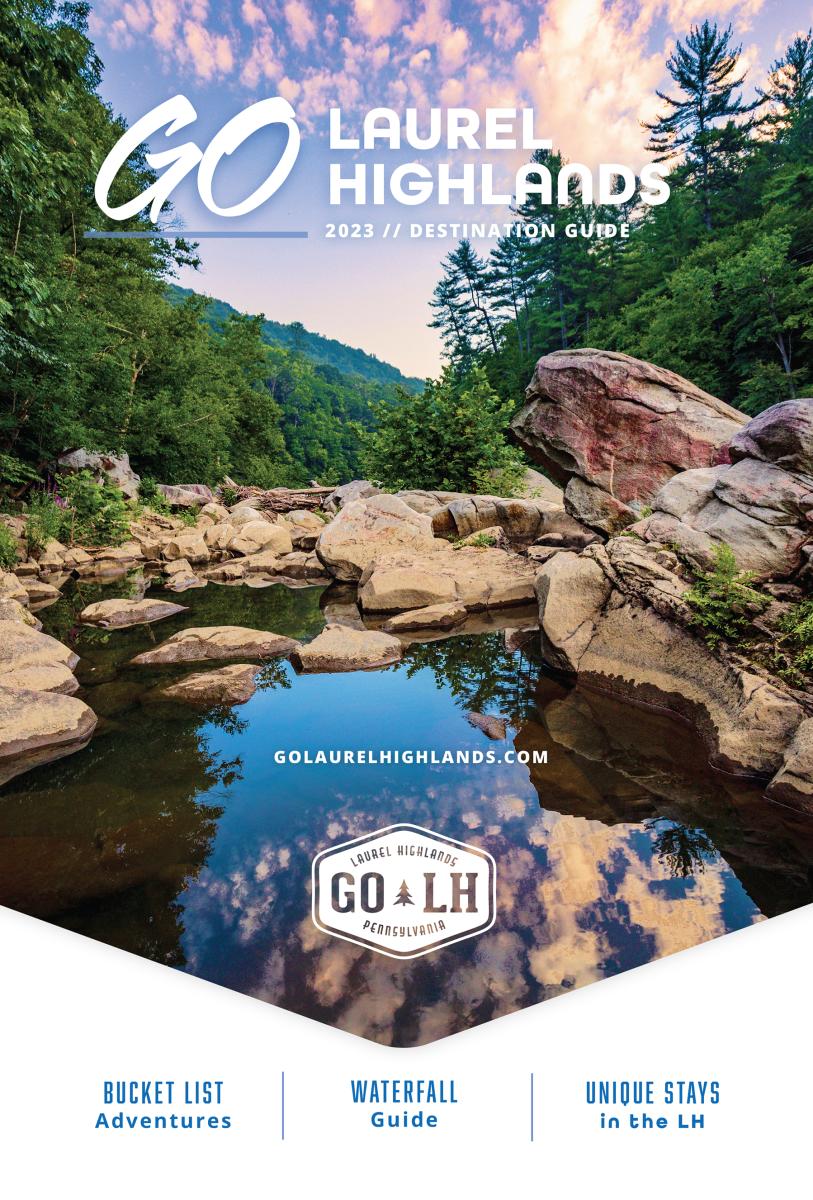 LIGONIER – GO Laurel Highlands has announced the release of its 2023 Destination Guide to the tri-county region in southwestern Pennsylvania. The free full-color piece serves as the principal promotional brochure for Fayette, Somerset and Westmoreland counties' tourism information.
"The GO Laurel Highlands Destination Guide gives us the privilege of being a storyteller for our three-county region," said Ann Nemanic, GO LH's executive director. "From cover to cover, the beautiful photography is the first clue that a visitor is bound to discover something truly special across our 3,000 square miles. Then, the fun begins with the stories and content within our 64-page guide. Coupons, a handy map, itinerary ideas, and even suggestions for a date night are why our guide is so useful for both locals and visitors alike. One of the highlights of my job is seeing the progression of our annual guide go from concept to completion. We are so proud to share what makes the Laurel Highlands an ideal destination year after year."   
The stunning natural scenes of the Laurel Highlands are on full display, with the guide's front and back covers showing why the region is nationally recognized for its scenic beauty. On the front cover, photographer Regis Mahoy captured the reflection of rocks, trees and a brilliant summer sky in a cool mountain stream at Ohiopyle State Park.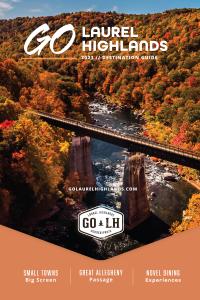 The Destination Guide's back cover serves as a testament to the amazing autumn scenes that helped the Laurel Highlands earn a third consecutive USA Today 10Best designation for Best Fall Foliage Destination. An image from Alex Byers, GO Laurel Highlands' content and design specialist, frames the Ohiopyle High Bridge section of the Great Allegheny Passage against an incredible fall backdrop of trees and the Youghiogheny River.  
Inside, the 2023 Laurel Highlands Destination Guide's inspirational content tells the story of some of the region's iconic attractions, as well as some of the region's hidden gems and newest locations.
"We are fortunate in the Laurel Highlands to have a very deep roster of all-star destinations," said Laura Argenbright, senior director of creative strategy and marketing for GO Laurel Highlands. "From internationally renowned architectural attractions and world-class resorts to cozy cabins, miles of pristine hiking trails, and quiet trout streams, this destination guide gives visitors a chance to peruse all of the options, learn more, and find the ideal location for their vacation, weekend getaway, or day trip."
Feature stories include:
"Saved by Cycling" details how Confluence, a former coal town, reinvented itself thanks to its location on one of the nation's top recreational trails, while "Great Allegheny Passage" and "Go for the Snow" focus on some of the region's incredible year-round outdoor opportunities.
"Delicious by Design" gives a taste of the food options available at Frank Lloyd Wright homes in the region, from the sweet treat of Hagan ice cream at Kentuck Knob to trout caught from Bear Run at Fallingwater to the incredible five-course meals served in Polymath Park's Tree House dining pods.
"Flight 93 National Memorial" offers a glimpse into the 197-acre park where 40 innocent souls came to rest on Sept. 11, 2001.
"Small Towns on the Big Screen" spotlights filming locations ranging from psychological thrillers to a feel-good Christmas movie and hit TV show.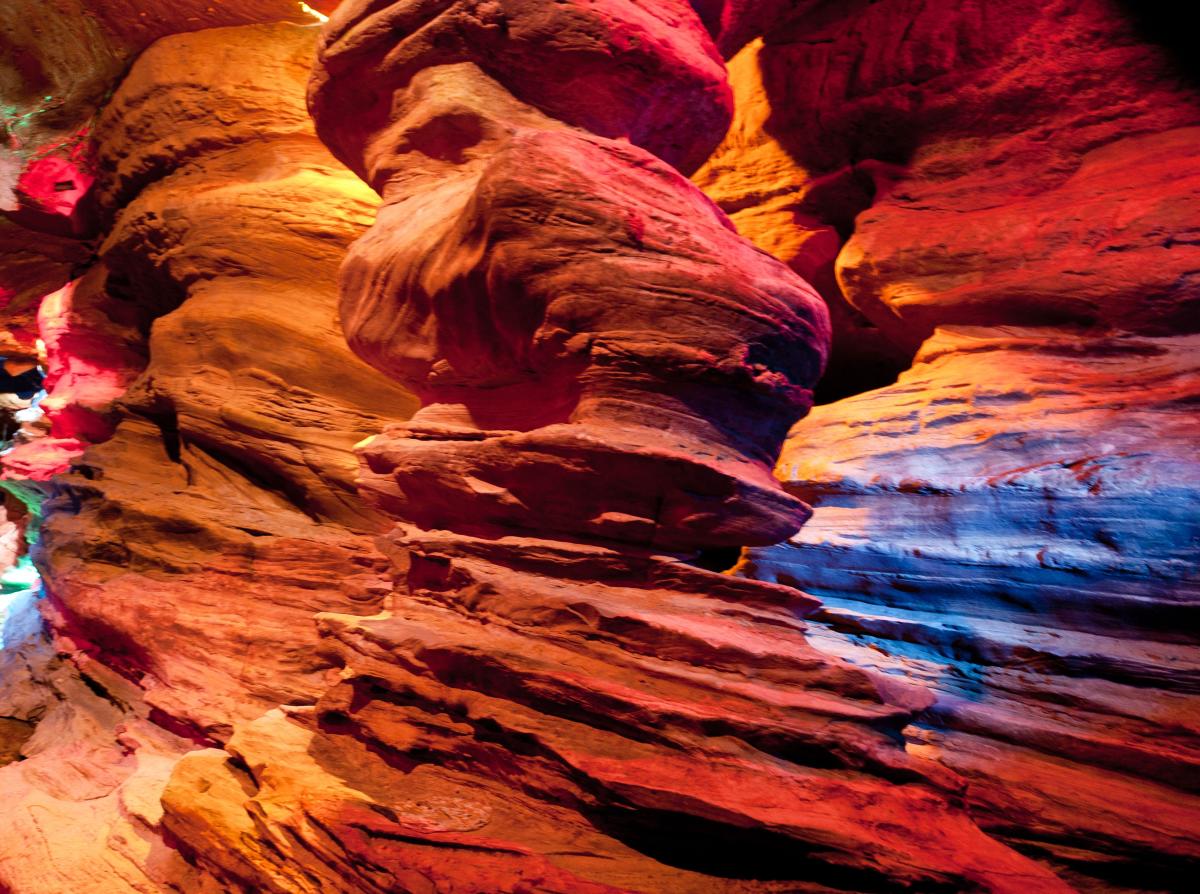 "Laurel Highlands Bucket List" uncovers the region's can't-miss favorites – from the underground options at Laurel Caverns to the award-winning family amusement at Idlewild and SoakZone.
"Laurel Highlands Trout Trail" explores why so many anglers get hooked on fishing the region's many streams and rivers, and "Chasing Waterfalls" is sure to make a splash with photographers and nature lovers as it reveals the best spots to capture iconic images of waterways.
"Happy Campers" and "Wake Up Somewhere Different" highlight some of the incredibly unique lodging options in the Laurel Highlands.
"Laurel Highlands Date Night" offers out-of-the-ordinary romantic options, from blacksmithing classes to a night at the stock-car races, while "Tapping into Agritourism" digs into how the farm-to-table movement has helped local producers grow their audience.
Readers will also find traditional favorites including a 2023 calendar of major festivals and events, a regional map and hundreds of dollars in savings thanks to coupons at 20 partner locations.

GO Laurel Highlands publishes 125,000 copies of the destination guide for distribution at numerous consumer travel shows, Pennsylvania Welcome Centers, Pennsylvania Turnpike Visitors Centers, regional brochure racks, Arnold Palmer Regional Airport, Laurel Highlands visitors centers, regional chambers of commerce and at GO LH tourism partner businesses.
To order a free copy of the 2023 Laurel Highlands Destination Guide, please call (724) 238-5661, ext. 101. A print copy can be requested online or a digital copy downloaded at golaurelhighlands.com/guide. 
About Pennsylvania's Laurel Highlands
A magnificent mountainous region, the Laurel Highlands is an outdoor lover's paradise that spans 3,000 square miles in southwestern Pennsylvania. Located just an hour east of Pittsburgh, the beautiful four-season destination offers spectacular natural scenery, outstanding skiing, hiking, biking and golfing opportunities, historic sites and attractions, family activities and world-class resorts. Notable destinations within the region include four architectural masterpieces by Frank Lloyd Wright – Fallingwater®, Kentuck Knob, Mäntylä and Duncan House – as well as Nemacolin, Seven Springs Mountain Resort, Flight 93 National Memorial, Idlewild and SoakZone, whitewater rafting in Ohiopyle State Park and much more.
Located within 200 miles of the major metropolitan areas of Pittsburgh, Baltimore, Cleveland, and Washington D.C., Pennsylvania's Laurel Highlands can be easily accessed from exits 67, 75, 91 and 110 of the Pennsylvania Turnpike.
Visitors to the Laurel Highlands can find information online at GoLaurelHighlands.com, facebook.com/laurelhighlandsPA and twitter.com/laurelhighlands or by calling 724.238.5661. Established in 1958, GO Laurel Highlands, formerly known as Laurel Highlands Visitors Bureau, is the official destination marketing organization for Fayette, Somerset and Westmoreland counties in southwestern Pennsylvania.