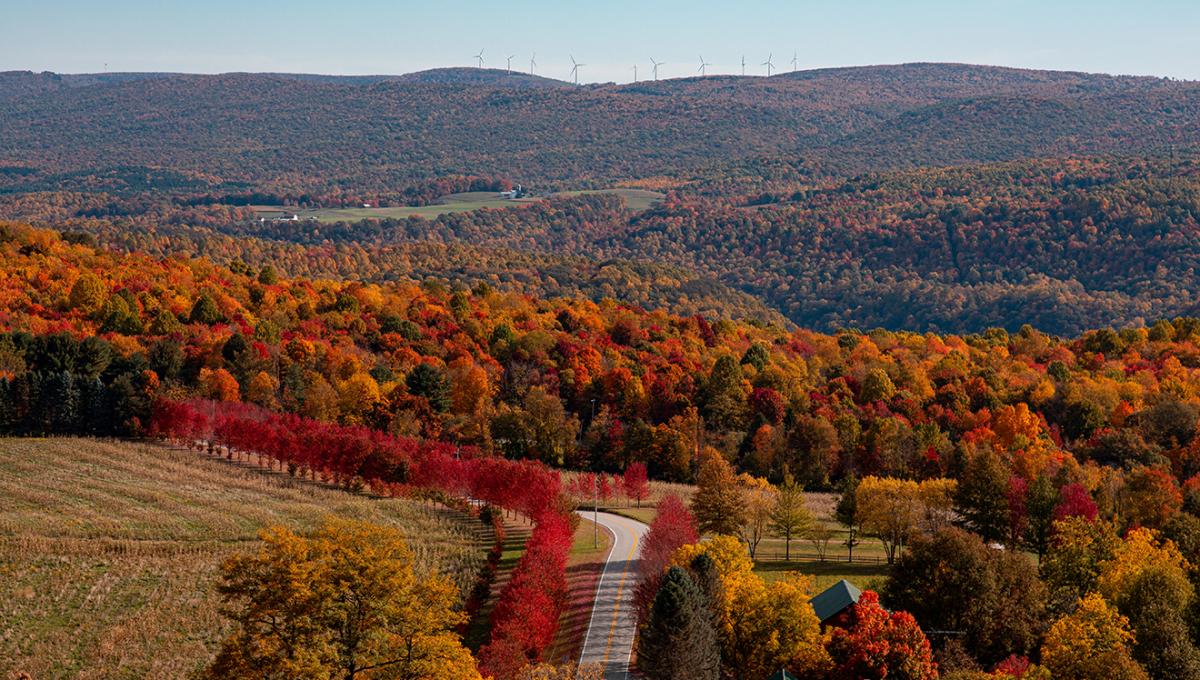 Mother Nature is ready to demonstrate why Pennsylvania's Laurel Highlands ranks among the most beautiful destinations in the United States to view colorful foliage.
Experts are predicting an impressive display in the Laurel Highlands, which finished seventh in USA TODAY's 10Best Readers' Choice Awards for the Best Destination for Fall Foliage. The results of online voting were announced Friday, and the honor marks the third consecutive year that the Laurel Highlands has placed in the top 10 nationally.
"GO Laurel Highlands is extremely honored to once again be recognized as an extraordinary fall destination," said Ann Nemanic, executive director of GO Laurel Highlands. "For this to happen three years in a row helps to solidify what we already know, and love – an unforgettable getaway awaits anyone traveling to our corner of Pennsylvania. Full fall days can be filled with festivals, visits to Frank Lloyd Wright homes, and historic walks on scenic and sacred ground. Toss in getting lost in a corn maze or finding the perfect pumpkin and you have the makings of a most memorable time in Pennsylvania's beautiful Laurel Highlands." 
The Laurel Highlands was one of 20 locations selected by a panel of experts and USA TODAY's 10Best editors. After nearly a month of online voting, the Upper Peninsula of Michigan was declared the top destination.
While much of the Northeast is expected to experience below-average colors this fall, the Laurel Highlands should have another brilliant display, according to Paul Pastelok, a senior meteorologist with AccuWeather in State College.
"What's going to happen in New England and Mid-Atlantic states, they're going to see less bright red, vibrant color," Pastelok said. "For us, I think we got enough rain in the summer season. Now we're drying out a little bit. We should see those oranges and reds appear this year."
Nathan Reigner, Pennsylvania's director of outdoor recreation, said there's more to great fall foliage than diversity of trees. The Laurel Highlands' mountain ridges and plunging river valleys make for incredibly scenic views.
"Oftentimes, I associate high elevation with northern latitudes," Reigner said, "but if you really want to get up into the thin air of Pennsylvania and see long, sweeping vistas, the Laurel Highlands is the place to go. When the leaves are changing, getting up high to those sweeping vistas is what you want to do."
As home to thousands of acres of unspoiled state forests, parks, and gamelands, the Laurel Highlands is the ideal destination for an autumn getaway for visitors.
"There's a lot of forests, a lot of mountains, and they're well connected with the communities in the area," Reigner said. "They're well-connected by trails and rivers. There's a good reason why the Laurel Highlands is highlighted as one of the best places to enjoy fall foliage in the country.
Paired with the natural beauty of the fall foliage, the Laurel Highlands' charming small towns, covered bridges, and iconic attractions like Frank Lloyd Wright's Fallingwater and the Flight 93 National Memorial are also must-sees on a leaf-peeping getaway. Autumn outdoor opportunities abound in the region, from hiking and biking to fishing and hunting.
"What makes the Laurel Highlands special is the way all of those things are connected," Reigner said. "You can be in a tree stand in the morning and taking in world famous architecture in the afternoon. That multi-dimensionality is what makes it such a special place to visit."
Fallingwater, a UNESCO World Heritage Site in Fayette County, is particularly stunning in the fall according to Clinton E. Piper, senior administrator of special projects for the Western Pennsylvania Conservancy/Fallingwater.
"The light and the brilliant colors of the forest surrounding Fallingwater make autumn the most popular season to visit. Visitors should plan ahead, as tours sell quickly during this busy time," Piper said. "October has always been one of the busiest months because people want to see the dramatic fall colors combined with great architecture."
Eager leaf peepers are always anxious to take their first fall hike or drive of the season and curious to know when the leaves will be at their brightest. While Mother Nature is not always predictable, Pastelok expects the Laurel Highlands to hit its peak in less than a month.
"The second or third week of October we should see some pretty good colors," the meteorologist said, "and they won't come off until Halloween or just after."
This year's award is one of several honors USA TODAY 10Best has bestowed on the Laurel Highlands. The region previously won third overall for Best Fall Foliage in 2020 and eighth for Best Fall Foliage in 2021. Flight 93 National Memorial's Tower of Voices was honored as one of the Best New Destinations in 2019 and Ohiopyle State Park was named one of Best Pennsylvania Attractions.
10Best.com provides users with original, unbiased, and experiential travel content of top attractions, things to see and do, and restaurants for top destinations in the U.S. and around the world. Their staff is made up of a collection of local travel experts that specialize in the region or city they write about.